3 min read
Summer is a great time to make the most of
flowers
. While
sunflowers
are truly the stars of summer, there are many other fantastic varieties that will add extra colour and joy to the season. We're going to dedicate a bit of time this week to the amazing
chrysanthemum
and carnation bouquets on offer that will give any summer celebration an extra touch of happiness.
But first let's look at why chrysanthemums and carnations could be the perfect summer flowers for your bouquet.
Why chrysanthemums are a summer favourite:
Luckily chrysanthemums are a cut flower you can enjoy in a bouquet all year round but they are fantastic summer garden perennials too. They love full sun and warm weather and come in many different colours. As if they weren't colourful enough on their own, if you grow them in your garden they can also help bring butterflies, bees and other bright garden friends to your home.
Why carnations are full of summer joy:
Carnations are another colourful flower that love full sun and summer weather. The red, orange and pink and purple variants are perfect for reflecting the colours of the season and their bouffant link shape make them a flower that's perfect for communicating joy all summer long.
Our top chrysanthemum and carnation bouquets of the summer:
White Lisianthus and Pink Carnations
Delicate white lisianthus join bright pink carnations in a sweet combination that brings a feeling of freshness and renewal. It brings a clean and summery presence to a home and is an ideal birthday surprise for someone special.
White Roses with White Carnations
A sweet and innocent bouquet of white flowers, with regal roses and accentuated by soft white carnations. This classic white bouquet is perfect for expressing your congratulations during summer weddings, or just to share your sincere love with someone special on your anniversary.
Pink Carnations and White Chrysanthemums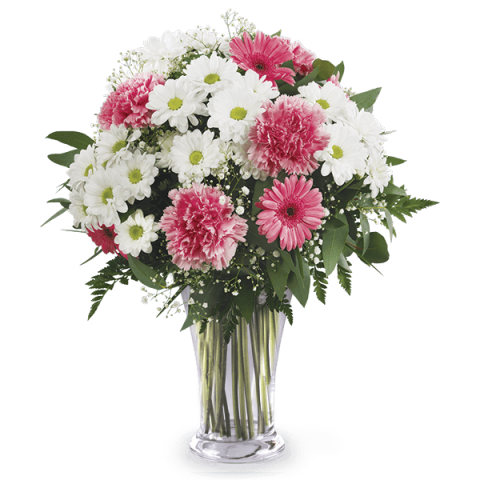 This selection contrasts pink carnations and gerberas with shining white chrysanthemums in a bouquet that is a perfect celebration of new life, combining innocence with vibrant new energy.
Sunflowers and Orange Chrysanthemums
A bright and sunny bouquet that combines sunflowers with orange alstroemerias and chrysanthemums. A bouquet that is perfect for showing your affection for someone special any day of the summer.
Orange Carnations and Chrysanthemums
Orange carnations and chrysanthemums come together and party with bright orange lilies and gerberas in this joyful, energetic bouquet. Make sure any day is filled with sunshine with this beautiful selection of orange flowers.
White and Green Chrysanthemums and Lilies
A natural and sincere bouquet of white and green chrysanthemums that's ideal for summer anniversary and weddings alike.
Orange Lilies and Chrysanthemums
Another bright orange bouquet that's perfect for communicating joy, with the help of orange lilies, chrysanthemums, roses and alstroemerias.
Chrysanthemums and carnations can liven up almost any bouquet or provide the perfect flower for an arrangement just on their own. Try mixing up the colours or types of these sweet summer flowers yourself, cut from your own garden, to create rustic and beautiful bouquets this year.
Make summer birthdays extra special this August with FloraQueen's collection of birthday bouquets. Deliver the most beautiful surprises today to over 100 countries around the world to share the perfect gift, even from far away.