Fresh N Rebel portable speaker + external battery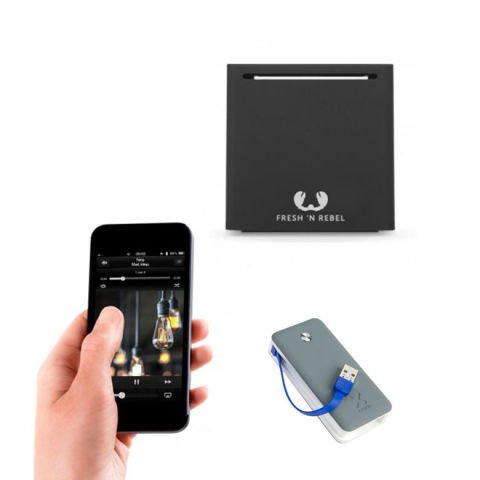 For somebody always on the move
Everyone's worst nightmare; your mobile phone battery is going to run out before you reach home. Well, now it never need happen again. We suggest this fantastic set: Xtorm XB100 external battery which allows you to charge up to 2 devices simultaneously… and so that they don't get bored while they wait, they can use the Fresh N Rebel portable speaker to listen to their favourite music.
Speaker characteristics:
RockBox speaker #1 by Fresh N Rebel.

Dimensions: 5 x 5 x 5cm.

Bluetooth wireless connection 3.0.

Rechargeable battery.

Range: of 6.5h.

Charge time: 30min.

Function: Hands free.

Colour: Black.
External battery characteristics:
Xtorm XB100 external battery.

Dimensions: 4,7 x9,7 x 2,2cm.

Weight: 125g.

Battery capacity: 6.000mAh.

2 USB ports: ability to charge 2 devices simultaneously.