Nilox camera and XTorm external battery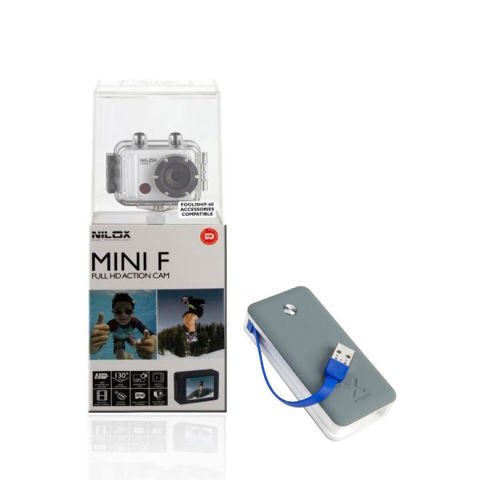 Capture the moment
Those special moments can be captured and relived thanks to the Nilox Mini-F Action camera. The recipient of this camera will be able to immortalize their emotions; while exercising, at an elegant event or a party with friends. And also, with the external XTorm XB100 battery they can use the camera at any moment.
Details: Nilox Mini-F Action camera.
Video system: PAL/NTSC.

Full HD.

Chip: CMOS.

Effective photo resolution: 12mp

Effective video resolution: 2.07mp

Focusing Distance: 0.34 cm.

Face detection.

Microphones: 2.

USB connection.

Water resistant up to 10m.

Standard tripod.

Multilingual menu: English, Spanish, French, Italian, Portuguese, German, Greek.

Digital zoom: 8x.

Compatible recording media: Micro SD.

LCD screen size: 2".

Battery life: 3 hours.

Operating system: Microsoft Windows XP/Vista/7/8.

Intel/AMD Dual-Core CPU or inferior.

RAM: 1GB.

Hard disk drive free memory space: 2GB.

USB: 2.0/3.0.

Dimensions: 5.8 x4.3 x 2.3cm.
Details: XTorm XB100 6.000mAh external battery:
USB Ports: 2.

Dimensions: length 4.7cm, depth 9.7cm, height 2.2cm.

Weight: 125g.

Battery capacity: 6.000mAh.

Voltage: 5V.