Silver GoPro Camera Hero4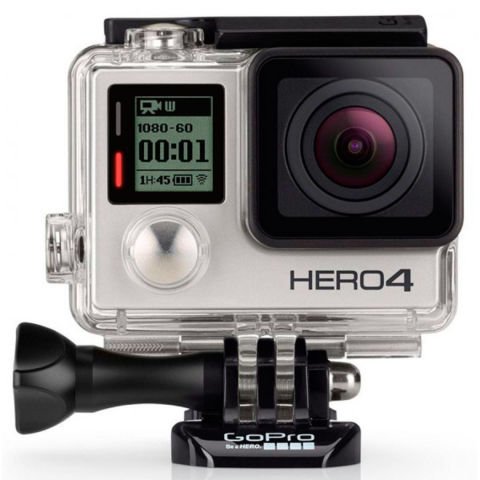 A unique camera for a unique man
He wants to make a professional video, he can! He wants to take top quality photos and you doubted that? Can he also capture night-time images? Of course! Make videos underwater? Of course! And all of his videos will have perfect sound. No need to say more, the Silver GoPro camera Hero4 has all of this and much more. The demanding man with clear ideas will be delighted with this gift.
Product details:
Elements included: Silver GoPro Hero4 camera with integrated tactile screen. Standard case, Skeleton rear ports.

Rechargeable battery, curved adhesive mount, flat adhesive mount, clasps, 3 mode pivot arm, USB cable.
Professional quality video: 2.7K30, 1080p60 and 720p120.
Professional quality Photography at 12MP, with burst option of up to 30 images a second.
High performance audio: internal audio system that allows clean high fidelity sound recording.
Transmission Wi-Fi combined with Bluetooth.
Water resistant up to 40 metres.
NightPhoto and NightLapse modes to shoot images in very low light.