Large Vlando jewellery box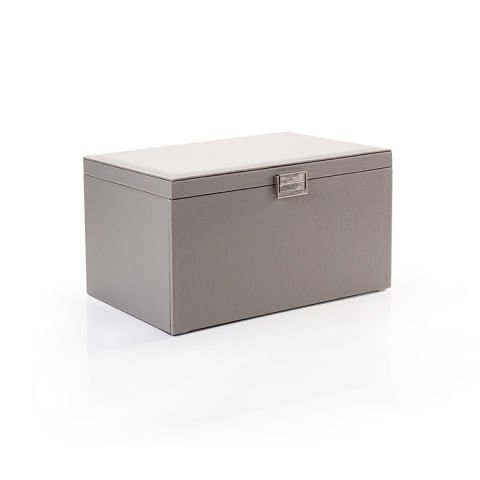 Jewellery organized, protected and in view
This is a gift that always is appreciated because women love to have jewellery complements and also because they like to have their favourite little things well organized.
The Vlando jewellery box is of an ample size that allows the storage of a large amount of jewellery. Its dimensions are 270 200 x 147mm. Finished in a delightful soft grey exterior and with a designer metal lock. We can place it to decorate a bedside table or a chest of drawers. We can also put the jewellery box inside our wardrobe, just to hand.
The interior of the Vlando jewellery box has a soft velvety feel. It has 3 removable compartments, each with a different structure to separate rings, ear-rings, bracelets and necklaces… and a useful tape that joins the top with the body of the jewellery box and keeps it open while we choose the jewellery we will want to wear that day.