"Natural Talent" for him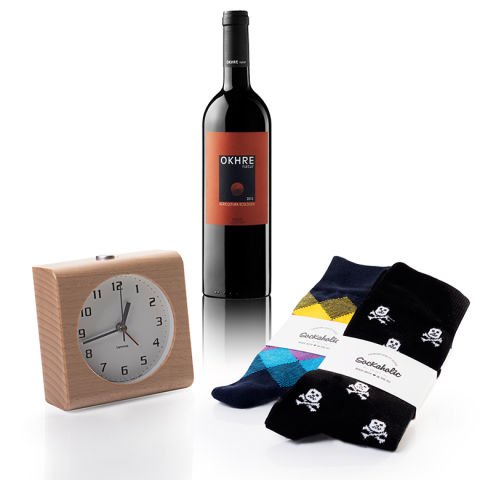 Inspired by a happy man
Natural talent means being yourself, dedicating time and energy to what we know best, and to enjoy it, and live each and every moment to the fullest. Hence the selection of gifts we have chosen for this set, composed of:
The RIKI clock from Lemnos, designed by the famous Riki Watanabe. A small wallclock launched in 1970 with a breakthrough turned iconic design that contrasted with the typical clock of the time, excessively decorated and much larger in size.

Also within this set, you will find a bottle of organic red wine from OKHRE. A wine with a Cabernet Sauvignon and Merlot base, of a red cherry colour, and with a spicy aroma of cinnamon and pepper, with base notes of ripened fruit and licorice, to enjoy after a long day at work or to toast to a victory.

And lastly, Egyptian cotton knee-high socks from Sockaholics (Size EUR42-46/UK 8-12), the Barbanegra design, with a fun pattern of small skulls on a black backgrouns, and the Torti design, a multicoloured diamond-shaped pattern on a dark background.