One in a Million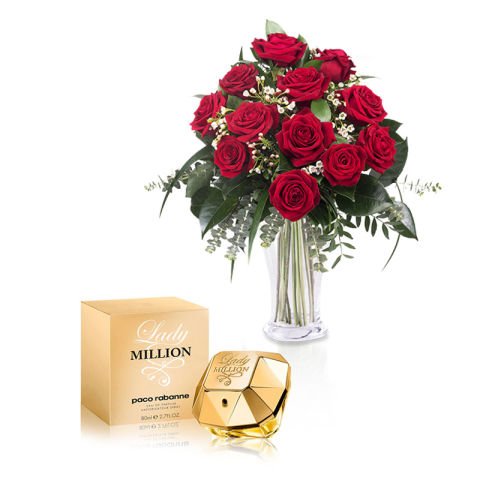 A magical duo, roses and perfume
These two form and create the perfect match, like two people in love at the height of their passion. It is known that red roses combine perfectly with the best fragrance.
Gift details:
A bouquet of 12 bright red roses, with gypsophila and greenery, and a fresh, intense aroma will reach the deepest part of her heart. It's an icon of love, classical but, at the same time, very modern, because a rose is a rose is a rose!

Alongside this natural and sophisticated gift, a perfume that compliments perfectly: the eau de parfum Lady Million by Paco Rabanne (80ml). Just like her, this fragrance is exuberant, fun, glamorous and resolute. With just a few drops, any woman can get what she wants, and everyone around her will admire her strength and magnetism.
Choose this gift now and she'll get it at the exactly the right time.