Perfect Love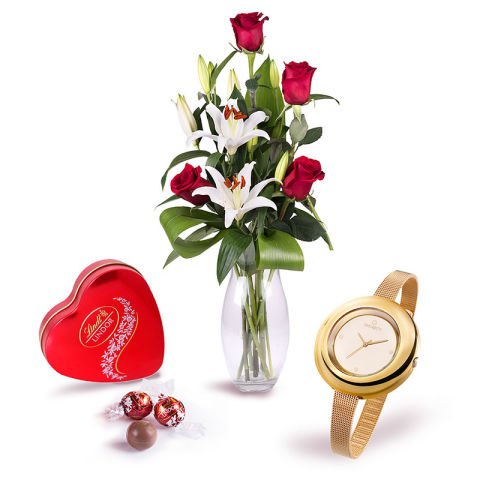 For the perfect Valentine's Day
Your love is perfect. All you have to do is look each other in the eyes to know what the other needs. You know your souls, your hearts, your minds and your feelings. Then this gift is what you need for you and your love. It is said that perfection does not exist, but it is hard to believe, looking at you. On Valentine's Day, celebrate the perfection of your feelings with a bouquet of red roses and lilies, just to indicate passion and purity. Thanks to this gift, which also includes a watch OPS! and a box of Lindt chocolates, you'll be sure that she feels like a princess once again.
Gift details:
A bouquet of red roses, accompanied by white lilies, decorative greenery combined with ribbon.

A watch OPS !, with a 40mm ball in polycarbonate, a silicone strap with quartz movement and with a warranty of two years. You can contact directly FloraQueen in case of problems or send the product to OPSOBJECTS.

A box of Lindt chocolates, heart-shaped, 40 g.