Gourmet Christmas Basket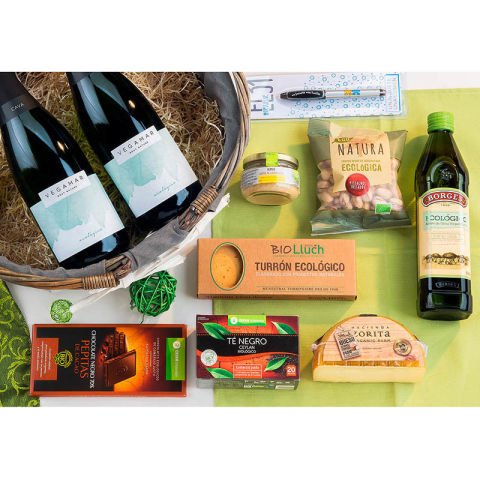 Divine Christmas
Give them a gift that will make their Christmas celebration unforgettable. This gourmet basket is full of traditional Spanish Christmas foods, from award winning cheeses to sparkling cava they are sure to indulge themselves to the max!
Gift Details:
1 piece of organic sheep cheese from HACIENDA ZORITA (Winner of the gold medal in the World Cheese Awards) - 225 g

2 bottles of sparkling cava Brut Nature Ecological from VEGAMAR

1 bar of soft almond nougat (with 66% of almond). Ecological and supreme quality from BIO LLUCH - 200 g

1 bar of dark chocolate nougat with cacao sparkles bio from INTERMÓN OXFAM - 100 g

1 bag of ecological roasted pistachio nuts from ECO NATURA BORGES - 150 g

1 bottle of extra virgin ecological olive oil made from BORGES - 500 ml

1 box of biological black Ceylan tea from INTERMÓN OXFAM - 20 tea bags

1 pot of ecological hummus from IBERITOS - 110 g

1 small wicker basket model Verona

1 solidary pen - with each pen bought a toy is given to a child in need

1 small carton box for the wicker basket from The Exquisite Box.