"Admiring glances": earrings and two bracelets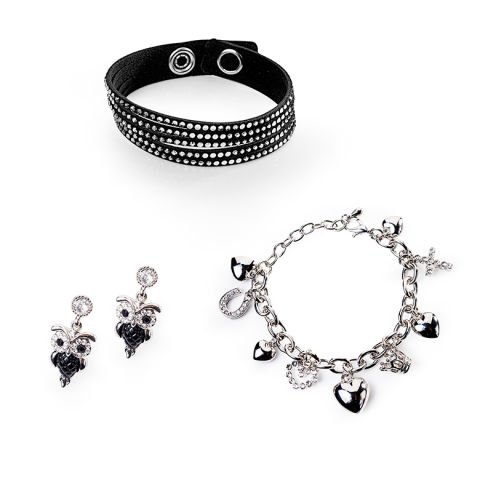 Earrings and two bracelets for maximum versatility
With this gift all eyes will be on her. The main feature of this set of three is the original owl earrings made from genuine Swarovski crystals. Accompanying the earrings we include two bracelets. In this way you can achieve various possibilities from modern, rock or to an elegant look...
Gift details:
"Owl" earrings: The owl's gaze is a symbol of attention and dedication. These owl-shaped earrings are rhodium-plated and decorated with black and white Swarovski crystals to give maximum expression and detail to every owl.

"Twisted Glamour" black bracelet: This black bracelet combined with the owl earrings is ideal for a casual yet at the same time sophisticated look. A night-time party, a rock concert, or a date are the perfect occasions to show off this modern complement with white Swarovski crystals.

Beaded bracelet: The bead bracelet is rhodium-plated and includes different symbols. Hearts of different sizes, a lucky horseshoe, a crown and a classic cross. This is a timeless bracelet that will never date. A great combination with the owl earrings, achieving both a classic but yet fun look.