Purity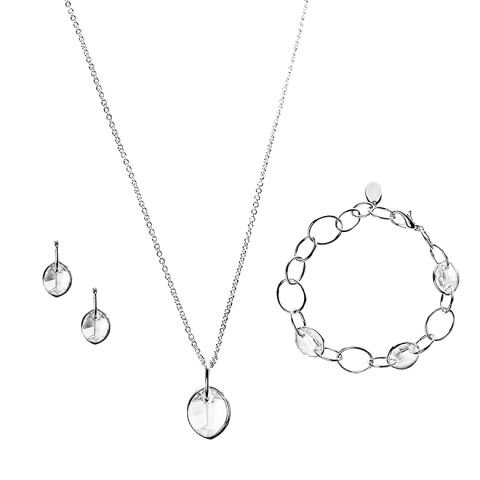 A sublime gift of 3 pieces of jewelry from MyCollection
Three elements, a perfectly complete set. A bracelet, earrings, and necklace that will delight that loved and admired woman, whether a friend, wife or partner, relative…The clear crystal, classic and unique from Swarovski conveys purity and shine in a subtle yet captivating way.
Gift Details:
"Leaf Stone" Earrings with clear crystal: all the facets of the soul, discovering and presenting themselves to the world, in these marvelous Swarovski clear crystal earrings. With a shape reminiscent of a leaf, they fall softly against the earlobe, softening the face. Perfectly flattering for all hair and skin types.

"Leaf Stone" bracelet in clear crystal: The versatility of a classic piece. A discreet yet extremely attractive bracelet due to its very modern design of chain-links interlaced with classically Swarovski clear crystals.

"Leaf Stone" clear crystal necklace: where is the purity of the soul? Maybe in the chest? This idea is symbolized in the "Clear Soul" set from MyCollection with Swarovski crystals and rhodium-plated chain. In combination with the earrings and the bracelet from the "Leaf Stone" collection, included in the set, it completes a magical gift, to be forever remembered and enjoyed.