Reflections of Beauty: earrings and bracelet with Swarovski crystals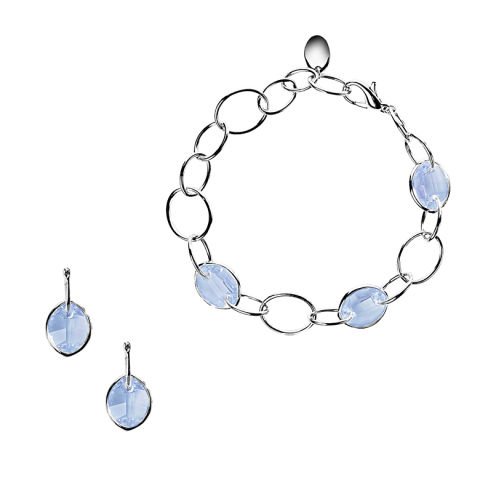 Blue-grey crystals to reflect beauty and perfection
For jewelry with Swarovski crystals, what is most important is to flatter and highlight the woman's beauty. This magnificent "Leaf Stone" bracelet and earrings set reflects clarity, light, and serenity. The perfect accessories to give as gifts that she will know she can use in the day to day, and when she wants to stand out for a special event.
This pack contains:
Blue-grey "Leaf Stone" Earrings: lightly suspended from the earlobe by a fine hoop, the crystals of the earrings of the "Reflections of Beauty" win you over with their subtlety and delicacy. The clarity of the Swarovski crystal enhanced by its blue-grey gradient-effect colour allows the beams of light to pass through them, and the beauty of the inside, and outside, to shine through.

Blue-grey "Leaf Stone" bracelet: much more than a bracelet or fashion accessory. The "Leaf Stone" bracelet by MyCollection from Swarovski, has all the qualities to enhance the woman's beauty and add a distinctive touch to each of her gestures and expressions.