"Daytime" for the modern man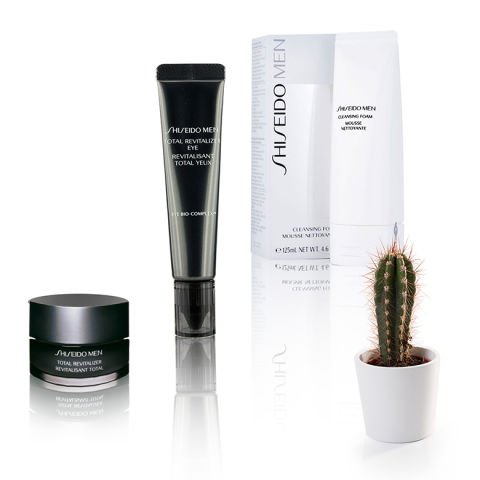 What you need is in this gift!
In the day to day, work, leisure, traffic on the roads…It is imperative to every man that he have at his disposal his skincare products to detoxify his skin, and to maintain a young and fresh look. Shiseido is a high-quality skincare label that, without a doubt, will effectively treat his facial skin, and will provide a gentle but deep cleanse.
Gift Details:
Total Revitalizer Eye (15ml): anti-ageing eye cream that fights wrinkles, dark circles and bags under the eye, and loose skin in this area.

Total Revitalizer (50ml): anti-ageing and anti-fatigue full treatment. Removes dryness, skin resilience, wrinkles, and other signs of ageing, whilst maintaining the skin hydrated round the clock, and protects it from environmental aggressors.

Cleansing Foam (125ml): cleansing foam that removes dirt and excess oils. Its dense foam makes it perfect to use as a shaving cream. It leaves the skin exceptionally fresh without feeling dry or tight.

A small unique detail, the Mexican-style mini cactus that he can use to decorate any corner of the home or office, and they require very little watering!