Send fresh flowers to Spain - islands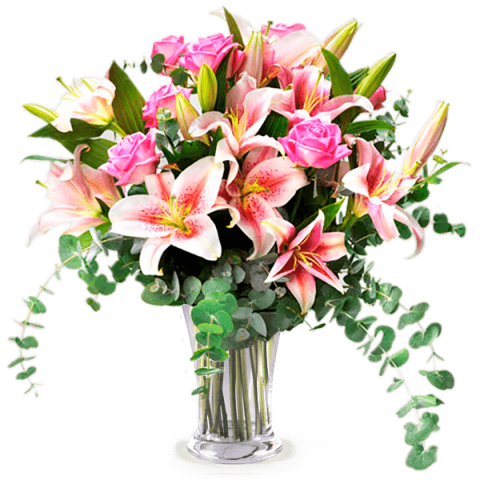 Share the wonder of fresh pink lilies and roses with a pink bouquet that's perfect for sending someone special a beautiful message of love. Send flowers to over 100 countries with FloraQueen today. Quality bouquets prepared by expert florists and 7 days freshness guaranteed.
Fresh flowers
Find the bouquet you're looking for
Ideal designs for every occasion arranged with the best quality flowers.
Anywhere, anytime
Delivery in over 100 countries
Your flowers will do the hard work of sending your message, no matter how far they're travelling.
Punctual Delivery
Surprises that arrive just in time
You choose the day and hour: your flowers will arrive on time to their destination.
A K
Delivery was on time. There were no any prob...
James
The flowers were excellent and delivered in ...
Lucas
wonderful flowers were delivered in time. th...
Flower Delivery Balearic and Canary Islands
Share beautiful bouquets full of emotion with a flower delivery to the Balearic and Canary Islands today with FloraQueen's international delivery service to over 100 countries. Choose from expressive arrangements of roses, chrysanthemums, gerberas and other bouquets of the most popular flower arrangements to make any special day spectacular.
Why to surprise in the Spanish Islands
The Balearics and Canaries are among Europe's most popular holiday destinations. Approximately 21 million tourists visit the Spanish islands annually and they are also home to numerous expatriates and residents from all over the world. Whether it's a surprise for a loved one living on one of the many Spanish Islands or a delivery during their holiday, the gift of a bouquet is a much-appreciated token of your love, that allows your emotions to travel across a great distance.
When to make a flower delivery to the Spanish Islands
Every island has its own unique style and celebrations. For example, Santa Cruz de Tenerife hosts an annual carnival that rivals Rio in terms of its size and scale and the villages across Mallorca celebrate numerous spring festivals during May. Aside from the many local festivities enjoyed in each Spanish Island, a flower delivery can make the difference during annual celebrations such as Easter, Valentine's Day or Mother's Day or special days such as weddings, anniversaries or birthdays.
How FloraQueen delivers to the Balearic and Canary Islands
FloraQueen works with local florists all over the world with our international delivery service, allowing us to reach the most destinations and offer the best all year round service possible. When you order a bouquet with us you just need to tell us when and where you'd like to send your flowers in the Balearics or Canaries and in a few clicks you're all set. From there we'll entrust your order to one of our local florists who'll arrange your bouquet with the freshest flowers and ensure that your bouquet arrives at its destination on time.
How to send fast flowers with FloraQueen
We can deliver very fast flower bouquets to the Spanish Islands. If your order is urgent you can deliver same-day and next-day flowers to the Balearic and Canary Islands just in time for last-minute surprises. If you want to send fast flowers today, please remember the following tips:
Make a same-day delivery order from Monday to Friday until 17:00*
Order same-day flowers on Saturdays until 13:00* and on Sundays until 15:00*
Surcharges apply for same-day, next-day and weekend deliveries
Avoid surcharges on flower deliveries to the Spanish Islands by delivering Monday to Friday and ordering up to 48 hours in advance
*All times are CET
Send flowers to our most popular destinations
We deliver to all cities, towns, and villages Spain Islands See more cities