Flowers and Florist in Harborne, Birmingham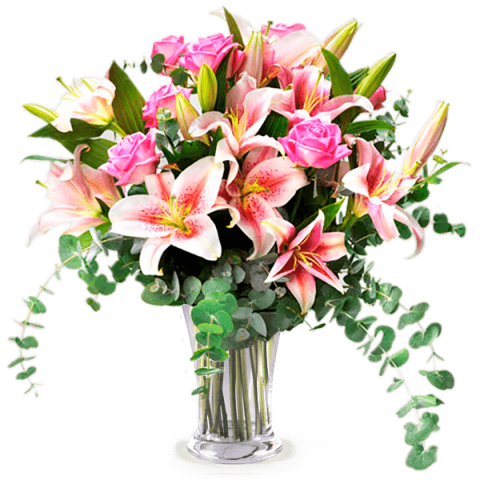 Share the wonder of fresh pink lilies and roses with a pink bouquet that's perfect for sending someone special a beautiful message of love. Send flowers to over 100 countries with FloraQueen today. Quality bouquets prepared by expert florists and 7 days freshness guaranteed.
Fresh flowers
Find the bouquet you're looking for
Ideal designs for every occasion arranged with the best quality flowers.
Anywhere, anytime
Delivery in over 100 countries
Your flowers will do the hard work of sending your message, no matter how far they're travelling.
Punctual Delivery
Surprises that arrive just in time
You choose the day and hour: your flowers will arrive on time to their destination.
A K
Delivery was on time. There were no any prob...
James
The flowers were excellent and delivered in ...
Lucas
wonderful flowers were delivered in time. th...
Send Flowers to Harborne
Harborne was a non quaker established area of the city, therefore, compared to other nearby areas and settlements it was well supplied with public houses or pubs. There is the famous Harborne Run, which is a pub crawl of various pubs throughout the city usually consisting of about 10 to 15 pubs, the order varies depending on the night. The spelling of Harborne has been shown various ways throughout history and is somewhat disputed, however how you see it here is the currently correct way to spell it. Harborne became part of Birmingham in 1891, transferring from Staffordshire. Because of Harborne's non quaker origins it is thriving with fantastic bars, pubs, and restaurants. Although it may not be as quaint and peaceful as its surrounding prim and proper neighborhoods it is much more of a lively area of Birmingham with plenty of nightlife and entertainment. If you are looking for the more historic and beautiful areas wander the streets around the village center, where the old church is and the most historic parts of the city can be seen. While it may not be the most well known neighborhood of Birmingham this small village is still rich in history and culture.
Flower Delivery in Harborne
Do you know someone who lives in this popular intriguing and pub filled area of Birmingham? A brother, a sister, a mother, a best friend or even a colleague. Do they have a special occasion coming up? A birthday, valentine's day, an anniversary, or a wedding? Well if so perhaps you have been searching for just the right gift to get them something to show your love and appreciation for them, maybe you were thinking of gifting them a beautiful bouquet of fresh flowers from a local Harborne Florist. Well look no further, FloraQueen is your worldwide local florist, we are able to ship flowers to over 90 countries, and that means the small village of Harborne as well! We want to make sure that the recipient is receiving the highest quality freshest flowers available so that they are filled with love and joy when they receive this thoughtful gift from you. So select FloraQueen and we'll make sure that all off your gift giving needs are taken care of and that every recipient will be wearing a big smile after receiving their flowers. So instead of spending needless hours searching for the perfect Harborne florist let FloraQueen do the work for you and ship beautiful bouquets to wherever you may need.
Send flowers to our most popular destinations
We deliver to all cities, towns, and villages United Kingdom See more cities