Surprise with the silk touch of this delightful violet orchid. Give the perfect gift on a special day. Send it to anyone you love dearly to wish them well and make their occasion fantastic.
 
More about this orchid:
Violet double-stemmed phalaenopsis orchid

Pink orchid pot
*pot may vary depending on availability
---
16 reviews
*Depending on the delivery country the price may change.
Includes: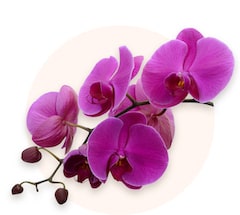 Purple orchid
Bouquets you'll also love