A bouquet of a dozen red roses sends the clearest message possible of your infinite love. Send our classic bouquet to the one you love today and show them how much they mean to you. Make any day as romantic as Valentine's Day with our bouquet of 12 red roses.


More about this bouquet:
12 fresh red roses
Gypsophila
Decorative greenery
More bouquets like this:
* Vase not included
We can guarantee the best quality flowers for each order.
100% Satisfaction guaranteed.
FloraQueen always sends the highest quality flowers.
All our flowers are shipped fresh, directly from our florist.
We always deliver on time!
FQ108
Infinite Love: 12 Red Roses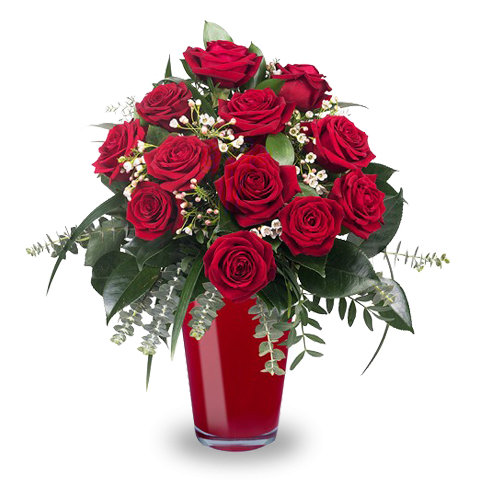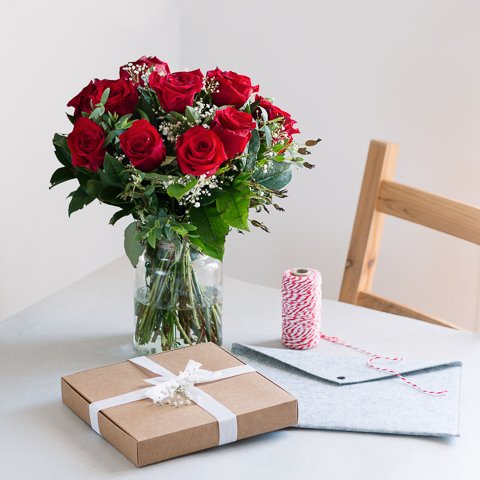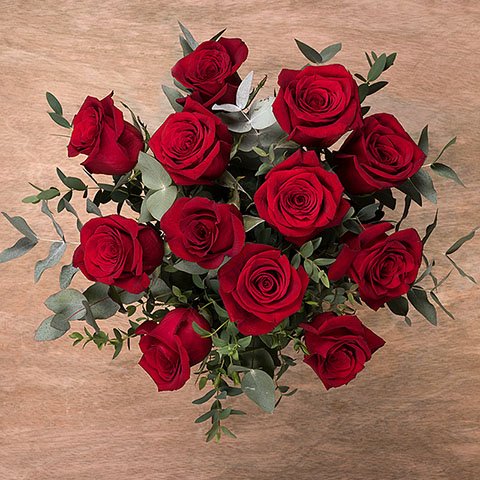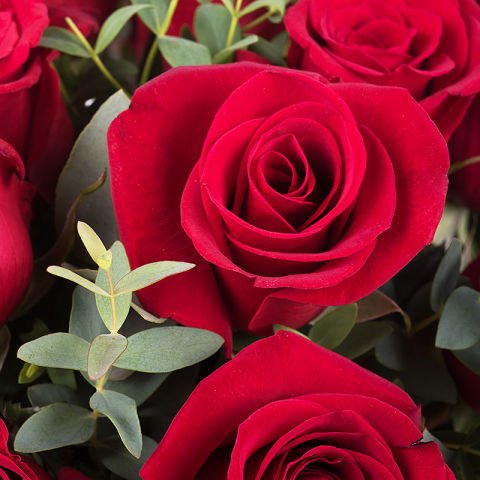 Punctual Delivery
Beautiful fresh flowers
Anywhere, anytime
Punctual Delivery
Fresh flowers
Expert florists
Bouquets you can enjoy for longer.
Some flowers arrive a little closed to ensure extra freshness and protection during shipping. Enjoy the magic of seeing them fully bloom.
What our customers say
14-02-2019
Sehr gut! Ich Ben sehr zufrieden mit dem Service!
Hanane
(Levallois-Perret)
08-02-2019
Quartec Gmbh Www.quartec.co Mr Marc Van Den Bergh
(Oostende)
27-01-2019
A bit exspensive but correct and on time
25-01-2019
Flowers were delivered on time and they were extremely beautiful, although I ordered at the very last minute.
Christian Ringl
(Sevilla)
18-01-2019
Everything went as expected.
Tuka
(6th of October, Giza)
07-01-2019
It was really good, but it's not as it was shown from the gifter
06-01-2019
Everything was fine, except that my name was mistaken :) and I know that in the order it was written correctly :)
05-01-2019
Lovely flowers and packaging
Reinhold
(Hà Nội. Tây Hồ District)
04-01-2019
Delivery in time but the arrangement of the flowers was a little poor. Therefor only 4 stars
04-01-2019
I received a bouquet of red roses together with a vase and a calendar, the bouquet is simply amazing the roses are fresh and beautiful the composition, even the vase and the calendar are lovely! The only negative thing is that I didnt receive any notification about it(call or message), luckily there was somebody at home to take it!
Travis Dunnie
(Tel Aviv-Yafo)
04-01-2019
Always on time and beautiful arrangements. First class
02-01-2019
Beautiful presentation and gifts! Loved it.
02-01-2019
It's good my flower last long
Gustav Andersson
(Fuengirola)
01-01-2019
Hella good! Right time and right spot! Great job!!
30-12-2018
Service was good as always.
Fanis Tsakoumakis
(Manises)
25-12-2018
Excellent service. On time as I wanted. Great customer service during the process. I will use them again, definitely. Highly recommended!!
Andres Davis
(Novosibirsk)
22-12-2018
My fiance loved the flowers and right on time as usual.
Alain Saint-yves
(St-Martin D'Hères)
22-12-2018
Worked out very well, recipient delightd
29-11-2018
It's gorgeous. Arrived in perfect condition.
27-11-2018
I like the service and the surprise flowers speacially the delivery he is nice and respectfull.
Luke Pott
(Santa Cruz de la Sierra)
22-11-2018
Everything was great! Thank you!
21-11-2018
beautiful and fresh roses :)
19-11-2018
Fresh fabulous roses. Sad that they didnt last long!
17-11-2018
It was efficient, precise, and the rose well composed
16-11-2018
Quick, helpful. Beautiful!
14-11-2018
Flowers are gourgeous!!!!!! Thank You for service.
Paola
(San Mauro Torinese)
13-11-2018
Bouquet meravigliosi e servizio recapito eccellente
12-11-2018
Like it very much! Thanks a lot!
09-11-2018
Beautifully arranged flowers. I didn't receive them, the receptionist did
08-11-2018
Roses are beautiful as service as well
06-11-2018
The flowers are so beatiful and charming
Francisco Xavier Gallardo Tovar
(Shaoxing Shi)
04-11-2018
The time was perfect , the roses really nice , but she didn't recieved the the bear .
29-10-2018
I recieved a sooo great and lovely flowers i just loved theme soooo much and about the service it was the most great service i have ever seen so nice and lovely persone thnx u sooo much floraqueen
15-10-2018
The flowers were delivered on time and they were fresh, Im really satisfied with the service and the product.
13-10-2018
Thank you very much for flowers. Very beautiful.
Francisco Mateso
(Schiltigheim)
11-10-2018
10-10-2018
Brilliant and fast service. Beautiful flowers
10-10-2018
Product and service was amazing!
06-10-2018
Lovely! And with the vase!
05-10-2018
White flowers were bit too clustered instead of scattered and I felt the lime green didn't suit the roses, but not sure if this is the package or what was chosen for me
Rakshita
(Legnaro, Padova)
04-10-2018
Very nice and timely delivery
Julia
(Arroyo de la Miel)
02-10-2018
Great product, just in time and perfect package.
01-10-2018
big surprise in early morning:) lovely flowers
01-10-2018
Very nice.Good smelling,beautiful.Thanks.
Alcides Colomine
(Budapest)
27-09-2018
Excellent customer service. Answered all my questions within hours and kept me update with the delivery. Exactly as they advertised
25-09-2018
Yesterday, I got beautiful roses with a very nice packaging and a card. The assistant who delivered the buch of flowers was also kind and helpful. I'm very satisfied with the product and service. Thank you very much!
24-09-2018
Very accommodating with the delivery
23-09-2018
I can give Flora Queen five stars, as they did what I expected and what I paid for, correctly and on time. I took them randomly from the Internet, among other competing companies. I had ten minutes to complete the order at six o clock in the morning, before leaving to work. It took ten minutes to order and it was easy to do. We were both temporarily in Canada, me in Alberta and my wife in Toronto, and they were delivered to her hotel without any problem. Moreover, the flowers were as beautiful as on the picture. Enough?
15-09-2018
Beautiful roses and nice service
Viktorija
(Frankfurt am Main)
14-09-2018
The bouquet is gorgeous !
07-09-2018
The flowers are really nice, thank you!
Walter Loesener
(Bangkok)
02-09-2018
Very helpful online assistance Made a difference
Mr Ahti Helynen
(Bangkok)
30-08-2018
Everythig I ordered was delivered on time.
30-08-2018
They did exactly what they said they were going to do and the product was first class.
29-08-2018
Excellent and user-friendly service. It made it very easy for me to send flowers from Mexico to Leiden in just a few hours. It would be good if AMEX would be accepted; it least I could not use it.
Philip Dillon
(Girardota)
24-08-2018
I will be back .. THANK you
21-08-2018
I really liked it. Nice flowers, nice service
Andrejka
(Slovenske Konjice)
21-08-2018
17-08-2018
Hi Floraqueen! Thank you for the amazing surprice :-)
Bondarenko
(Horodnya, Chernihiv)
13-08-2018
Maria
(Santiago de Querétaro)
12-08-2018
Excelente flowers , but my couple told me he ordered fancy dark chocolate for me And I just recibed Ferrero is not fancy and not dark , u need to be careful with that !!
11-08-2018
Both product and service were very good
30-07-2018
Good service and fast delivery!
24-07-2018
Perfect blend of colors. Creative arrangement. Delivered with a smile so perfect to start the day with those lovely flowers
Yenny
(Las Palmas de Gran Canari)
16-07-2018
16-07-2018
The product came in a good condition. The service was amazing. I got a message and also a phone call from the delivery guy.
Narzikulova
(Novosibirsk)
12-07-2018
07-07-2018
Everything was great!!! But when postman called me, he said it's a bunch of roses. I was happier if he didn't tell me before i got it. Anyway the roses are so perfact!
29-06-2018
good services, a bit pricey
25-06-2018
The bouquet was fine but the card was terrible!!! The handwriting was totally disappointing and almost not readable. The format was bad
Thomas Sander
(Krasnodar)
17-06-2018
On time and great quality!
13-06-2018
Ordred from uk. Very good service. Fast delivery and item as described. Dzienkuje Bardzo
12-06-2018
Nice and seamless service, the packaging and the card could be of better quality, but the flowers were beautiful.
11-06-2018
Amazingly beautiful surprise¡
31-05-2018
it is the second time when i get flowers from floraqueen. last time i had a powder to save the flowers more long . this time no powder (
27-05-2018
Very nice bouquet and delivered on time.
Maijas
(Mārupe, Mārupes novads)
23-05-2018
Excellent surprise and the way of making it!
11-05-2018
Thank you for the beautiful flowers at my Birthday Everything was perfect. I was surprised.
10-05-2018
I loved the flowers! :) The bouquet is very beautiful itself, but what I also enjoy a lot is the quality of flowers - the roses are very fresh and beautifully smelling. :)
21-04-2018
It's good, but flowers did not look very fresh..
21-04-2018
The wine not good this time. Something very cheap
11-04-2018
Nice although the carrier didn't adjust to the schedule and delivered it in the morning instead of the evening
10-04-2018
It as a good surprise but it wasn't they way he send it
08-04-2018
Excellent and rapid service
29-03-2018
Words alone cannot express how beautiful the arrangement looks Absolutely stunning thanks
28-03-2018
Great roses, beautiful suprise
20-03-2018
so cool! it makes people feel Happy‼️
Rosemarie
(Bradley Stoke)
14-03-2018
Fantastic product and superior service. Thank you
Andy Shenton
(Paranaque city)
10-03-2018
No problems, always well informed about the delivery. Excellent service
David Blount
(Novosibirsk)
07-03-2018
The whole set up and service is first class. Thank you! D.G.BLOUNT
05-03-2018
Fast, efficient and the item delivered was fantastic. Could not ask for more
21-02-2018
Beautiful flowers kind people for the delivery really great
16-02-2018
I love it but it delayed one day after valentine day.
16-02-2018
Just in time and beautiful flowers!
15-02-2018
Very good product. They service also good, the deliverer was a really nice guy
14-02-2018
Very beautiful flowers and an excellent service!
14-02-2018
Very good quality, prompt delivery
Ana
(Boecillo, Valladolid)
14-02-2018
03-02-2018
Amazing surprise!! Great quality
Fawzia
(Perth Western Australia)
27-01-2018
Liliane
(Sant Pere de Ribes)
26-01-2018
20-01-2018
It's a beautiful flowers I really love the roser, bear most of all the card, though it's late
Marcin Bieniasz
(Г. Москва,)
19-01-2018
13-01-2018
It's a very nice buquet of roses!
10-01-2018
It was an amazing surprise from my husband and the sons sent to me to the hospital after a major pelvic surgery! Sorry not the best picture but it really meant the whole world to me!
05-01-2018
Very beautiful followers fresh and stylish , thanks
02-01-2018
The flowers were ordered from the USA and delivered to Austria. I have used FloraQueen several times. The ordering process was user friendly and easy. I requested additional specific parameters that were met. The flowers arrived in the specified time. The flowers were beautiful. The recipient was very happy with the flowers. I was very happy with the service and the quality of product. I will continuing using FloraQueen for all of my flower orders.
27-12-2017
Service was very nice,made my day haappy
24-12-2017
The flowers were great, delivery a bit late!
22-12-2017
Was very pleasant and prompt
Cindy
(Bairro Amador- Eusebio)
15-12-2017
The bouquet was simply gorgeous! And I loved that my boyfriend could order it from another country and you guys were able to deliver in about 12 hours :)
14-12-2017
Friendly service and good quality roses
12-12-2017
everything was just perfect! :)
09-12-2017
It was incredible surprise! Thank you!
28-11-2017
Цветы прелестные.приятное обслуживание
28-11-2017
Its awesome i am very happy and glad that my hubby surprise me with your gorgeous bouquet of flowers
Lars Stenfeldt Hansen
(Bracciano Rome)
21-11-2017
Easy to find the correct flower and ordering and payment was without any problem. A phone call from Rome before delivery, to make sure the flowers was delivered correct makes this flower shop a 5 star service, well done
Pellicano2!
(Borgomanero)
16-11-2017
I am so happy, my mom is celebrating her birthday today. I am living in Chicago and my parents live in North Italy. We have had a video call this morning (US time) and while we were talking, the courier arrived and he has given the roses at my mom. She has been so happy !!! I am thankful to FloraQueen for the quality of the flowers I bought and for the shipping. They have been perfect on time !!! Definitely I can suggest FloraQueen has a way to send flowers anywhere there is a person you love ❤️Thank you, Eleonora
Jurajmuzik
(Llucmajor, Islas Baleares)
10-11-2017
I was fully satisfied using FloraQueen services they made perfect delivery to Malorca on time and the flowers were very nice (as my wife said). So they made a good job.
03-10-2017
Flowers were beautiful and service was excellent
Timothy Michael 'west' Garnham
(Roma)
02-10-2017
Amazing, first time i have used them. I live in Malta and wanted to send flowers to a loved one in Rome, Italy.I paid a little extra for same day delivery and i ordered around 2pm and a few hours later i received an email to say they have been delivered.Will definitely use this company again.Thank you FloraQueen
Ron Birkett
(Widnes Cheshire)
18-09-2017
Great experience no fuss easy and quick, what more can I say the flowers were fabulous as described...perfect many thanks
12-09-2017
Flora Queen even delivered the day of the earthquake in Mexico....fantastic!
08-09-2017
An amazing option for people which live far from their loved once. I am using this service every time when my family members and friends are celebrating an important date, or just let them know that I am thinking of them.
06-09-2017
Delivered to Spain within two hours of placing order (from Ireland). Fantastic 5 star service!
Guilherme1604
(Buenos Aires)
10-08-2017
FloraQueen worked perfectly. Sent flower to Buenos Aires, Argentina. Ordered them on Sunday and they were delivered promptly on Saturday as requested. The flowers were beautiful and were even better than expected. However, I did find €80 price tag a bit pricey.
10-08-2017
Fantastic service. 2nd time I order from floraqueen and doesn't disappoint me. Very happy. The only think I can say that you can improve is about having more different choices of different flowers. Best regards.
27-07-2017
I have never ordered flowers online before, I had a very good experience.Purchase on the website was easy and clear, maybe with a bit too much pushing of extras (vase, card, xl sized bouquet).Delivery was requested before 14h and actually delivered a bit after 14h. The destination was a removed town in Poland, deliveries to larger towns and cities are most probably faster.The flowers were beautiful and the bouquet was very nicely prepared.
18-07-2017
The service was great, the only problem which I faced- was that I put recipients number wrong, and could not correct it online. After that it took me more than 15 minutes to find out customer number for calling. Otherwise, the recipient was happy to get the flowers, so I'm totally satisfied with the service
Alonso Gutiérrez
(Kraków)
13-07-2017
Excellent service and delivery time, it fulfilled completely my expectations
Daniel Colon
(Krumpendorf am Wörthersee)
04-07-2017
FloraQueen was everything I wanted and hoped for. The flowers were delivered in time and they were gorgeous - as advertised.I wanted to surprise my girlfriend with some flowers for her birthday even though she was Vacationing a whole continent away from me. Turns out it was super simple with Floraqueen. I just chose what birthday arrangement I wanted, payed with Paypal and it was done. Once she got them she was extremely happy and surprised. Definitely worth the price.Unfortunately, I misplaced my order number but the info/help service answered my emails quickly so I got my info back. I suggest you sign in before placing the order as to not go through the same thing I did.All in all, the service is super simple to use and it is effective.
02-07-2017
Excellent service, prompt delivery, arrangement was beautiful. Highly Recommend Monte USA
Yuri Danilevskiy
(Napoli)
30-06-2017
Perfect service, flowers were delivered in exact time early morning. Grazie mille!
30-06-2017
Very quick delivery, no complications and the flowers were beautiful.
22-06-2017
Very easy to buy from FloraQueen. The flowers were lovely and the chocolates even better! Recipient very happy.
15-06-2017
Very Satisfied.....FloraQueen did a very excellent job. The flower quality and arrangement was superb and delivered on time. The official florist that I will use from now on.
15-06-2017
Perfect service! Im a very happy customer!
05-06-2017
Awesome service. Placed an order from USA at 4am and the flowers and chocolates were delivered at 10am same day to Panama City, Panama. Will definitely use again!!!!
27-05-2017
Flowers of good quality, delivered on the same day.
Simon
(Huixquilucan de Mexico)
26-05-2017
The best online florist shop.
15-05-2017
I know i am sending a review late because it slipped my mind , but this company is highly recommended. Flowers were delivered on the day itself and they were really beautiful and all of the staff were friendly. Online status tracker set my mind at ease as well. Definitely will deal with this company again. I appreciate their efforts and dedication to the business. I have even mention this company to many of friends because i trust in its services and products. I am beyond impress and i thank them for their promptness and excellent services.
14-05-2017
It's quite expensive to be honest and the prices fluctuate a lot, but the beautiful flowers have always been on time !
Connie Lara
(Santiago, Chile)
13-05-2017
Today my mother in law received the most beautiful roses for Mother's Day (early)!!! I had never sent flowers internationally (from USA to Chile). Other companies wanted to charge me between $100 and $150 to deliver roses to Chile. With FloraQueen I only paid $73 with taxes and all. My mother in law was so happy with her roses and I was very happy with the service FloraQueen provided!!!!! Definitely recommend FloraQueen to EVERYONE!!!!!!!!!!!! I'm a satisfied customer and will order again in the future!!!!
04-05-2017
very good quality and delivery on time. No problems.
03-05-2017
Good timing! they arrived while my wife was on the phone with me - thanks, FloraQueen
21-04-2017
Everythink was good, nice delivered.
11-04-2017
I ordered flowers yesterday morning from the United States. They were delivered to Croatia by 2pm local Croatia time. I was amazed. The roses were a hit! Thanks!
Miroslaw Mandrysz
(Barranquilla)
09-04-2017
This time all was arranged very well
05-04-2017
Good all round experience. I will use your service in the future. Many thanks.
02-11-2016
The recipient of the flowers was very happy and the delivery was on schedule. I would never have thought that they could adhere to a schedule to a town in Russia some 280km from Moscow. I will certainly use them again. Thank you.
Happy Customer
(Nurnberg)
23-10-2016
100% reccomend. will use again
Ed
13-09-2016
I used the service from Germany and the quality of the flowers, the vase and the card were really good. I recommend it.
Christopher Mitchell
01-09-2016
These roses were to help mend a broken heart they did this and more . Thank you FloralQueen
Wsxdqxm
08-07-2016
I am in the US ,and I ordered a bouquet of roses to my friend in Bremen, Germany. Delivery was very fast (DHL), and roses are still very fresh when delivered. FloraQueen is awesome!
Emanuele
18-05-2016
I really recommend the service. Flowers were appreciated, delivery was quick and effective.
Enio Silva
04-05-2016
Thanks a lot! everything was perfect! she loved my surprise. Now I know, FloraQueen the best Flower Delivery Expert worldwide.
Andrea Drozdova
24-03-2016
I live in Canada and through Floraqueen I sent flowers to Russia. They arrived the next day of my order. I am very satisfied costumer . Recommend 100 percent .
Alain
18-02-2016
Your service is excellent fast and very reliable I ordered. late in the day, especially as this was a request for the following day Sunday Valentine Day I did not expect a delivery in the morning I got a call around 10 am from my Valentine Lady thanking me for the flowers just delivered by a very nice young man I was very pleased and very impressed by FloraQueen Service I would recommend them and use the service again with pleasure A
Douglas Heyl
28-01-2016
This company makes the best flowers and your prices are affordable
Charles
26-01-2016
Thanks she was very pleased with the bouquet of roses. Will not be the last time I send flowers. I appreciate the service.
Andymnc
26-10-2015
They sent on time, flowers where seriously good!
Geir Arne Røstum
16-10-2015
Quality flowers, precise delivery, and very good service. Easy to book online.
Sebastian
12-10-2015
I wanted to send some flowers as a surprise for a really important person with the international flower delivery. The flowers have been ordered in the evening and arrived on schedule in the next morning as promised with the express service and looked really beautiful. You did me such a great favor, thanks a lot! It was the first time for me sending flowers with an online service and I would recommend your company again. 5 Stars for such a fast and uncomplicated delivery!
Melania Bellesini
03-05-2015
Matthew Holland
22-04-2015
Excellent service, quick & efficient & always deliver on time! A+++
Ronna L Sanchez
08-04-2015
The flowers were absolutely gorgeous! The website was easy to use and they were delivered on time!
Cliente
26-03-2015
It is a perfect way to send flowers wherever you want , also if you are really far ! It was delivered in time and wonderful bouquet ! Thank you !
Kestutis Stanevicius
25-03-2015
Daniel
20-03-2015
All worked just fine! 100%
Clodagh Stoker-long
19-03-2015
I have used FloraQueen on several occasions to send flowers to Ireland from my home in the USA. My family have always received beautiful flowers on time and have been delighted.. so though this way of sending flowers is a bit pricey..the result is worth it!
Andrei Filotti
07-03-2015
The roses ordered were magnificent. They were delivered on time. The entire service was excellent
Vincenzo Berardi
26-02-2015
I used FloraQueen several times and service has always been impeccable.
Massimo Zennaro
13-02-2015
I'had a problem with the order address. After few minutes I give the correct address by the form on the Floraqueen website but I didn't recive any response and I can find the message in the message history on the website. So I try with email address and I didn't recive any reply. So I try with a phone call but all numbers (Italian, German, Spanish) of Floraqueen didn't working! Finally I reach the customer numer in Spain and I found two operators with full disponibility and very professional that solve my problem. Now the delivery is plan correctly for tomorrow. Thank's to the customer service of Floraqueen. M
James Nolan
08-02-2015
Would have liked an Email stating Delivery had been successfully achieved ??
Marina Zavalova
05-02-2015
I would recommend to anyone to send those amazing flowers to your loved ones, my friend was so happy with his gift from me across the ocean. I really fill your care and support. Thank you so much
Custonnmernn
05-02-2015
Very reliable and honest company.
Julian Powell
31-01-2015
Can't fault them sent an order for flowers in South Africa, delivered on time and the person who received them was extremely pleased, would defiantly use this company again and again
Patrick Aldred
25-01-2015
very good service great flowers and after a week still looking good
Sean Plott
21-01-2015
Very Satisfied. Thought it would be more difficult to send flowers to Italy
Stan
21-01-2015
My order was delivered on time and my girlfriend really liked them. The flowers are still fresh 7 days after they were delivered. I am extremely satisfied and will use FloraQueen again.
Ruth Ramos Araya
22-12-2014
FloraQueen provided a seamless service. Timely arrival of floral delivery. Quality of flowers ordered was excellent which demonstrates exceptional partnerships in country of destination. Flower delivery was personalized and the recipient called of flower delivery. Would trust this company with future world wide orders. Above all made someone's day! Thanks kindly,
Jeremy
19-12-2014
I was concerned sending flowers to Mexico City from Canada. This company delivered exceptionally!
Randy Wilkinson
18-12-2014
FloraQueen did exactly as I requested. Their site was easy to use and their product and service was GREAT! Prices were very good too. I would recommend them to anyone wanting to use international services.
Peter Tomov
03-12-2014
The flowers I ordered have been delivered in time for the birthday of my daughter. I like the service of FloraQueen and will use it in the futute to send flowers to my dearest people in Bulgaria!
Miguel Cervantes
03-12-2014
It was easy and reliable. Thank you! They loved the flowers!
Stephen
26-11-2014
The recipient's view was that the roses were the most beautiful she had ever seen. Enough said, not to mention the same day delivery to Iceland.
Dias Bekbossynov
26-11-2014
The delivery was in time,with the exact item that was ordered (had a very negative experience with other florist company). Absolutely loved it! Will make sure to recommend and place orders in the future
Marius Neumayer
24-10-2014
Somehow they didn't have the complete address and the phone number. I tried in the past other competitors charged and not even delivered. Buying from USA and delivered to Romania with FLORAQUEEN, I HIGHLY RECOMMEND. Thumbs up !!! BTW, excellent beautiful bouquet of flowers ; ) Thank you, great job
Giacomo Gattoni
17-10-2014
IT was good but it did not accomplished with timelines. Anyway I know colombia and this can happen.
Les Noble
13-10-2014
Well received and appreciated - on time - first class service.
Matt
06-10-2014
My wife loved her roses - I was worried that she would not receive them in time, but you got them to her early...phew, what a relief. Thankyou for making everything so simple. I am busy professional working in the UK, my wife is home in Hungary so it was so great to find a company who can deliver to the outskirts of Budapest. Many Thanks
Fahad Shahid
02-10-2014
Flora Queen, service was not satisfactory it was exemplary superb, all was done on time with timely keeping me up to date of the status of my order, further the recepient was more than satisfied and surprised
Christopher
02-10-2014
Very good. I never got a Mail with delivery confirmation. Otherwise perfect.
Peter
02-10-2014
Had roses delivered to my girl in Russia and they did a smooth reliable job. Flwawless and a great price. Good web site interface too.
Margaret Hill - Western Australia
01-10-2014
Thank you for your efficiency and prompt delivery with very little notice. My family in Estonia were thrilled with the roses.
Fadi Hammdan
25-09-2014
Although am sending the flowers from Jordan to Germany, but the way the bouquet looks like in real is much better than the ones u made on ur website and I've been told that it smells just great. One thing made me unhappy is that u ran out of cards and I've been given a not soo nice one, and what I wanted to be printed on it was not clear enough to be noticed! Other wise am so happy and thanks for being really nice, keep on the hard work and defiantly you will be the best choice to send flowers next time.
Brenda
23-09-2014
Used this floral service for international delivery a couple times, always amazing quality and no problems at all. A dozen red roses delivered halfway around the world for 80 bucks....outstanding!
Gerardo J Daboin
23-09-2014
These people were able to change the delivery date of the flowers with a short notice. I liked how fast they responded to me. Good job!
Aaron Ponder
18-09-2014
Floraqueen had great service! I'm impressed they operate in so many different countries and languages. They delivered quickly and addresses my emails quickly. I recommend then for international flower delivery.
Lone Nguyen Thanh
10-05-2014
This is the first time that I deal with Floraqueen, so I was a little scared at the beginning. However, everything turned out to be satisfactorily.
Jamie Hunt
03-05-2014
I had some trouble with payment on the website, but the online customer service agent was able to fix my issue straight away. The website was easy to use and getting help was extremely easy. I was very impressed with the ease of it all.
Dominik
01-05-2014
Delivery was perfect as well as the contact to the delivery service. Everything was easy, excellent and fulfilled my expectations. When I need a flower delivery to Paris, I would choose Floraqueen again! Many thanks!
James B B
25-04-2014
The flowers I ordered for my wife showed up exactly when they said they would. Not only that but, it looked just like the pictures. Needless to say my wife was happy. Definitely recommend.
Dimitri F Yin
17-04-2014
Despite the physical distance between us, I wanted to make a bold statement about my feelings for someone so after a quick web search, I ordered flowers through Flora Queen. They arrived the very next day and had the very effect I desired. I was able to say that I'd done my part in showing somebody special how much I cared about them. Flora Queen is a fast and reliable flower delivery service that I would recommend to anyone who wants to make an impression on the person that they love.
Michael
15-04-2014
Very efficient but card was not sent, competitive price and very good flowers!!
Edan Yachdav
11-04-2014
It could not have been easier to send flowers across the world. I'm in San Francisco and I sent the flowers to Spain. I placed the order when it was morning in Spain and they made it to their destination literally 5 hours later (same day). I saw a picture of them and the quality was outstanding.
Krasin Yury
06-04-2014
I have used the services of Floraqueen several times. Each time the service was excellent. I will use the help of Flaraqueen every time I will need to send flowers to somebody whom I love.
Gary Richardson
05-04-2014
The card a flowers were lovely
Susan Stoll
04-04-2014
We ordered flowers for our daughters wedding anniversary and they were delivered on the day,a little later than we wanted but it made up that they the most beautiful bouquet of flowers and she was over the moon with them, they were rd roses, which she love.
Donald Sico
28-03-2014
Flawless delivery to my wife overseas.
Husnu Kursun
25-03-2014
floraqueen delivered internationaly on time and the way I wanted. If was for may weding aniversary, my wife was out of the country at the time and flowers were delivered properly and on time and she loved them
Serkan Gelen
22-03-2014
Your wonderfull. Thank you.
D J Newman
18-03-2014
I have never used this company before, but I was very impressed with the whole organisation. I wondered if sending flowers to the Ukraine from the UK might be a problem, but they were very efficient and delivered them as promised. My friend was delighted! I would definitely recommend them.
Boris Šubara
09-03-2014
First of all, FloraQueen is NOT a scam. They provide good service but, as you can imagine, their operations are linked with thousands of local florists worldwide and it is difficult for everything to go smoothly as FloraQueen does not have direct control over them. I ordered flowers for my girlfriend in Serbia, which were very nice and as depicted on the website, and they were delivered on time. However, I had asked for my card message to be changed and it was not, even though I received confirmation that it was (on two occasions). Also, the service would be much better if there was a telephone line but even with the electronic mail system, you will get a relatively fast reply.
Manfred Scharhag
08-03-2014
I enjoyed the ease with which I could choose the flowers that I wanted from the website and then have them sent to my relatives across the other side of the world. From the convenience of my home. The constant updates as to the progress of my order and the prompt delivery made for an all round pleasant experience. I would have no hesitation in using and recommending you to my family and friends.
Colm Corcoran
28-02-2014
Flowers were beautiful and superbly presented. 14 days later the bunch of red roses are still in great condition. Would recommend, and will use again, as I have before.
James
27-02-2014
Ordered a delivery for Valentine's Day in Brazil… Flowers and chocolates arrived on time and in perfect condition; made both the recipient and the sender very happy.
Marc Medas
26-02-2014
I was very impressed with FloraQueen as the process was easy and the flowers and wine that I ordered were delivered on time and were greatly hidden. I live in Canada and my girlfriend is in Spain and the process was easy. Thanks FloraQueen!
Jeff
25-02-2014
First, the flowers that were delivered were exactly as pictured on the website, in excellent condition, and delivered on the date I requested. However, the flowers were not delivered until 4:30 PM. The delivery day was NOT a holiday or a special celebration day. The delivery location was a major landmark building in downtown Rome, so there was no possibility that the delivery driver could have been confused about the address. The delivery driver called, as I requested, when he delivered the flowers. However, due to the late delivery, my wife did not receive the flowers until the next day (a day after the special memory that I was trying to create) . . . so only 4 stars. I also never received the email delivery notice promised on the web site.
Parm
24-02-2014
Have used flora queen about 4/5 times now ordering from the U.K and having them delivered in Germany and they have not let me down. Great quality flowers and the prices are good considering the service you get. I will be using flora queen in the future no doubt and would recommend it to anyone who wants to have flowers delivered around the world.
Alberto Pilia
23-02-2014
The service is perfect, fast and without problems. Flowers fresh, chocolates very good. What else? Don't think twice if you need to send flowers.
Francois Truffaud
23-02-2014
I ordered my flower bouquet the day before St Valentine's day. The delivery was on time, the service was apparently very pleasant, and it was absolutely worth the try
Khalid Abdul Mohmen Hamid Larry
22-02-2014
Paolo Cozzolino
22-02-2014
I advice FloraQueen because I had a very good experience, this was the second time I have sent flowers in the world ... try You too ! It's recommend by me
Ramses Miranda
21-02-2014
They completed everything including my special request. Thanks !
Parfait Ngoran
21-02-2014
REALLY LIKE THE SERVICE, THAT WAS QUICK AND SHARP. I JUST DIDN'T GET THE CONFIRMATION EMAIL SO I WAS A LITTLE SKEPTICAL AT 1ST BUT HAPPY ENDING
Mr Malcolm Clarke
21-02-2014
If your are looking for a top quality service look no further, it was super from opening the website to receiving the flowers. Could not fault any part of the service. Will most definitely be using Flora Queen on a regular basis. And I suggest you give them a try. You will not be disappointed. That's for sure.
Neil
21-02-2014
Ordered from england to poland a week before valentines and they turned up on time
Tomas Baiget Marigo
21-02-2014
I found it a little expensive, but still affordable for special occasions
Anthony Cook
21-02-2014
Order was easy to place and confirmation emails came quickly. One email advised a final confirmation email would be sent when the flowers were delivered but this never came. However the flowers arrived on time and looked great.
Faraz Zamyadi
21-02-2014
FloraQueen made it easy for me to send flowers from the UK to Tunisia via Germany. Will definitely use them again and recommend them to anybody
James
21-02-2014
Delivered as requested, friendly customer service.
Ken Neger
21-02-2014
I sent flowers to my dear Eva in Germany. She loved the flowers and the delivery was on time! Flora Queen is great for any European delivery. I fully recommend their service, and the price was right!
Sunny
21-02-2014
The qualitiy of the flowers and the arrangement were amazing. Impeccable service and efficiency. I would not hesitate in recommending.
Markos Charalambous
21-02-2014
The best international shop ever!! I will order for sure next time from here! Ordered the flowers and were delivered to my girlfriend with no problem or delay. The flowers were fresh and very beautiful, exact like the description! I recommend everyone to buy from here!
Yoon Sik Park
21-02-2014
Hand-written card, perfect quality flowers, excellent delivery: my girlfriend's mind is blown. Next purchase guaranteed.
Eric Burton
21-02-2014
I ordered flowers from the UK, to be delivered to my girlfriend in Bulgaria on Valentines day; the flowers arrived on time, and my girlfriend was very happy!
Thomas Thomson
20-02-2014
I ordered my flowers to my friend in Greece from Scotland i was hoping that they would arrive on time and in good condition and to be honest i was a little worried, But i had no need to be they arrived promptly and in excellent condition fresh and beautiful and my friend was so delighted with them that i would highly recommend Flora Queen for any future deliveries and i will certainly use them again, they kept me up to date every step of the way and confirmed when the flowers were delivered...Thank you very much a truly professional company with complimentary service...
David M
20-02-2014
I sent roses to my fiance in Spain for Valentines Day. They were large and not quite open yet so they were fresh... she was very happy.
Conor Galvin
20-02-2014
Excellent value and very reliable
Martin Zausner
05-02-2014
The flowers and the little presents were a full success with my fiancee, she loved it.
John Hicks
04-02-2014
I ordered these for a lady friend the price and service was very reasonable, flowers were delivered right on time .....will repeat
Stuart Mcarthur
31-01-2014
Having ordered online I noted that the delivery time was marked for 1300 that same day. I thought that was pushing it because I wanted her to get them before she finished work but I figured what the hell if she didn't get them that day then she will be surprised when she went to work the next day. As it turned out she got them in the middle of lunch in a cafeteria filled with people before 12:30 the same day . So it was earlier than expected and it couldn't have worked any better because everyone was asking who the man was and how cute he must be. Well done
Andreea Dragan
17-01-2014
Thank you for your professionalism , the way you kept me informed every moment about my delivery , but most of all thank you for delivering my beautiful bouquet on time - as I required a special time - after midnight or very early in the morning ! Congratulation from Bucharest , Romania to Flora Queen Greece , Athens !
Konstantin Tsigutkin
17-01-2014
Prompt delivery. High quality of flower arrangements. Good communication.
Neda Winter
11-10-2013
was late for my mom's b-day... but they got her extra pralines... so she was happy at the end... thanks
Show more reviews
Show fewer reviews