Surprise the one you love with a breathtaking display of 24 red roses. This unforgettable bouquet is almost guaranteed to leave your darling speechless as roses have a way of saying 'I love you' more eloquently than words can. The perfect surprise for Valentine's Day or a milestone anniversary.
More About This Bouquet:
24 Red Roses

Gypsophila
Greenery
We can guarantee the best quality flowers for each order.
100% Satisfaction guaranteed.
FloraQueen always sends the highest quality flowers.
All our flowers are shipped fresh, directly from our florist.
We always deliver on time!
FQ117
For My Inspiration: 24 Red Roses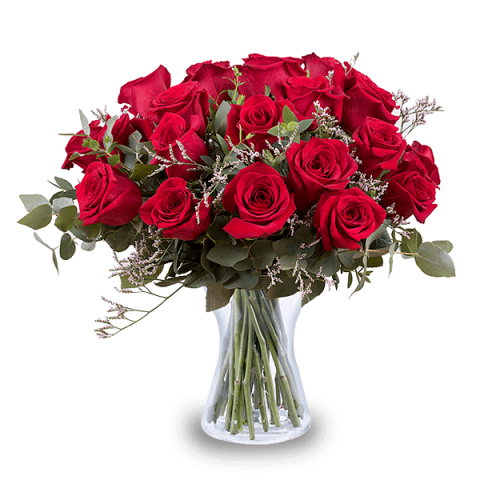 Same day delivery
Beautiful fresh flowers
Arranged by local artisan florists
7 days of freshness
Thanks to our high quality flowers, our bouquets will stay fresh for 7 days.
What our customers say
16-02-2018
Die Blumen waren Perfekt!
15-02-2018
The roses looked old, I touched them and they were losing all the petals.
06-02-2018
Very good quality of roses
Diana
(BELLO - ANTIOQUIA)
25-01-2018
Beautiful roses and lilies!
15-01-2018
Beautiful and excellent service
10-01-2018
well. I've getting flowers almost each month within a couple years. The wines can be better and more types of flowers.
05-01-2018
beautiful surprise, but unfortunately the flowers weren't fresh ...
18-12-2017
The roses are very beautiful. I like them very much :)
Yasmina
(Las Lagunas de Mijas)
14-12-2017
11-12-2017
Very good service and beautiful flowers
06-12-2017
Amazing! Loved the flowers and the package with the wine, chocolates and stuffed animal was so gorgeous!
27-11-2017
It hasn't been amazing. The guy who came with the flowers was very kind putting water for the roses
12-11-2017
The flowers were exactly as chosen.
Linda Maycock
(Sant Vicenç de Montalt)
31-10-2017
Amazing service, kept up to date all the way. Beautiful flowers, will definitely use your service again.
Birkan Araz
(Sankt Augustin)
25-10-2017
Everything was good. Super service very fast and good quality. Deserve 5 stars
21-10-2017
100% on time! Great service
13-06-2017
They did what they promised and delivered on time
Beata Karlak
08-07-2016
Thank you ,you make my mom very happy and because of that you make me happy too, next time when I need to send flowers I definitely use FloraQueen.
Salah Batarekh
25-06-2015
"Thank you so much FloraQueen you are great company my order delivered in time and in perfect condition....if I want to send flowers again I send only by this company because I had very bad experience with sending flowers companies Thank you so much again"
Clauw Christophe
17-01-2015
ORDERED FOR THE FIRST TIME 24 ROSES, by mail/webshop from FloraQueen ORDERED FROM BELGIUM TO MY GORGEOUS IN VENTURA CA WERE DELIVERED PERFECT ON TIME, THANKS SO MUCH best regards Chirstophe Clauw
Giacinto Adamo
23-09-2014
I found the experience smooth and exactly what I needed from the very start. I loved the continuous communication to keep me on track with the delivery, the options for delivery were excellent and the choice of flowers suited me perfectly. Well done, we have already recommended FloraQueen to others. My daughter Tina used FloraQueen last year and her experience matched mine.
Mikhail Tinkov
06-05-2014
Flowers not the same quality as shown in catalog. Didn't get delivery notification. Not good service!!!
Tamas Kern
31-03-2014
Another bear was sent instead of the ordered.
Timothy Verheul
11-03-2014
Flowers were amazing and sent ontime. However, I spent an extra 20€ on a "Large" teddy bear to accompany the flowers and what was delivered was nothing of the sort. Some scary looking small fluffy rat was delivered which ruined the whole experience. Will be contacting flora queen for a refund I believe!
Panagiotis Giannelos
28-02-2014
The flowers arrived in few days of delay, but in the end i had a refund of 50%
Rudy Van Driessche
21-02-2014
My girlfriend called me on Tuesday that the flowers were already fading
Rosemary Carberry
14-02-2014
The flowers were delivered on time & I also got an email the day before telling me the order would be done by my delivery date & then an email confirming delivery. It was for a 40th Wedding Anniversary and the couple were delighted.
Martin Tremblay
28-01-2014
Great job considering how difficult it was to find the place. The florist had hard time to find the location in Monaco but after 4 attempts he found the place but we needed help from neighbors to finalize the delivery. Overall, I did appreciate the persistance of the florist to deliver the flowers. They were fantastic!!!
Show more reviews
Show fewer reviews