Show your love with this bold, romantic gift of 25 red roses. If one red rose says 'I love you', choosing a bouquet of 25 shouts it from the rooftops! Warm your loved one's heart with a 25 red rose bouquet delivery. Spice up your anniversary or any romantic occasion with this unique gift.


More about this bouquet:
25 premium red roses

Aspidistra

Round bouquet design
More bouquets like this:
* Vase not included
We can guarantee the best quality flowers for each order.
100% Satisfaction guaranteed.
FloraQueen always sends the highest quality flowers.
All our flowers are shipped fresh, directly from our florist.
We always deliver on time!
FQ138
Love Addiction: 25 Red Roses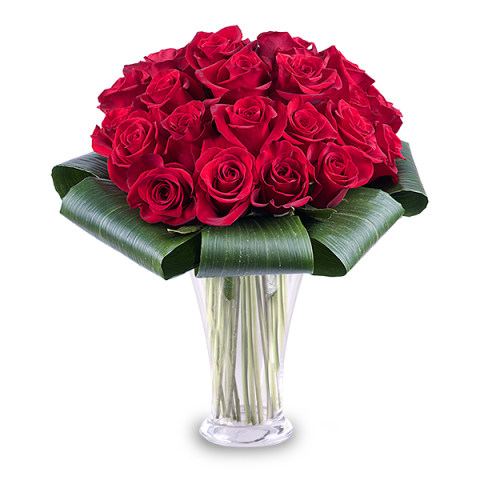 Punctual Delivery
Beautiful fresh flowers
Anywhere, anytime
Punctual Delivery
Fresh flowers
Expert florists
Bouquets you can enjoy for longer.
Some flowers arrive a little closed to ensure extra freshness and protection during shipping. Enjoy the magic of seeing them fully bloom.
What our customers say
30-11-2018
Wonderful surprise and good service
24-11-2018
I like it it was amazing, and the service was nice thank you
Giulia
(San Giorgio in Bosco)
10-11-2018
Fiori freschi e cura nel dettaglio
27-08-2018
The vase I ordered with the flowers was not delivered.
Elena
(Las Lagunas de Mijas)
18-07-2018
Everything was great! Thank you!
31-03-2018
تعامل في قمة الدوق و سرعة التوصيل و بوكيه زوين بزاف و الورد غزال طبيعي
28-03-2018
The flowers are beautiful!
09-03-2018
She really liked the flowers! Third time using FloraQueens's services to deliver flowers to Poland. This time I ordered 25 red roses, vase and a card, everything was delivered on time. The flowers were beautifully arranged and my SO loved them!
18-02-2018
Not impressed the were left out side and were not healthy and they died quickly have called but no answer and I receive flowers a lot and never had them died so quicly my order number was 66060777 David Seagrave please give me courtesy call back
19-01-2018
Breath taking Red Roses! ❤
01-01-2018
One of the best and beautifully bouquet i've ever get . Like Germany because i lived there
18-12-2017
Such incredibly beautiful flowers! Made my birthday a great one :)
28-11-2017
It was such a wonderful surprise, I love the roses. Thank you for the amazing service
Maurocetrone
(Barranquilla,Alto Prado)
12-11-2017
Anthony Ficara
(Paris(Thiais))
27-06-2017
21-04-2017
Love the service! Delivered on time and in great condition! Love the 15% discount on the next order ! Great experience
Alexey Kozlov
12-02-2015
My order was delieverd correctly. Thank for FQ!
Anthony
17-12-2014
Perfect quality and it difenetly will bring on your loved one face
Gonzalo
05-12-2014
I am Uruguayan and I've sent roses to my girlfriend in Italy. At the next morning, she received an amazing, enormous and gorgeous bouquet of 25 roses. My experience has been that great that I believe that after this she loves me much more! In fact, that's what she says! ;-)o Thank you guys, you're awesome!
Kristine B
25-09-2014
Arrive like promised and look fresh. My mom was super excited and loved it. She cried when she received as it look so beautiful. Delivery guy didn't have a problem to find a house where to deliver. Will use it in future and recomend to everyone.
Alexey Katya Sazhin
19-09-2014
Thank you soooo much! Wonderful service! On time, with no problem! Our Mom was happy!
Simon Borg
13-05-2014
Excellent no nonsense , fast and efficient service . Basically what I would expect from a professional business - well done keep it up !
Aleksandar Marinkovic
12-03-2014
Im full satisfied, l will use your service in future. For me its the best.
Vladimir Gonzalez
21-02-2014
The deliver on time and in a very professional way, also the keep updating the process and sending information about the deliver.
Shujan Bhuiyan
21-02-2014
Highly recommend this company as I know now they send fresh flowers and deliver on time!!
Slobodan Majstorovic
21-02-2014
Flowers arrived on time, as ordered to a very happy fiancee, beautifully arranged. The whole process was completely glitch-free. A++!!
Barmettler Josef
16-02-2014
I would recomend floraqueen, its worth every penny.
Pasquale Salvatore Palumbo
12-02-2014
I was happy to choose Floraqueen because I could send a wonderful present to my dear love. She live in Poland, much faraway from Italy, but I wanted make the best present for her so I chose to call floraqueen. I advice my best friends to call floraqueen for a special service.
Nathan Williamson
17-12-2013
Floraqueen goes that extra way to make sure your flowers get delivered. The flowers are amazing and very fresh, the hold for a long time. Even when I had give them a wrong address, by mistake, they did get the flowers to the right person, they found the right address and found her there.. This i think is great.
Show more reviews
Show fewer reviews