Show your love with this bold, romantic gift of 25 red roses. If one red rose says 'I love you', choosing a bouquet of 25 shouts it from the rooftops! Warm your loved one's heart with a 25 red rose bouquet delivery. Spice up your anniversary or any romantic occasion with this unique gift.


More about this bouquet:
25 premium red roses

Aspidistra

Round bouquet design
We can guarantee the best quality flowers for each order.
100% Satisfaction guaranteed.
FloraQueen always sends the highest quality flowers.
All our flowers are shipped fresh, directly from our florist.
We always deliver on time!
FQ138
Love Addiction: 25 Red Roses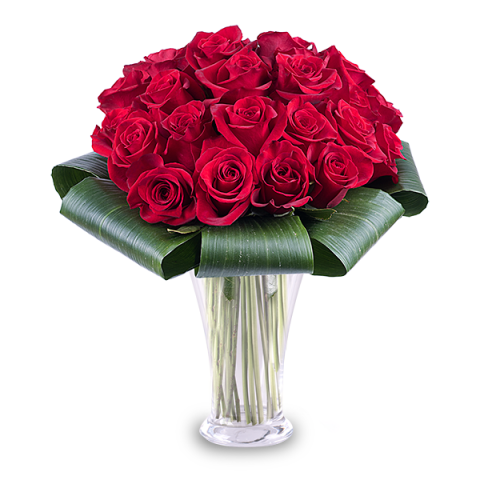 Same day delivery
Beautiful fresh flowers
Arranged by local artisan florists
7 days of freshness
Thanks to our high quality flowers, our bouquets will stay fresh for 7 days.
What our customers say
18-02-2018
Not impressed the were left out side and were not healthy and they died quickly have called but no answer and I receive flowers a lot and never had them died so quicly my order number was 66060777 David Seagrave please give me courtesy call back
19-01-2018
Breath taking Red Roses! ❤
01-01-2018
One of the best and beautifully bouquet i've ever get . Like Germany because i lived there
18-12-2017
Such incredibly beautiful flowers! Made my birthday a great one :)
28-11-2017
It was such a wonderful surprise, I love the roses. Thank you for the amazing service
Anthony Ficara
(Paris(Thiais))
27-06-2017
21-04-2017
Love the service! Delivered on time and in great condition! Love the 15% discount on the next order ! Great experience
Alexey Kozlov
12-02-2015
My order was delieverd correctly. Thank for FQ!
Anthony
17-12-2014
Perfect quality and it difenetly will bring on your loved one face
Kristine B
25-09-2014
Arrive like promised and look fresh. My mom was super excited and loved it. She cried when she received as it look so beautiful. Delivery guy didn't have a problem to find a house where to deliver. Will use it in future and recomend to everyone.
Simon Borg
13-05-2014
Excellent no nonsense , fast and efficient service . Basically what I would expect from a professional business - well done keep it up !
Shujan Bhuiyan
21-02-2014
Highly recommend this company as I know now they send fresh flowers and deliver on time!!
Slobodan Majstorovic
21-02-2014
Flowers arrived on time, as ordered to a very happy fiancee, beautifully arranged. The whole process was completely glitch-free. A++!!
Pasquale Salvatore Palumbo
12-02-2014
I was happy to choose Floraqueen because I could send a wonderful present to my dear love. She live in Poland, much faraway from Italy, but I wanted make the best present for her so I chose to call floraqueen. I advice my best friends to call floraqueen for a special service.
Show more reviews
Show fewer reviews