Share a touch of class with your loved ones with our 12 white rose bouquet. With elegance, class and purity a dozen white roses is a graceful way to express your feelings on occasions where only pure emotion will do such as weddings, anniversaries and demonstrations of love.
More about this bouquet:
12 premium white roses
Decorative greenery
* Vase not included
We can guarantee the best quality flowers for each order.
100% Satisfaction guaranteed.
FloraQueen always sends the highest quality flowers.
All our flowers are shipped fresh, directly from our florist.
We always deliver on time!
FQ2315
Touch of Class: 12 White Roses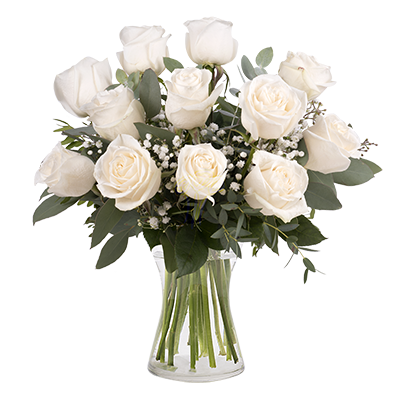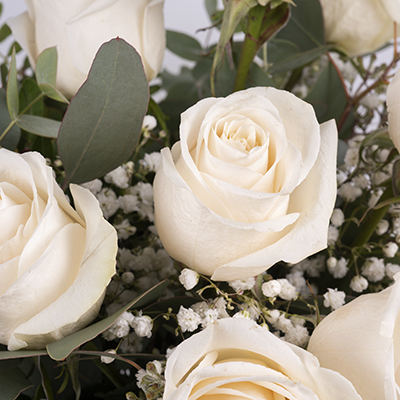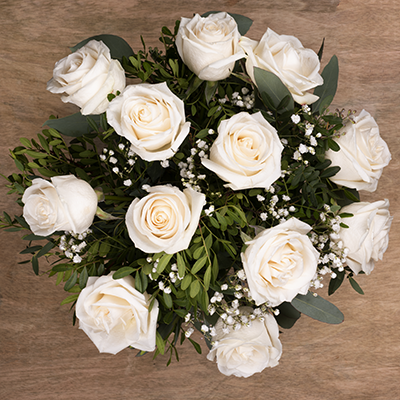 Punctual Delivery
Beautiful fresh flowers
Anywhere, anytime
Punctual Delivery
Fresh flowers
Expert florists
Bouquets you can enjoy for longer.
Some flowers arrive a little closed to ensure extra freshness and protection during shipping. Enjoy the magic of seeing them fully bloom.
What our customers say
14-02-2019
Thank you so much! That was awesome:D
08-02-2019
It was a total suprise I am so happy and suprised
16-12-2018
Servicio excelente!!!!Solo faltaba indicarme quien me las enviaba . Pero ya lo sé . Muchas gracias
Milagros
(Distrito de San Isidro)
06-12-2018
I like a lot the flowers those are from my fiancee but you send me a greeting card for my birthday too! :)
28-11-2018
The bouquet was smaller than expected and not the ordered (advertised) color. For CAD$100.00 I would expect more.
08-09-2018
Fantastic personable service . Very friendly and prompt.
12-08-2018
Next day delivery to South Africa delivered as promised, on time. Perfect
07-08-2018
Thank you for your efficient service the flowers were beautiful.
30-07-2018
Awesome. Reliable. Winning.
04-07-2018
Delivery was ordered 2 weeks in prior and still managed to be a day late, which we are not happy about! (Since it was for a birthday)
Fraschini Gloria Adele
(Boston)
01-07-2018
First time we use Floraqueen for our daughter's Birthday so far away from us now...such fresh and beautiful roses, so cured on details...such a surprised and happy daughter we love❤️
10-06-2018
Excellent service! I was kept informed throughout, from confirmation of order to delivery. Flowers delivered the next day. I have been sent a photo of them from the recipient and they're beautiful. I had never used this company before. Would not hesitate to use again.
27-05-2018
Excellent. Was a really nice surprise.
Marcus Pepperell
(València)
23-02-2018
Very happy with the service, the price and from the reaction in got the flowers were good too - a photo would have been nice!
Maribel
(Riffa Kingdom of Bahrain)
10-02-2018
Lovely beautiful flowers! Love it!
07-02-2018
Really nice bouquet Beautiful flowers
23-01-2018
Beautiful flowers and fast service!
19-01-2018
Everything was good, but delivery was little bit late
Vicky Mead
(Benijofar, Alicante)
30-12-2017
Easy to order andflowers exactly as described. Spot on delivery too!
20-12-2017
Everything how it should be
13-12-2017
The service was wxcellent and the flowers were so good and beautiful
03-12-2017
Easy to order online.(over sea) Good follow up e mail with order confirmation and delivery. Flowers were beautiful and fresh!
Hafsadadasoglu
(New Cairo/ Egypt)
26-11-2017
You are doing very awesome work. Thank you so much
26-11-2017
Really easy and fast. Great service from FloraQueen. I'll recommend to everyone who wanna make a nice surprise at the last moment.
Hugh Duffin's Animal House
(Killinchy)
08-11-2017
fast delivery within hours! Happy recipient
Dennisjohn Vasey
(Benamargosa)
31-10-2017
Very pleased with the product and an excellent service thank you
31-10-2017
Very good service and dekivery exact on time
06-10-2017
Ordered flowers from the UK on Monday night to be delivered in Poland on the Wednesday, they were delivered promptly and the wife was over the moon with them, they actually looked better than in the picture (where credit goes to the florist) received an email confirmation about 15 mins after they had been delivered. Very happy with the service and would use again. Many thanks!
14-08-2017
Great selection, fast delivery and excellent order updates. The lady was pleased, cant ask for more :)
Officec
(Sant Cugat del Vallès)
02-08-2017
Very good and reliable services. Thanks a lot
Jelle Boucher
(Novosibirsk)
26-07-2017
Exellent service over and over again. flowers are delivered on time with perfect attention to great quality and selection of flowers. a happy customer from Belgium
18-07-2017
Wonderful company, beautiful flowers, perfectly prepared. Amazing customer service all at an incredible price! 10/10
Franziska E.
(Marktbreit)
16-05-2017
My mother was delighted with her flowers!
11-05-2017
Had a minor issue with the delivery address, but customer service was beyond excellent and worked to get the flowers delivered. Wonderful bouquet as well. Will definitely use FloraQueen again and highly recommend them. Thank you.....
Damien Doherty
(Novosibirsk)
07-04-2017
same day delivery. was great service.
Janet Miyake
(Shibuya, Tokyo)
05-04-2017
Easy to use website. Disappointed not to receive a confirmation of delivery email as was stated when placing my order.
20-03-2017
This was my first time using a flower delivery service and it was easy. Sending it internationally to Belarus was simple. The flowers looked great and they were on time. It made my special someone very happy.
28-02-2017
Delivery was on time and florist made a very beautiful bouquet. I ordered it to Austria and my friend was so happy. Thanks for our smiles. Very good job!
Shivam Patel
(Playa Bavaro)
17-11-2016
Ordered some flowers for a special someone to be delivered in Dominican Republic as she hadn't been well. I placed the order and they had been delivered within 3 days. She loved the flowers and I would also like to mention Emsee from FloraQueen who was excellent with keeping me up to date and replying to my emails as I was worried about the delivery. Many Thanks to her and the team!
Mariam
(Playa de Las Americas)
08-11-2016
I needed to send some flowers as a matter of urgency for such an unforeseen circumstance which left me devastated. I was unable to write a long message when adding a card to the flowers, I called up and in under two minutes I was speaking to Esmee. She provided exceptional service assisting me through the process from start to finish with what I exactly wanted on the card, ensuring the address is correct and everything being relayed to the local florist. I then received an email confirmation from Esmee which explained that they had located the address, sent the message I wanted on the card to the local florist and that the flowers would arrive there tomorrow. Thank you Esmee and Floraqueen for such a fast and efficient service from start to finish!
Krystyna Wiseman
18-05-2016
Flowers were delivered as requested. They were very nice. I will order again.
John Libberton
14-08-2015
I've only used FloraQueen's services twice to date, to send flowers to Spain, but on both occasions the service has been great. Deliveries arrived at the time and on the date promised and what is ordered is exactly what's delivered. Prices are pretty good too. I'll use them again.
Helen North
06-04-2015
Excellent communication from FloraQueen. Contacted me, without prompting, as they could see I was having difficulty placing my order! Very courteous & professional. Highly recommended.
Bradley Hedges
07-02-2015
It can be worrying as its in a completely different country but every single order they have taken from me has been perfect and if the flowers are not in stock they get the florist to make a better and more prettier bunch. Customer support is fantastic and respond asap with help and patience
Slmk
06-02-2015
Easy international ordering process. On time delivery. Exquisite arrangement.
Anatoliy Litvak
30-01-2015
The flowers delivered to our brother were beautiful and fresh. Great product, good price one good service. I will definitely use them for my floral needs in the future!
Sebastian Zielinski
28-01-2015
I have sent flowers to my grandmother back in Poland,very efficient and professional service Grandma was overwhelmed with the quality and presentation of the flowers
Paula A Harris
27-01-2015
Our friend reported that the flowers were beautiful and fresh.
Ronald Walton
17-12-2014
When you are sending flowers Half way around the world to a loved one , you need to trust the operator and to be able to talk to Flora Queen proves they care and provide more than just an Internet service . Very happy to have discovered them and continue to use them and tell my friends
Lisa Lowden
28-11-2014
Really easy to order online, they rang to check address was correct as I placed my order from England. Friendly on the phone, I would definately say to use then.
Mike Russell
08-10-2014
I was very impressed with the whole cycle from order to delivery. Flowers were brilliant and recipient over the moon with them.
Taghrid Elsary
06-10-2014
Made my special aunt's birthday day a memorable one. U made my day and cant wait for my next surprise.
Kim M
27-09-2014
Ordering is easy, and their choices of bouquets is plentiful and all are beautiful! I sent my friend 12 white roses for her 60th birthday, and she was so surprised and grateful! Apparently the flowers were absolutely beautiful! The site is easy to use, and I appreciated the reminder that 'my flowers will be delivered tomorrow'! I will use FloraQueen again!
Abderra Hantout
24-04-2014
Always reliable and delivers on time, as promised. Never had any delays or complaints. Friendly and prompt service.
Mathieu Rouquette
16-04-2014
They went out their way to make sure the flowers got delivered. I'm bought!
Susan Kurtbegovi
15-04-2014
Thank you Floraqueen. I ordered my flowers online from Australia to be delivered in Spain. I received emails each step of the way though the process so l knew they had received the order, making the order and then the delivery notification. My friend showed me the flowers on an email and they were stunning. A very efficient service as they delivered the day after l ordered. I would use these guys again!
Rijomega
10-04-2014
I used the international service. Very timely and the the person who received the flowers had very good comments to make. I would definitveley use this service again
Cosmin
08-04-2014
Very nice flowers delivered to Melbourne, time constraints met, thank you!
Caroline Corcoran
02-04-2014
Website rejected payment method and they followed up straight away - it was a citi-bank card issue problem, not the website but nice that they contacted me straight away to check if I still wanted to make the purchase. When I fixed the issue I rang them make to continue the purchase and the service was very effecient, easy to understood and imemdiate follow up of receipt to e-mail. Flowers were received and much appreciated!
Semra Yalçın
28-03-2014
Really perfect .just a bit expensive :)
Traian Paparete
24-03-2014
If you say no more seriousness and professionalism it takes no comment!
Dion Backhouse
01-03-2014
Delivery arrived, wife was happily surprised. Beautiful flowers and she loved the chocolates too! Perfect! :D
Douglas John Smith
27-02-2014
Everything I ordered was the same as on website perfection
Rudi Van Den Broeck
21-02-2014
living in spain and my grilfriend living poland i decided to send here flowers for valentine. at first i was a bit sceptic but did it anyway. and it turned out fantastic.deliverd on time,without any problems. i will do it again without a doubt. thanks again to the team of floraqueen.
Phil Hutton
21-02-2014
Excellent service, easy to use web site , very pleased , wouldn't hesitate to use you again .
Levon Movsesyan
21-02-2014
Maria Portillo
20-02-2014
I was so impressed with FloraQueen, thier prices were about half that of some of the bigger and well known florists and in my opinion, the flowers looked better! I ordered a bouquet to be delivered to my family in Spain for a funeral so wanted to make sure they were nice and would arrive on time. A lovely gentleman called me from Barcelona to say he had recieved the order and wanted to clarify the address, which I did. The same man called me back again, 20 minutes later to say that he was still unsure ( In fairness, it is a very small Spanish town in the middle of no where!)but he would check it him self and make sure the right delivery person from the next town delivered them as he would know the area better! I thought this was amazing service, he was very helpful and understanding as these were for my Nan who had passed away. The flowers arrived the next day as promised and my family were so impressed with them. Will definately use again and tell all my friends and family. Thank you FloraQueen
Vilas Kothawale
19-02-2014
Good Morning Madam or Sir, I would like to inform you that whenever I ordered flowers from Flora queen. The receiver has to go to collect flowers from your local flower shop in that particular country which was not acceptable when I am paying decent fees. I will look forward for flawless service in the future. Thanking you. Best regards, Vilas Kothawale
Douglas Smith
18-02-2014
The first thing i liked about FQ was the site. It showed what you get and what to expect. The flowers looked just like the website showed, so that was even better! prioces were clear and clever options offered which i took.! Payment was about as simple as it could be and with enough protection to give me confidence. I was looking for a catch 'cause if itlooks too good to be true it usually is. However FQ was true to their word. The right bunch of flowers was delivered to the right person at the right time. Well done FQ!
Catherine Rosie
12-02-2014
I sent flowers to Germany and needed flowers delivered as fast as possible. This company pulled it off with very little time given for delivery. Thank you.
Filip
05-02-2014
I am very satisfied. I've been living in UK and I sent white roses to my dear in Krakow. It was lovely, they even changed the delivery time in few minutes. I would recommend this company to everyone.
Anna
30-01-2014
I needed to have flowers delivered urgently, on the same day, it all went ahead with no problem. Very good communication.
Metka Travnik
29-01-2014
Great way to surprise someone is to send flowers. Flora Queen has an excellent service.
Jaqueline Leach
28-01-2014
I can't believe the amazing service I received when I placed an order with FloraQueen. I needed to send flowers urgently to a friend in Spain and it couldn't have been more simple. The web site was easy to navigate and was very clear. My order was delivered speedily even though the address was in the mountains. They certainly made my poorly friend's day. Many thanks.
Jeanroddy
21-01-2014
The flower arrived on time and very well packed, no bashed box and the packing was well thought of all flower heads perfect.
Alina Rakke
20-01-2014
I appreciated the simplicity and straightforwardness of your system which made it possible to order what I needed and to send it where I wanted to without much ado. Thank you !
21-11-2013
good quality and on time, people were flexible to my order modifications
Show more reviews
Show fewer reviews