Spread a little enchantment on a special day and wake someone up to the sensual magic of these vibrant red roses and serene white lilies. Make this the perfect surprise for a loved one to wish them a happy birthday or send your romantic thoughts to someone special in your heart with this enchanting bouquet.


More about this bouquet:
Oriental white lilies
Red freedom roses
Decorative greenery
Some of our extra fresh lilies will arrive closed, just ready to bloom.
We can guarantee the best quality flowers for each order.
100% Satisfaction guaranteed.
FloraQueen always sends the highest quality flowers.
All our flowers are shipped fresh, directly from our florist.
We always deliver on time!
FQ7204
Fresh Start: Roses and Lilies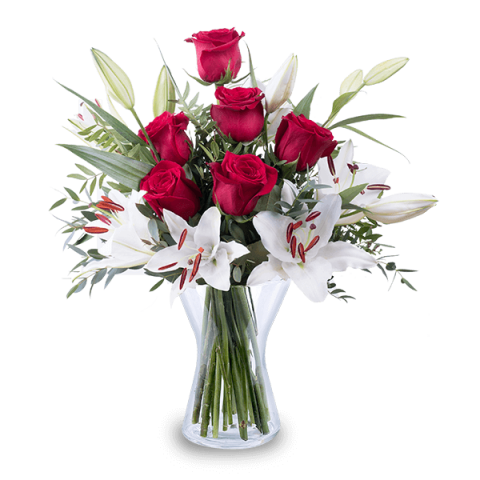 Same day delivery
Beautiful fresh flowers
Arranged by local artisan florists
Same day delivery
Beautiful fresh flowers
Arranged by local artisan florists
7 days of freshness
Thanks to our high quality flowers, our bouquets will stay fresh for 7 days.
To guarantee the freshness of your flowers, some may not yet have bloomed when delivered
What our customers say
29-06-2018
Fresh flowers were delivered on time. Easy to order them for next day delivery.
20-06-2018
It was really nice, just unfortunate that I wasn't surprised due to your call before. But I understand that you want to call and see if the receiver is home. But my boyfriend wanted to surprise me.
13-06-2018
Beautiful flowers, and very nice and friendly service
11-06-2018
I am very happy with the service I recommend to my friends .. thank you very much..
Tugce
(Frankfurt am Main)
18-05-2018
15-05-2018
It is beautiful! Service was great
28-04-2018
It was well wrapped and the flowers are beautiful
27-03-2018
Very good service and you deliver when you say you will.
Abhishek Srivastava
(Milano)
07-03-2018
I really like the quality of flowers what I ordered. Out of 3 orders, once the delivery was delayed by a day, which was not a pleasant experience. But overall I am really happy that the quality of flowers are excellent.
Roy Naz
(Playa del Carmen)
03-03-2018
Flowers look great late delivery very late notification of delivery
Margaret & Raymond O'connell
(Reykjavik)
25-02-2018
Great service. Should provide a vase.
18-02-2018
Very nice flowers and great service
Nevena
(Grocka, Belgrade)
16-02-2018
High quality flowers, delivered on time.
16-02-2018
Only complaint is for those of us outside Bulgaria the phone number is confusing - the full number with country code should also be an option,
16-02-2018
The service was great, i got an amazing surprise from my husband for Valentine's day who is half the world away from me. Thank you
29-01-2018
The flowers are fresh and beautifully composed
Claudia Ni Chulain
(Roccaforte Mondovì)
31-12-2017
My aunt received s lovely bouquet of flowers on the day of her birthday. Thank you FloraQueen.
Miss Christine Stewart
(Palma)
28-12-2017
Fabulous flowers..first class service
Denise Lee
(Adeje, Tenerife)
28-12-2017
Great service and communication. Beautiful flower choice and gifts.
May
(Bangkok noi, Bangkok)
25-12-2017
Great service! Thank you! Merry Christmas.
Nomalanga
(Newlands West)
23-12-2017
The product is excellent and the service, although the teady bear colour that was delivered was pink instead of white that was requested.
16-12-2017
Good service, punctuality and kindness!!! Wonderful flowers.
13-12-2017
The service is marvellous though I keep getting dull-looking flowers, never too fresh. That disappoints me a little bit being that my husband sends me flowers regularly —at least three times a month— using Flora Queen. I would like you guys to throughly pay attention to the quality of the bouquets from your suppliers. Thank you!
13-12-2017
I am in New York and wanted to send flowers to Germany . Website is easy , delivery was fast .Flowers were on point .I would re order anytime .Best
06-12-2017
Great service and high quality product
Carlos
(Ciudad de México)
06-12-2017
Very efficient and professional service.
Show more reviews
Show fewer reviews