Spread a little enchantment on a special day and wake someone up to the sensual magic of these vibrant red roses and serene white lilies. Make this the perfect surprise for a loved one to wish them a happy birthday or send your romantic thoughts to someone special in your heart with this enchanting bouquet.


More about this bouquet:
Oriental white lilies
Red freedom roses
Decorative greenery
Some of our extra fresh lilies will arrive closed, just ready to bloom.
We can guarantee the best quality flowers for each order.
100% Satisfaction guaranteed.
FloraQueen always sends the highest quality flowers.
All our flowers are shipped fresh, directly from our florist.
We always deliver on time!
FQ7204
Magical Romance: Roses and Lilies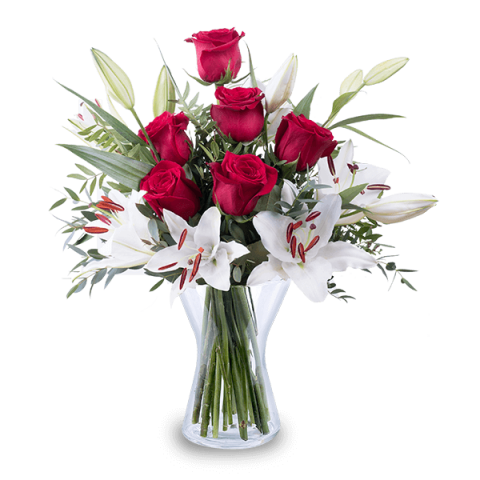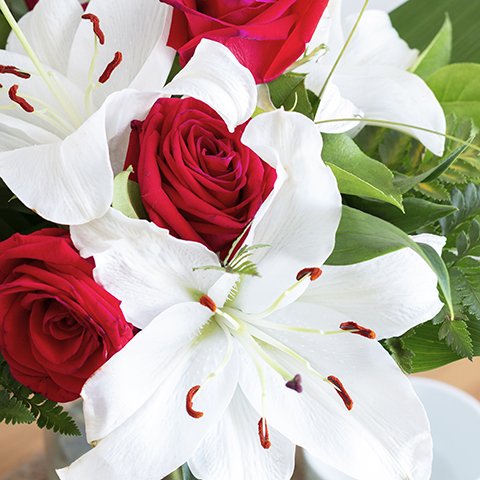 Punctual Delivery
Beautiful fresh flowers
Anywhere, anytime
Punctual Delivery
Fresh flowers
Expert florists
Bouquets you can enjoy for longer.
Some flowers arrive a little closed to ensure extra freshness and protection during shipping. Enjoy the magic of seeing them fully bloom.
What our customers say
07-03-2019
Flowers are so beautiful nad guy who bring it is very nice and polite :)
19-02-2019
Great service. I was called to make sure I was at the delivery address flowers delivered within thr hour
16-02-2019
The flowers were excellent and delivered in person on time. Very impressed with the service. Would use again.
15-02-2019
in time and the flowers were really nice
15-02-2019
Really well flower looks really healthy and smells nice
10-02-2019
Fresch and wonderful flowers. Suber service.
07-02-2019
The flowers I received were exactly like their photograph online. They were beautiful and affordable. The delivery was on time too which was important. Thank you very much.
06-02-2019
Excellent! Very happy about it!
31-01-2019
Great service and flowers in perfect condition like in picture
Robert Paswater
(Lapu-Lapu City)
20-01-2019
Arrived on time. In good condition and what was ordered.
Chantal Meyers
(Emile Zola)
19-01-2019
Very satisfied, flowers were delivered on time .Thank you
David Ross
(Porabka, Wojewodztwo Slas)
18-01-2019
Did the job, flowers are beautiful, recipient happy!
04-01-2019
Very professional & kind!
Tsvetelina
(Sao Teotonio)
01-01-2019
I recived only flowers,and its was supose to recive a chapagne , flowers and a box of chocolates.
01-01-2019
Great selection of flowers and very good timing.
27-12-2018
The flowers were delivered in a timely manner and they were beautiful.
Michelle Debono
(North Ariana)
19-12-2018
This is the second time I've used this company and my delivery as always been on time great company
13-12-2018
The flowers are beautiful but why would the come without a vase. The picture of the flowers shows them in a vase. It wasn't clear that I had to pay one price for the flowers and another price for the vase. Who would not think that the flowers wouldn't come as shown it the picture.
Jacqueline Lanehart
(Bazas)
13-12-2018
Sent flowers,they got there on the day specified According to the recipient "flowers are beautiful "
Emma Bojana
(Frankfurt am Main)
27-11-2018
Good timing and quick delivery,and my husband was just amazed and speechless.
Sharona
(TORONTO, ONTARIO)
18-11-2018
19-10-2018
Very beautiful the bouquet! The delivery man was very elegant and polite. Thank you
05-10-2018
Great service. I recommend! Fast n in time
Cecile
(Quinto di Treviso)
22-09-2018
20-09-2018
Very good delivery and quality
18-09-2018
Very pretty but the message supposed to be in the card was not and it was almost not visible in the paper
Alina
(Molenbeek-Saint-Jean)
14-09-2018
11-09-2018
Very nice and good service ! Beautiful flower surprise :)
Lucy
(Alhaurín de la Torre)
07-09-2018
It was amazing. I wasn't expecting it and according to my boyfriend, the timing was perfect. Very nicely presented and the flowers are beautiful.
29-08-2018
I'm so impressed with this service. The flowers were amazing! My girlfriend loved them. I would definitely recommend this.
16-08-2018
It was absolutely perfect and delivered on time!
03-08-2018
The flowers were beautiful and well presented, I could not have been any more happier with my surprise!! Best surprise I have ever had!! Truely!! I will definitely be recommending all my friends and family to FloraQueen xx
01-08-2018
Very good, i'm surprised.
18-07-2018
Very nice flowers and very nice surprise for my girlfriend's birthday! The delivery was perfectly in time and as ordered :)
17-07-2018
Delivery was as promised, and flowers were beautiful.
13-07-2018
Great experience, good price, delivery on time overall 5/5.
08-07-2018
Easy to order and really does get delivered everywhere, even smaller, remote towns.
29-06-2018
Fresh flowers were delivered on time. Easy to order them for next day delivery.
20-06-2018
It was really nice, just unfortunate that I wasn't surprised due to your call before. But I understand that you want to call and see if the receiver is home. But my boyfriend wanted to surprise me.
13-06-2018
Beautiful flowers, and very nice and friendly service
11-06-2018
Estupendo me gusto mucho las flores estaban hermosa..'
09-06-2018
Punctual and elegant delivery
Tugce
(Frankfurt am Main)
18-05-2018
15-05-2018
It is beautiful! Service was great
Tetiana
(Bar - Vinnytsya Oblast)
12-05-2018
28-04-2018
It was well wrapped and the flowers are beautiful
27-03-2018
Very good service and you deliver when you say you will.
Abhishek Srivastava
(Milano)
07-03-2018
I really like the quality of flowers what I ordered. Out of 3 orders, once the delivery was delayed by a day, which was not a pleasant experience. But overall I am really happy that the quality of flowers are excellent.
Roy Naz
(Playa del Carmen)
03-03-2018
Flowers look great late delivery very late notification of delivery
Margaret & Raymond O'connell
(Reykjavik)
25-02-2018
Great service. Should provide a vase.
18-02-2018
Very nice flowers and great service
Nevena
(Grocka, Belgrade)
16-02-2018
High quality flowers, delivered on time.
16-02-2018
Only complaint is for those of us outside Bulgaria the phone number is confusing - the full number with country code should also be an option,
16-02-2018
The service was great, i got an amazing surprise from my husband for Valentine's day who is half the world away from me. Thank you
29-01-2018
The flowers are fresh and beautifully composed
Claudia Ni Chulain
(Roccaforte Mondovì)
31-12-2017
My aunt received s lovely bouquet of flowers on the day of her birthday. Thank you FloraQueen.
Miss Christine Stewart
(Palma)
28-12-2017
Fabulous flowers..first class service
Denise Lee
(Adeje, Tenerife)
28-12-2017
Great service and communication. Beautiful flower choice and gifts.
May
(Bangkok noi, Bangkok)
25-12-2017
Great service! Thank you! Merry Christmas.
Mr
(Monte-y-mar gran alacant)
24-12-2017
Nomalanga
(Newlands West)
23-12-2017
The product is excellent and the service, although the teady bear colour that was delivered was pink instead of white that was requested.
16-12-2017
Good service, punctuality and kindness!!! Wonderful flowers.
13-12-2017
The service is marvellous though I keep getting dull-looking flowers, never too fresh. That disappoints me a little bit being that my husband sends me flowers regularly —at least three times a month— using Flora Queen. I would like you guys to throughly pay attention to the quality of the bouquets from your suppliers. Thank you!
13-12-2017
I am in New York and wanted to send flowers to Germany . Website is easy , delivery was fast .Flowers were on point .I would re order anytime .Best
06-12-2017
Great service and high quality product
Carlos
(Ciudad de México)
06-12-2017
Very efficient and professional service.
Valentina
(Brunn am Gebirge)
29-11-2017
Show more reviews
Show fewer reviews