Why this gift is special
Chrysanthemums are a soft and delicate flower, associated with the passage of time and persistence in the face of adversity. Historically linked to influential figures such as the Emperor of the wise Japanese culture, the stems of this bouquet show the importance of conscious and hard work as a way to achieve all our goals.
Ideal for... Recognising merit in the face of a promotion at work.
Pink Breakthrough
Pink Anastasia
*Depending on the delivery country the price may change.
Includes: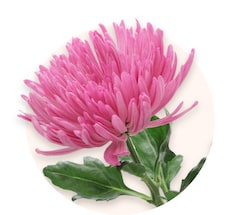 Pink anastasias