Why this gift is special
The arrival of retirement is a great little moment in the lives of our loved ones. The graceful orange chrysanthemum dresses up the occasion with a symbolism linked to affection and the drive to continue to grow and learn. This flower speaks of persistence, joy and rejuvenation, and does so with such intensity that even the long-lived Japanese culture refers to its monarchy as "the Chrysanthemum Throne".
Ideal for... ushering in the golden age of life.
Golden Retreat
Orange Chrysantemums
*Depending on the delivery country the price may change.
Includes: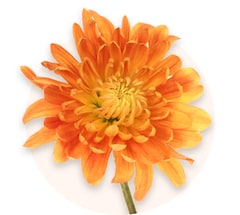 Orange chrysanthemums
Bouquets you'll also love