Why this gift is special
Each vital moment comes in due time and with its own experiences, achievements and challenges, just as the patient chrysanthemum gradually shows the beauty of its open flower. Passing an exam or test is a cause for joy and raises new possibilities for the future, whether it is obtaining a degree, access to a profession or even the possibility of driving. Share your excitement with this bouquet full of innocence and sincere recognition.
Ideal for... Enjoying academic achievements.
Jolly Victory
White Chrysantemum
*Depending on the delivery country the price may change.
Includes: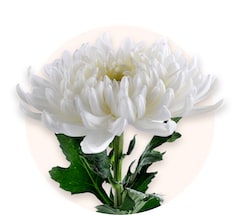 White chrysanthemums
Bouquets you'll also love