Like a warm tropical breeze, comes this eye-catching bouquet of fresh pink roses and orange carnations interspersed with purple flowers. This arrangement is full of vivid colours that will make your special someone as happy as can be on their birthday or when you want to send your congratulations.
More about this bouquet:
Long-stemmed pink roses
Orange carnations
Purple seasonal flowers
Decorative greenery
* Vase not included
We can guarantee the best quality flowers for each order.
100% Satisfaction guaranteed.
FloraQueen always sends the highest quality flowers.
All our flowers are shipped fresh, directly from our florist.
We always deliver on time!
FQ8011
Tropical Breeze: Roses and Carnations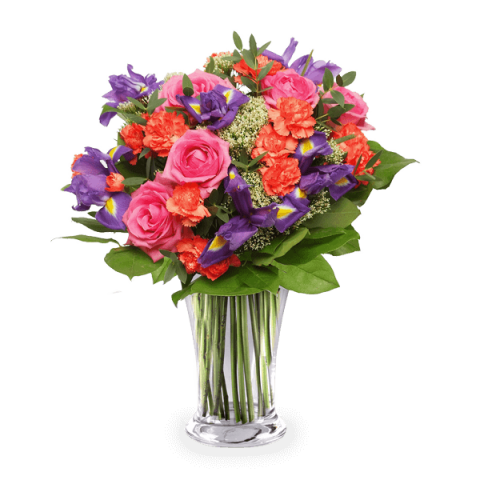 Punctual Delivery
Beautiful fresh flowers
Anywhere, anytime
Punctual Delivery
Fresh flowers
Expert florists
Bouquets you can enjoy for longer.
Some flowers arrive a little closed to ensure extra freshness and protection during shipping. Enjoy the magic of seeing them fully bloom.
What our customers say
27-09-2018
I really liled the flowers. Thank you
31-07-2018
Beautiful flowers and great, easy service
Emel
(Göktürk Merkez Mahallesi)
12-07-2018
I loved especially colors
Reinhold Moeller
(Greensboro)
26-06-2018
Sunday ordered in Germany, monday delivered in USA. Could check the flowers with received picture from family, i'm satisfied. 5 points
23-05-2018
Amazing flowers, excellent service
Eva M. Clark
(Valladolid)
29-03-2018
Great service, accurate and on time Thank you
11-03-2018
Top class service Arrived on time would definitely recommend
Alison Hamilton
(Mablethorpe)
11-03-2018
Excellent service will use again, polite delivery staff and brilliant flowers.
09-03-2018
I have accidentally wrote the wrong address, and could directly contact but, changed that after... and the flowers were delivered to the correct address! Thank you for that ! You are the best guys!
23-02-2018
Just the flowers were not as in image I would have preferred white instead of yellow and purple flowers were not iris as in image either
Beverleyraley
(Pozuelo de Alarcón)
26-11-2017
Wonderful experience from start to finish !!! Recipient said best flowers ever. Thank you!
09-10-2017
Truly excellent service.Highly recommended. AAA+++ rating.
Moira Scicluna Zahra
(Naxxar)
02-10-2017
Delivery was super quick, but the flowers were not as ordered. There were meant to be roses and purple seasonal flowers in the bouquet and the latter have been omitted for some reason. Besides that, top notch service and delivery.
06-09-2017
The recipient was delighted and sent me a text picture to prove it As she was in Rome and i was doing this on behalf of my son I was very relieved and would recommend you to anybody
18-08-2017
Super happy & satisfied with your service. Everything was amazing, the ease of ordering from the website, the customer support, fresh and quality flowers and gifts, timely delivery, great arrangements, I will definitely order again with you guys.
07-05-2017
Delivered without any problem and girlfriend very happy with the quality of the flowers and chocolates - and not for the first time :))
Whitney
04-02-2015
I wanted to send some flowers to a location in Poland from the US but was unsure of a reputable company that could handle this request. FloraQueen made the process very easy and was very affordable. Their website is full of beautiful arrangements and our recipient received them on time. I will be using them again in the future and would definitely recommend their service to anyone wanting to send flowers overseas.
Terry Holmes
29-01-2015
After trying many international flower delivery services, and having had some bad experiences,I was pleased to find Flora Queen. It was easy to order, prices were competitive, they delivered on time, and the flowers were beautiful and they lasted.My mother was thrilled! I will definitely use them again and reccomend them to others.
Laura Jany
28-01-2015
We used Flora Queen for the first time to order flowers for my Grandmother in Poland. She received a phone call an hour prior to delivery ensuring she would be home for the delivery. Everyone was professional, kind, and just lovely. The flowers were beautiful, she said the bouquet was very fresh, and she just loved them! Thank you so much for making "Dzien Babci" so wonderful for my Grandma, even though we are so far away! Highly Recommend the service!
Peter Maroney
03-12-2014
Fast, efficient and reliable. I will definitely recommend this company to anyone and everyone!
Ekaterina Egorova
15-10-2014
I was very satisfied with the delivery. The flowers were delivered on time. The bouquet itself was perfect. Thank you.
Kailey A Schaneberg
21-04-2014
They were able to deliver flowers to an address that was even undeliverable and the recipient was surprised and blessed! The flowers were less colorful than the picture on the website, but that is to be expected. It was overall a wonderful experience!
Am Bahammou
07-04-2014
Everything went according to plan, no stress, no stories.. Job done and good job!
Becca Wilson
05-04-2014
Was the first time I've used them and can say will definitely be using them again in the future highly recommend. My mum loved her beautiful flowers and chocolates that I ordered to be delivered in Spain for mothers day. She sent me photos and was exactly what I ordered very pleased. Was quick and simple to make order and arrived on the date specified exactly on time and she said the delivery man was also very friendly so couldn't of asked for more. Also I must add that when I placed the order I stupidly forgot to put who they were from on the personalized card message so contacted them asking them if they could add it onto the message and they wrote back to me to say they had done that for me, and I had an email every step of the way to tell me they were on there way and when they had been delivered. Brilliant service all round and my mum is now going to use them too.
Małgorzata U.
20-03-2014
All in time but you didn't make polish signs ;(
Dagmara
05-03-2014
The service was perfect, the flowers were fresh and what's most important they made the recipient smile :) !
Matthew Pfaffendorf
03-03-2014
I SENT MY GIRLFRIEND FLOWERS IN GERMANY, IM CURRENTLY IN WISCONSIN. IT WAS QUICK EASY AND DELIVERD ON TIME! THE FLOWERS WHERE PRETTY AND HAVE LASTED A LONG TIME! THE ONLY THING THAT I WAS DISAPPOINTED IN WAS THE LARGE TEDDY BEAR. I WOULD HATE TO SEE THE SMALL SIZE!
Arthur Ziegler Paiva
15-01-2014
It was very easy to order, even from abroad. The flowers were nice and arrived on time. It was very expensive though.
Show more reviews
Show fewer reviews