Home, Sweet Home
Pink Chrysantemums
*Depending on the delivery country the price may change.
Includes: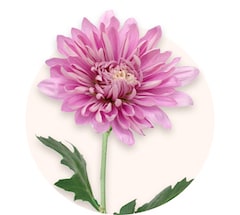 Pink chrysanthemums
Why this gift is special
Chrysanthemums are hardy and well-loved flowers that grow with great momentum to form soft rounded clusters. Their beauty is widely used to decorate and add warmth to a home, either as stems that complement other flowers or as a bouquet in its own right. A nice gift for a person who is becoming independent, starting a new adventure by moving in with their partner, or simply changing their home for a new environment.
Ideal for...Celebrating life's beautiful changes.