Help the sun shine on the ones you love at any time of the year with this brilliant yellow orchid. The orchid is an elegant flower known for communicating grace, beauty and strength. If your loved one is full of grace, celebrate with the queen of graceful flowers for your anniversary or to catch a special someone's eye.
More about this plant:
A Two Stemmed Yellow Phalaenopsis Orchid

Elegant Gift Wrap
We can guarantee the best quality flowers for each order.
100% Satisfaction guaranteed.
FloraQueen always sends the highest quality flowers.
All our flowers are shipped fresh, directly from our florist.
We always deliver on time!
FQ966
Sunny Elegance: Yellow Orchid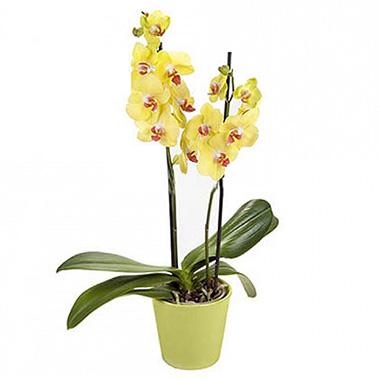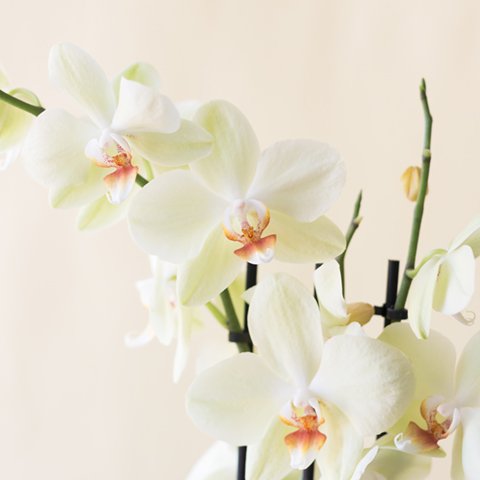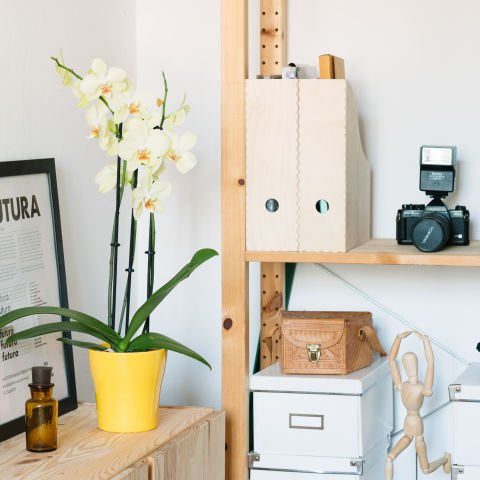 Punctual Delivery
Fresh flowers
Expert florists
Bouquets you can enjoy for longer.
Some flowers arrive a little closed to ensure extra freshness and protection during shipping. Enjoy the magic of seeing them fully bloom.
What our customers say
03-02-2019
on time great product, other party more than happy,,, all good
Ursula Rohrs
(Düsseldorf)
24-11-2018
quick delivery, great choice, but the driver lost the card, so my friends spent the day trying to figure out who the gift came from. 5* for the fact that he returned to deliver the card and apologise:)
30-08-2018
Reliable and true to the online choice.
Alan Doward
(South Nutfield)
06-08-2018
Simple and smooth process
Elfriede
23-04-2016
The flowers and chocolate were delivered right on my brother's birthday. I ordered them from California and was somewhat worried that they may not arrive, but they did, on the morning of his 80th birthday. Thank you, FloraQueen.
Gayle Schaeufele
04-12-2015
Our friends were delighted with the beautiful orchid. Service was excellent. Thanks
Gp
26-03-2015
The ordering was easy and the system sent me a notification when flowers were shipped. More importantly, the friend I sent it too was extremely happy. The orchids were tall and looked as the picture. It was a great service overall.
Ursula Rosa Mateo Ramos
08-10-2014
Flowers arrived as I expected. They found my sister at home. There was no need to follow up. She got a great surprise as she lives in Europe but we are in South America. Fresh beautiful and exotic orchids. Thank you.
Graciela Cespedes
22-09-2014
We placed our order for an orchid plant late in the day and needed the plant delivered that same day. The florist sent us an email to clarify the order and delivered it that same date, making the 94th birthday celebration of our family member very special.
Connie Floriza Reyes
12-05-2014
I so love the flowers so with my loved one who receives the "Orchids". it's far more than i could imagine how it would like. "Thumbs Up" Definitely i will order again...
John Oh
02-04-2014
My son and daughter-in-law were happy with the flower received. However, I had to call them to confirm the delivery. When I ordered, it said clearly that I would be notified via email upon delivery. On this, I was a little disappointed.
Mary Perez
07-02-2014
Ordered a orchid to send internationally to my daughter who lives in London for her 30th birthday. The delivery was as promised. The plant she received was beautiful! It was full of blooms and potted very nicely. She loved it and remarked that I must have paid a fortune for it; however, the price was very reasonable. I would definitely order from FloraQueen again.
Philip Lowry
22-01-2014
I need to get something for a friend overseas. As I left it late to post something I went straight to floraqueen and they sorted me out..excellent site and very good witheir service.
Show more reviews
Show fewer reviews