Leading the way to happiness like a mystical star, this bright gift wrapped yellow phalaenopsis orchid is the ideal surprise for your loved one's special day. The orchid is a colourful flower brimming with refined elegance and the relaxing yet energetic hues of yellow and pink make this plant the perfect gift to wish your special someone a happy birthday, congratulations or happy anniversary. If your loved one is full of grace, celebrate with the queen of graceful flowers: the orchid.
More about this plant:
Two Stemmed Yellow Phalaenopsis Orchid

Elegantly Gift Wrapped
We can guarantee the best quality flowers for each order.
100% Satisfaction guaranteed.
FloraQueen always sends the highest quality flowers.
All our flowers are shipped fresh, directly from our florist.
We always deliver on time!
FQ11116
Yellow Orchid: Mystic Star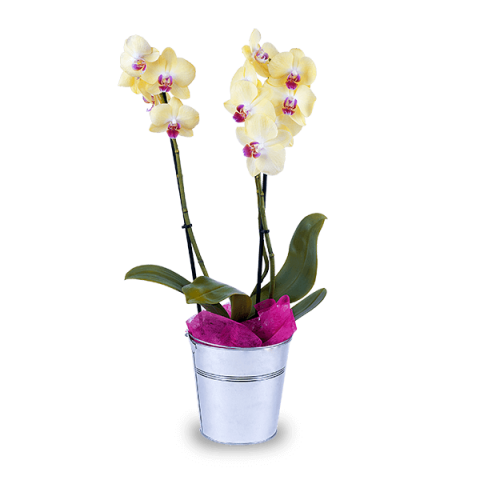 Same day delivery
Beautiful fresh flowers
Arranged by local artisan florists
7 days of freshness
Thanks to our high quality flowers, our bouquets will stay fresh for 7 days.