This daring bouquet, full of explosive colour, is a passionate way to express your feelings. A mix of colours and love, this bouquet is sure to leave your loved one happily surprised and feeling special on a birthday or when saying thank you.


More about this bouquet:
Orange gerberas
Yellow and premium red roses
White alstroemeria
Decorative greenery
* Vase not included
We can guarantee the best quality flowers for each order.
100% Satisfaction guaranteed.
FloraQueen always sends the highest quality flowers.
All our flowers are shipped fresh, directly from our florist.
We always deliver on time!
FQ8006
Floral Energy: Mixed Orange Flowers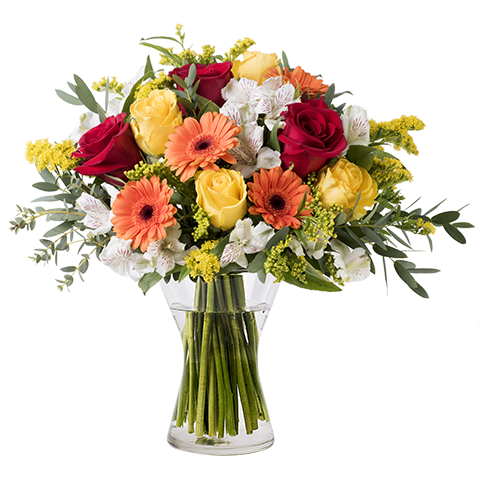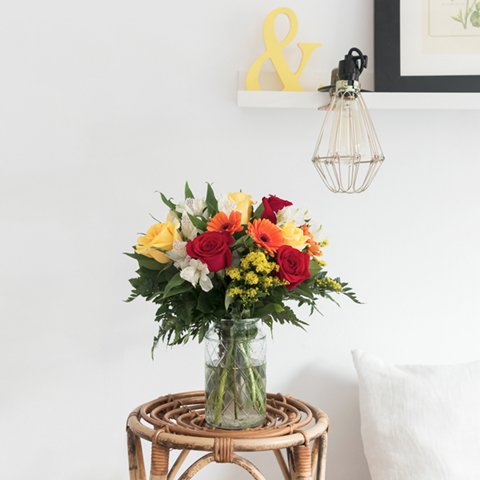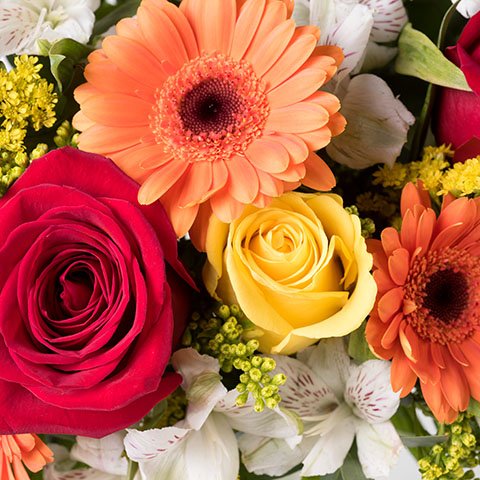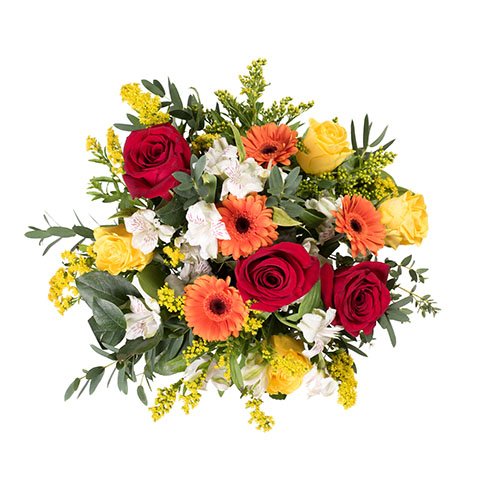 Punctual Delivery
Beautiful fresh flowers
Anywhere, anytime
Punctual Delivery
Fresh flowers
Expert florists
Bouquets you can enjoy for longer.
Some flowers arrive a little closed to ensure extra freshness and protection during shipping. Enjoy the magic of seeing them fully bloom.
What our customers say
13-12-2018
Nice Bouquet - came exactly as planned - even time-wise!
Maria
(Castellón de la Plana)
04-12-2018
Las flores siempre muy bonitas y frescas y el envío siempre a tiempo.
17-11-2018
Very nice and super service.
10-10-2018
It was a really nice and colourful surprise :)
07-10-2018
Service well done and appreciated
05-10-2018
Product was amazing, beautifull flowers. Service was good!
24-09-2018
Beautiful gift and amazing service.
05-09-2018
Lovely flowers, excellent service!!!
Michael Weller
(San Francisco)
02-09-2018
Exellent service I have used Floraqeen before last couple of years and will keep doing so A few years ago send flowers to my sister in the Netherlands and the flowers were great and arrived in time Flowers always arrived on timeThe quality of the flowers is also very good
Peta Jane Parkhouse
(Köln)
01-09-2018
I placed my order late one evening The flowers arrived in Germany the following morning and made my daughters day!!! Wonderful company for sending flowers in Europe.
Glenn Farney
(8800 VIBORG)
01-09-2018
My only negative was when submitting address details of the Recipient,(in Denmark),it would not accept the address stating in various address fields "not recognised" or words to that effect........I attempted many times,and indeed I did think of cancelling order,but after about 15/20 very frustrating minutes the full details were accepted..........all other aspects of transaction were excellent,the receiver was absolutely delighted (which was my main concern),I would definitely use FloraQueen again;but you have to more easily accept address layouts which are not UK directed,are not similarly laid out e.g. Denmark
01-09-2018
Delivered just as requested. & the flowers greatly admired
13-08-2018
Great service and nice flowers
13-06-2018
They are very beautiful! I'm so happy! Thanks
08-06-2018
Gorgeous bouquet!! Very high quality and a lovely gift!
01-06-2018
The flowers are beautiful and the delivery guys friendly and responsible
27-05-2018
It's excellent, berry opportune nothing negative
04-05-2018
As flore, o serviço mas especialmente o atendimento é sempre o que me faz voltar
27-04-2018
The flower bouquet was very nice
27-04-2018
Easy delivery and a beautiful surprise
25-04-2018
The flowers are beautiful but delivered very late in the day and I the wrong vase
Grzegorz Czabaj
(Valbella)
18-03-2018
12-12-2017
Very good! I'm very happy to receive a good flower
28-11-2017
I didn't expect the surprise from my friend in Dubai who I haven't seen in 2 years
Graham
(Los Urrutias ,Murcia)
27-11-2017
21-11-2017
I was very impressed how quickly my ordered was processed! I ordered a flower arrangement on Thursday night at 8:00 from Canada to a small city in Italy, I got an email Friday morning at 10:24 that it was being prepared then got another email at 12:00 that it had been delivered! My cousin sent me a photo of the beautiful bouquet! Great quality and great service!
Carmensantoro
(Ciempozuelos)
21-11-2017
Great service and very reliable!
23-10-2017
FLOWERS were beautiful and arrived on time the next day
20-10-2017
All delivered as ordered. Lovely flowers. Recipient very pleased.
08-10-2017
Really easy and clear to book and choose flowers. Good range. Excellent communication and delivered on time when they said they would and flowrs are apparently beautiful - I used this site to book from New Zealand, to deliver flowers to Portugal !
Zoltan Varga
(Bratislava)
04-10-2017
The recipient got the flowers like I ordered. They are beautiful and she is very happy so I am also very happy. It came at the right delivery time, everything was perfect. Thank you! I will use your service again! ;)
18-07-2017
The flowers were of good quality and as described online. The delivery was on time. Great communication with Martyna. Highly recommended service! I'll use them again in the future
23-06-2017
The flowers that were delivered were nicely presented although did not really match the photo but overall the flowers were nice and the recipient liked them. The most challenging part was the delivery time, requesting a delivery before 2pm (assuming local time i.e. in that case Japan time) an being delivered at 4:30 Japan time for a celebration at 5pm was stressful. If I may I recommend to specify that the time requested is local time and to add a tracking number to allow customer to check online the status of the order.
15-06-2017
My father moved back to Poland recently which was sad for our family as we all reside in the United States. On his birthday I was looking for something special for him and used FloraQueen to deliver flowers and a bottle of wine. He told us the flower arrangement was gorgeous and that the wine was a very nice vintage. I was so impressed with the service! I would recommend FloraQueen without hesitation! Thank YOU!
15-06-2017
We are very happy with the handling of our first order !!! Flora Queen did a great job and excellent service at the receiving end :-))) Jan & Inge Buis
Rajesh Kumar Mishra
(Moskva)
14-06-2017
They deliver what they show in right time frame, really trustworthy
14-06-2017
Very prompt and efficient service. Flowers arrived same day 2000 miles away. They also looked very similar to those advertised on the web page. Only gripe would be that it seemed a bit expensive, but as a one off it's not the end of the world. Would use again.
05-06-2017
Flowers were delivered as requested. The recipient sent me a photo of the bouquet and said they were fresh and beautiful. Thanks very much to FloraQueen!
15-05-2017
Nice flowers, matching the picture...
Lidia
(Torrejón de Ardoz)
07-05-2017
My Mom loved her beautiful bouquet of flowers. They were exactly as the picture shown on the web and were delivered on the day it was intended. I am very satisfied with my decision to use Flora Queen as my florist. Thank you.
26-04-2017
Very happy with the service, they kept me informed the whole way
Lawrence Sin 冼劍明
(Wanchai , Hong Kong)
20-04-2017
I had forgotten the Vase but its did send my order with the Vase but the floral arrangement was not the same as I choose on the Web. Happy Sweet .( exacted with green leaves around the bouquet.
17-04-2017
Great delivery timing, beautiful Bouquet!
07-04-2017
Excellent and prompt professional service, thank you so much for the beautiful flowers!!!
05-04-2017
Always reliable and beautiful flowers each time!
M Schneider
(Pudong, Shanghai)
05-04-2017
Perfect & as ordered! very easy ordering process, excellent choice of flowers and options, clear communication and regular updates, recipient received the flowers on time and sent me a picture so I can even confirm that what was delivered was beautifully prepared and achieved the impact I'd hoped for :-)
25-11-2016
I ordered a bouquet with vase and chocolates for a 50th birthday present to my sister-in-law in Germany. The recipient was delighted with the flowers. I will certainly use again and recommend.Only comment that the customer feedback survey I was emailed was in Spanish! Perhaps they should offer an English translation.
09-11-2016
I had some problems with the order, but their support was outstanding
27-10-2016
I have been using FloraQueen to send flowers to Belgium several times and always have been satisfied with the service. But I would like to especially thank one of the customer service officers, Ali for his help and assistance regarding my last order. A lovely bouquet for a wedding that at the very last minute I decided to upgrade to a larger arrangement. A few emails back and forth and a phone call later, the change was done and the bouquet of roses delivered was amazing. Thank you for going above and beyond! Isabelle
Ovsutherland
13-10-2016
This is a very convenient place to order fresh flowers' delivery from the US to Germany via its website. The only problem I encountered was typing the correct format for the required telephone numbers. It kept saying "incorrect format" despite having tried several combinations with the country codes. However, I immediately received a reply from FloraQueens' customer service via email after my inquiry and that fascilitated the completion of the order. My friend, the recipient in Germany, was quite delighted to get it on her birthday. I will definitely order again from Flora Queen. Thank you!
07-10-2016
The website was easy to navigate and the flowers were delivered in time.
Peter And Pam
16-09-2016
Arrived on time and very happy
Gediminas
10-09-2016
I have ordered few times already and I always happy with their service quality. I Love it! :)
Myrna Irene Lozada-guzmán
22-06-2016
Would suggest different prices and best flowers for the cost
Lindi Engelbrecht
10-06-2016
Great company, produsct 100% true to description and picture, and delivery on time, kept me informed by email all the way. Have told others and will definitely use again THANKS!!
Mmkv
08-06-2016
Excellent service, everything just on time and really fresh for an international delivery!
Traute Jones
11-05-2016
This company gets my highest praise. The service was prompt, excellent in delivery and the flowers were fresh and beautiful! I highly recommendFLORAQUEEN to anyone. Traute
Hilary Handelsman
04-03-2016
FloraQUeen was fantastic to deal with. Their customer service is extremely responsive and helped me adjust my order even after I had placed it. The representatives were consistently kind and courteous and made everything incredibly easy. My friend was ecstatic with his flowers, and I can only assume that the local florist did a beautiful job. I would never order flowers from any other company again.
09-09-2015
Amazing !!!, Thank U VERY MUCH no even need to contact any body.... Regards Mhamed
Arlene Collins
02-07-2015
I send flowers and gifts several times a year to Germany. Before I found FloraQueen I tried several other businesses. My relatives told me the flowers were pretty or at times not so pretty! I tried FloraQueen and have stayed with them ever since. My relatives raved about the quality and quantity of the flowers. The web site is easy to use, my gifts have ALWAYS been on time and always exceptional. I will never use any one else. The highest quality at a most reasonable cost. Thanks FloraQueen!
Dagfinn Moe
19-06-2015
Everything was good and as agreed.
Tanya
18-05-2015
Everything was spot on from ordering till delivery. Upon delivery bouquet look a bit different, but who cares my parents was delighted. Flowers look nice and fresh. So well done FloraQueen. I will be ordering again, thank you.
Ino
11-05-2015
I made some last minute changes (wrong phone number and time of delivery). After that they called me and a very nice lady at the customer service reassured me everything will be fine and that she will take care of it. And she did! Delivery went through and my friend was very happy! Thank you very much floraqueen!
José Felipe Claudino Barbosa
17-04-2015
Various products available , internet service very good and delivery on schedule. Only problem I had was that the phrase that asked to write on the card is not full, was cut in the middle of the last sentence. I did not like it, but the rest of the experience was very good!
Jacek C
17-04-2015
Ordered the flowes as a last minute birthday present to my girlfriend who was in Poland. Despite living in an isolated village, the flowers got there on time and she loved them!
Joanna U
10-04-2015
Wow what a smooth easy transaction . Very highly recommended AAAAAA++++
Andrea Guppy
20-03-2015
First time I have used FloraQueen, thrilled at the beautiful flowers that were sent to my friend. Thank you so much,.
Ms Georgina Lempriere.
07-02-2015
I wanted to surprise my daughter in law with a bouquet as she lives so far away and we don't often see her, from start to finish the service was quick and efficient, can't praise Floraqueen enough, thankyou
Monika Guzierowicz
28-01-2015
I'm very happy with the service and the product. Quick, no problem ordering process. The flowers were fresh and beautiful, as seen in the picture. Delivery was made in the time requested. I will use FloraQueen again for sure.
Jane J
17-01-2015
Helpful response to my queries and excellent service throughout. Early delivery - and the local delivery person was helpful, friendly and efficient
Heidi Furrer
17-12-2014
It was easy to place an order. The flowers were promtply delivered to the right address. I have not seen the bouquet I ordered but my friend told me it was very beautiful.
Sheila Paterson
16-12-2014
Lovely flowers delivered on the requested day. Spot on!
Hugo Pedruco
08-12-2014
Such a shame u couldn't deliver on Sunday but all the service is fantastic. Seemed more expensive than other online stores but the final price is quite the same and the service itself (and the flowers) has great quality
Ken L
06-12-2014
Extremely efficient service. On two occasions the delivery adress had to be changed at the last minute and this was done very professionally. I would recommend Floraqueen without the slightest hesitation.
Patrycja Lason
03-12-2014
Flowers were for my mom and she was surprised and happy!
Harry May
29-11-2014
I am very satisfied with the flowers and the service. I send flowers to my fiancé every month. The flowers are always on time and she tells me they look beautiful. I live in the USA and she lives in Poland. I have been sending her flowers for a little over a year now. I think the prices are great and there are always specials going on that I take advantage of. I will continue to use Flora Queen for all my flowers overseas. Their website allows me to save addresses so it is easy and you can resend a recent order as well.
Ernestina Giudici
24-10-2014
The delivery are always on time and flowers are exactly as appear in the photos.
Charles Mirtsis
21-10-2014
Overall a good experience, and on time delivery. Only problem I was not happy about - the flowers were not the same as I chose in the Website pictures, a bit disappointing, otherwise, very happy will everything, thanks.
Zbigniew Waksmundzki
19-10-2014
I used in the past different company but from now on i will use only FloraQueen. I will recommend FloraQueen to everybody who wants to send flowers. FloraQueen deliver what promised.
Norman Mackie
03-10-2014
I would recommend FloraQueen to anyone the service I received was excellent. Purchased in UK and delivered to Spain. The price of flowers is very competitive in fact probably unbeatable.
Boris
10-09-2014
It was a little hard entrusting that the company could manage to ensure the delivery of the bouquet, seeing that they were not situated in the country i wished to send to, but they were very responsive. the interface of their website was nice and straightforward and worked seamlessly. I would recommend them to all my friends that need to send flowers around the world.
Klg
30-05-2014
Below is an excerpt from my original (1-star) review, however they have been very responsive since, and in fact the flowers have now been received by my friend, and Floraqueen was in good contact with us thereafter and made appropriate amends for the poor experience we initially experienced. From photos, the flowers are quite nice, and our friend appreciated them. While unfortunate, we understand that unforeseen circumstances happen and must say that they went above and beyond to make things right in the end. ---- From Original review: What a terrible experience this has been! I ordered flowers on Monday and I only learn today, Friday, that they can't be delivered--after they initially indicated that they were delivered on Tuesday! They tell me they will refund - but meantime this has been a very embarrassing experience for me and the intended recipient. By Wednesday, when I did not hear back from my friend, but seeing them listed as "delivered," I asked my friend if they were received. I had them delivered to a business where I know they pick up mail, so her husband went to the location where they were to be delivered and asked about them. How embarrassing for him and for me!! What makes this worse is that my friend is quite ill (thus the flowers). They certainly didn't need this wild goose chase. I was trying to do a nice thing for my friend, and I ended up creating an embarrassing and inconvenient situation at the time they needed it least.
Joel
17-05-2014
First I wasn't happy with the bouquet that was sent because it was quite different from the one shown on his page but when I filed a complaint, Floraqueen decided to send another one for free. This time, the bouquet was perfect. Thanks for all!
Svenja Und Kai
11-05-2014
It was really easy to place the order for the flower bouquet. Just one thing: i sent an Email to the Support Team, to check if the delivery adress is correct and got no answer. So it was Kind of a surprise-but the flowers arrived. I will recommend floraqueen to friends.
Gabriela Gottlieb
06-05-2014
Dear FloraQeen thank you for wonderful service. My order was completed in more than satisfactory manner. Flowers to my Mom in Slovakia were delivered with care, in nice package. Bouqet was fresh and flowers beautiful, matching the online picture. I already posted your website on my FaceBook wall for all my friends, here in America as well as in Europe. With best regards, Gabriela
Bob Lavender
24-04-2014
With limited time, Easter looming, FloraQueen delivered exactly as requested and kept me informed all the way, I would strongly recommend you use them as I will again in the future
Customer L Beaney
23-04-2014
I have been using the FloraQueen service since 2008 and can honestly say it is just the best service I've ever used for flower deliveries to my parents and sister who live in Spain (I can't vouch for any other destination). You are kept informed every step of the way from receipt of order right up to completion of delivery. Pricing is competitive with a choice of sizes; deliveries are always on time; the quality of the flowers is excellent and received exactly as pictured on the website. The recipients of all the orders I've placed so far have always been extremely delighted with their bouquets / arrangements and additional gifts. I have no hesitation whatsoever in recommending this company and I am so glad I discovered them as I can trust FloraQueen to provide the best in service and quality of product as so far I have not been disappointed and they have not let me down.
Richer Espinosa
19-04-2014
Perfect flowers for a perfect person... Floraqueen with its perfect service. I have chosen them without a doubt...several times already.
G Snyder
17-04-2014
I had a sick relative at a hospital in Poland I Knew nothing about. Found the address (at least I thought I did) and sent flowers online. When I woke up the next morning to a text thanking me for the lovely flowers. Incredible! Thank you for making this easy!
Dan S
17-04-2014
Ordered some flowers for next day delivery for my girlfriend in Poland. They arrived within the time window I requested, and they looked exactly as advertised. Days later she was still talking about how nice they smelled!
Sander Helder
14-04-2014
A lot of money, including delivery cost. But it works and sending flowers to family in Europe is easy. Last time the flowers were not delivered which is still not solved. Other than that pretty good.
Anthony Grey
11-04-2014
very pleased that the flowers were received ok and that you were over the moon with the quality and variety love u. tony
Emma
10-04-2014
My mother in law was delighted with the quality of flowers she received. Good job!
Kayleigh
09-04-2014
I ordered an arrangement of flowers on Saturday 29th to be delivered on Mother's Day Sunday 30th. I ordered from the UK and the flowers were to be delivered the next day to an address in Spain. On Monday I received a call from FloraQueen informing me that there was a problem with the florist so they could only deliver either that day or the next. I didn't mind because I'm sure that it was because I hadn't put the address in correctly because they asked me if Atlantico was the street name and I said I had no idea but they never blamed me for anything and just gave their apologies. The flowers arrived on the following day and my Mum sent me a picture of them and they were absolutely stunning. They had also included a free box of chocolates as an apology. The reason I was impressed with FloreQueen was because they contacted me as soon as possible once they found a problem with the delivery, even though they were calling from a different country, they gave me an exact update on the status of the order, and I love how quickly I was able to get something to my Mum in Spain. Thank you FloraQueen! I will be using you again to send my Mum more lovely things!
Alex Sullivan
06-04-2014
Brilliant, fast easy and efficient
Elsa Sutherland
05-04-2014
I ordered flowers,wine and a card for my mother on friday at around 6-7pm,I ordered form shetland for delivery to her hotel in tenerife.I clicked on sat as the delivery date thinking okay if it arrives on mon or tues i will be happy.i was amazed when i got a text from my delighted mother at around 1pm on sat thanking me for the beautiful flowers,wine and card!!!amazing amazing service.brilliant
Karen Padington
05-04-2014
The website site was clear & concise, nothing hidden so no nasty surprises or costs. It was easy enough that even a technophobe like me will be able to make a purchase & send flowers to a loved one anywhere. My mum loved hers, the delivery was on time & arrived in perfect condition. She still has her flowers on display nearly 2 weeks later.
Francesco Guglielmone
04-04-2014
Joseph Donald Safranek
02-04-2014
I placed a special order the morning I needed a delivery. It was Perfect!
Bear Dipasqua
28-03-2014
Great job! Positive feedback from the receiver that the flowers were gorgeous and long lasting. Thank you.
Jacqueline Franks
28-03-2014
I wanted some birthday flowers for a friend in Spain, and FloraQueen came up trumps. Our friend was very pleased with them, and they arrived on time.
Antonia Govic
26-03-2014
Thank you, great service.
Mariya Springer
24-03-2014
i liked that the delivery was very flexible and pursued several times to reach my mom
Catherine Lester
18-03-2014
This was a brithday gift for my uncle. He was completely overwhelmed with the flowers. So thank you for giving us both so much pleaasure.
Irena Chudnovska Kozlov
08-03-2014
The flowers were delivered on time. The service was excellent and the flowers were fresh and beautiful and lived a long live.
Dmitrijs Vantorins
06-03-2014
I am so satisfied with the service, high quality of flowers and delivery. My mother was crying because of happiness. The best option to say "I love you" is to send a bunch of flowers from Flora Queen
Andrew Mahon
04-03-2014
I sent flowers to Palma, Mallorca. Good choice of flowers. Delivered on time. Notified when delivered.
Bogdan
04-03-2014
I order a bouquet to be delivered in Sofia and at first I was a little worried that there might be some problems with the delivery or the quality of the flowers. The worries were unfounded, the flowers were delivered in time and from what I was told afterwards the bouquet looked great.
Clare
27-02-2014
Flowers arrived on time and were beautiful Very good value for money. Ordered in England to be delivered in Spain.
David Absalom
24-02-2014
good company to deal with delivered on time.Flowers were for a friend dealing with some hard times at the moment.They gave here a much needed boost.I would deal with this company again.
Flowergirl
24-02-2014
Beautiful flowers! Delivery was on time...perfect service!
Angelo Moglia
23-02-2014
I used the Flora Queen's service for the first time and,also if I was a bit scheptical about use this service for delivering a bouquet of flowers,I have to admit that they did great job and all it was exactly like they show......´thanks for all Flora Queen and I will be back next time for sure.
Andy Bates
21-02-2014
so simple to do... ordered flowers two days before valentines to a hotel in marrakech - i had only the address. my wife received them in her room on time. payment through paypal simple. only setback was response emails went to spam. otherwise genius!
Lisa Thomas
21-02-2014
I started using FloraQueen service in 2013 and generally received good feedback from my family and friends about the quality of their flowers and arrangement. Until my latest order, there was no issue with deliveries (that I know of!). I last ordered flowers with a bottle of wine for my stepfather's birthday Friday last week, and by chance, through a conversation with my mother 2 days after, I found out that the wine was never delivered along. I immediately wrote an email enquiry to [email protected] on Sunday and resent again on Tuesday - no reply. I then went to their website where I finally found a page to make a claim and only then, I received a response 24 hours later confirming a refund for the wine. The funny thing was, along with the response, I also received an automatic message that my delivery was complete!! They obviously had no clue! There seems to be no daily audit of the orders/deliveries. This has shaken my confidence in their service and the rather slow response from their customer service did not help. From now on, if I ever use FloraQueen again, I'll always have to check with the recipient whether everything has arrived (and would suggest other clients do the same) which is kind of spoiling the whole experience of gift giving.
Rajesh Palanichamy
21-02-2014
Reliable, Responsible, On-Time, low cost, Trust Worthy, 24/7
Victor Vilchez
21-02-2014
I was very impress how fast you work, thank you for your service.
Arnoldo Ganuza
20-02-2014
Royal Christopher Robbins
19-02-2014
Thank you for your extremely good service. F;owers arrived on the date requested, and on time. Will certainly use you again
David Cooper
18-02-2014
Good website compared to competiters.Very easy to use.Prompt delivery.Will certainly use again
Marcos
17-02-2014
Flowers delivered well and on time for a reasonable price.
Siobhan Duffy
15-02-2014
I can only rate Flora Queen highly. Having made the purchase in the USA for delivery in Italy. A beautiful bouquet of flowers were delivered to my surprised sister in Italy (Gosselengo) within 24 hours of purchase. Great service, great quality.
Nathan Teakle
15-02-2014
From the other side of the world I put my trust in Floraqueen and they came shining through. She was speechless.
Wanda
14-02-2014
Very satisfied, it done what it said on the stem !
Emilia Szypula
13-02-2014
i was veri satified with their service
Troy P Bowen
11-02-2014
I've used this website 3 times now to send flowers to my loved one and every time it hasn't taken more than a day or two to prepare the order and have it delivered. My girlfriend is living in Spai. While I'm in school in Florida. I ordered flowers one night after business hours and it promised to have them delivered before 1300 the following day. They were able to make it happen and the quality of flowers are tremendous. Thanks again for all the help!
Amanda Power
08-02-2014
Fast ordering process. Excellent flowers and delivery. Mum very happy with flowers
Andy Smith
04-02-2014
Ordered late night in the UK and flowers were delivered in Spain 11am the next day. Couldnt ask for a better service, thank you.
Neha Bhogal
04-02-2014
will surely use this site more often :)
Alena Pergl
03-02-2014
The service of the Flora Queen was very goode. I have been contacted at every stage of the flowers delivery system and the flowers themselves vwere beautiful. Thank you
Ryan Fisher
28-01-2014
Excellent all round service. Would use again and have.
Tom Walmsley
23-01-2014
Very easy to use the website. Kept informed as the order progressed. Flowers were of great quality. Great service
Anne Richards
21-01-2014
This is the second time I have used Floraqueen for my gifts. The feed back I have had has been very positive, the recipient loved the arrangements
George Vasilellis
20-01-2014
Yes I would recomment to a friend. The service is good, fast and quite accurate. usually i use the service to send flowers to Brazil. If it was a bit cheaper would be even better
Antje Hahn
16-01-2014
Will use FloraQueen again, especially overseas, others have been disappointing!
Jennifer L.
23-08-2013
FloraQueen sent a beautiful bouquet to my mom internationally. At first I was worried about the speed and appearance of the bouquet, but it arrived in a timely fashion and it was gorgeous! I would definitely use this die again in the future to send international bouquets!
Show more reviews
Show fewer reviews