Surprise someone special with this marvellous display of lilies and roses. This truly fine pink flower bouquet is full of happiness and energy, with the power to brighten up anyone's day when saying "thank you" or "get well soon" or on a birthday.


More about this bouquet:
Premium white roses
Oriental pink lilies
Decorative greenery
* Vase not included
We can guarantee the best quality flowers for each order.
100% Satisfaction guaranteed.
FloraQueen always sends the highest quality flowers.
All our flowers are shipped fresh, directly from our florist.
We always deliver on time!
FQ2313
Natural Poetry: Lilies and Roses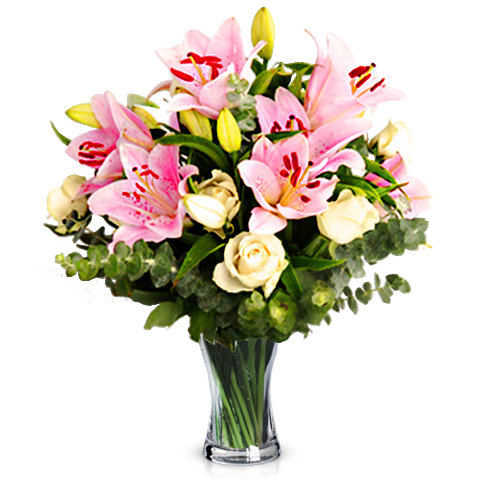 Punctual Delivery
Beautiful fresh flowers
Anywhere, anytime
Punctual Delivery
Fresh flowers
Expert florists
Bouquets you can enjoy for longer.
Some flowers arrive a little closed to ensure extra freshness and protection during shipping. Enjoy the magic of seeing them fully bloom.
What our customers say
29-12-2018
Great service. They redelivered the next day when no one was in. Lovely flowers delivered to Cyprus and Australia.
19-12-2018
Lovely surprise, beautiful bouquet with fragrant roses :)
05-12-2018
Fresh flowers, beautiful packaging
22-11-2018
Reliable delivery on time and nice flowers of very good quality, which looked exactly as offered on the Internet page.
Veronica
(Luc Sur Orbieu)
19-11-2018
A beautiful bouquet of lillies & roses delivered by a cheerful courier! Very nice
Regina
(Alhaurín el Grande)
11-11-2018
Beautiful selection and so fresh
04-11-2018
I couldn't believe how fantastic the flowers were I ordered them for my wife in China and I'm in the US and we had no issues getting them they were amazing the flowers were way beautiful I will always be ordering my flowers from here thank you to your amazing team
30-10-2018
I must say that, being the first experience "on-line" of floral tribute and with intercontinental delivery I did not expect such a quality of the bouquet, attention to details (the greeting card was written by hand!) and punctual delivery , I'm really stunned, congratulations, I will certainly address your organization for the next few occasions. Thank you.
19-10-2018
The flowers are beautyful
Sandra
(Spittal an der Drau)
15-10-2018
Salvatore
(san gennaro vesuviano)
10-10-2018
Laura
(Hérouville-Saint-Clair)
03-10-2018
28-09-2018
Beautiful. Thank you so much!
27-09-2018
Very very good and beutiful flowers Thank you
23-09-2018
Amazing experience with FloraQueen. Was very happy with the flowers.
Mrs Janice Pilati
(Central, Hong Kong)
01-09-2018
Arrived on time.recipient very happy with them. Easy to order.
25-08-2018
I am very happy with the delivery of the Bouquet of Flowers I ordered to be delivered to my Fiancee in Milan, Italy on her 30th Birthday. She was very happy and I was very grateful for your excellent service delivered on time and on the day I requested. You did great and I will gladly use your services again. Thank you!! Orest
20-08-2018
Very efficient, on time, and polite.
Lorraine Basler
(Coral Springs)
08-08-2018
Great service and delivered on time. Beautiful flowers
Geunther Iwersen
(Krasnoyarsk)
08-08-2018
Jackson Ng
(Santa Iria de Azόia)
31-07-2018
Responsive to questions and delivery made on time.
04-07-2018
Great surprise! Nice delivery!
17-06-2018
Went the extra mile.! Nice product and excellent service.
Melissa Erdagi Yücel
(Roma)
08-06-2018
Floraqueen delivered on time and with a nice bouquet and hand-written letter. The card was not the one I picked out - much simpler and without the popup, however all-in-all a reliable service that has great value for price!
05-06-2018
I live in Israel and wished to surprise my most wonderful friend, who lives in Germany, with flowers, on her birthday. The charming bouquet found itself in the right hands on the proper time!!!
29-05-2018
Although they delivered the flowers on the wrong day, they corrected their mistake by sending beautiful new flowers on the correct date.
17-05-2018
Beautiful bouquet and great bottle of wine!
14-05-2018
Beautiful flowers arrived in time.
27-04-2018
Beautiful! Fresh flowers sent from Australia to Portugal
Stephanie Kelly
(La Alfoquía)
10-03-2018
My Mum was over the moon with her beautiful flowers, it's her first Mother's day in a new county and the delivery of these lovely flowers made her feel loved thank you for not letting me down ❤
11-01-2018
Que agradable sorpresa!! Las flores llegaron en perfectas condiciones! Muchas gracias
30-12-2017
It was on time, the flowers were pretty, and it was so easy for me to send my friend in Germany birthday flowers from America.
Ignaciode Zúñiga
(Playa del Carmen)
21-12-2017
16-11-2017
The flowers were sent to my mother in England for her Birthday, she was very happy with the flowers. The man that lives two doors down from my mum delivered them, I guess he owns the store that got the order.. I am very happy with your company.
Erikakrebs-woodward
(Wattenwil)
14-11-2017
Loved the fact that each step from order confirmation to order delivery was confirmed by email.
Mrs Alexandra Wilson
(Altadena)
23-10-2017
Beautiful fresh roses and lilies, exactly as shown in the on line catalog. Delivered on the right day. Couldn't fault product or service. Would definitely use FloraQueen in future.
Fernando Figueroa, Jr.
(Bogotá)
24-09-2017
On the 6th of September I had sent an email about a service issue regarding the substandard fulfillment of my prior order. The very next day on the 7th of September Lennart from FloraQueen replied and promised to address my concerns. On the 12th of September upon delivery of my order, my wife was very pleased as was I at the proper fulfillment of my order. You have restored my confidence in the exemplary service of your company and have also guaranteed my patronage of your services for my floral communication needs. I now feel like a treasured client. Thank you for solving my problem and helping me make my wife happy.
Richard Cole
(Newlands, Cape Town)
18-09-2017
Delivered on time and to spec - order 60171710
05-09-2017
The arrangement was beautiful and flawlessly delivered.
Benny Kristiansson
(Copacabana, RJ)
14-07-2017
Reliable and good quality of the flowers (Rio de Janeiro).
David Deregowski
(Moscow)
13-07-2017
No problems. Flowers were delivered when due.
Nicolhack
(SEHITKAMIL GAZIANTEP)
10-06-2017
Nice flowers, delivered on time. The recipient was delighted. Easy payment
Carlos Lorente Panadero
(Madrid)
06-06-2017
quick answer, paypal payment and great quality!
Kinga Stringfellow
(Koninko kolo Poznania)
02-06-2017
Brilliant beautiful fresh flowers. They have lasted for a long time and my mum was extremely happy with them. We used other companies before but FloraQueen is the best and we will surely use it again.
Louisa Mae Borbon
(Rimini)
16-05-2017
Fast and efficient delivery! Made my mom very happy! Thank you so much! Until next order
Alessandro Del Forno
(Napoli)
15-05-2017
Lara Candido Porter
(Estepona, Málaga, Spain)
14-11-2016
I had a great experience with FloraQueen, and my friend absolutely loved her flowers! Many thanks.
Peg Goldston
18-08-2016
The flowers were just lovely and they brought my brother and sister-in-law some happiness! Thanks!
John Young Jr
27-11-2015
First of all, it got me out of the Dog House. Great service, no incredible. Far exceeded my expectations. Thanks.
Julie Dimaggio
30-10-2015
Lovely bouquet delivered, I was very pleased with the customer service and quality of the bouquet! Will definitely use again!
Lucia
16-01-2015
My mom really enjoyed her birthday flowers from her first grandson this year :)
Phillip Parker
15-01-2015
The quality of the the flowers is excellent, and I have used flora queen to deliver to friends and relatives for a number of years and always been given great service.... Unfortunately my last order of flowers for a birthday gift was delivered a day late! Which is not what I expected.
Chris Hall
03-01-2015
Although our order couldn't be delivered on the day we chose (no florist). They were delivered the next available day. My aunt in Portugal phoned me and said she'd just been delivered the most beautiful flowers. She was so pleased with them. So , many thanks to floraqueen. Will certainly use again.
Marcus
10-12-2014
Easy to use web site, perfect customer service
Ignacio Menéndez
26-11-2014
when ever you call the phone number attached for the office, the voicemail come up even during work time.
Josie Bagge
01-10-2014
Ordered flowers to be sent to Tenerife on a specific day and they arrived on time. The bouquet of white roses and pink lillies were spectacular and really good value for money. Would recommend FloraQueen to all my friends and definately would use them again.
Jenny
14-05-2014
BEAUTIFUL flowers delivered right on time, with good tracking and message service.
Todd
09-05-2014
This is 2nd time I have use FloraQueen to deliver flowers to the Philippines. Both times they were delivered on time and the recipient was very happy with the quality. Good selection too.
Mehdi
02-05-2014
I have used Floraqueen for the last four times I have sent flowers internationally. The choice of flowers is very vast, and also very nice. The recipients of the flowers were always amazed and happy from the flowers. Floraqueen is the place to go if you want to send flowers internationally.
Jacinto Cuan Lee
01-05-2014
Maybe you have to make an market study otherwise you will be out of the market.
Mrs Sharon Buston
07-04-2014
I had my reservations sending flowers to new zealand but I am pleased to say that they were delivered punctually and as described and at a very competative price.
Amanda Cawley
05-04-2014
My mum received her bouquet if flowers last Saturday in Spain for Mother's Day & she text me this morning to tell me they are still beautiful- thank you flora queen
Gary
20-02-2014
FloraQueen made her Valentine's Day just perfect. Fresh and attractive arraignment. What can any man want for his Special Angel? Will continue being a FloraQueen customer.
Ryan
12-02-2014
I would not hesitate to recommend floraqueen to anybody. Bouquet ordered at 10am in Sheffield, England. Delivered within 2 hours to Marbella, Spain. The recipient was delighted with the flowers. A terrific service, thank you
Christine Burnham
03-02-2014
Twice now I have ordered flowers and gifts from Flora Queen for my parents anniversary whilst they have been at their home in Portugal. Each time they have really loved the flowers, bubbly etc. Always delivered on time and good quality flowers that last! I would thoroughly recommend them.
Catrin
03-02-2014
The flowers I ordered were delivered on time and were beautiful - many thanks! I had a query during the order process and someone from FloraQueen emailed me back extremely promptly with the answer to my question. The only problem I had was with the website . Maybe I just missed something but I wasn't able to review my whole order (check my message etc) before I submitted it. The order summary did not show my message so I wasn't sure if it had been included. As I say, I may well have just missed something, but for me it wasn't clear.
Show more reviews
Show fewer reviews