This tender gift is the perfect way to tell your sweetheart how you feel on a romantic occasion. Set their heart aflutter with this 3 rose bouquet and teddy bear delivery and surprise in time for your anniversary, or whenever you want to show your special someone that your love is true.


More about this gift:
A bouquet of red rose flowers (featuring three premium red roses and matching greenery)

A cute teddy bear (the actual teddy will vary depending on availability).
* Vase not included
We can guarantee the best quality flowers for each order.
100% Satisfaction guaranteed.
FloraQueen always sends the highest quality flowers.
All our flowers are shipped fresh, directly from our florist.
We always deliver on time!
FQ2330
First Love: Teddy and 3 Red Roses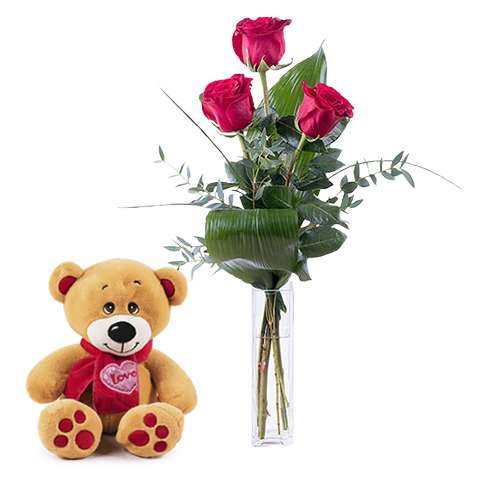 Punctual Delivery
Fresh flowers
Expert florists
Bouquets you can enjoy for longer.
Some flowers arrive a little closed to ensure extra freshness and protection during shipping. Enjoy the magic of seeing them fully bloom.
What our customers say
Noemi
(Cisterna di Latina)
14-02-2019
Really good service and nice flowers
14-02-2019
It was an amazing surprise and the quality of the gift was incredible. The roses are absolutely beautiful and the plush toy adorable.
13-02-2019
The product is good and very nice. It delivered in time..
07-01-2019
It was perfect! The flowers are still amazing!
Gurinderjit (jim) Minhas
(sidoarjo - east java,)
29-12-2018
very good, quick service. not the cheapest rates but good quality.
21-12-2018
So nice and beautiful I love it
29-10-2018
Well packaged- lovely to come hone to
19-10-2018
Beautiful, lovely, gorgeous roses
Angie
(Santa Coloma de Farners)
15-10-2018
It was an amazing present! Thank you so much for this gift! It was awesome
Vasiliki
(Thessaloniki - Stavros)
04-10-2018
03-10-2018
everything is ok except the paper bag.
01-10-2018
great service, great flowers!!
13-09-2018
The flowers are lovely and fresh
25-08-2018
Excellent service!!! Thank you very much
Braun Roland
(Bangkok - Thonburi)
13-08-2018
Everything was done in time and apparently in a good manner. So, I can just say that Floraqueen is fully trustable.Thanks
29-06-2018
Excellent customer service and in time delivery
01-06-2018
Really nice and beautiful !
08-05-2018
I loved it! Excellent service!
Metrics
(nakhon si thammarat provi)
11-04-2018
very beautiful thank you very much
14-03-2018
It's better to ask for the delivery time to make sure the receive person at home
27-02-2018
Beautiful and excellent service
Tetiana
(Bar, Vinnytsya Oblast)
12-02-2018
Great product and the best service!
21-12-2017
The flowers are beautiful and I love it so much!
25-09-2017
Excellent. Everything happened as I planned, and my fiance got very happy with this gift.
25-05-2017
Even if the order i made didn't reflect exactly what was delivered, the service was good and nicely made. Thank you.
24-04-2017
Floraqueen offers a fast and trustful delivery of fresh flowers. It is always wonderful to see the smiling eyes of the recipient. I can fully recommend Floraqueen although they are not very cheap...but the smile is worth...
21-04-2017
Delivery was a bit to late, but everything was fine.
Nina Ludvigsen
(Tübingen)
14-04-2017
Excellent service! I made the reservation of flowers at noon and the flowers were delivered less than three hours later. FloraQueen kept me updated about the deliverance. Reliable and very easy. I will for sure be back for other occasions. Many thanks!
07-04-2017
Quick same day delivery. Even changed the adress after my mistake. Great service!
0d0868f
(Полтавский р./н - с. Розсошенцы / Poltava)
22-03-2017
The delivery was in time and perfect. My beloved got very happy and send me a long smile. Thank you very much for your service!
20-03-2017
I found the ordering system very easy, prices were equal to anything I could buy locally but the fact delivery was included helped to make my choice. They are also Lyoness listed which ment i got a reward for shopping with them which was a big factor. The only reason I have not given top ratting is the Lyoness reward was cancelled and I have emailed the company and still not got a responce
Andreas
(Amphon Bangphil Samutprakan)
17-02-2017
Good Quality of Flowers same Picture Easy Order...Payment and fast Shipping
Ingvar
14-02-2016
Delivered as promised. Good service:).
Antonio Morillo
08-04-2015
I've, in the last few months, sent flowers in three occasions. The flowers seré delibered right on the day I recuested and in perfect condición. I'm extremelly satisfied with your service and your product. Thank you for your profesionalism.
Panayiotis Papadopoulos
29-01-2015
The service was very good and the delivery on time! I just didn't expect price to jump as high (oubled) with the delivery.
Andrei Koczkas
28-01-2015
everythink was OK, but no e-mail after delivery(has you promise
Fabio
21-04-2014
The choice is very wide and very interesting prices. Everything arrived on time.
Jakub S
21-03-2014
Hi, delivery of flowers was OK - on time, nice flowers, no issues. However the gift I ordered was much different from the one we received. I do looked to have "I love you" message as this was the purpose for the whole order.
Vanessa Spinetti
20-03-2014
I emailed a change of address over the weekend and received a reply right away. Sending flowers to a resort in a really small town in Brazil for my mother's birthday, she could not believe that the service actually made it all the way there. The online member page could be a little easier to use but the customer service makes up for it. Thanks!!!
Raquel Font Vallespi
11-03-2014
It's the 5th time I have ordered flowers with Flora Queen and the service is just excellent. The flowers are always delivered on time and they always let me know when the order is delivered without delay. Yesterday, I ordered flowers for my grandmother and this morning I sent an email to change the delivery time- from the morning to the afternoon. They responded immediately to my query and even though finally it was not necessary to make the change, I felt assured that they were following up with the delivery. They notified me when they couldn't find the recipient and tried again. Finally the bunch was delivered in the morning as scheduled and I received the delivery confirmation email shortly after. Making the story short: Excellent service, highly recommended!
Fleckenstein Julien
03-03-2014
Fast and easy...everything went as planed got the flower and i nice picture in return thx
Kriss Iacopini
03-03-2014
The service has been executed on time (as planned), the quality was adequate. The money spent are matching with the quality of the service and product
Laura Sipes
26-02-2014
We placed 2 orders with FloraQueen. Our order was an international one the first attempt was very frustrating as it wasn't delivered and we had no idea why. For some reason the FQ emails were not reaching us and it turned out autocorrect on an iPad entered a wrong street name preventing delivery. After receiving a refund for no delivery, we researched other options and FQ was still our best one. With the correct address we re-placed the order and it was delivered on time and was even upgraded by the local florist. We plan to place future orders with FQ and although the process was tricky as the final product was great.
Andi Nodit
24-02-2014
They are professionals indeed.
Mehmet Zİya Arslan
23-02-2014
Maria Gonzalez
22-02-2014
Number of starts: 5... Is it no possible more? Thank you!
Sergiy Kytaygora
22-02-2014
I used this service for a first time, and I'm really satisfied with the quality. It was a great surprise for my girlfriend.
José Emiliano Carrasco Tena
21-02-2014
Flowers delivered on time. Seeing the joy in her face was fantastic. Thank you.
Jacob Bacon
21-02-2014
Great selection and delivered on time.
John O
21-02-2014
I needed to order flowers for a friend who is studying abroad. This merchant was so reasonably priced, their website was very easy to use and they were in constant email contact as to the status of my order. Excellent all around! I would highly recommend them.
Georgios Papageorgopoulos
21-02-2014
Quick and secure service. I am very satisfied
Leandro Costa
21-02-2014
Very profesional and eficient
Tiago Carneiro Fernandes
18-02-2014
the best flower delivery service I have ever experienced, used it to deliver flower to my girlfriend, which is in a different country and she still got them fresh and looking lovely, very reasonable price, personalized jars and bouquets and possibility to deliver them with chocolates or champagne and your own message card. The staff makes all the effort to deliver the flower on time and however you want them to be delivered. Thank you flora queen.
Meribeth Myers
16-02-2014
my sister lives overseas and if it wasn't for FloraQueen deliveries I wouldn't be able to show her how much she is loved!! The roses are fresh, tucked in a beautiful vase! Ordering was easy and delivery was on time!!!
Naif Al Khalifa
15-02-2014
Fast, sufficient, reasonable precise I'm fully satisfied.
Mr A Binnie
14-02-2014
wonderful service the flowers were delivered on time and on the day requested my girlfriend was so happy to receive them and the whole process was so easy to do on line such a good service I will be using them again and telling all my friends about them
Sergio Gabriel Lopez
06-02-2014
Show more reviews
Show fewer reviews