A mesmerizing bouquet of 6 red roses to set your special someone's heart aflame. Six red roses communicate passionate feelings of desire making it the perfect flower to say "I love you" or to surprise your crush with on Valentine's Day or on your anniversary.


More about this bouquet
6 premium red roses
Decorative greenery
* Vase not included
We can guarantee the best quality flowers for each order.
100% Satisfaction guaranteed.
FloraQueen always sends the highest quality flowers.
All our flowers are shipped fresh, directly from our florist.
We always deliver on time!
FQ2301
Love Hypnosis: 6 Red Roses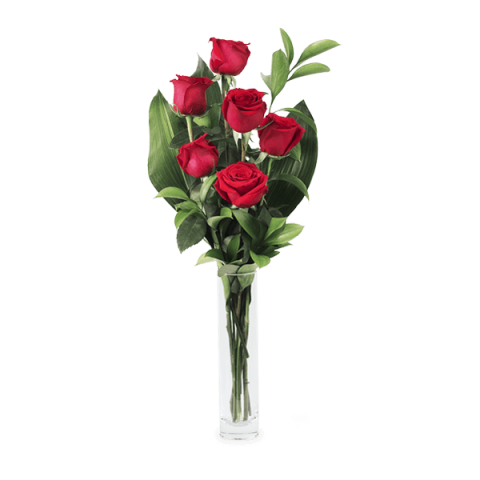 Punctual Delivery
Beautiful fresh flowers
Anywhere, anytime
Punctual Delivery
Fresh flowers
Expert florists
Bouquets you can enjoy for longer.
Some flowers arrive a little closed to ensure extra freshness and protection during shipping. Enjoy the magic of seeing them fully bloom.
What our customers say
Katarina
(Banovce nad Bebravou)
14-02-2019
Perfect product and service
03-01-2019
Prodotto molto elegante e servizio efficiente
02-01-2019
It'd be better if the receiver was called in advance
08-11-2018
It was amazing surprise and an excellent service.
Riccardo Luciani
(Valencia)
31-10-2018
Very good service! Thank you so much
13-10-2018
Was really wonderful! The service so nice, the call me 20 min before to give me the gift.
19-07-2018
Its very nice and the flowers look awsome
19-07-2018
Gėlės nuostabios. Pristatymas puikus
30-04-2018
El producto maravilloso, Y el servicio fueron encantadores
11-02-2018
The flowers were so fresh and beautiful!
24-10-2017
Excellent job! Delivered on time!
Norbert Gerencsér
(Oroklini)
23-09-2017
08-09-2017
Excellent Service! From start to end very enjoyable and very easy to use, clean and clear! I made a terrible mistake with the address...then the following day (the delivery date), I contacted customer help, to redirect to the new address...midday, and my responses was very quick, friendly and managed to fix everything for me without hassle! Without delay! Very impressed and happy customer!Definitely recommend FloraQueen, I will be using again!
01-09-2017
They are amazing, they are attentive to details and helped me finding the best way to send flowers to my girlfriend. Michal is perfect.
15-06-2017
it was fast and nice service the quality was excellent
Venus Leone
(Santa Lucia, Vitoria, ES)
15-05-2017
I love Floraqueen! It's really hard to send anything to Brazil, but Floraqueen has made it easy for me to spoil my mom with flowers and little gifts for her birthdays and different occasions. I've sent flowers to different places with Floraqueen and I'm really happy with the service as well as grateful for its existence.
11-05-2017
Great customer service, the delivery was very reliable and the bouquet was fresh and beautiful. 100% going to choose their services again. Only disadvantage is the prices are high but it's worth the money.
Rafael Cepeda
14-10-2015
Very happy with the service.
Hi
04-04-2015
The delivery was perfectly timed and very happy with the service!
Nerino Corbella
27-03-2015
I was very pleased with your timely service and would not hesitate to request your services again. Naturally, our friends (the recipient of the flowers) described the offerings with praising wards but no mention of the message we included. I would suggest that in the confirmation of the transaction (address etc.) you would include the message posted so that one would be sure of the proper wording was received. Thank you again and keep the good work. Nerino Corbella
James
27-02-2015
Never had any issues with delivery, they've always been reliable and beautiful arrangements.
Karen D Costa
25-02-2015
the flowers arrived wrapped and beautiful ...I am very pleased with the experience, the delivery and the flowers...
Levent Ahmet Yazar
29-01-2015
it was a punctual delivery for abroad,i coulnd t have ask for more..
Gjohnson
03-12-2014
I would like to see what u have on offer with a price, next to it a box to write yes if u want it sent and the date u would like it sent Next your selection of messages and additional space to add if req Then show items ordered and total payment .Then who to send to and who from. additional promotional things to follow Hope it is of use
Matthew Husler
20-09-2014
FloraQueen provided awesome service. Using them worked out great as a first anniversary surprise for my wife.
Lukasz Syper
14-05-2014
The flowers can make a smile on Her face even when u fuckup ! Put chocolate and vine with that and it's done! About floraqueen: Best quality, best price, best service ! That's grand!
Jordi
12-05-2014
Service in Czech Republic . Good service , good product .Thanks
Jdj1
01-05-2014
All results perfect, I bought fromChile without any problems
Sr. Eduard Benet Cerdà
30-04-2014
Delivered on time, without any problems. The flowers where fresh and extremely nice.
Jordi
30-04-2014
Easy to buy, fast to ship, nice flowers, I would repeat without hesitation.
Alain T
18-03-2014
Delivery did not happen on time as mentioned in order
Carl Christen Haglund
18-03-2014
Flowers were delivered in right time to the right person! Thanks a lot! :-)
Selwyn Postan
06-03-2014
Your service is reliable and of an acceptable quality.. Sometimes I felt the arrangement was very sparce and 'wanted for more' in quantity to really make the arrangement stand out way above the rest. I did complain once before and although there was some interaction, nothing came from the complaint. The last arrangement I sent was above average in presentation. I did order a bouquet, not realizing it did not cxome with a vase. My error. Having said this, thank you for your good and reliable service
Marte Svanemyr
27-02-2014
I was very satisfied with the flower delivery I ordered through Floraqueen. I had asked for the flowers to be delivered during daytime because it was to be delivered to an office as a birthday surprise - and the flowers were delivered around 13.00 which was just perfect. Due to some email issues I did not receive the verification mail that confirmed my order being delivered on time, but the flowers and sparkling wine was perfectly delivered, and they looked even better than on the display on the website. Thank you so much FloraQueen, I will definitely use your service again! :)
Tomáš Gajdošík
27-02-2014
Flowers were really beutiful, and delivery was in time! Just delivered with other vase (this one i ordered was more expensive) and card was written by hand,
Maurizio De Tommaso
25-02-2014
I thought I ordered a bunch of roses to be shipped on the day of St. Valentine in Slovakia could create problems and instead everything went fine! In addition, have also been delivered in the time that I requested! Thank you!
Sarah N Brewer
25-02-2014
am very happy my girlfriend liked much her ​​roses
Rodrigo Alves Dos Santos Pereira
24-02-2014
R Smith
24-02-2014
Ordered flowers at 10pm on February 13th... Delivered them at 11am February 14th even though I'd missed the payment window for next day. Brilliant.
Radek
22-02-2014
Everything perfect... Beautifull flowers on time...
Martin Sand
22-02-2014
The wine was not good. For me who testing wine worldwide I demand good wine. If I use you again I want to choose wine from a winelist. The flower was OF good quality. Best regards Martin
Sierpek
22-02-2014
Everything is OK, inspite of price... ;)
Peter
21-02-2014
I saw a picture of the flowers after they were delivered. I had maybe expected more for that amount I paid. But they were delivered on time and to the right person, the chocolated were good too and she was very happy. I guess that was the main object for me.
Ts Ts
21-02-2014
I sent flowers to Argentina with no hassles and the wife loved them.
James Connelly
21-02-2014
I found FloraQueen online and they did a great job in getting my Valentine flowers sent to an address is Istanbul. The transaction was very easy and smooth.
Hanane Boujelloul
21-02-2014
Good customers service. My husband receive his flowers at time ( valantines day) , I woul like to thank you flora queen
Suresh Murugiyan
21-02-2014
I really felt comfortable to know the flowers were delivered on time to my friend at her new address.
Happy Customer
21-02-2014
I originally bought flowers from a competitor for Valentine's Day, but then they cancelled my order without telling me! Hours before Valentine's day I ended up purchasing flowers from FloraQueen. The price was great considering I wanted them delivered in 12 hours. They notified me promptly that they sent my order to a local flower shop, and then within one minute they notified me that the flower shop they originally contracted said they could not. But they ended up finding a place and still delivered on Valentine's day as promised! Customer service was excellent and I am definitely going to use them from now on.
Mayank Gupta
21-02-2014
I had sent these flowers for valentines day to my girlfriend in switzerland, the flowers were delivered on time, with my a personal hand written message, she felt so happy, and yes the flowers were amazing ....
Richard Arendse
21-02-2014
Order placed and delivery was perfect on time Only did not get a confirmation e-mail of the order so was scared something went wrong but in the end everything was fine
Stephen Moorcroft
21-02-2014
Hi just wanted to tell you about floraqueen, its just the most perfect way to say it with flowers; I sent my girlfriend in Bucharest roses on valentines day and this was fantastic, good flowers delivered when they said it would be and a good price, so what more could you want. recommend to anyone
Fridtjof
21-02-2014
I live in Norway, and ordered flowers for my girlfriend who lives in the Netherlands. The site was easy to navigate, and the payment process was quick. I was also told that the flowers arrived at the time they were supposed to and that the wuality was very good.
Alan
21-02-2014
I didn't see the flowers and present that I sent but the recipient was a very happy lady. I ordered them from New Zealand and they turned up at the address in Europe without fail.
Richard Davis
21-02-2014
Such a professional company to deal with. from the easy access order system to the on time efficient delivery of my purchase, supplying true to label roses and beautiful teddy bear. Thank you for a wonderful shopping experience, I shall be an ongoing very happy customer.
Shady Noureldin
21-02-2014
Christina Falzon Vidal
21-02-2014
Good prices, customer service, delivery and after sales - simply perfect!
Peter A Hurst
21-02-2014
.Highly recommended service Used twice for Valentines Day without any hitches I will definitely use again
Thierry
21-02-2014
Residing in Perth, I sent my fiance roses in Macedonia for Valentines Day. Ordering was simple and it was delivered on the day to her surprise and was so very happy. She sent me pictures and the arrangement was fabulous. Thank you FloraQueen
Martin Graham
21-02-2014
My wife was so happy and loved the flowers.
Colin Horn
21-02-2014
Booked a Valentines floral tribute to arrive at our hotel in Barcelona the day we arrived from UK. Flowers were duly at reception in the afternoon as planned
Gabriel
21-02-2014
More than happy...ordered flowers last minut for Valentines day from Australia to be delivered in Croatia...flowers came on time exact day...would recommend to everyone and I will order more in future...
Parker
20-02-2014
Sent flowers from Texas to Florence and my girlfriend got them in perfect shape! Great job floraqueen!
Tomasz Ociepka
20-02-2014
Have ordered Valentine's flowers, delivery have been done on next day.However at the end of pay procedure was some extra charge for "fresh flowers". Who wants to send cutted flowers if they are not fresh:-)
Jessica Jones
11-02-2014
The best florist I have ever experiences...Best delivery on time...Thumps Up
Show more reviews
Show fewer reviews