Smiling at you like the colours of the Rainbow, this mixed gerbera bouquet is also likely to brighten up a rainy day. Send a loved one this vivid bouquet to share cheer on a special occasion, to deliver your thanks or to perhaps to wish them a speedy recovery from an illness.


More about this bouquet:
Mixed colour gerberas
Decorative greenery
* Vase not included
We can guarantee the best quality flowers for each order.
100% Satisfaction guaranteed.
FloraQueen always sends the highest quality flowers.
All our flowers are shipped fresh, directly from our florist.
We always deliver on time!
FQ3002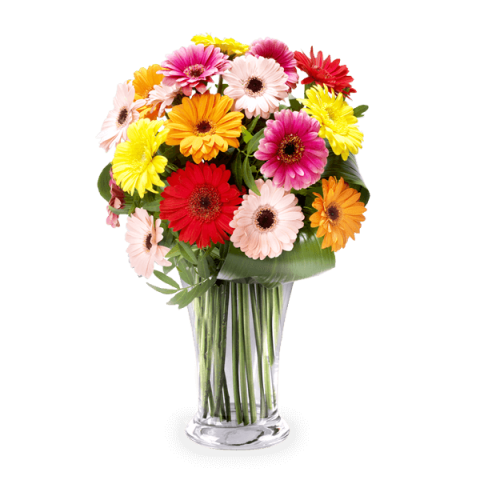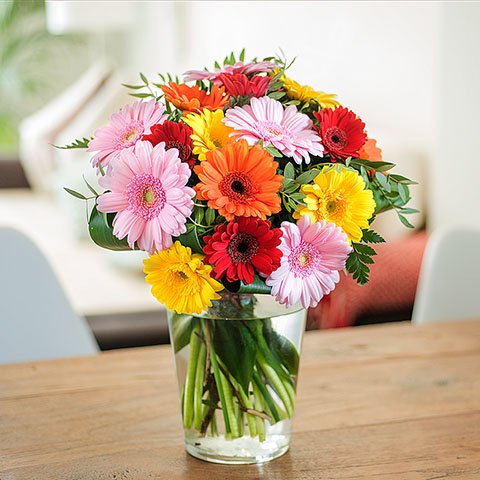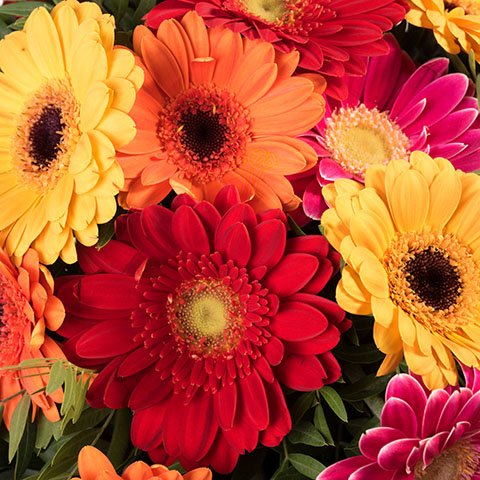 Punctual Delivery
Beautiful fresh flowers
Anywhere, anytime
Punctual Delivery
Fresh flowers
Expert florists
Bouquets you can enjoy for longer.
Some flowers arrive a little closed to ensure extra freshness and protection during shipping. Enjoy the magic of seeing them fully bloom.
What our customers say
Mrs Nuria Sans-ruiz
(Sant Feliu de Guixols)
03-02-2019
Great service, nice flowers. Everything was easy. I'd definitely recommend it.
26-01-2019
Delivery was on time and the flowers excellent. My only issue, I am always struggling to pay on your site, so always need help. can you please sort out your payment appraoch.
Vincenzo Forzina
(Parabiago)
24-01-2019
Always on time and prompt efficient service.. beautiful flowers delivered to my sister in law.. Well done floraqueen
28-12-2018
Thank you for a good service! I especially appreciated your printing my message to my friend word for word!!
17-11-2018
Beautiful product! Service was excellent too, very happy :)
15-11-2018
Both are great! Just this time, I received the wrong type of flowers. My boyfriend said he had ordered gerberas and I got lilies...
14-11-2018
Absolutely gorgeous flowers and excellent service
07-11-2018
As always flowers are beautiful and fresh :)
02-11-2018
Excellent service, beautiful flowers.
21-09-2018
Beautifully designed and colourful i like it...
19-09-2018
The flowers are absolutely beautiful. They look like the day I got them. Service was friendly and professional.
09-09-2018
Very nice flowers, I loved them!
05-09-2018
I big surprise. An awsome bouquet!
08-08-2018
My daughter-in-law received a bouquet of, according to her, beautiful flowers at the time stated in our on-line purchase plan. It was my first time sending flowers overseas and it was a simple process--one of which I plan to use again! THANKS.
18-07-2018
Beautiful flowers. Excellent service as always
Teresita Lagsit
(Piatra Neamț)
30-06-2018
Its been a year since i start ordering online flower delivey to flora queen and they never fail to deliver ontime ..they deliver flowers fresh to the receipient.. i just wish they and more gifts to choose and cakes ..it will much better cakes with fresh flowers and gifts...thank you flora queen...
12-06-2018
Beautiful flowers and delivered on time!
11-06-2018
Beautiful flowers, fabulous service
Mrs Susan Cumming
(Benalmadena Pueblo)
09-06-2018
Excellent service, beautiful flowers, delivered as requested
Fernanda
(Bielany Wrocławskie)
21-05-2018
It was the perfect birthday surprise!
Elliott M Allums
(Silkeborg)
13-05-2018
Great service, the flowers arrived as predicted. I was surprised that a real card was included and not just a piece of paper with my message.
08-05-2018
Prompt delivery, very nice approach and the flowers and vase were in pristine condition
Bozena Wilkinson
(Strazske)
08-04-2018
They brought my moms Birthday flowers all the way up on the second floor in the flat. And really friendly lady.
31-03-2018
Very happy with this service. The flowers were beautiful. Communication was excellent.
Alexandra Subas
(Ploiesti)
25-03-2018
Excellent service. Is the second year when i order flowers for my mum. They never dissapointed me.
Stavros Koufos
(Kathu District, Phuket,)
09-03-2018
Flowers were received on time/day. Recipient was very happy. All good. Excellent
Jana
(Moldava nad Bodvou)
18-02-2018
Surprising, the bouquet was beautiful.
29-01-2018
A wonderful surprise and service
08-12-2017
Kvietky sú krásne. V priloženej kartičke žiaľ nebol úplný odkaz od darcu kvietkov. The flowers are beautiful, although the note wasn't complete, a part was missing.
27-11-2017
I loved it! The flowers were gorgeous and the card was lovely.
25-11-2017
Flowers on the picture were without any green grass, i thought they will delivere it this way, but when my friend recieved flovers they were with some sort of grass, gerberas look beautifull without any additions to them.
Fabio Pazzini
(Velika Gorica)
20-11-2017
Very good service, flowers delivered perfectly on time and the quality is great. I'll use FloraQueen again for sure.
Lauranegrea
(Cluj-Napoca)
11-11-2017
Excelent service, 5 stars, I strongly recommend it! Thank you so much!
Mariaisabel Hernaiz
(Madrid)
24-10-2017
I was expecting a larger one
21-10-2017
Used many times, flowers always arrive on time and look as depicted
02-10-2017
I was initially unsure about the process since I am in another country and there is a potential language barrier.It worked out very well. The deliver was on time, the product was as described and my friend was very surprised.
Dimitris Messinis
(Warsaw)
26-09-2017
13-07-2017
Great service. Everything was delivered well on time and the flowers and card,handwritten may I say that added a personal touch were perfect.
29-05-2017
First time using this company, and first time sending flowers to a hotel in Poland . Arrived within the allocated time . I received an email confirmation of delivery . Fabulous selection of colourful gerbera. However I paid for a vase , not entirely sure it was delivered. It may have been, butstaff and my daughter may have mistaken it for the hotel's perhaps
21-05-2017
A good service for delivering something nice to that special someone, that for me is out of reach (over seas) for the local florist.Although a little pricey, the service is good and the delivery is prompt. It is a little annoying that you can only choose between 2 delivery times, but that's just being fussy!
12-05-2017
Super. Clear, easy to use website. FloraQueen accepts credit card payments over the web, no need to call. All the gift options I wanted, some good suggestions for additional spiffs, and a generous message box. Next day service in Tel Aviv, and a polite call to our daughter about when to deliver, and where to leave the flowers. We will look no further for the perfect florist in Tel Aviv.
06-05-2017
Lovely flowers, just what I ordered and the delivery done a marvelous job finding my house.
Tobias Stern Johansen
(Villeneuve-d'Ascq)
07-04-2017
Beautiful flowers. Efficient delivery and not as expensive as other companies I came across. The flowers arrived as planned. One spelling mistake on the note but in that exact context it didn't matter. I was also very happy to see that even though I didn't choose a card the company still left my words on a note, which was just a simple grey brown note. This made me happy cause I like simple grey brown notes as well as simple grey brown paper around flowers. This option is nearly impossible to find online at any company. And it is a shame. Cause there is way too much cuteness in the flower industry and I think this is a misunderstanding. Men and women love flowers but not necessarily puppets and hearts and ribbons and all that. A little more rawness would be prefered. So thank you for the plane note!
Jose Miguel Pardo Carbajo
(El Campello (Alicante))
05-04-2017
fast, professional, everything was perfect
02-04-2017
my overall experience is positive and i would use this website again to send flowers ,i didnt rate as 5 stars because the Vase was not included as in the picture , it will only ask you before you checkout if you want the vase, so you may find yourself paying 6 euro's more .i recommend this website
20-02-2017
Flowers delivered on time, since i ordered them 2 days before valentine's day, i paid a little extra for the delivery (~10 euro).nothing else to report, good service.
01-12-2016
I have ordered flowers for my Grandfather name day. They delivered even better bouquet than a picture on a website. I am really happy with it!! Thank you Guys for making my grampa smile! :) Moreover you had perfect timeing. Cheers, will order again.
Mr Mccormack
08-09-2016
Excellent service and really good quality flowers.
Helen Macris
27-08-2016
Sending flowers to my elderly mother from the other side of the world could. It have been easier. Nevertheless she was astounded by the beautiful bouquet she actually told me to thank the florist because they brought the sunshine in the house. Thank you so much for all your attention and services. Regards from Helen Macris from Australia
Teresa
07-04-2016
My experience with FloraQueen was a very positive one! I found FloraQueen to be very professional and compassionate towards my order from start to finish! FloraQueen kept in constant contact with me thru emails of the status of my order, changes to my order (flowers I originally ordered were out of season), and delivery of my order. Other on-line international flower delivery services I have used in the past, I never heard back from them once they processed my order, I had to wait for my love ones to contact me... FloeaQueen's emails to me made me feel special, like my order was just as important to them as it was for me!!!! I will be definitely using your services again for all my future on-line flower orders!!! Thank you so much FloraQueen....
John Doe
06-04-2016
Delivered upon everything that was asked of them.
George Bongiorno
02-04-2016
I wanted to send some flowers for Easter to the Netherlands where my daughter is living. I search on the Internet for florists in here area that I could order from. They were in Dutch and most of them were not able to order online. You had to call. I did not speak Dutch so that was not possible. I also called FTD florist and they quoted an awfully expensive price and I was not even knowing what I was getting. And that was just for flowers. They said whatever was available in the area. Then I came across Flora queen and their website explained everything and also gave many choices. I picked these beautiful Gerber daisies and a bottle of wine. My daughter got it the next day. She was so surprised! She took a picture of the flowers and they were exactly what I ordered! Thanks, Flora queen! I will definitely pass on the information to everyone. I will certainly use them in the future!
Anna Fryters
17-03-2016
Checked out several other services ,but found Flora queen to give a good honest service.I definitely will use them again.
Ellen C Beale
20-01-2016
Delivery was timely and the flowers were beautiful. Thank you.
28-07-2015
I had never used FloraQueen before but needed to send some flowers to some friends in Singapore. My past experience with on line buying to send abroad, especially to Singapore, has been pretty dire. Oh what a joy to find a firm that not only delivers what it promises, but the flowers were beautiful, fresh and the delivery was second to none. My friends sent me a picture of them and they were so pleased. I would definitely use them again for both abroad and home delivery.
Randy Arroyave
15-09-2014
Only line order was easy. Delivery was as promised and made recipient happy! Flowers were beautiful! Thank you
Dina Chlomisios
10-05-2014
Made me a lovely bouquet with stuffed dog, and delivered to Athens, and I ordered from Canada!,,
Monika Hofmann
06-05-2014
It would be helpful to get an information if orders have been delivered. The website says you'll get an information within 48 hours if orders have been delivered successful but it is not the case. So you grabb in the dark .....
Linda Riordan
06-05-2014
Quick and easy with very fast delivery to Spain
Jo Green
02-05-2014
Very quick and well received.... flowers were beautiful ( even though they looked nothing like the flowers I ordered!)
Maria Lille-tommila
01-05-2014
The fluors and the service was werry mutch satisfaktion ! Thank you!!!
Kimberly
29-04-2014
I was very impressed with the ease of ordering. Even though there was a little trouble with the cc being processed on some orders, it was for security purposes which make me feel good about my information. The orders arrived on time and when one of the recipients was not in, they held the order until she got back. Most would not do that. I would highly recommend this service to everyone.
Ann Hearn
26-04-2014
happy to recomend you to a friend.
Jacques Rajchgod
25-04-2014
You need to institute a free mail service to notify the user that his order has been delivered. Currently, one doesn't know whether the delivery has taken place. Be the first one to do it.
Sunder Raj
23-04-2014
I have to say, Floraqueen's certainly exceeded all expectations for a surprisingly timely delivery, perhaps a first on the internet? Everything from payments, to a change of the order to the actual delivery and the surprised look of my loved one went off like a dream. Good job, guys. A very much deserved applause from me. Keep spreading the love.
Michelle Payne
21-04-2014
Very pleased with the service and flowers
Susan Rust
17-04-2014
Ordering was easy and messages of receipt and delivery very reassuring. My sister messaged to say the flowers are gorgeous. Thanks again FloraQueen!
Ciro Rizzi
17-04-2014
Good service and delivery on time
Diana Hodson
17-04-2014
Absolutely excellent service. It is not easy sending flowers from UK overseas but this was seemless and very professional. Well done Flora Queen
Julie Tomlinson
09-04-2014
flowers arrive on time and are nice.
Kathleen King
03-04-2014
I was really impressed with the customer service provided, especially since the address I entered was partially incorrect. The fact that you called me and my friend to resolve and redelivery on another day was absolutely great service. I would recommend you to others without hesitation
Jose Antonio Rios Romero
31-03-2014
Nice service. My flowers were sent on time and they were even prettier than in the picture.
Marcia Medeiros
27-03-2014
Flowers send from France to Netherlands, and everything worked perfectly! Thank you!
Tiffany R.
19-03-2014
I was extremely satisfied with the service. I was informed through out the entire service. My friend was extremely happy with her birthday present that I ordered from the USA to be delivered to her in Spain.
Mike Myers
18-03-2014
Our Daughter was so touched as to how lovely her flowers were, they lasted a good week, we are looking forward to seeing the photos she took. Thankyou
Nicoleta Manea
18-03-2014
Beautiful flowers, very good coordonation and customer service. I have been using this site for 2 years already and I am very satisfied by the flowers quality and design, florists eficiency and creativity. I kindly recommend FloraQueen if you want to make a pleasent suprise :)
Carla Oliveira
04-03-2014
If I ever need your services again, I won't exitate! I'm very happy with you. Thank you.
Andy Pirie
28-02-2014
I wanted to get flowers delivered that day to a friend in Poland as she'd had a car crash, so i wanted to cheer her up. Flowers were delivered that day, were what i wanted, and at a reasonable price, and definitely cheered my friend up, so thank you.
Patricia Lee
21-02-2014
really pleased with service
John Carlos Juncal
18-02-2014
Ordered flowers for mum in Spain at 6pm English time and they arrived the next day! I couldn't believe it and was extremely please, mum loved the flowers too so thank you very much!
Lynn D Massam
18-02-2014
The flowers were beautiful - only slight confusion was that I had asked for them to be delivered to my daughter's place of work between 4pm - 7pm. What actually happened was the florist phoned her at home in the morning to check if she wanted them delivering at home....sort of spoiled the surprise but in a nice way!
Olena Sem
14-02-2014
FloraQueen was the first company that let me order flowers from USA to France.I try couple of other europinian flowers company but with no luck.So I give chance for FloraQueen I was impressed flowers looks exacly the same as picture .Fresh and gorgeous .Thank you so much to make our friend birthday special !!!!
Naíra Teixeira Schwarzstein
14-02-2014
I had no problems at all. The flowers were delivered on time and were fresh and beautiful!
Sheryl Lyn Pagunsan
12-02-2014
If you are thinking of sending flowers to anyone..anywhere in the world. I would recommend flora queen..they will always update you of the status of your order (you don't have to contact their customer service) Flowers were delivered on time and most important of all flowers were fresh and my friend like the chocolates as well :) Thanks flora queen for the good service :)
Mrs C A Shears
10-02-2014
I ordered flowers for my sister's birthday on 3rd February. She lives in Germany and they arrived early on the morning of her birthday. She was extremely pleased with them and sent me a photograph - they were lovely. Thank you.
Mauro A
08-02-2014
In my opinion the prices are a bit expensive. But the service is excellent.
Annette Sinclair
07-02-2014
Very user friendly web site. Lots of contact to advise on what "stage" of the order process was happening. The recipient was delighted with the bouquet and sent me a photo it was not as depicted but I guess what is seasonal in England is not so in Spain
Barbara Hambleton
06-02-2014
Easy to use website and efficient service, although the costs are quite high
Sreten Skoro
03-02-2014
If you wish to get the flowers delivered to the person you love, where ever across the world, for reasonable price, in very professional way, with full confidence, I recommend you to contact FLORA QUEEN.
Joanne Doherty
31-01-2014
I was so happy with the service, your system is easy to use and I really like the fact you send emails with updates on my delivery. I also got my sister who I sent the flowers & Champers to, to send me a pic and everything looked Fab! And of course the price was cheaper that other well known websites. I will use you again and I get a discount :) Regards Joanne
Edith Cicerchi
26-01-2014
it makes for a very pleasing way to sent flowers to Europe and trouble free! THANKS, for all your help!!
Tracey Davies
11-01-2014
Did an excellant job very informativ and helpful
Brian Palmer
29-10-2013
I pretty much repeat what I said in a previous review, I continue to deal with FloraQueen because they are very helpful, but they are dependent on the florists they use reproducing what I see on the screen and pay for. My friends in Ukraine always send me photos of the flowers they receive and, while they are happy to get them, I can see that they are always NOTHING like the ones I ordered. In these last orders I included chocolates (for Easter) I have no idea what they actually got but in the photo it didn't look anything like the box of chocolates I ordered. I suspect that this would be the same problem whatever company I use. The florist reduces the specification to make a bit of extra profit, annoying but perhaps inevitable in a country like Ukraine :(
Show more reviews
Show fewer reviews