Say your elegant farewell and feel the seasons turn with this mixed gerbera bouquet, featuring the striking colours of Fall. Send your sympathies to a grieving loved one or share your own message of sorrow directly with the dearly departed's family with this exquisite bouquet.

This Bouquet Contains:
Mixed-Color Gerberas

Chrysanthemums

Seasonal Flowers

Greenery
We can guarantee the best quality flowers for each order.
100% Satisfaction guaranteed.
FloraQueen always sends the highest quality flowers.
All our flowers are shipped fresh, directly from our florist.
We always deliver on time!
FQ525
Elegant Farewell: Sympathy Bouquet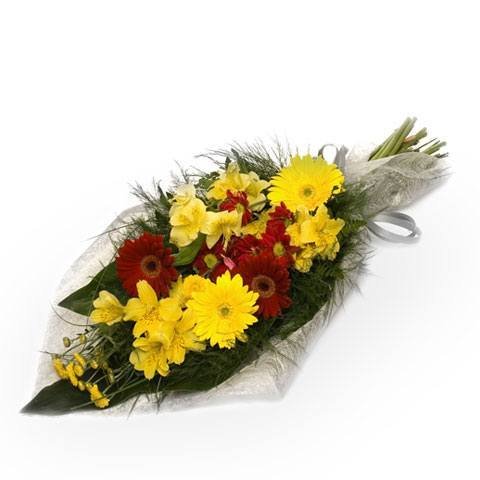 Punctual Delivery
Beautiful fresh flowers
Anywhere, anytime
Punctual Delivery
Fresh flowers
Expert florists
Bouquets you can enjoy for longer.
Some flowers arrive a little closed to ensure extra freshness and protection during shipping. Enjoy the magic of seeing them fully bloom.
What our customers say
13-09-2018
Would like to thank you and the staff at Floraqueen. Not being there myself but on the other side of the world this eased my mind as the flowers ordered were delivered on time and were (as I was told) lovely. Thank you once again. Kind Regards S. Roettgen
Ken B
(Hendrik-Ido-Ambacht)
21-11-2017
As a first-time user, I found it easy to contact service representatives who were very helpful dealing with issues relating to this being an international transaction.
Gina Mccafferty
(Oberstdorf)
05-10-2017
I had to send flowers to Germany but didn't know how to put the address in as I had no idea what it all meant. I spoke to Alex, one of the advisers, who was brilliant, showed me how to do it, made everything make sense. My family received the spray on time and loved the flowers. I will certainly be using you again.
Falia A
05-02-2016
First time ordering flowers via an ecommerce company and, I am delighted to learn that your flowers arrived very fresh, beautiful, and timely! FloraQueen delivers and have reasonable prices.
Yvonne Wootton
19-09-2015
excellent service good value for money and quick delivery
Martin Olsthoorn
14-04-2014
Show more reviews
Show fewer reviews