This elegant display of pink is a fantastic modern bouquet that will express your emotions in style. The bright pink roses and lilies are a clear sign of affection and care, making this the perfect arrangement to say: "I love you" or "I'm thinking of you" on a special day.


More about this bouquet:
Pink lilies
Premium pink roses
Decorative greenery
Some of our extra fresh lilies will arrive closed, just ready to bloom.
* Vase not included
We can guarantee the best quality flowers for each order.
100% Satisfaction guaranteed.
FloraQueen always sends the highest quality flowers.
All our flowers are shipped fresh, directly from our florist.
We always deliver on time!
FQ2328
Pink Seduction: Roses and Lilies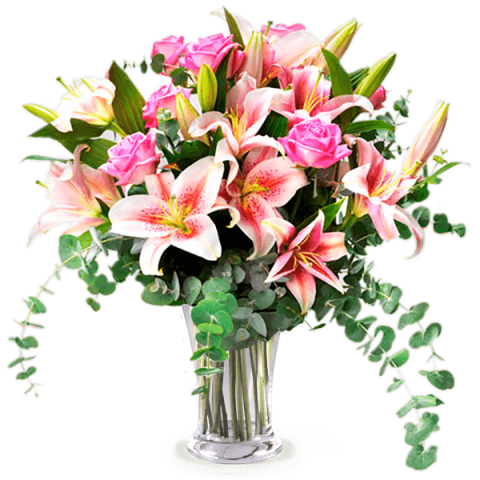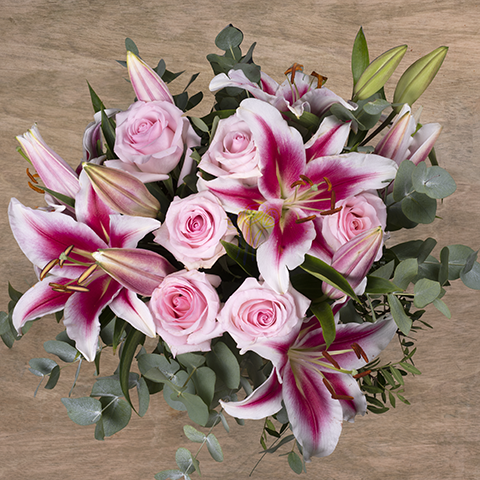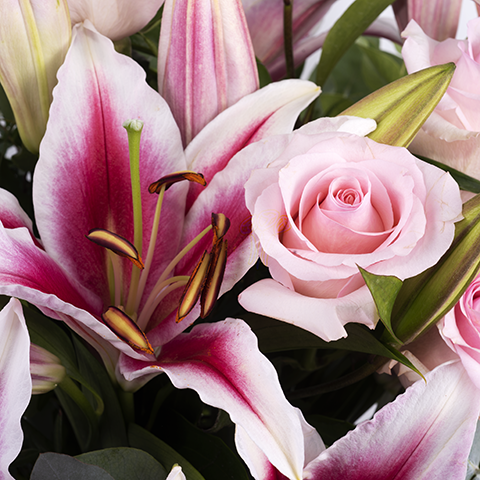 Punctual Delivery
Beautiful fresh flowers
Anywhere, anytime
Punctual Delivery
Fresh flowers
Expert florists
Bouquets you can enjoy for longer.
Some flowers arrive a little closed to ensure extra freshness and protection during shipping. Enjoy the magic of seeing them fully bloom.
What our customers say
16-02-2019
Very nice flowers and a good service
Andrea
(Agios Athanasios/ limasso)
14-02-2019
Susie
(Execter, East Devon, Uk)
13-02-2019
Really lovely but we couldn't find out who they were from. The local florist said that they couldn't find any details. Sorry, my lovely photo won't upload
13-02-2019
I dont have any idea of Who sent the flowers there is no card or message, that should be checked by you.
11-02-2019
Surprise was great! Thank you! Beautiful flowers arrived just in time for my birthday. Diappointed that today the roses are starting to fade ( I supposed they would last longer....)
Diego Beneventi
(Granarolo dell'Emilia)
07-02-2019
Everything was perfect . Thanks
05-02-2019
Lovely flowers, incredible scent! Slightly wilted due to lack of water but not too badly!
04-02-2019
Vertelt gold and beautiful flowers.
Sylvia Crowell
(Niklasdorf)
03-02-2019
Very happy with this company. My flowers arrived on time and I was notified by email when they were being delivered.
Liz
(Terrassa, Barcelona)
29-01-2019
It turned out great. Good size of bouquet and exactly the same cava.
25-01-2019
Wonderful flowers and gret delivery
Gerardo Rotzinger
(Strasbourg)
21-01-2019
good service and product quality
Francisco J Garrocho Burgos
18-01-2019
Excellent everything it was perfect
09-01-2019
Really Nice product and hight quality service
08-01-2019
Flowers ordered in advance and delivered on specified day. Very efficient and professional service. Highly recommend. Thank you
25-12-2018
Very good. Happy customer.
19-12-2018
Very east to choose and place order. Delivered exactly as promised and I was told the flowers are beautiful!
Fabienne
(Le Petit-Quevilly)
18-12-2018
23-11-2018
Good Service, good quality and good timing (on schedule).
02-11-2018
Very good and nice, it was the first time for me.
30-10-2018
The product was amazing and the service too!
28-10-2018
Products are of super good quality, nicely packaged with some ribbons.
25-10-2018
As flores vinham muito bem acondicionadas e eram muito bonitas.
Viktor Zoglo
(Almeria Ej Ejibo)
11-10-2018
Thank you,I am very happy,good seller.
07-10-2018
The flowers were beautiful - Thank you so much
06-10-2018
Very nice and beautiful surprise
21-09-2018
Fresh flowers and perfekt Lilly and roses arrangement.
Mohammed Badran
(Wrocław)
14-09-2018
Best team with great support !! Big thanks for Alex !!
Xavier Francis
(Bielefeld)
25-08-2018
The flowers arrived very quickly and were very beautiful. Great service.
17-08-2018
Easy to place the order. My daughter, who is the recipient of the order, said that both the orders I have sent over the past year have been fabulous!!! Thank you for your efficiency and great service.
16-08-2018
Flowers are fresh and beatiful
11-08-2018
Beautyfull flowers and nice service
07-08-2018
Beautiful flowers & great service! Would definitely use again!
05-08-2018
One star less due to a bit late delivery.I asked for a delivery between 8:30 - 14:00, but the order arrived at 17:30, which affected our plan that day.
03-08-2018
Awesome, amazing and best flowers I ever got
02-08-2018
Great fresh flowers and the Hebrew note perfect!!!
Sean Parsons
(San Fulgencio)
29-07-2018
great selection for uk ,international is a bit sparse but great quality and arrived on date selected would use again.
Elizabeth
(West Didsbury)
14-07-2018
13-07-2018
Very nice presentation! They smell amazing
11-07-2018
Fresh beautiful bouquets! Polecam!)
30-05-2018
Just great! The bouquet was exquisite!
Elaine
(Torreblanca Malaga)
11-05-2018
Beautiful bouquet and excellent service
Eliza Piet
(Zabkowice Slaskie)
05-05-2018
Very happy with your service
Valerie (japan)
(Terranuova Bracciolini)
30-04-2018
The bouquet was beautiful and delivered on time in Italy, in a small town.
23-04-2018
Flowers were beautiful but writing on card was horrible
20-04-2018
Very good customer support service, beautiful flowers, fast delivery, 5 stars
15-04-2018
Flowers where fresh and lady was friendly and helpful
14-04-2018
It was presented very well
10-04-2018
A bit more greens to break the pink in my opinion
06-04-2018
The man who sent it is pure diamond :)
04-04-2018
Fresh and beautiful flowers. High quality service
27-03-2018
i love the flowers you sent!
27-03-2018
I loved the packaging but the flowers where already a little dry.
Daleen Alberts
(Somerset West)
25-03-2018
The flowers were stunning just what I imagined it would be. The delivery was fantastic and on time. My only small disappointment was the card. It was not what I chose it did not even look similar to what I chose. Quite frankly I thought the card was ugly.
22-03-2018
Es un ramo precioso, muy bien protegido. Cómo recién cortado, me encanta
20-03-2018
It was very beautiful and fresh Thank you
14-03-2018
Great delivery and product was beautiful
14-03-2018
Beautiful service. Excellent
Ciugulea Alexandru
(Bresso)
13-03-2018
perfect delivery and the flowers were almost 100% as in the picture before ordering them.
12-03-2018
Only one experience but it was a very good one. Thanks for doing a such a great job.
Roberta Simpson
(Castalla)
11-03-2018
The flowers arrived at my mums door in Spain on time and were beautiful! They were fresh and not fully open so will last for a good while! They made my mum smile on mother's day so thank you! ☺️
11-03-2018
I've used other well know brands in the past and been very disappointed in the quality of the flowers sent. Now that I've used Floraqueen a few times to send flowers to Portugal I'm confident in giving a 5 star review as I always get very positive feedback from the recipients and their service is outstanding.
10-03-2018
Very good support and possible to reach the support center by phone
International Women's Day
(Medellin)
09-03-2018
Everything was perfectly done
05-03-2018
This is the second time I used FloraQueen and they were great. Flowers arrived as promised and they were beautiful. I will definitely use them again.
04-03-2018
Great products & service. Kept me informed along the way. Recipient liked very much the flowers and card.
Jacob
(Yad Eliyahu, Tel Aviv)
03-03-2018
Easy transaction, Great options and prices. Fast Delivery!
Freedom Centre International
(reykjavik)
01-03-2018
Great service! Will use again.
01-03-2018
Ordered the night before and it arrive on time in a different country! Awesome, the flower's were beautiful! Thanks so much.
01-03-2018
Ordered same day delivery, after lunch for an abroad delivery. Got there just after 6, amazing!! little bet expensive, but worth the extra for delivery reassurance!
28-02-2018
Excellent delivery and quality
28-02-2018
Delivered to Cyprus and recipient described them as stunning !
27-02-2018
Extremely reliable company!! Fresh flowers and great service!!
Yvonne Bevans
(Alameda. MALAGA)
25-02-2018
Excellent service. Ordered flowers to be delivered to Spain. Flowers beautiful quality. Will use again with no hesitation
17-02-2018
Lindo, solo que no llego el 14. Llegó el 15 de febrero.
14-02-2018
Very beautiful bouquets and polite staff))
13-02-2018
Easy to use, prompt next day delivery
Kimberley M Lang
(Palma de Mallorca)
04-02-2018
Beautiful, fresh flowers; flawless delivery... thank you so much! ;D
Maria Katsiamis
(Coimbra)
04-02-2018
Recipient was delighted with the flowers. Super speedy service and great flowerrs. Very easy transaction.. Flowers arrived on time and conveyed my thankyou message perfectly. Really suprised the greeting card was handwritten instead of computer generated which was a nice added touch. Would definitely recommend.
04-02-2018
SErvice is perfect, flowers is still very fresh and beautiful. COmposition isn't so bad. The arrived glass vase was not appropriate for the bouquet, so i used my own one for flowers, despite the fact that i loved the vase, that arrived.
01-02-2018
Friendly delivery. Great bouquet of flowers.
01-02-2018
Great quality and fresh flowers
31-01-2018
Fabulous flowers, packaging a little dated but I love them! Great service to make sure I was home for delivery
31-01-2018
More fresh flowers. Service very good!
Paula
(Ipiranga, Sao Paulo)
30-01-2018
I really liked it! It would be better if delivery was made near 6-7 pm
28-01-2018
Prompt delivery.....quality flowers... Excellent service.
Evelin Yukhvid
(Ashkelon)
28-01-2018
Beautiful flowers!!! Quick service.
26-01-2018
Excellent. I love the flowers
26-01-2018
Thank you very much! My gift vas excellent!
Estrella
(Ciudad de México)
25-01-2018
24-01-2018
A great suprise, it really made my day.
22-01-2018
It was one of the most beautiful arrangement of flowers I have ever been given. It was delivered when I wasn't home, so I had to go and pick it up. If only I could have ordered it to be delivered at a more specific time
Loubna
(Bacchereto, Carmignano)
21-01-2018
21-01-2018
Lovely bouquet and great delivery service.
Brenda
(Soller, Mallorca)
18-01-2018
Lovely boquet delivered on time
10-01-2018
Flowers looks fresh and service was excellent
09-01-2018
Good quality flowers and wrapping
05-01-2018
The flowers are fresh and nicely composed
05-01-2018
Thank you, everything was done perfectly. Flowers are gorgeous!
Joanna
(Bielany Wroclawskie)
04-01-2018
Heleen
(Kenmare, Krugersdorp)
04-01-2018
23-12-2017
Flowers beaufully presented Delivered by a very cheerful and friendly young man
21-12-2017
The flowers were beautiful a very pleasant surprise
21-12-2017
Beautiful bouquet of fresh flowers! Quick delivery!I love it!
21-12-2017
Amazing bouquet! Thanks for the surprise. May I know who is the sender?
20-12-2017
Iam glad to inform you, that I loved the product, and the service was really efficient thank you.
18-12-2017
A beautiful, tasteful bouquet delivered with a smile. Friendly and professional service.
15-12-2017
I love the smell it's really nice
14-12-2017
Flowers were absolutely fresh and well packaged. Very satisfied.
Lindaroberts
(Sainte-Foy-lès-Lyon)
12-12-2017
Thanks a lot flowers were beautiful and delivered early. Everyone happy.
09-12-2017
Букет шикарный. Очень меня порадовал. Он быв в вазе. Получилось отлично. Девочка позвонила, согласовала время, привезла мне домой. Всё отлично!!!
07-12-2017
Very pretty arrangement - smells divine
01-12-2017
The arrangement is perfect, they smell great, look fresh, and the delivery guy was kind and funny
24-11-2017
excellent service. with 24 hours notice great spot on guys.
Mohamed Al-ali
(Abu Dhabi)
20-11-2017
i absolutely love their service. never thought a company could get to that level of excellence. highly recommending it to everyone i know who might use it.
P T Roberts
(Vale Centeanes,)
13-11-2017
Requested in England and delivered in Portugal. Prompt and efficient service from start to finish. Thank you
11-11-2017
very easy to use, I ordered from London to be delivered to Paris and was delivered and flowers were same as the picture. site was in english so was a great help! overall 5 star experience :)
07-11-2017
Fast and reliable service. Amazing flowes!
Pasquale Coda
(Vico Equense)
23-10-2017
I made a good choice my first time and very happy with everything. And also most probably using in the future . A thanks to all the staff and management at flora queen.
23-10-2017
Was very pleased with the speed the fllowers reached there destination and also looked beautiful, thanks
11-10-2017
Excellent service, beautiful flowers
Malcolm Bills
(Johannesburg)
08-10-2017
Excellent service delivered on time and kept informed of progress by email. We are in the uk and flowers delivered next day in South Africa
Cliff Middleton
(Muzon, Taytay, Rizal)
06-10-2017
Easy to use. Quick delivery. Recipient pleased. Can't ask for more! Thank you.
Lucy Gamage
(Wattana, Bangkok)
02-10-2017
Service was great but I was expecting my delux bouquet to be bigger. I felt slightly disappointed as the price was very expensive
01-10-2017
Delivery on time and beautiful. Thank you
Michelle Giraldi Pardini
(Den Haag)
19-09-2017
Just thought photo of the flowers in the site were more vivid and there were more flowers in the photo then it was actually received. Also, I do recall buying a Happy Birthday card, but I don´t think it was sent. Could you please confirm that?! I am in Brazil, so could not ask!! Tks! Cheers!
Heather From Cornwall
(St Malo)
15-09-2017
Very quick , efficient service. Sending flowers to France from UK. Lovely bouquet made with very fresh blooms.
15-09-2017
After spend a lot of time over a few days on the Internet trying to order from other companies, with no success as they couldn't deliver on the day I wanted. The night before my mother in law birthday I found floraqueen and thought this is the last one then I'm giving up. Floraqueen delivered some beautiful flowers and a bottle of wine to a very happy mother in law the next day on her birthday. (I live in the uk and needed them to go to france) I will be using floraqueen in the future. Thankyou
15-09-2017
The flowers are always of great quality and keep happiness in my family house.
R390gt1
(Almaty (Kamenka))
27-07-2017
I have been using FloraQueen since many years. Very good service. Everything was delivered on time.
João Lago
(Ponte da Barca)
27-06-2017
FloraQueen had a painless and quick process to choose the bouquet and was able to deliver it the next day!
23-06-2017
Delivered on the date requested
22-06-2017
Amazing experience, the recipient was so pleased with the finished product. Will absolutely use again for international deliveries.
22-06-2017
Arrived on time & nice presentation. Only reservation thought that the bouquet could have been a bit bigger for the amount of money spent on the flowers for my sister & her husband's wedding anniversary. I do like the discount you get on Floraqueen the more times you use them to send flowers to family & friends around the world.
22-06-2017
Great Service ... Great Product... Very Happy
Sonaii Witchard
(Denmark)
15-06-2017
Such an amazing service who helped me out with my little hiccup with delivery. I'd given the wrong name but they kept trying until they were delivered. Krzysztof was so helpful, thank you so much.Highly recommend this company for flower delivery!
Fraser Pitkeathly
(Budapest)
14-06-2017
Great for me to send flowers to Budapest when I'm in Scotland I have used this service 4 times never had a problem...
Kledir Bernardo
(Montevideo)
13-06-2017
Great & impecable. Even on internacional issues. Highly recomend
Stephen Ainsworth
(Copacabana, Rio de Janeiro)
13-06-2017
Great service at very short notice considering these flowers were for delivery on Brazilian Valentine's day.
Ameena Bobshat
(Groningen)
27-05-2017
Amazing survice like their flowers .. thanks to draw a smile on my lovers face
19-05-2017
I've ordered some flowers for my sister to wish her happy birthday. She received her beautiful flowers on time and they looked like the picture shown on the page. She was contacted bebefore they delivered. Overall fantastic service. Would use this florist again.Dawn
M. Isabel Ayres
(Colonia Nicolich)
18-05-2017
Thank you so much!!! Flowers were beautiful, delivery was on time and my mother was very very happy!!! Will come back many times!!!
Kristina Kaminsky
(Milan)
18-05-2017
I've sent Bouquet+wine from New York to Milan. Was the mother's day and I've paid a little more because it was a Sunday (deluxe in calendar) and 'cause in the calendar the day 14 was available, so I was so happy that my mother get flowers exactly that day. Unfortunately they didn't arrive that day :( but the day after, I mean the regular Monday. I just wish you don't make availability on days not available, so in that way I can organized differently. But it's fine, all of us got happy, despite the delay. Thank you for exist and for your service. I'll definitely contact you in 24 June.
16-05-2017
Ordering was easy, delivery was confirmed and my recipient was delighted with the blooms.
16-05-2017
Great quality at a good price!
Catherine Cruz
(Governador Valadares)
14-05-2017
I needed flowers to be delivered internationally to my mother-in-law in Brazil, 1800FLOWERS wouldn't do it, I tried FloraQueen and I was pleasantly surprised. They delivered beautiful flowers and delicious chocolates. My mother-in-law was in awe with the arrangement. It was absolutely perfect! Thank you FloraQueen! I'm so thankful! I would recommend this site to any and everyone & I will personally order flowers again very soon for my next occasion.
Mario Garcia
(Jardines de Santa Anita. Tlajomulco Jalisco)
13-05-2017
I have never sent flowers to mexico from the u.s. before. I am very pleased. The flowers were beautiful, they arrived on time. I will definitely use this service in the future. Thank you!
12-05-2017
Excellent quality (according to my Mum)! I live in USA and had flowers delivered in New Zealand. She said they were absolutely beautiful - I asked what color and what flowers and they were exactly what I ordered!! Well done FloraQueen!!
Patricia Roo Liebana
(Ponferrada)
08-05-2017
Fantastic !!! I really recomend Floraqueen !! I've use it twice in a really important ocasions. Both of my loved ones were surprised on time and i really thank for this service because im 17k km away from home !! 10 out of 10
08-05-2017
Excellent service! Since my order was placed for Saturday to be delivered in a rather small town in Estonia and by the late afternoon there was no sign of delivery yet, I contacted the company and was immediately responded. Also the delivery was then executed shortly. Thank you for your very good cooperation and till next order.
05-05-2017
Great service, beautiful flowers. My mom was thrilled!
Ann Kroh-hughes
(Enkenbach-Alsenborn)
20-04-2017
I did not get any photos of the bouquets, but both parties have either emailed or called me telling me how lovely the flowers were. It would have been nice had I been able to actually see the flowers. I will have to take their word for it that they were very happy with the gifts.
18-04-2017
I have used FloraQueen twice now, and have had excellent results each time. My only issue was that the florist could not take the time to simply handwrite something, which I forgot to add, on the included card. Overall a wonderful service. I will use FloraQueen again.
Susan Strazzanti
(Offenbach am Main)
18-04-2017
Flowers ordered and delivered to the chosen address in Germany the same day. Wonderful service and would definitely use again.
Gypsy Willow
(La Glacerie)
15-04-2017
FloraQueen have delivered several beautiful bouquets to various addresses in France. They make the process easy and glitch free. The flowers are always fresh and the arrangements delightful. Thanks for providing such great service.
09-04-2017
Very reliable, professional, prompt, even at very short notice!
06-04-2017
Ordered a bouquet for my aunt who lives in Paris. Easy to select and order and the bouquet was delivered the next day as promised. My Aunt also received a text to make sure she was at home for the bouquet to be delivered. Great service all round!
Edward
(Palma des Mallorca)
06-04-2017
Easy to use, great customer service, lovely flowers. Not as cheap as Bloom & Wild but they work overseas so was very happy with the order.
06-04-2017
Great customer support my girlfriend was thrilled
05-04-2017
I ordered flowers in Lisbon from Washington, DC with the same ease as I would have were they being sent down the road from me. Will and use in the future.
01-04-2017
Made an order in the U.K. for delivery to an address in Tenerife. The day before the delivery, the Spanish florist rang me on my mobile to confirm they had received the order and the delivery was made according to plan the following day. Very impressed.
Mark Trovato
(Heidelberg)
19-02-2017
*Edit - Floraqueen have now honored a refund. Thank you.I ordered flowers for Valentines day a few days in advance only to be emailed the night of Valentines day saying they were too busy to deliver the flowers and they would be sent the next day. I cancelled the order immediately as the delivery was to a hotel and my wife was checking out that day. Needless to say I've never been contacted by Floraqueen and I was charged the full amount for the pleasure.Terrible customer service, no contact made whatsoever after numerous attempts to contact.Will not be using again.
03-02-2017
After seeing some reviews on here, I was hesitant to use this company to deliver flowers to my mother in Basel, Switzerland. However, since PayPal was a payment option, I figured worst case I can dispute. I ordered them Monday to be delivered on Friday, gave plenty of contact information and a 100% clear address, with delivery instructions in comments. She got them on Friday as ordered, and was VERY happy. I was sent an email as they were preparing the order, and it was delivered a few hours after. A very simple and effective process. Thanks!
Ruth Mansfield
(Saarlouis)
30-01-2017
I ordered flowers on 26th January for delivery 29th. The flowers were delivered on the day for my mum's birthday. They were lovely, well packaged and not damaged. Flora Queen kept me informed and answered questions promptly. I have no hesitation in recommending them. I am going to use them again in the not to distant future. Thanks Again Flora Queen.
Gina Goulding
(Costa Teguise, Las Palmas Lanzarote)
12-01-2017
I have used this company twice to send flowers abroad. Prompt service. If there is an issue with the flowers in the country of destination, an e mail was sent to ask my opinion on the choice of replacement. Really happy that i have found them and will use them again with no hesitation.
Anthony Lee
(North Gosford)
08-12-2016
The FloraQueen website is both helpful and easy to use and the service was both prompt and as advertised - first class!
Peter Lonnon
(Saint-Palais-sur-Mer)
22-11-2016
excellent response when we thought our flowers were not delivered .our daughter had trouble contacting us to tell they had arrived on her birthday Flora queen were very quick to respond and i think if there had a been a problem then they would have resolved it
Lynn Tasker
24-09-2016
Exactly same as ordered and even telephoned recipient to make sure they were in before delivery
Gail
18-08-2016
I have purchased flowers for friends at a distance before, but nothing is as good as FloraQueen. I will use them again and again. The flowers and wine arrived on time, they were exactly as pictured, and the recipient was totally grateful. Thank you for being a trustworthy extension of what I would do if I lived right there. Very professional and I am grateful. Gail
Keith Facey
20-07-2016
Fantastic Flowers delivered on expected date. Received email confirmations of order details and when order was prepared. Delivery confirmation also issued. Only piece of advice I would offer is on my account via a mobile app the order details didn't show and it was difficult to locate a contact point. Worked out well and flowers were beautiful. Cheers everyone
Maria Blackwood
24-06-2016
I have used FloraQueen on several occasions to send flowers to my sister who lives in Spain; I live in the UK. The bouquets have arrived on time. My sister v happy each time. They always send an email to advise you when your order had been despatched and delivered. I have also ordered gifts to be sent aswell as flowers. Wide selection of bouquets and gifts on their website. Will use again.
Nicholas Stanley
16-06-2016
I had looked at other sites but FloraQueen made the choice of flowers easy and the purchasing process was simple.
Ashleigh H
23-05-2016
Living in the Uk sent flower to a friend in Mexico City, they arrived on time and were gorgeous. I was relieved and everyone was happy.
Leda Tilton
08-05-2016
Will not hesitate to use your service again. My daughter loved them.
Petyer
01-04-2016
I was amazed how precision they did the service! Let me know every detail and delivered a beautiful bouquet on perfect time! Thank you!
Henry Oknyansky
27-01-2016
...everything is ok, only timing you should correct with costumers..
Tom Gifford
30-10-2015
Really pleased with the service I received from FloraQueen when sending flowers from UK to Kyoto, Japan. They took the time and effort to contact recipient before delivery as I requested so that it was received first time. Although it wasn't cheap the quality of flowers was really appreciated and made someone's birthday a lot more special, so well worth it!- Big thank you and well done. Wouldn't hesitate to use again.
Tim
03-09-2015
I would just like to say I am extremely impressed with the delivery. The flowers arrived on time and blew everyone's mind when my girlfriend received them. The flowers are so beautiful and elegant. I am definitely delighted with FloraQueen and there service.
Jennifer
13-08-2015
my first time of sending international flowers. My auntie lives in Manama Kingdom of Bahrain. I was in doubt in the beginning that she may not received her bouquet on time but I was wrong. My auntie posted on fb the flowers I sent to her. I am extremely satisfied and awe how they can do it in just a few days. I live in California. I am satisfied and happy customer
Ella Keret
10-06-2015
Dear FloraQueen, Laura & Sara !!! Thank you so much!!! My niece received the flowers and all the other goodies(chocolates, champagne, teddy, vase, card, heart) which I included in my order from South Africa to Barcelona, Spain. I'm very grateful to you for making my beautiful niece so happy on her 30th Birthday. She was not expecting it and was over the moon when a mysterious box arrived at her door this morning. In fact she was in tears!! I must admit after reading so many negative reviews I too was concerned but I've had a great experience and will continue to use your services in future. The unfortunate thing is that most happy customers don't come back to write about it. So readers out there don't be put off by all the negative reviews. Sure things can go wrong but I'm certain that thousands of bouquets are delivered successfully all over the world and there must be many happy customers out there but they don't all come back to share their experience. Thank you again FloraQueen!! Ella Cape Town, South Africa
Michael Baker
17-04-2015
I sent flowers to my girlfriend who is studying in Slovakia. Quick and easy order and to my surprise the flowers reached her within a few hours or ordering. Really nice bunch and great service :)
Allen Emslie
15-04-2015
Delivered even faster than I expected and simple ordering system. Teddy bear also arrived with the flowers, only thing is my wife is suspicious why I sent flowers. You can not win for losing.
Saletta Pietro
13-04-2015
I used FloraQueen several times and it was always just the right choice to do
Hvo
11-04-2015
Flowers were really nice and of excellent quality. Yet they were a surprise. The delivery person called the person I bought the flowers for and said over the phone that he had flowers for her. Bye bye surprise.
Brian
11-04-2015
Great easy service to us delivered on time had somebody's Easter very special would recommend and lovely flowers
Craig Hallam
10-04-2015
The love of my life was elated beyond words at the beautiful arrangement! Quick delivery and quality flowera, she still has them 7 days and going! My Sincere Gratitude FloraQueen
Heiner Leber
09-04-2015
i am happy and i will use floraqueen service again. my order was delivered on time and the flowers looked great :-)
Customer
09-04-2015
The website was easy to use, the price was reasonable and the flowers were delivered when you said they would be. I will use your company again.
Christa Middler
04-04-2015
The Flowers were beautiful and delivered on time! The communication was excellent, which was greatly appreciated!
Sheila Grimes
02-04-2015
I sent flowers from USA to Tokyo, Japan. They arrived on time, were very nicely arranged in the vase I added, and were much appreciated by the recipient. They were very good value for money - much less expensive than other companies I have used.
Julia
28-03-2015
Flowers were beautiful, delivered on time. Reliable, problem free service.
Hector Muiño Andrade
27-03-2015
good experience,is probably i repeat
Sylvia Povey
27-03-2015
I did not know this company, but everything went very well, the flowers arrived on the day requested, and were beautiful.
Kathryn Harrower
26-03-2015
Arranged for delivery to my brother and his wife in Canada for 50th wedding anniversary. Delivered on the day and looked lovely. Thank you Flora Queen. K, Scotland
Joanna Bruton
24-03-2015
I sent flowers to my mum in Spain, so easy to order and my mum was delighted with the flowers, she said "they were beautiful" will defo use floraqueen again
Sandra Kelly
23-03-2015
A simple ordering process, with a nice selection of bouquets to choose from. My Mum reported that the flowers were beautiful with a fragrance that filled the room.
Joanne Johnson
23-03-2015
excellent service, very helpful staff, delivered on time and amazing beautiful flowers. What more can you ask for. Would definitely recommend and use again.
Jason Cole
22-03-2015
I live in Las Vegas. My sister lives and looks after my parents back in England. We both had flowers delivered. Me - from 7,000 miles away. Her - from the local florist 3 miles away. Mine arrived and look great. Hers never turned up until Monday. I ordered the day before. She ordered a week before. Will be ordering again!
Fay Higgins
21-03-2015
I was very pleased with the service the Website was very easy to use and the flowers were delivered on time and date they were very beautiful arranged. Also a much bigger variety then certain other florists
Janemarie Mazoudier
21-03-2015
Really good service. Paid and got an email receipt. Got email to say process was under way, got email to say flowers were being sent, got email to say they had been delivered! Great communication. Only down side was that I could not find a space to write a private message on the small card (without buying a card) - so I chose one of their Mothers Day sayings - which was lovely - but I had no where to put my name! May have been me overlooking it - but they should have a clear space where you can say who the bouquet is from. My mum loved the flowers!
Hon Iieland
21-03-2015
I completely forgot about Mother's Day until my sister asked me what I got for my mother☺️☺️☺️.so I was searching and searching for websites that would deliver flowers the day after. Amazing customer service!
Rosario López Monreal
21-03-2015
Great service. On time and beautiful flowers.
Greg Townsley
21-03-2015
Great products especially for international delivery whereas some competitors is very poor.Delivery was on time and my receiver was over the moon with them not only the flowers but the packaging too. The customer service was excellent as I had to amend the address which was done with no problems and speed,plus I was contacted within a couple of hours of the amendment. Absolutely excellent service and would definitely recommend to a family member or friend. Thank you Floraqueen.
Karen K
21-03-2015
I ordered flowers from Flora Queen a couple of days before Mother's Day . The ship to address was confusing as my parents are on an extended vacation at a caravan park in Spain . Nonetheless the flowers got delivered on time and were beautiful . Flora Queen kept me updated every step of the way as they were out for delivery and once delivery was complete . I highly recommend this company .
Lorraine
20-03-2015
Beautiful flowers, delivered prompty and at a great price. I will definitely use FloraQueen again.
Veronica Painter
19-03-2015
Clive Philpott
07-03-2015
i live in england and my daughter lives in weinstadt germany. the flowers were delivered as requested. my daughter loved them. i wish i could of seen them but a photo of them will do. thankyou for making her smile with joy.
Joyce Nielsen
06-03-2015
Lovely flower arrangement was delivered as ordered. However, you say on your website that you would e-mail me when it was delivered, and that never happened. Since it was an international delivery, I would have appreciated knowing ASAP.
Kaye White
06-03-2015
A wonderful selection of flowers to choose from. Beautifully presented and delivered on time. Good to use a firm you can trust to deliver on time when you are not in a position to do it yourself.
Teri Dellamano
11-02-2015
This was my first order and it will not be my last! The flowers my daughter receive were so very beautiful more than I had even imagined! Thank you
Cheryl D Perkins
05-02-2015
Good flowers on time wel done
June Reed
04-02-2015
Lovely flowers. Delivered the following day as requested. Will definitely use your service again.
Malgorzata Rutkowski
28-01-2015
I am very satisfied with the way my order was handled. Flowers were beautiful and fresh and look almost identical to the bouquet in catalog. The gentleman who delivered them to my Mom was very courteous and professional. Delivery was made on time. I will definitely use FloraQueen again and recommend them to my friends who send flowers to their families in Poland.
Jeff Dawson
20-12-2014
Very helpful in dealing with my order, my recipient of the flowers said they were gorgeous, what more can you ask.
Maurizio
20-12-2014
Delivery was on time, exactly what i order at reasonable price, thank you
Ricki Macey
20-12-2014
excellent, delivery and content were fine
Mary Fox
17-12-2014
Excellent service and easy! My sister was delighted with her beautiful flowers
Iain Macleod
06-12-2014
The ordering process was easy and the result was perfect. Flowers for mum's birthday in Scotland were on time and she was delighted. Many thanks.
Carole
29-11-2014
Thank you for the beautiful flowers, my mum and dad were very happy and I will be ordering more flowers from you.
Maria D
24-10-2014
Flowers arrived on time and my friend was thrilled. She displayed them for us to see when we arrived. Arrangement was very nice.
Mrs Elaine Ross
22-10-2014
My friend in the United Arab Emerites said the flowers she received were beautiful. I was very impressed the way you email how the delivery starts and the arrival, I will definitely order from you again Kind regards Elaine Ross
Sue Gray
21-10-2014
We were delighted with the service and quality we experienced on placing our order with FloraQueen. Our gift of thanks to our friends in Spain was received promptly and the flowers were beautiful. We would have no hesitation in recommending FloraQueen and we will certainly use their services again in the future. Thank you.
Laura
21-10-2014
I'm very thankful to FloraQueen because they helped me to be near my mum in someway bringing her a beautiful bouquet in the day of her birthday. Flowers arrived very fresh and on the perfect time. Thank you so much.
Sean Milway
16-10-2014
I'll admit I wait till the last minutes to order flowers but they have always bent over backwards to fill my orders and impress both the person receiving them and myself as a customer. For all their hard work I'd give them 6 stars because they have never let me down.
Karen Harper
14-10-2014
Good selection of flowers to choose from. Found site easy to use. Flowers were delivered as requested. Flowers arrived fresh and as described. Would recommend and use site again
Laszlo Baranyai
06-10-2014
Dear All, My experience with FloraQueen was really good. I have ordered the service just the day before the flower should have been delivered and everything was organized and in place the day after. Recipient was so happy and I was satisfied. I can onlz recommend this firm. Regards, Laszlo form Hungary
Terri In Naples, Florida
30-09-2014
I was so very pleased that my daughter-in-law received the most beautiful bouquet from you in Sao Paulo, Brazil on her birthday. I now know I can use FloraQueen with confidence when I send flowers overseas. Thank you so much !
Helmut Jussenhoven
18-09-2014
Our order was delivered with joy. It was in time and THE bouquet was wonderful .thank you so very Much.
The Black Bull
09-09-2014
easy to order communication good
Stacey Browne
09-09-2014
The flowers arrived on time and it was a BRILLANT bunch of flowers
Jacqueline Lanehart
21-05-2014
Very happy with the service . Maybe flora queen could offers flowers of the moth like Lilly of the valley May mothers day June peonys, or lilacs aso...
Mauricio
14-05-2014
Fast, efficient, great reaction to changes, and a fabulous result! First time user, will definitely use again!!
Dianne Mensch
09-05-2014
This was my first time ordering flowers internationally. I couldn't have been more pleased with the follow up and delivery. The quality of the arrangement that our friends received was excellent. I would definitely use FloraQueen again in the future and can recommend it to friends.
Mark Fleetwood
09-05-2014
Highly recommended for good value for money, excellent service and one very happy customer
Rae Stephens
01-05-2014
I would recommend Floraqueen they were friendly, efficient and helpful
Flower Girl
26-04-2014
The website is easy to navigate and to make a selection. I had a couple of questions around logistics and timing and it was easy to contact customer service.Customer service contacted me within 24 hours, which was critical since there was only a few days from order to delivery. I like the notification that the arrangement was being worked on. I did not get a delivery notice which would have been great. I did hear that delivery was on time from the recipient and that the bouquet was very nice.
Nedda Dimontezemolo
24-04-2014
Extremely reliable in quality and delivery service. Have been using FloraQueen for a few years to deliver flowers to my mother and her care taker, and they always say that each time the flowers are even more beautiful than the last time ! I could not be more pleased with this company.
Bettina Deighton
24-04-2014
thank you , delivered to 90 birthday person very well, tar!
Estelle Bibby
22-04-2014
I sent flowers to,my mother in Spain for mother's day. She was delighted with the flowers!
Marie Holloway
19-04-2014
I would like to thank floraqueen for the excellent service and beautiful flowers that were delivered on time and also fresh and a wonderful display... You made my friends birthday very special..... I will recommend to friends and family...
Magdalena
18-04-2014
Ordered bouquet for my mum for her 60thb irthday as she lives abroad and I wasn't able to see her on her special day She knew nothing about it so it was total surprise She was delighted :)
Fatima Van Der Schyff
17-04-2014
The flowers that was delivered was much better than what I expected from the catalogue pic. This was such a nice surprise because many times the flowers are not the same as displayed but this was a huge and beautiful flower arrangement. My friend could not stop posting pictures of her flowers on Facebook :-))) thank you
Marty
16-04-2014
Sent flowers from Cyprus to Lithuania for my girlfriends birthday. They arrived at exactly the right time, hand delivered by a man in a suit; just the impression I was hoping for. My girlfriend had said many at time that I should be more romantic, thank you Flora Queen as she no longer will be saying this to me;-)
Sonia Anderson
10-04-2014
I wasn't certain how successful email communication would be in that I was very specific about the flowers I wanted delivered because Stargazer Lilies are my aunt's favorite flower. I requested that the flowers delivered match the photo online. And from what my aunt' told me, I have to say that FloraQueen did an excellent job and made my aunt very happy. I would highly recommend using FloraQueen. Thanks so much!
Tina Powsey
07-04-2014
I sent flowers to my Mother-in-law for Mother's Day, but I was sending them to Spain. The customer service team confirmed the accuracy of the address and sent me an email telling me I was missing a number from the post code. I also inadvertently scheduled the delivery for May, not March, and they asked if that was an oversight. Had they not pointed that out, the flowers would not have arrived for Mother's Day. The flowers were fresh and beautiful and it was very affordable! I will absolutely use FloraQueen again!
Helen Buttery
06-04-2014
Excellent customer service and value, would definitely use flora queen again and fully recommend for beautiful flowers.
Rhonda Rekia
05-04-2014
I ordered the flowers for my mum who was on holiday, on the same day of ordering the most magnificent bouquet of flowers was delivered. Fantastic flowers at a good price, the quality and quantity was of a high standard.
Joanne
05-04-2014
Initially I had difficulty using my card online, this was picked up and an advisor rang me immediately to arrange payment. The flowers arrived on time and were lovely.
Mark Everest
05-04-2014
Mum lives in France I ordered these for mothers day and she wept when they arrived.. In a good way lol
Jennifer Brazier
05-04-2014
I live in the uk and sent flowers to my mother in Spain for Mother's Day. I ordered the Lillie's and roses on the Friday evening and they arrived, on time, the NEXT day! my mum was delighted with the beautiful bouquet and even sent me a photo. easy to use, very reliable and a gorgeous result. I will definitely use them again!
Robert Majer
03-04-2014
Service fully recommended. Flowers delivered on time in a professional way.
Tamara Lindahl
02-04-2014
My sister-in-law was very surprised and wrote me to tell me how beautiful it was. She described the bouquet as being very large with pink roses and white and pink lilies, which is exactly what I ordered. Thank you for your meticulous and prompt service.
Kathy
31-03-2014
A little bit pricey, but the end result was very nice.
Teena Hemming
31-03-2014
Very good Service , flowers wine and chocs were lovely and delivered on the day specified , a very happy person received a lovely gift, thankyou would use you again no problem :)
Jack P Zebrowski
27-03-2014
I am so impressed by the excellent service provided by Flora Queen having never used the company before. From the confirmation provided shortly after the order was placed to the delivery of the amazing floral bouquet of our choice delivered to the other side of the world on the day and time requested. The recipient of the flowers was over joyed with their beauty, the accompanying card we filled in was delivered exact...A week later, the flowers were still beautiful and fragrant as the day they were delivered.. I will recommend Flora Queen to friends and family -as I am so impressed with the service received. Thank you VERY much.
Steve Redhead
26-03-2014
Great Service arrived on time Will use again Highly recomended
Eddie Bridges
26-03-2014
Flowers were delivered in New York as ordered. On the down side they arrived after 12 and delivery was requested between 9-12. Only arrived after 2. By then the surprise element was diluted.
Lori Steel
21-03-2014
I was happy with the service and the quality of the plant
Michael Hildon
21-03-2014
Nice flowers and gifts delivered on time. Only problems were with ordering through website (cards not accepted - but order finalised by folow-up call from Floraqueen). Received e-mail advising that order was being prepared two days before delivery and promising confirmation of order delivery - but this was not received (although order was delivered)
Jean-louis
20-03-2014
One small detail: I received your first e-mail when my order was being prepared, but NOT the second one to announce delivery had been completed. Not a big problem since the recipient informed me everything was perfect.
Caroline Regan
19-03-2014
James Hunt
19-03-2014
When I tried to order the flowers their website was not fully functional. However, within 30 minutes, they had called me, placed the order and apologies for any inconvienience. The flowers were great. My girlfriend loved them. You get what you pay for and although expensive, I would do it all again.
Patrick St-onge
19-03-2014
Super smooth, all good and proper Customer service!
Lev Podolskiy
18-03-2014
Extremely pleasant and obliging personnel. It was very convenient to me to use this service.
Katherine Tuszko
18-03-2014
Offerable prices for beautiful flowers, delivered with respect.
Aleksey Pomadchin
18-03-2014
Was skeptical at first, ordering from US flowers to be deliver in Russia, well guys you did it, everything got delivered on time and in perfect conditions, thanks again for your help.
María Vaquero
18-03-2014
Perfect bouquet and delivery, no doubts to trust this company again.
Terry
18-03-2014
Great flowers delivered at short notice in Dubai. Expensive - but it seems to be the norm for UAE
Michelle Durkin
18-03-2014
The flowers arrived without a hitch and with impeccable service, they are fantastic quality too
Linden Boyne
08-03-2014
Initial order was badly flawed perhaps because the holiday on Friday but complimentary bouquet recovered the situation to everyones satisfaction
Eleanor R
07-03-2014
I sent a birthday bouquet to my daughter in Israel. They arrived right on time and were beautiful - some buds had not opened yet so they should stay fresh for a long time.
Klaus Emborg
07-03-2014
I bought flowers to a lady in Slovakia. Not knowing her adress, only her Work place . The flowers were delivered on time, and date. PERFECT SERVICE.
Michael
07-03-2014
My friend got the flowers on time and they looked great.
Bernadette West
06-03-2014
FloraQueen were amazing! They were very prompt in communicating with me. I never expected an email telling me that the flowers were being arranged and then one to inform me that they had been delivered!! Not sure what they look like as my aunt is 95 and is not IT savvy. Someone will tell me.
Linda Whitlock
03-03-2014
I sent flowers to a sick friend in South Africa and she was delighted with her bouquet. I will happily use FloraQueen again.
T J Walsh
28-02-2014
I was kept well informed by Flora Queen as to order progress and delivery.
Melinda Constantine
27-02-2014
I had reservations since i was in the US and ordering flowers for my grandmother in Germany but she got them the next day no problem and made her day. I would use this again and will in the future
Caroline Re
26-02-2014
Good website, easy to purchase, speedy delivery, fresh flowers, smaller bunch and fewer flowers given the cost.
Lynda Horton
24-02-2014
Very good service and flowers were lovely my friend was delighted with them
Christina Segerstedt
24-02-2014
My sister got her baby in Denmark while I was away on holliday in Australia, therefor hard to find the time to call due to time diffrence. I Was able to send her flower all around the World, U know flower say more than one word...
Troy Clark
24-02-2014
little bit pricey but flowers are. send them from us to Australia which was pretty easy to do thank you
Ingrid Biggs
21-02-2014
everything went as planned except the confirmation email that the flowers were delivered. overall rating 9.5
Camilla Krause
21-02-2014
The flowers my sister received for her birthday were wonderfull. They are one week later fresh . If I need one more flowers I will in the future always order by flora queen. Thanks for the excellent service best regards
Roman Schmid
21-02-2014
I would recommend this service to you! The price is high, but you get what you want and the delivery was in time and the bouquet came in wonderful quality.
Jack Smith
20-02-2014
I am very satisfied with the way my order was handled. I have had problems with other floral services with late deliveries but this transaction was very smooth. I was advised by E mail all the way through on the progress and delivery.
Robert A Black
19-02-2014
A very helpful and courteous organization. Even though the Florist in Brazil had made a mistake, FloraQueen did everything they could to remedy the problem. Highly Recommend their service!
Stephanie Syer
18-02-2014
Great service, fantastic bouquet, it was for 30th Wedding Anniversary. My relatives were able to send me a picture. Thank you.
Susan Caton
17-02-2014
I have used floraqueen twice and they are really good
Sonya
13-02-2014
Ordered remotely and delivered with no fuss or hassle. Impressed with delivery of flowers in a box to ensure no damage and easy to transport afterwards. Would definitely use again. Thank you!
Sam K
07-02-2014
On time delivery, every time. Good job.
Lisa Guerriero
05-02-2014
Had never heard of you before. Flowers had to go to Europe. You delivered a beautiful bouquet in an efficient manner. Recipient was so touched. Will use you from now on. Thank You Floraqueen.
H. Byrne
04-02-2014
I was a bit worried about buying from this site originally because i hadn't heard about them so i was relieved that they kept in touch to let me know what was happening with my order. I saw the delivered bouquet later over a internet call and was pleased it looked like I expected.
Alison Wilkie
03-02-2014
Not having used FloraQueen before I was anxious about the quality and delivery as they were being sent to a dear relative in Canada for her 90th birthday. However having seen a photograph of the flowers sent to me by relatives they far exceeded my expectations.
Richard Hopkinson
31-01-2014
I ordered flowers to be sent to my daughter in Sweden for her birthday but as she was going away for a few days the florist arranged for them to be delivered on her return. I highly recommend FloraQueen!!
Michał Bukowski
25-01-2014
very good, indeed - however, no mail confirmation of delivery. This is bad, because it is important to know that the flowers have been delivered and when (time).
Giovanni Di Batte
18-01-2014
Yes, and they are very happy
Carolyn Campbell
18-01-2014
We sent flowers to our Daughter in France on the birth of our Grand Daughter. They were phoned before hand to ensure they would be in and the flowers were delivered promptly and were gorgeous, Thank you
Miguel
17-01-2014
i was kinda worried buying flowers online. i mean having flowers sent from New Zealand to Norway is a looong way. But i'm glad the flowers along with everything i ordered arrived in perfect condition and on time.:)) will defenitely order from FloraQueen again. my friend just couldn't believe she got those flowers from Auckland.:)
Joseph Ciliberti
16-01-2014
Got to become a grand-dad for the very first time so thought of sending the new parents a bunch of flowers. Looked on the net, found FloraQueen, ordered on line with great ease and voila! Ordered in Malta and delivered in Luxembourg in no time at all. It's was I call splendid service. Joe
Show more reviews
Show fewer reviews