Why this gift is special
It happens every year, but we still look forward to it. These passionate Asian lilium flowers bloom during spring and summer, coinciding with the time when we leave our coats at home and start dreaming of good weather, eternal days and beach getaways. Celebrate this little joy of life with a bouquet full of energy.
Ideal for... Telling summer lovers that their time has come.
Blooming Summer
Red Liliums
*Depending on the delivery country the price may change.
Includes: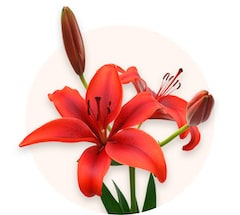 Red lilies
Bouquets you'll also love