Promise of Love
White Liliums
*Depending on the delivery country the price may change.
Includes: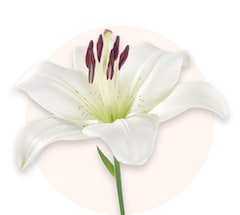 White lilies
Why this gift is special
Flowers as wide and generous as those of the Asiatic lilium have been used for centuries as a symbol of celebration. The 6 white stems that make up this bouquet speak of light, goodness and purity, while creating a magical environment conducive to good luck.
Ideal for... Celebrating the beginning of a new relationship.
Bouquets you'll also love