Why this gift is special
Discover the generous beauty of the oriental lily, a flower that opens its heart to present us with petals of intense colors. Its importance in the field of ornamentation extends to the ancient Palace of Minos, and there are many legends that link it to the concepts of protection, love and growth.
Ideal for... Celebrating a graduation and the passage to adulthood.
Life Graduation
Pink Liliums
*Depending on the delivery country the price may change.
Includes: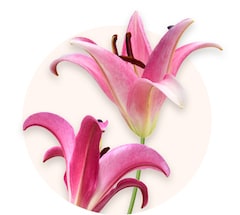 Pink lilies
Bouquets you'll also love