A grand gesture doesn't come much grander than 30 red roses in a darling bouquet. Share your passion and your love for someone special with a rose bouquet delivery that will make your lucky recipient feel exceptional on Valentine's Day or any day you want to say "I love you" clearly and confidently.
More About This Bouquet:
More bouquets like this:
* Vase not included
We can guarantee the best quality flowers for each order.
100% Satisfaction guaranteed.
FloraQueen always sends the highest quality flowers.
All our flowers are shipped fresh, directly from our florist.
We always deliver on time!
FQ20004
Drunk in Love: 30 Red Roses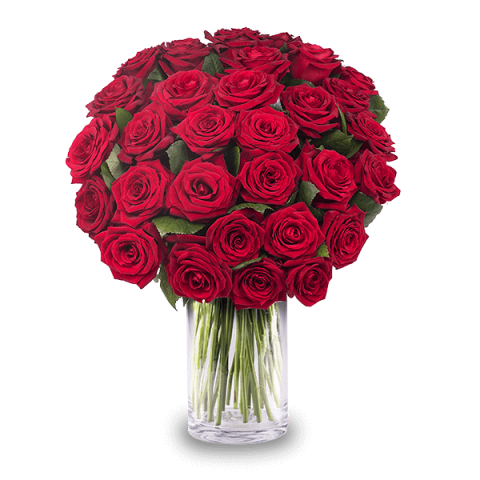 Same day delivery
Beautiful fresh flowers
Arranged by local artisan florists
Same day delivery
Fresh flowers
Expert florists
Fresher flowers that last longer
Thanks to our high quality flowers, our bouquets will stay fresh for 7 days.
What our customers say
29-10-2018
I am amazed by your service and the quality of your product ..... Thank you so much
27-10-2018
The product was amazing, fabulous an I love it. The service was perfect, and very professional. Thanks so much.
25-10-2018
Nice and quick delivery, flowers lovely and fresh
20-10-2018
On time delivery, excellent service.
Sahmir Selmanovic
(Dortmund)
18-10-2018
Thank you, it arrived at the same day, and everything was perfect
15-09-2018
Very good. Delivered on time. Thanks
12-09-2018
Very cute and perfect service
31-08-2018
Great flowers! Amazing service! Thank you!
Margit Wright
(Sankt Ingbert)
29-08-2018
Very happy with the service. The flowers were beautiful. My aunt loved them.
Cristina
(Lorca (Murcia))
16-02-2018
Maravilloso!!! Rosas frescas, perfectas que aguntan bonitas mucho tiempo
24-12-2017
Beautiful flowers , present, especially on a Christmas day
Eric H.
(La Forêt-Fouesnant)
14-11-2017
Very good service indeed!
Show more reviews
Show fewer reviews