12 fresh, vibrant pink and red roses enhanced by decorative greenery in a pleasant arrangement that will demonstrate your true feelings. Show someone special how much they are cherished when you're celebrating your anniversary or to wish them a happy birthday or a romantic greeting with this majestic rose bouquet.


More about this bouquet:
Six long-stemmed pink roses
Six premium red roses
Gypsophila
Decorative greenery
* Vase not included
We can guarantee the best quality flowers for each order.
100% Satisfaction guaranteed.
FloraQueen always sends the highest quality flowers.
All our flowers are shipped fresh, directly from our florist.
We always deliver on time!
FQ1065
Love Actually: 12 Red and Pink Roses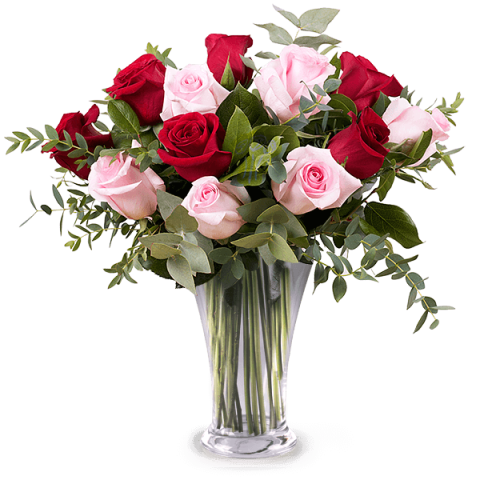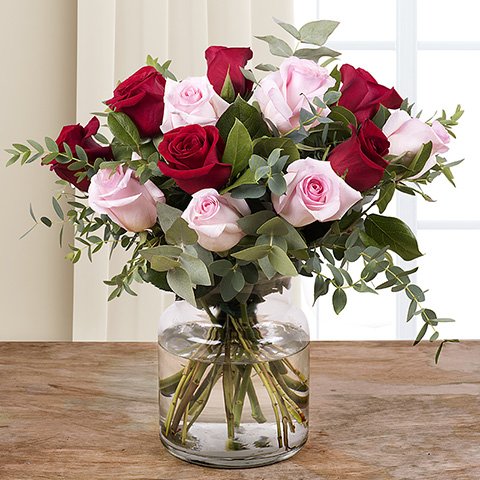 Punctual Delivery
Beautiful fresh flowers
Anywhere, anytime
Punctual Delivery
Fresh flowers
Expert florists
Bouquets you can enjoy for longer.
Some flowers arrive a little closed to ensure extra freshness and protection during shipping. Enjoy the magic of seeing them fully bloom.
What our customers say
14-02-2019
My flowers are beautiful thanks for the job well done .
Wiktor
(Santa Perpètua de Mogoda)
08-02-2019
Servicio bien. Correo bien. Flores Súper bonitas y huelen genial. Mal impreso mensaje y era muy importante. Una mini decepción de regalo de cumpleaños.
08-02-2019
Some flowers a bit damage but very good service
05-02-2019
The feedback I got from the recipient was that the service was highly professional. I will not hesitate to use your service again.
Shelly Benson
(Barcelona)
30-01-2019
FloraQueen handled a last-minute floral order for me and did a wonderful job! I would use them again with confidence!
03-01-2019
Delivered on time, very nice composition of flowers, my mom was very happy. Thank you!!!
02-01-2019
It was beautiful and service was good
Signora
(Cassano Magnago, VARESE)
17-12-2018
The service was good and the flower superb
08-12-2018
Muy hermoso, me encantó!!
Abigail
(East Kilbride, Glasgow)
25-11-2018
06-11-2018
Very fast delivery and beautiful flowers!!!
Alexander Micovcin
(Wiesbaden)
04-11-2018
27-10-2018
Confezione oriinale e bellissima. Fiori magnifici. Servizio eccellente.
27-10-2018
great service beaitifull flowers :) Thank you
25-10-2018
Service and packaging were excellent. Packaging was very intelligent. Everything arrived perfectly. Overall the flowers and the composition are lovely. Unfortunately, the roses arrived a bit burnt. The edges of the petals were already dry and curling so I imagine they won't last long. The vase is also very pretty - I can see keeping it and using it again in the future. Very classic, but not stodgy.
23-10-2018
It was a very good surprise ! The flowers were absolutely stunning
10-10-2018
Good flowers, but quickly fading
28-09-2018
Flowers are wonderful and service was perfect
21-09-2018
Servizio impeccabile.... Bellissimo bouquet
Sofía
(Sant Esteve Sesrovi)
18-09-2018
The roses were a bit damaged (brownish) when received
15-09-2018
Very nice a good service. Aldough I was not at home, the delivery man agreed to deliver it to another place.
Northwoods Antler
(Dong-Gu, Daegu)
30-08-2018
28-08-2018
EXCELLENT JOB GUYS, VERY WELL DONE!!!
Ray P Conner
(Danao City)
25-08-2018
very good product very reliable will buy again
16-08-2018
My flowers a beautiful and the service was excellent
31-07-2018
Got my delivery handled on a timely manner and any problems that popped up were solved quickly. Super happy great customer service.
27-07-2018
The roses were lovely and fresh.
22-07-2018
Excellent service.Thank you.
Peter
(Ayala Heights, Quezon Cit)
13-07-2018
Very happy with the Flowers
Patricia & Terence Bingley
(Limassol)
10-07-2018
I found FloraQueen efficient and the flowers I ordered to be delivered to Cyprus my friend told me were beautiful.
02-07-2018
Amazing! I was so happy and the flowers were so beautiful
01-07-2018
Very fresh flowers. Delivered to place where I needed it. Like it a lot. Happy that even my boyfriend is far away he can surprise me with real flowers :) P.s. Just wonder why did they translate postcard in English into Russian? Lol
22-06-2018
nice flowers I love them but it was a day late from my Birthday so it was a bit shame but still nice to get it thanks
Lei Sacurom Torres
(Hong Kong)
17-06-2018
Thank you for nice and good service my girl friend she reserved good and happy to reserved the Fresh and beautiful flowers. Thank you again and have a good day.
Stewart Blackmore
(Bangkok)
09-06-2018
I was a bit concerned sending flowers from U.K. to Thailand but my worries were completely unfounded. They were delivered the next day and looked beautiful. My girlfriend was overwhelmed.
01-06-2018
The flowers were fresh and nice.the service exelent and polight.thank you
20-05-2018
Delivered on time: made two lovely twin ladies very happy!
18-05-2018
Beautiful flowers and excellent service
17-05-2018
Really beautiful flowers!
12-05-2018
It was perfect! Thank you.
09-05-2018
Flower is beautiful but the card message was not really perfect. I got the message sticker and the card seperately. Please put in in the envelope
01-05-2018
The flowers were very beautiful
22-04-2018
Really great service!! Even though I wasn't in when they tried to deliver they offered to drop off at anothe address location
Ann Hippenstiel
(Sevilla)
14-04-2018
Roses were a little wilted looking when delivered. But still very nice.
14-04-2018
Great service love the flowers. Some could have been more closed but very happy
14-04-2018
Beautiful flowers and the service was fantastic! I received a call a few hours before delivery to let me know that they are arriving! I would recommend Flora Queen to everyone!
15-03-2018
Very nice roses and exactly on time.
14-03-2018
Good quality and super friendly sercive. Thank you for the lovely surprise
11-03-2018
My order was delivered in good condition and on time. It was International Women's Day so I realise this was also a very busy time. Happy to recommend for sure.
11-03-2018
Quick and Excellent service
Margaret Stephen
(Luxembourg)
11-03-2018
Thank you very much for delivering the flowers at the time requested. The recipient was very pleased with them.
Vesna Miljkovic
(Dol pri Ljubljani)
09-03-2018
Great service! Fresh flowers, beautiful arrangements, delivered on time and my mom was really happy!
28-02-2018
I was helped quickly & the person who helped me was very polite . I would use this service again. A picture of the flu wets was sent to me & they were beautiful. Thank you.
Matthew Homen
(Hurlingham)
27-02-2018
Will
(Santo Domingo Este)
25-02-2018
FloraQueen is the best in the international floral industry. The florist delivered fresh and beautiful floral arrangements to my recipient in a timely matter for Valentines Day. Me and my recipient want to think you for the great service. We will recommend others to use your service. Thank you.
17-02-2018
Its was real good and beautiful flower .i love it thank you for someone who give it .
13-02-2018
It was a very nice surprise
07-02-2018
Came 4 days after it was ordered but was beautiful
Bocconcino
(Reggio Emilia)
05-02-2018
It was totally out of the blue! Such a surprise. The flowers are so pretty and they smell so nice
12-01-2018
Fantastic service and beautiful flowers. A lovely surprise.
04-01-2018
Simply beautiful. Perfection. Thank you
09-12-2017
Great product, amazing services.
07-12-2017
It was beautiful but i missed the message in card .
28-11-2017
Beautiful, the whole house smells wonderful and makes every day a bit nicer :)
21-11-2017
On time. Beautiful Roses. Helpful internet mail contact.
13-11-2017
I THINK IS THE BEST SITE TO BUY FLOWERS. THE FLOWERS ARE FRESH AND ARRIVE ON TIME.
07-11-2017
I have used FloraQueen only once so far but will definitely used them again. On time delivery, excellent service. Couldn't be happier.
Jamescoburn
(Muang Pattaya)
31-10-2017
Great service - delivered everything as ordered and on time - very happy!
20-10-2017
A day later than expected
Norman Beaney
(La Laguna,Tenerife)
02-10-2017
Have used regularly. A beautiful bouquet was delivered to my wife in Tenerife on time and looked beautiful making a perfect surprise! Highly Recommended.
20-09-2017
awesome service, and quick delivery
12-08-2017
Made ordering flower for people in different countries easy. Delivery took place same day and deliver between the time stated. I will definitely us this company again
12-07-2017
Service is impeccable, delivery is always on time as promised. Arrangements are always abundant bright and fresh. I am very happy with their service I will continue to use them.
Laura Pearson
(Areais de S.Joao, Albufeira)
03-06-2017
Fantastic service. Ordered some flowers from the UK for my mum's 70th in Portugal. Online ordering was easy and the flowers were beautiful and made her day. Great work, thank you
Lex Smirnoff
(Castelldefels)
26-05-2017
Paul Griffiths
(Saint Petersburg)
14-03-2017
I ordered flowers for St Petersburg, same day delivery. Florist was unable to contact the recipient at first, but ultimately they did manage to deliver the same day, and corrected the number of flowers to make sure an odd number was delivered (important for Russia). It was really great service and I was very pleased, I wouldn't hesitate to use FloraQueen again!
30-11-2016
I've ordered flowers three times from FloraQueen, and each time the flowers have been gorgeous and delivered on time. I'm very happy with them and will continue to use them.
21-10-2016
My son's girl friend ended up traveling to Barcelona for the weekend. I was very worried about the roses dying before she got home that Sunday. The roses were pretty, hoping she got to enjoy them the remainder of this week. The bear and chocolates were great add ons.
Mikkel Vissing Bøndorff
09-09-2016
Easy to order, nice flowers. I could easily order flowers in Denmark delivered in Germany on the right date. I could follow them with DHL track and trace every time they moved, got a message from the Company, that they were making the flowers and I just got a picture of the real fine flowers from the happy receiver ;-)Everything about my order was fantastic.
Brenda Langton
17-03-2016
This was my first experience of sending flowers abroad. It was easy to order, and I was delighted to receive a text from my friend, on her Birthday, thanking me for the beautiful flowers.
Sam Leveridge
19-02-2016
Reasonable prices, easy to choose from a wide range of different flowers on their website, delivered on time and really high quality flowers which are still as fresh as the day they arrived one week on. Would definitely recommend to others.
Sebastiao G Silva
18-03-2015
Mark Lovshin
10-12-2014
My wife was very happy with the flowers and wine. I ordered them by internet from Canada to be delivered to her in England. It made here birthday a happy one. I spoke to her tonight (10 days later) and she still has most of them and still enjoys them. Thank You for making the experience a possative one!
Ladislav Beganyi
21-10-2014
A picture of delivered flowers would be great.
Deborah O'sullivan
03-10-2014
I had ordered two lots of arrangements to go to SA, but unfortunately did not get to see them other than on the website. They looked gorgeous, and my daughter-in-law was very very happy with them. Thank you for the amazing service, from beginning to end you handled the whole thing with the utmost care and professionalism. Thank you, I will definitely be using you again soon. Warmest regards Debbie O'Sullivan
John Baker
02-10-2014
I send flowers to my friend every year for her birthday and Flora Queen has never disappointed me...... my friend said the flowers were like they had just been picked from the garden......I would recommend this company of florists.
Thomas Keller
12-05-2014
Nice fresh on time flowers:-) Will use this service again next time!
John Vanpamel
11-05-2014
Good choice, easy website and correct delivery on time. They even called before delivering.
Ian Thomas Driver
03-04-2014
Service good informing all stages of the order from start to finish, very efficient
Elena Mantseva
31-03-2014
I'd like to thank you for completing my order. Bouquet was delivered in time. Floral arrangement was amasing! My friend celebrating her name day was very glad and pleased! Thank you very much!!!!
Catherine Reilly
27-03-2014
Would recommend this company to anyone Ordered 1 day in the afternoon and flowers were delivered the next day late morning . Delivery confirmed to me by e mail Excellent Service
Eduardo Carreira Perez
20-03-2014
Sincé my desck I have a service just like I want!!
Ramziddin Bakhtiyarov
04-03-2014
I sent flowers to Poland 2 times, receiver get flowers on time.
David T
04-03-2014
My Granddaughter is a Grad Student at Seoul National University, I send here flowers for Birthdays, Holidays and Graduation, she enjoys them and always comments on their beauty...thank you for your services
Veronica Bishop
02-03-2014
I live in the America and I tried to order flowers the day before Valentines to my girlfriend in France. So I bought credit through a calling app in my phone to call florists near her house. Only one florist answered, we tried speaking to each other but the language barrier was too much. Then I tried to ordering flowers online. I looked up many sites and the sites I did like, they did not deliver flowers to France or to her address because in their system her address does not exist. And then I found FloraQueen. They had a beautiful flowers, and they were delivered on time. I was very satisfied with then and will use them again.
Conie Lesmeister
22-02-2014
Order flowers for my Fiance who lives in Bolivia. Flowers were delivered on time and they were beautiful. I had ordered a mixed bouquet of roses and I guess they did not have a mixed bouquet so they were substituted with red roses. I believe that the substitution was of a better value, than what I had paid for.
Clos
22-02-2014
I sent flowers international they arrived on time and looked exactly like the flowers that were on their website. In the future if I need to send flowers I will definitely be using FloraQueen and I would definitely recommend them to a friend. Great service.
Marc
22-02-2014
I did not see the flowers myself but the receiver told me they were beautiful and smelled really nice. I am sure to come back here to order from them again in the future.
Lee Broxson
22-02-2014
The delivery made it on time and to the right person. Considering I live in the US and was sending them to Luxembourg for my girlfriend on Valentine's Day, I'm very impressed there were no problems!
Georgios Roussos
21-02-2014
The flowers I ordered arrived on time and were looking very good. However, a small teddy bear I had included, never arrived with the flowers
Gengqi Wang
21-02-2014
Fine qualities and on time delivery, no worries!
Jeffrey S
21-02-2014
They did a great job. This was an order from US to SE Asia. Delivery was in morning. I will definitely use them again.
Jim Sweetland
21-02-2014
Excellent service deliveries spot on time, would highly recommend this company.
Tosti Ang
21-02-2014
I send many flowers. All time was good quality and arrived in scheduled time
Jonathan Magill
21-02-2014
The site is very easy to use, their prices seem reasonable and the delivery was on time, in all very good
Stephen Adam Lopynski
20-02-2014
My girl was on the other side of the world and was super surprised! Made her verrrry happy! She almost couldn't believe how we did it. When she asked how, I said: "Special Website ;)" Mission Accomplished! Thanks FloraQueen! Definetily money well spent and will do it again in the future for sure!
Terry Galloway
19-02-2014
I thought that sending flowers from the USA to a small town in Germany would be difficult if not impossible. I took a chance that the company spoke English, the flowers would be delivered on time, and my identity wouldn't be stolen while I was using my (non chip) VISA card online and in a foreign country. I ordered the flowers on a Wednesday evening, and an amazingly beautiful bouquet ( though not the one I chose) was delivered within 12 hours to the recipient. It was exactly as I had hoped. I will use FloraQueen again without doubt, and will highly recommend their services to others.
Ruben De Girolamo
14-01-2014
It was easy to go through the order, takes only 2 minutes. The delivery was on time. I would only recommend to send the email as soon as the order is delivered.
Show more reviews
Show fewer reviews