Enjoy this elegant display of orange and peach coloured excellence and the positive vibes it radiates. With roses, lilies and alstroemerias displaying these happy peach and orange colours this is the ideal bouquet to share on a happy occasion.


More about this bouquet:
Orange chrysanthemums
Orange roses
Mini orange gerbera
Orange lilies
Red alstroemerias
Decorative greenery
* Vase not included
We can guarantee the best quality flowers for each order.
100% Satisfaction guaranteed.
FloraQueen always sends the highest quality flowers.
All our flowers are shipped fresh, directly from our florist.
We always deliver on time!
FQ112
Peach Flavour: Lilies and Roses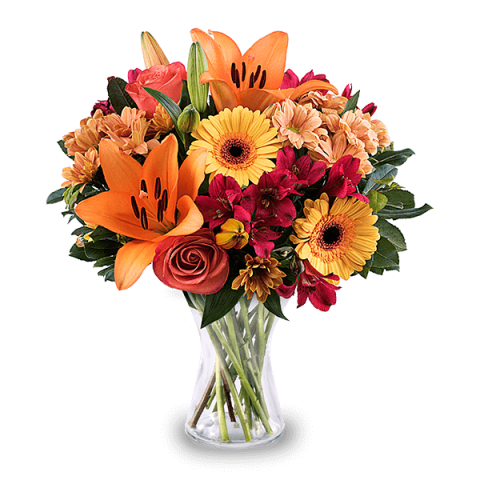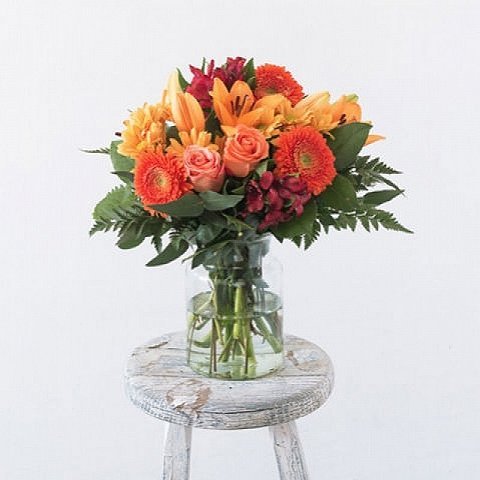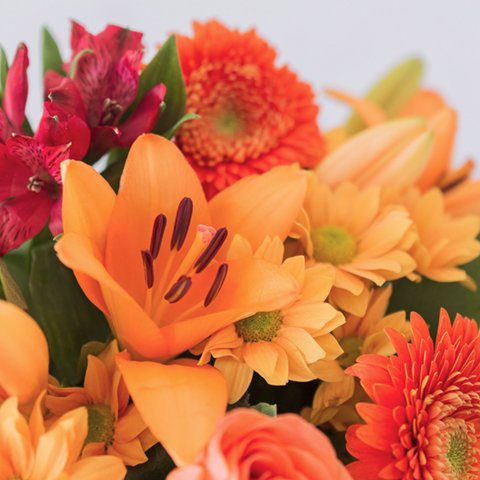 Punctual Delivery
Beautiful fresh flowers
Anywhere, anytime
Punctual Delivery
Fresh flowers
Expert florists
Bouquets you can enjoy for longer.
Some flowers arrive a little closed to ensure extra freshness and protection during shipping. Enjoy the magic of seeing them fully bloom.
What our customers say
04-02-2019
The flowers are really nice But may be you should consider to make the packaging prettiest more clean for the future :)
26-01-2019
Everything was managed perfectly
Michele Elias
(Jerusalem)
23-01-2019
Flowers beautiful and delivery on time
Veronica Callis
(Winterthur)
17-01-2019
My nephew and his wife were delighted with the flowers. For me, they were easy to order and I was pleased to know when they were delivered.
08-01-2019
I love the service! Delivery is great and calls are great. The product is very beautiful
25-12-2018
Beautiful flowers and great service!
Lee-ann
(L'Haÿ-les-Roses)
16-11-2018
beautiful flowers and amazing service.
16-11-2018
The flowers are just so beautiful
06-11-2018
There are so beautiful and arrived on my exact birthday.I love them so much.thank you
Karen
(Berkel en Rodenrijs)
01-11-2018
The flowers were lovely but didn't arrive til after 7pm a request for after2pm was made but that's a bit late and caused concern that they wouldn't arrive
25-09-2018
Nice product and nice service
25-09-2018
Product good but issues with delivery.
25-09-2018
Sunflowers are missing and the lilies are too immature and kinda too white. (Expecting to be more red/orange) other than that, it was great. Thank you!
24-09-2018
It was beautiful. Thank you
13-09-2018
The bouquet of flowers was as beautiful as promised. Thank you !
13-09-2018
The quality and service from Flora queen are fantastic Very classy service
Patricia Koster Dolgin
(Wien)
13-09-2018
The entire process was easy and a competitive value. They arrived on time and were perfect. Each day they are prettier than the last.I will definately use them again.
Roberta
(Sesto San Giovanni)
08-09-2018
Good service and wonderful flowers
06-09-2018
It was an amazing surprise and beautiful flowers. Thank you so much!!
Roberto Bastidas
(Leer (Ostfriesland))
31-08-2018
Super quick, great product, good velue. No complaints. Everything ok!
25-08-2018
amazing international next day service; reliable and the flower bouquets have always been beautiful! can highly recommend FloraQueen!
24-08-2018
very good service- does what it says.
23-08-2018
Was very pretty and top shelf.
18-08-2018
The bouquet of flowers look fresh and I was very glad that it was placed in a. Vase with water. The westher was very hot!!
09-08-2018
Everything perfect, bouquet amazing and fast delivery
John Hecker
(Village Mirniy, Evpatoria)
07-08-2018
Great work on getting the flowers there on time in a hard to reach place. The arrangement was very similar to the picture though. Pleased with their ability to deliver though as promised.
Petra - A Happy Customer!
(Higienopolis, São Paulo)
31-07-2018
Efficient and great service!
Philip Begg
(Santo Andre)
31-07-2018
Flowers were 3 days late but i feel like if i didnt go on sm it wouldnt have arrived? No communication. & the flowers werent amazing looking. Id say go to a international company with tracking, phone number etc...
30-07-2018
Ordered flowers on Friday in California, and my mom had her birthday flowers in Germany the next day!! Amazing job on the prompt delivery & my mom loved her beautiful flowers! Can highly recommend FloraQueen
27-07-2018
Beautiful, gorgeous, lovely colors.
Elisabeth
(Kaltenleutgeben)
26-07-2018
13-07-2018
Very good, lovely flowers, prompt delivery
Gaël
(st etienne de montluc)
10-07-2018
Lots of informations about the delivery, the flowers are in good shape
Nicola
(San Pedro Alcántara,)
17-06-2018
05-06-2018
Beautiful flowers and the service was super
04-06-2018
The Service was wonderful, very quick and in time. They called me in advance twice to settle everything. As for the bouquet I prefer more lilies as it was ordered as I adore them. But there were Gerbers instead of some lilies. So it is 4stars not 5
25-05-2018
Colorful and an Absolutely gorgeous birthday surprise from my bit friend back home in europe!
23-05-2018
The product is very beautifull but i had to go to the flower shop to take it because the delivery came when i was not at home and the hours avaible for bring it to my place, i was not avaible to be there. The lady of the shop was extremly nice anyway.
Bryna
(Ma'ale Adummim (Israel))
16-05-2018
flowers are beautiful. I liked the vase and I like the way the bouquet was placed in a colorful net so that it is easier to change the water and not ruin the arrangement. you should include a few more packets for the water to keep the flowers fresh longer.
11-04-2018
High quality flowers, perfect on time delivery - absolutely reliable
14-03-2018
Nice flowers & great chocolates
Penelope Kraniotakis
(Iraklio)
11-03-2018
My mom loved receiving the beautiful bouquet that they made for her!!!! Fresh flowers beautifully arranged
Assaf Van Trienen
(Madrid)
10-03-2018
Expensive but outstanding service and flowers of the highest quality
08-03-2018
очень быстрая доставка и красивые цветы
11-02-2018
Absolutely perfect. Good package, fast delivery.
D. Murphy
(Espiche, Lagos 8600)
04-02-2018
Thank you for a good job well done and on time. Very impressive
27-01-2018
Everything went well! Perfect service, highly recommended.
Dawn63
21-01-2018
My order got originally delivered to wrong person....Cris worked with me to try to locates it and eventually having it re-deliver. All got worked out and flowers were re-delivered. Excellent customer service!!!! While working on above order I used Florequeen to send flowers to another part of Itally...easy ordering, and my sister got a beautiful arrangement.... Very happy with this company...will definitely use again!!!! Belinda
Wigunda
(Bangkapi, Bangkok)
11-01-2018
Product so nice, flowers fresh and good smell. Good service.
02-01-2018
A very nice bouquet and the flowers are beautiful
21-12-2017
It was really nice. i like them.
12-12-2017
I'm in love with my flowers. They have truly brightened my day
11-12-2017
The flowers are beautiful. The card was neatly handwritten and the vase is of good quality. Deliveryman was really nice.
01-12-2017
Lovely combination and colours
Konstantinos Stamatis
(Cholargos)
23-11-2017
My order was delivered on time. Just a small remark that I'd like the my order to be a bit more like in the photo on the site.
Rory
(Playa de las Américas)
21-11-2017
All was good except the Chocolates were not heart shaped as described. (Delivery was a hotel in Tenerife)
Integrated Ideas
(Nicosia)
20-11-2017
I just used FloraQueen for the first time. Amazing service, easy to use website and they kept me informed all the time with updates of the delivery.Would certainly recommend and use again.
Danieltacu
(Sant Boi de Llobregat)
19-11-2017
Thank you!looking forward to work with them agan ! I've orderd flowers from united states and they deliverd them in 2 hours
11-11-2017
Quick beautiful and on time service
31-10-2017
ABSOLUTELY would recommend! "Live Chat" person, Alex, was very informative and helpful. Even though I ordered late at night, my flowers (and bottle of vino) were there on time the next day!!! thank you for helping wish my son a "buon compleanno"
10-08-2017
they were on time, the flowers and the card were beautiful! I was super happy with your service! Thank you.
Bogs, Dirk Walter
(Saratow)
05-08-2017
all in all very fine this time.
02-08-2017
Transactioin facile et tres bien executée.
23-06-2017
The flowers were great and the chocolate was exactly what i wanted. Arrived on time as well. Thanks a lot Flora queen.
Jessica
(Elko New Market)
15-05-2017
I have given this company 5 stars due to its excellent service, I am very pleased with the service from Floraqueen! I would definitely recommend this international florist because they are very informative, telling you what time your flowers will be delivered and you also get an email to notify you once they have been delivered!The flowers were exactly how I wanted them to be, just as shown online. Beautiful! Very successful mothers day thanks to Floraqueen! Money well spent!
Andrea Rushton
27-07-2016
I ordered some flowers for my mother law to be delivered in Spain the ordering process was straight forward I was kept informed about my order and the flowers were delivered early on my specified date they were beautiful too!! Will definatley use Floraqueen in the future!!
Athanasia
30-06-2016
I ordered a premium bouquet from Brussels to Athens 2 days before the expected delivery date, for my parents wedding anniversary. The coordination with the recipients and the tracking of the delivery was excellent (even if the were delivered in the afternoon instead of the morning); they called to fix the time and I was receiving mails for each stage (confirmation about the delivery arrived just 15 min after delivery).The flowers were fresh and the bouquet looked nice but not as in the picture. Online you had this round bouquet of orange and peach colours, that included lilies, gerberas, and greenery, quite fancy dual colour flowers. The delivered bouquet had different colours and no dual flowers at all. I got a bit disappointed as I ordered that colour theme on purpose.
Andrei Nedelcu
09-03-2016
My sister just received. Is fantastic !!! Very high quality and service.
Teresa Mitchell
19-11-2015
First time U.S. customer delivering to South Africa. Arrived sooner than expected and I was notified right away. No problems at all.
Michael Garber
10-10-2014
will use floraqueen again ..
05-10-2013
This bouquet was sent to my son & daughter in law for their wedding anniversary and it reminded them of the color of the flowers they had for their wedding.
Show more reviews
Show fewer reviews