This beautiful and passionate mixed lily bouquet is full of energy and will deliver your message with intense feeling. Share the joy of this bright bouquet of orange lilies, salmon roses and yellow and orange carnations to enliven a birthday celebration or to say congratulations.


More about this Bouquet:
Lilies

Carnations

Premium Roses

Folded Aspidistra

Greenery
* Vase not included
We can guarantee the best quality flowers for each order.
100% Satisfaction guaranteed.
FloraQueen always sends the highest quality flowers.
All our flowers are shipped fresh, directly from our florist.
We always deliver on time!
FQ7201
Tahitian Dream: Orange Lilies and Roses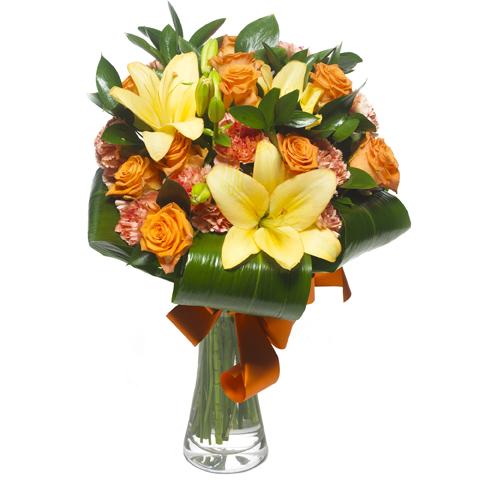 Punctual Delivery
Beautiful fresh flowers
Anywhere, anytime
Punctual Delivery
Fresh flowers
Expert florists
Bouquets you can enjoy for longer.
Some flowers arrive a little closed to ensure extra freshness and protection during shipping. Enjoy the magic of seeing them fully bloom.
What our customers say
25-11-2018
Flowers were beautiful.service good
Estelle Harris
(Cape Town)
24-11-2018
Excellent service with good quality Flowers and will recommend the company anytime and everytime. :)
Viktor Zoglo
(Almeria,Ej Ejido)
11-10-2018
Thank you,I am very happy,fast delivery,and good seller
Maureen
(Alicante , Torrevieja)
10-10-2018
Very fresh flowers nicely arranged and covered on a bank holiday. Highly recommend
04-10-2018
Flowers were beautiful. They looked just like the online picture. I had paid for an early morning delivery but, they were not received until late afternoon. That being said, I appreciated the phone call to the recipient regarding delivery time. Overall, I would highly recommend.
24-09-2018
It was a beautiful surprise and very sweet delivery boy :)
Maurizio Cerioni
(Uhersky Brod)
01-09-2018
Mrs Lyn Duro
(DISCOVERY BAY)
29-08-2018
ALWAYS SENT ON THE RIGHT DAY AND ACCORDING TO THE PERSONS RECEIVING THE FLOWERS ARE VERY BEAUTIFUL. CAN RECOMMEND THIS COMPANY.
18-08-2018
Super efficient and the assortment of choices is great! Service is also wonderful!
Pracha Thonthong
(Hveragerði)
12-08-2018
Easy to use. Good delivery. Good price.
Carlos Ferreirinha
(Clermont-Ferrand)
08-08-2018
Website fast and easy to manage. Order was delivered on time and the flowers were beautiful.
T. R.
15-04-2015
Ordered flowers, they were delivered as expected. The recipient liked them.
Sj Huxtable
22-03-2015
Although they may not be the cheapest of all the flower companies, all 4 times I have use them they have delivered, ontime, amazing bouquets of flowers which actually get even better with age
Smija Mariam Kurian
27-02-2015
The flowers were delivered on time. I am satisfied with your service.
Neil Ward
26-02-2015
The flowers that I ordered online for nextday dedelivery in Brazil arrived on time and were beautifully arranged and presented. My only criticism - and it is minor - is that the design differed slightly from the one I had originally chosen. But I was impressed with how convenient and reliable the service was.
Paul Winn
31-01-2015
One of my few trusted on-line companies that provide excellent service and are very easy to use. I would recommend this company for everyone that needs the confidence of sending gifts to loved ones knowing it will be delivered. Easy to use, good communication, receipts and acknowledged delivery emails and quality products - what more could you ask?
Hani Almendary Ahmed
31-01-2015
The items arrived on time and the person who received them was very pleased. Many thanks
Ben S
29-01-2015
Ordered flowers on line from the US for my daughter's birthday in Berlin. The entire experience was painless and smooth and she received the flowers as ordered and on time. Perfect!
Michael Leary
23-01-2015
excellent was delivered on time and they looked lovely
07-01-2015
No hesitation in recommending FloraQueen. Changes to bouquet were communicated. Delivery was on time and arrangement beautiful! Thanks FloraQueen
Svet
30-11-2014
The order was late one day but I guess it has to do with a local partner - which should mean that FloraQueen should be looking a bit more carefully into their local partners. Web site and overall experience - very good. Would use it again but the orders cannot be late as it's a whole point of your business model.
George Etter Iv
07-10-2014
My order was for a special birthday celebration in Spain and I live in the United States. The order was placed several days in advance in the event there were any problems. There were some questions involving the address and a local telephone number. These were resolved satisfactorily by e-mail prior to the delivery date. So on the scheduled date of delivery the flowers and Cava arrived on time.
Richard Kearney
23-09-2014
I tried to send flowers on line useing the other large flower seller.It was a nightmare on line.With Floralqueen it was ever so simple on line.I'll never go back to the guy with wings on his ankles.
Yamila Hernandez
23-09-2014
My first time using this company. They delivered on time and my sister was happy. I recommend this company services. Thank you .
Kristin Almonte
24-04-2014
The delivery was fast, accurate, and the customer service was great. The arrangement was fresh and gorgeous. I will not use anyone else for delivery!
Patricia Ann Lawton
31-03-2014
For some reason I thought my sister and brother in laws 50th wedding anniversary was 24th March and didn't realise till my daughter asked was it the 21st. In a panic I checked on google to find a company who delivered to the area of spain where my sister lives and found Flora Queen. They assured me the flowers would be delivered that day and were true to their word. Had a call from my sister thanking me and saying how beautiful they were, she took pictures and posted them on Facebook they were beauttiful.
Mrs Lucy Best
26-03-2014
I was desperate to send some flowers to a dear friend in Tenerife and was struggling to find value for money, speed of delivery and quality of flowers. I found all 3 with floraqueen. My friend was absolutely delighted with her bouquet and so was I, she sent me a photo of them and they were even better than I'd imagined! Thank you so much will be using you a lot more as I am emigrating to NZ soon and need a reliable service to send flowers home!
Therese Down
25-03-2014
I organised a lovely bouquet for my friend's birthday. She lives in Madrid and I live in Birmingham, England. My friend was delighted with the flowers and raved about how beautiful they were. Thank you for a trustworthy and wholly satisfactory service. I'll certainly be back.
Louise Wilson
22-03-2014
I couldn't find any other flower service to use and stumbled across your web site . Easy to use site and once all arranged, the flowers were with my mum that day in Palma . Amazing service thank you .
Richard
01-03-2014
I never expected such amazing service. I'm in America and I ordered flowers for my mum in Spain. The flowers, in the exact arrangement I chose, arrived within hours of my payment. It was prefect, thank you!
Dr Robert Davey
21-02-2014
Ordering Valentines flowers to be supplied and delivered on the other side of the planet is potentially a daunting prospect, but Flora Queen have exceeded my expectations, twice! For about the same money as I would have had to spend at home, the flower arrangement I ordered was not only just as described on the website, but absolutely fresh and is still looking stunning more than a week after delivery, which was in exactly the right place and on time. Billing and payment was also simple and smooth as silk! I'll be looking to Flora Queen for local deliveries as well, next year!
Margaret Clark
23-01-2014
Flowers arrived on time to my very dear friend in South Africa, she was over the moon with the bouquet, flower arrangement, was exactly like the one I chose for her which was Orange Passion. I will not hesitate to use Floraqueen again to send flowers overseas or indeed at home, & would recommend your site to all my family & friends. Thank you for a first class service.
Show more reviews
Show fewer reviews