With pink roses and classic white lilies dancing together passionately, this is a perfect surprise. This simple yet elegant arrangement of pink flowers, with a perfect balance of pastel tones, will convey your happy message tastefully for a special birthday or as a wedding present.


More about this bouquet:
Premium Pink Roses

White Lilies

Matching Greenery
* Vase not included
We can guarantee the best quality flowers for each order.
100% Satisfaction guaranteed.
FloraQueen always sends the highest quality flowers.
All our flowers are shipped fresh, directly from our florist.
We always deliver on time!
FQ2316
Flamingo Dance: Lillies and Roses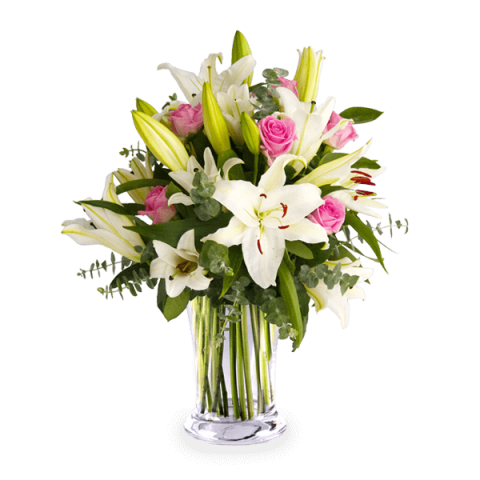 Punctual Delivery
Beautiful fresh flowers
Anywhere, anytime
Punctual Delivery
Fresh flowers
Expert florists
Bouquets you can enjoy for longer.
Some flowers arrive a little closed to ensure extra freshness and protection during shipping. Enjoy the magic of seeing them fully bloom.
What our customers say
Olivia
(Playa del Carmen QR00. CP)
20-03-2019
02-03-2019
Beautiful flowers and friendly delivery drivers
19-02-2019
Nice flowers but not really lovely bouquet. The value of the flowers is very far from the price paid for the service - your florist partner could've added some greenery and turned it into a beautiful bouquet and not just a gas station bouquet.
02-02-2019
The flowers are beautiful and more than expected. It appeared that it was done with great care It was delivered on time. Will highly recommend FloraQueen.
22-12-2018
My daughter in Australia was very pleased with her flowers,they were in good condition and arrived on the date that I requested.
Laurence Barbier
(Lillois)
22-12-2018
The flowers looked exactly like on the website, and arrived on time. Someone called ahead of the delivery to be sure there would be someone home.
26-11-2018
The bouquet was beautiful, well presented, just stunning
30-09-2018
It was a nice surprise and the flowers were beautiful
23-05-2018
I don't have enough words to describe how happy you have just made me. Wonderful product and service!! THANKS A LOT
14-05-2018
Wife loving it and she actually surprised.Thank you
Tanya Rose
(busot, alicante)
11-03-2018
I now inly use you to deliver fliwers to my mother in Spain. She was theilled with valentines day roses and now her Mothers day bouquet with chocolates and champagne. Thankyoux
18-11-2017
Delivered flowers all the way to Thailand from the US! Easy! And not crazy expensive!
23-06-2017
All the flowers & gifts our company bought at FloraQueen were all to the recipients satisfaction!!
Brian Shell
(Rio de Janeiro)
19-05-2017
Everything was perfect. Flowers were lovely and arrived when promised. Great service! Brian
Mevr. Christine-helene Huysentruyt
02-06-2016
The bouquet cheered up my friend who was in hospital for heavy surgery; she was delighted by the arrangement; so much so she posted a picture on Facebook
Mrs Sally Coppard
25-03-2016
FloraQueen gave me excellent service, the flowers I had chosen delivered the day and time I had requested. The recipient was very pleased, and said they arrived in excellent condition. I could not fault the service and will definitely use them again
Maria Wilson
29-01-2016
I ordered out of standard box type sympathy flower arrangement offered . Instead i found a nice one in their other categories which still manifests sympathy as well as peace and beauty - pink roses and lilies arrangement . Ordered 24th Jan - and was given 26th first available date as i understood it. Everything went well until the screen went blank after payment was accepted . I couldn't trace / track my order as i never got to see my order number. Also couldn't log in and correspond even with customer service. I contacted " flora info" their first point of contact for those who haven't place an order yet. To cut the long story short they responded, tracked and updated me on any developments and it was delivered even with the time constraints.
Lyn Fochard
08-03-2015
delivered and very happy with the purchase
John And Anna Schuchart
20-03-2014
My Fist experience with this company and very pleased !
Amanda Bolton
28-02-2014
Bouquet for parents anniversary was received on time and parents were delighted with the arrangement. Flowers are still opening a week later.
Marcin
24-01-2014
Right on time, great work.
Show more reviews
Show fewer reviews