A marvellous sunrise of orange lilies and seasonal flowers is a great way to start the day and is sure to impress on delivery. This round bouquet is full of happiness and energy, with the power to brighten up any day whether it is someone's birthday or to offer your congratulations!


More about this bouquet:
Orange chrysanthemums
Orange lilies
Orange germini
Orange carnations
Decorative greenery
* Vase not included
We can guarantee the best quality flowers for each order.
100% Satisfaction guaranteed.
FloraQueen always sends the highest quality flowers.
All our flowers are shipped fresh, directly from our florist.
We always deliver on time!
FQ2304
Sunrise: Lilies and Carnations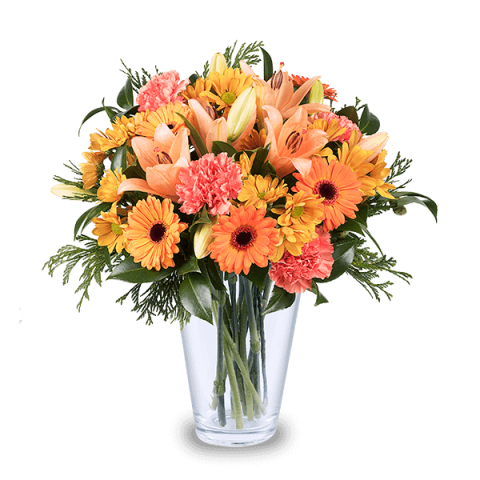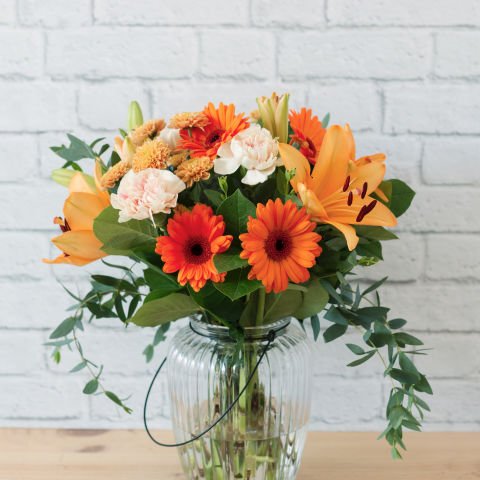 Punctual Delivery
Beautiful fresh flowers
Anywhere, anytime
Punctual Delivery
Fresh flowers
Expert florists
Bouquets you can enjoy for longer.
Some flowers arrive a little closed to ensure extra freshness and protection during shipping. Enjoy the magic of seeing them fully bloom.
What our customers say
16-02-2019
wonderful flowers were delivered in time. thank you sooo much!
Diego Amatista
(Tsalapitsa)
06-01-2019
I pay extra for delivery till 14:00 and the flowers arrive 15:30
22-12-2018
beautiful flowers - really happy!
Chiara
(Pasturago di Vernate)
08-12-2018
They look wonderful, even better today -after 3 days!!!
07-12-2018
Beautiful flowers! Gorgeous quality!
James Moro
(Osb/Yenimahallesi/Ankara)
05-12-2018
25-11-2018
Fresh flowers sent professionally
04-11-2018
The flowers were so lovely and service was great too!
01-11-2018
Flowers looked very nice but I think the Vase is taller than it should be which made the flowers a little bit crowded
Herlyn
(Tokyoto higashiyamatoshi)
26-10-2018
Everything is good and flowers are so perfect
Sarah Moffitt
(8577 Tala, Paphos)
31-08-2018
Lovely flowers delivered next day as requested. Thank you!
24-08-2018
was a beautyfull surprise
23-08-2018
The service and product was excelent!
Rene
(San Pedro Tlaquepaque)
12-08-2018
26-07-2018
Service was excellent, the bouqet is very pretty, except of few surrounding leafs, which had some bugs' cocoons underneath - it creeped me out :( I cut the leafs off. All in all - I like the bouqet!
21-07-2018
Flowers delivered same day as supposed to but not flower arrangement I selected. Colors not what I originally picked but beautiful arrangement
Jackie
(Orihuela Costa, Costa Bla)
13-07-2018
Flowers are lovely. They were ordered in England to be delivered on the 11th July my birthday but they weren't delivered until the 12th. I asked the lady who delivered them why they were late and she said you only received the e-mail that morning .
13-07-2018
Une bonme surprise. Merci
Samantha
(Calle Bearin 47, Estella,)
12-07-2018
07-07-2018
Service is just perfect and on time..i loved it
09-06-2018
I had never sent flowers before in my life and wanted to send some to my mother from Canada to Italy, for her birthday. I chose Floraqueen, taking a guess.. I didn't know which website to chose from and I chose Floraqueen. I asked for a delivery the day after and it was just perfect. My mother received the flowers on time, exactly how I wanted them to be. I am EXTREMELY satisfied and I will use Floraqueen for sure again in the future. You guys did an excellent job, thank you so much. Cheers from Canada
07-05-2018
Beautiful flowers. Vibrant colours.
01-05-2018
Fresh and they look like they're going to last
12-03-2018
Absolutely brilliant service again this year.
Helena
(La Chaize-le-Vicomte)
11-03-2018
Ordered last minute. Beautiful flowers arrived the next day - perfect.
10-03-2018
Nice flowers mum pleased so all good.
13-02-2018
Packaging was the best I've ever seen for flowers.
15-12-2017
Lovely bouquet and good service
10-12-2017
Very very nice service and quick response.
26-11-2017
Delivery was on time. The recipient of the flowers and gift was delighted with them. Iwill use Floraqueen again. B Mason
18-11-2017
Reasonably priced and lovely flowers, my mum was very happy...
16-11-2017
I live in Australia and ordered flowers from FloraQueen from their website for my daughters 21st who is staying near Paris. The process was so easy, completed in 5 minutes. I received confirmation of my order straight away and then, within the time frame I nominated, an amazing bunch of flowers were delivered to my daughter. I was very impressed that they called her just before (but didn't give away the surprise) to make sure she was home so she could personally received them! My daughter LOVED the large bouquet of flowers. I would definitely recommend and use FloraQueen again.
15-11-2017
Very helpful on the phone when I needed to change the delivery day. Would highly recommend
Kevinlutz
(Kaiserslautern)
08-11-2017
Thank you so much for Prompt Service & Great Flowers!! These flowers were for our Daughters Birthday. She was so Pleased with the Flowers & this made me feel very good to here she was Very Happy!!
Christine Saville
(Barranco, Lima)
07-11-2017
Easy Web site, excellent service and contacted throughout delivery. Thanks
02-11-2017
Was hesitant to order from a different country as I was on a flight the day the delivery was planned and couldn't confirm or check whether they had been delivered but all went to plan and the flowers had arrived on time and looked lovely! The recipient was very happy!
21-10-2017
Quick and dependable service and nice flowers.
Yvonne Stewart
(Pohorje, Slovenia)
11-10-2017
Easy to order flowers arrived on time and were lovely.
Antonella Tanino Testa
(cagliari)
26-07-2017
many thanks for a good service good quality and prompt delivery definitely you are to be recommended thank you.
27-06-2017
I ordered flowers to send to Australia, and unusually sought advice from the reviews AFTER having placed the order. The majorty of the reviews I read reported very badly on the quality of the service offered by Flora Queen, such that within the hour I decided that I should cancel my order. This proved to be impossible without loss of the full cost because there weren't two clear days, between placing the order and expected delivery. The conditions attached to cancellation are not in the least customer friendly, which will certainly ensure that I don't order from them again. However, after almost 2 days worrying that I had wasted my money or that the quality of flowers might cause embarrassment to the recipient, they arrived on schedule and gave huge pleasure to the person receiving them. A photo from her confirmed their quality. This review is based on one experience only with this company.
Lynnie
(Costa Tequise Lanzarote)
03-06-2017
Amazing service,FAB flowers always. I use FloraQueen to send flowers to Lanzarote & Spain.
20-05-2017
Very happy with service and got told they were beautiful flowers thank you
Edmond Buhagiar
(Ħ'Attard)
14-05-2017
Very professional service! Helpful and reliable.
Erika Yugay
(Novisibirsk)
06-05-2017
Its my fourth year to order flowers from USA to be delivered in Russia and the experience has been amazing. Delivered on time, directly to the person. Flowers look just like on the picture, fresh and beautiful. Will continue to use floraqueen.
Shonagh Goldsack
(Santa Ponsa, Mallorca)
19-04-2017
Excellent service as always, prompt overseas delivery and beautiful well received gift, many thanks.
Alessandra Ponti
(Sitges)
12-04-2017
Easy, on time delivery, not expensive, beautiful flower. Very good service!
Valentin Angelov
(Oststeinbek)
09-04-2017
Ordered and delivered same day! Excellent service!
Gustavo Javier Azorin Olivares
(Ekaterimburgo)
07-04-2017
Ulrike Thornton
(Dassendorf)
08-02-2017
I have used this service numerous times to send flowers to both of my parents who still live in Germany. It is a great way for me to wish them a Happy Birthday or Anniversary from far away. Flowers are gorgeous every time, delivery is great and on time. I would definitely recommend this.
Elisabeth Holzgartner
(Dinkelsbuhl)
19-10-2016
Seamless from start to finish
Alan Cross
15-09-2016
My recipient was very pleased with the sevice
Paul T
16-05-2016
Ordered flowers for a relative Milan, Italy.Easy website to use and good email comms.Flowers delivered 3 hoirs after order. Perfect.
Bernard Willian Philpott
02-05-2016
a great bouquet of flowers which got there on time. thankyou.
Verna L Hopkins
29-10-2015
Joseph L....
05-08-2015
This summer I went to Rome for a week, was supposed to meet up with a cousin who lives there. Before leaving the States found out she had a major surgery and would not be able to meet me or even visit. Upon returning Home I looked up sending flowers overseas and found FloralQueen. I selected an arrangement I thought was lovely and had it wired to Rome, Italy. It Arrived Within 24 Hours !!! I was so pleased, e mails were sent to me before during and after delivery. Really great communication. Best of all my cousin was amazed and so happy. She thanked me and others in the family thanked me as well. She even sent me a Facebook picture. This made her day which is so wonderful because she is still recovering. I am so pleased with FloraQueen and recommend it to anyone considering sending flowers to far away places.!!!
Angela
21-07-2015
Although the flowers that I ordered was not available, the seller has contact me via the email and suggest a replacement. The flowers was sent later than scheduled time but they were very fresh and smells good. The receiver like it so much. I like that the seller has update via the email about the status; received the order, preparing the flower and inform the customer when the flowers is delivered. I will definitely use the FloraQueen again.
Sascha Adams
20-03-2015
Needed to send Mothers day flowers to my mother-in-law in Malta. I came across FloraQueen online. The website is easy to use and ordering the fowers was very simple. The delivery was on time and the end results were beautiful. I will most defiantly be using them again!!!!!
Kathleen James
01-03-2015
arrived on the day beautiful would recommend - first time organising flowers to Spain from UK
Andrew G
21-01-2015
Same day delivery, fantastic service
Adams
11-01-2015
I sent a bunch of flowers to Spain and it was so easy. All I had to do was to choose the country, choose the flowers and pay for it. My relative in Spain said they arrived on the day FloraQueen said they would. My relative also sent me a picture of the flowers and they looked so much better than the photo on the website. Very pleased. I'll definitely use them again.
Judy Owen
10-01-2015
I ordered flowers online from New Zealand for delivery in Denmark. The ordering process was easy, and good communication to let me know where the order was at through to actual delivery.
Ingrid Small
07-01-2015
easy to use and family happy with their flowers thanks you
Paul Hasney
20-12-2014
For flower delivery in Cyprus (Erimi), I have found that the choice of variety offered, the quality of flowers, delivery service and the longevity of the flowers from Floraqueen has been superb. Whilst they may not be the cheapest the value for money is probably the best. Thank you, you have helped me bring a smile to my wife whilst I have been away on more than one occasion.
James Mcghee
14-12-2014
Floraqueen are excellent they can deliver flowers on time anywhere in the world .However I always have problem with their website.Always refuses card and I end up having to await a phone call from their Spanish headquarters.Staff are always polite and very efficient and helpful.So please just upgrade your bloody website!
Carol Davidson
13-12-2014
The flowers when delivered were fresh, what was ordered and delivered on the date and time expected. Good job all round.
Reinaldo Sanchez
04-12-2014
Very responsible and dependable.
Elizabeth Ward
04-12-2014
I needed to send flowers to a good friend in Germany. They arrived on time in beautiful condition. Thank you so much.
Max Hannan
04-12-2014
Flora queen had the best choice at the best price. I was looking to send flowers to my mother overseas and these got to her exactly when they were meant to!
Andrew
14-10-2014
Ordered flowers to Greece. Very beautiful. Perfect gift
Gertrud Muster
07-10-2014
It was quite easy to order the flowers, and the recipient was very happy to receive them.
Ralitsa Nedeva
02-10-2014
My mum receive the flowers and she was very happy. I am glad I made her smile, as i do live too far and we can't see each other very often. Thank you to Flora Queen. Brilliant service, nice flowers, can't be better. Thank you!
Gabi Shomer
26-09-2014
i ordered flowers to be sent to my wife who was visiting Milano. i ordered it after she landed and within one hour of ordering, by the time she got to the hotel the flowers were waiting for her at reception. Fantastic service and the quality of the flower was good as well. Thank You
Bruce Cain
26-09-2014
I wanted to send some flowers to a friend in Cyprus. I compared prices on the internet and Floraqueen were the cheapest. Their website was easy to operate. Some of the others were not very customer friendly. Most importantly the flowers were delivered on time as ordered and, while I did not see them myself, my friend was very pleased so I think that the quality must have been good.
Duane G
20-09-2014
Making the order was super easy and very streamlined. I had quite a few options in terms of floral arrangements and delivery times were flexible. When I saw the flowers myself, I was quite happy with the quality of the final product. So, all in all, I'll definitely consider them for the next time I need flowers.
Nadia Strahan
18-09-2014
Flowers arrived on the required day and were happily received and beautiful, however not the colours I was expecting.
David Neilson
12-05-2014
Placed the order on a Sunday afternoon prior to flying to Malta the next morning expecting it to be too late as a surprise gift. The bouquet had already arrived when I checked in with my Partner at the Phoenecia Hotel in Valleta on the Monday morning!! It was exactly as shown on the website picture.and my Partner was delighted..
Jcsd
07-05-2014
Terrific service: ordered flowers and chocs in UK at lunchtime and they reached delighted recipient in Vienna later that afternoon!
Linda Miller
14-04-2014
would definately recommend Flora Queen and will use them again. My mum was over the moon with the beautiful flowers.
L Rendell
12-04-2014
present for my mother in spain good service and looked like expected
Judith
09-04-2014
Delivered on the day as requested and recipient very happy with them.
Cormac
07-04-2014
great service delivered on time
Susan
07-04-2014
I ordered flowers to be sent to Spain from the UK for Mother's Day. Ordering online was really easy, extras like vases and cards were very reasonably priced. My order arrived on time and looked just like the picture on the website. One happy mum :) Recommended.
Louise Toomey
07-04-2014
The bouquet delivered looked even better than the one i bought online.
Bridget Goard
07-04-2014
Helpful, efficient, good quality flowers. Thank you.
Phil Byrne
06-04-2014
Right, so, I was working in the UAE and mothers day all of a sudden crops up in like four days time, eh....panic!!! Two thousand odd miles away a mother and a girlfriend are eagerly anticipating the wondrous delights that will be bestowed upon them by the brothers, sisters, fathers, husbands etc. All except me of course, but little do they know, I have a cunning plan...the internet!! Que several hours of trawling through webpage after webpage with a growing sense of unease that I will be flogged at some point in the near future for not coming up with the goods! Time ticked on until just before I was about to throw the laptop out of the window I come across FloraQueen! What do you mean what's that? Its only the greatest life saver on the net! I went onto the site and with-in ten minutes had ordered two bunches of flowers, wine and cards. And the flowers! I could not have picked a better bunch had I been there myself! Paid, dispatched, relief. The big day came around and I became a sort of Demi-god for the day...big brownie points and two very happy ladies. FloraQueen pulled my behind from out of the fire on that occasion and on another for a birthday! Its almost too easy to use! Highly recommend them, you cannot go wrong from anyplace on the planet with FloraQueen!
Brian Rowlands
06-04-2014
I have used FloraQeen a number of times to celebrate special occasions, to send flowers to family and friends and the service has always been perferect. Iwould recomend them to you.
Miss Valentina Xu
05-04-2014
I will recommend to friends.
Stephanie Williams
05-04-2014
Delivered to a Spainish address in perfect condition! We were impressed by the packaging and the flowers kept upright in a vase and box! Some of the flowers were closed but a couple days later they opened out beautifully! We loved the bubbly too! Perfect mothers day present! Thank you! Will definitely order from here again!
Sally Hewson
04-04-2014
Impressed as despite being informed that my flowers couldn't be delivered on the correct day to Taiwan, they were! :) However, spent some time deciding what colours to order for my daughter-in-law, went for yellows/oranges but the flowers she received were reds/pinks! :(
Marcus Eaton
29-03-2014
FloraQueen delivered these right on time and the arrangement was amazing! Thank you guys!
Francesco Li Santi
25-03-2014
Extremely satisfied. Timely delivery and good quality!
Lorena
24-03-2014
I liked the range of choice. Compared to competitors the price and quality were much better!
Lianne Sheridan
22-03-2014
A gorgeous delivery for my mum, who was wowed even just to receive the box ! Flowers in good condition, fresh which she was overjoyed at. Delivery man also very nice. Great customer service whilst I was trying to order due to internet issues I gave up, but received a call from the customer service team the next day to offer support. Will use again !
Dr A Sharman
20-03-2014
Unfortunately my wonderful lady is far away in a remote city in Russia! Flora queen not only delivered on the date, but pretty close to the flowers i had recommended. How cool is that, over 5,000 miles away...in aflat amongst a number of blocks and a city that some may never have heard of...well done. I will be using them again, bad luck Interflora, they could'nt deliver!!!!
Jhonny
18-03-2014
Perfect service around the world.
Judy Manning
08-03-2014
Things went wrong but Floraqueen entirely addressed the issues and I am very happy with the outcome. Nobody can be perfect all the time but good customer service is ultimatlely what makes the difference.Thank you.
Julie Tomlinson
08-03-2014
they deliver nice flowers
Elisabeta
07-03-2014
Thank you very much for your promptness, flexibility, quality of flowers, and elegance of delivery.
Manuela Fields
06-03-2014
Needed flowers send to geany fast. This website made it easy with lots to choose from. They were delivered on time and brought a smile to my aunts gave when she woke up from surgery.
Nikola M
03-03-2014
I ordered a bouquet for my auntie's birthday who lives in Belgium and she was pleased! Recommended
Brenda Keith
27-02-2014
I needed to send my son and daughter in law something to say well done and enjoy, floraqueen had the perfect solution. They were so pleased as was I. you must try them you won't be disappointed.
Danielle John
26-02-2014
I was able to choose a suitable floral arrangement which represented our sympathy and brought some comfort to a berieved friend. Selection, payment for and expedition of the flowers went very smootly and promptly.
Deborah Arnaut
24-02-2014
good. punctual, fresh flowers. only a little expensive...
C Graso
21-02-2014
So I'm in Perth, Western Australia and I really wanted to have a beautiful bunch of flowers delivered to a FB friend in Netherlands who was having surgery on Valentines Day - anyhow they delivered and she was over the moon when they arrived. FloraQueen, you made her day - thank you so much.
Colin Lane
21-02-2014
I used Flora Queen to send flowers on Valentines Day as I was away from home. My girlfriend was delighted with the flowers which were still making an amazing display when I returned home a week later.
Rodrigo
12-02-2014
Everything was ok except for the emails sended that went to spam.
J. Robbins
11-02-2014
I spent a bit of time searching for an online flower delivery service that I felt I could trust. FloraQueen's website was super easy to use. They advised me immediately about the local florist needing to substiute a flower colour and delivered the flowers on time. A week later the flowers are still doing great.
Sara Carabantes
10-02-2014
Was my mother's birthday and I am 3000 km away. She didn't receive the flowers. The order was not delivered on time but the csm support gave me a compensation and a nice quick responses over twitter. Thanks guys, I know it was not your fault but it was a very special day. I will use your services again for sure.
Gilbert Verbeken
08-02-2014
order from belgium and delivery to cusco (peru) suburb the day after
Nina Estes
06-02-2014
I ordered flowers for my mothers birthday who lives overseas. The flowers were delivered right on time and were beautiful. Great service!
Dr Simon Wright
04-02-2014
I was very pleased with the countries covered, the selection available, the ease of ordering and delivering a great product on time.
Olga Ananieva
01-02-2014
I ordered a Perfect Sunrise bouquet for my mom's 70th birthday. What I liked about them is that they emailed me the day before the delivery and right after the delivery. I also liked that they contacted my mom an hour before the delivery. The bouquet was very nice, and the flowers were really fresh. I was a bit disappointed though that they delivered the flowers the day before, I guess it's because my mom's birthday was on Saturday. Apart from that I'm happy with everything and will recommend FloraQueen to anybody. Olga. Dublin
A Godbehere
01-02-2014
Very good user friendly ordering system, excellent service, flowers good quality.
Astrid Suarez
30-01-2014
The bounch of flowers was super beautiful....!!! The only thing i didnt like was the message, it was written with a very ugly hand writting, not in delicate way, it would be better if the message comes printed. Thanks
Pilar Langley
28-01-2014
When I saw the pictures of the flowers I was impressed of it, then I ordered but I didn't see the little letters that say it comes without the vase and I was so dissapointed because I thought what you see is what you get I don't how much money you can charge for a vase but is better to charge a little more and the person will be happier
Sabina From Brisbane
25-01-2014
I am very pleased with the execution of my order which was placed from Australia and I could totally rely on a perfect and fresh delivery. The recipient was very pleased. It was not my first order with them and I would recommend them any time. Sabina
Sam Mundell
23-01-2014
I didn't see the flowers as they were delivered (on time) to my mum who lives in Spain. She said they were really beautiful, and perfect colours. She loved them.
A Client
22-01-2014
Delivery exceeded expectation, in a very short window given, flowers were good quality, gift also, message interesting approach, no mess no fuss, lots of monitoring progress, exceeded expectations, well priced. Reliable well intentioned, accurate following of stated requirement.
Antonio Gargano
22-01-2014
delivery was on time and it was a very nice bouquet
Miki
30-09-2013
The flower were as promised and on time. The payment easy one star less just because they are not actually on budget.
Show more reviews
Show fewer reviews