Share a sincere smile by way of our glorious pink gerberas, roses and chrysanthemums. Whatever the happy occasion you're celebrating, the bright colour of these darling pink flowers is sure to be met with a wide grin when they arrive. Perfect for saying "happy birthday," "thank you" or "congratulations!"


More about this bouquet:
Premium pink roses
Pink gerberas
Pink chrysanthemums
Decorative greenery
* Vase not included
We can guarantee the best quality flowers for each order.
100% Satisfaction guaranteed.
FloraQueen always sends the highest quality flowers.
All our flowers are shipped fresh, directly from our florist.
We always deliver on time!
FQ8008
Sincere Smile: Pink Roses and Gerberas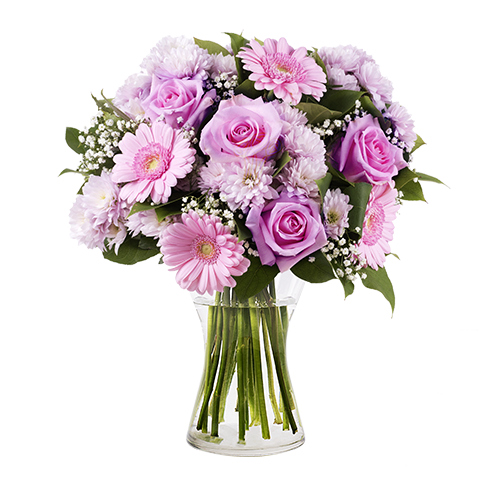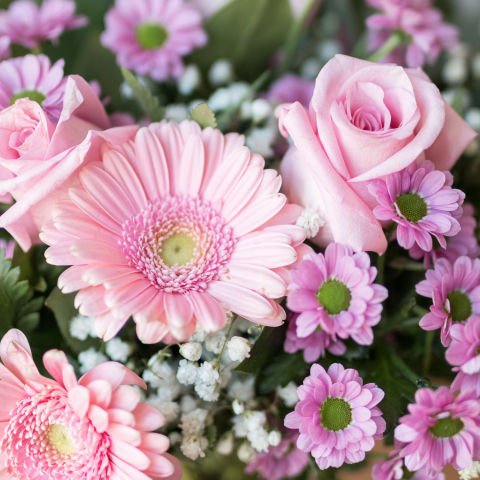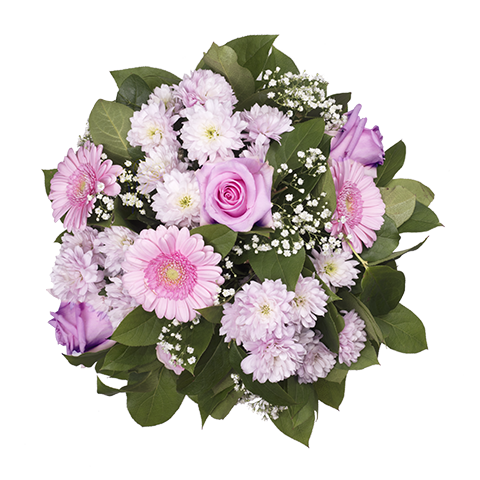 Punctual Delivery
Beautiful fresh flowers
Anywhere, anytime
Punctual Delivery
Fresh flowers
Expert florists
Bouquets you can enjoy for longer.
Some flowers arrive a little closed to ensure extra freshness and protection during shipping. Enjoy the magic of seeing them fully bloom.
What our customers say
20-02-2019
It was delivered late. Four days after the supposed delivery date.
Val
(Benalmádena , PUEBLO)
14-02-2019
Lovely arrangement of flowers very pleased but you forgot to put sender's name
Mrs J Bacchetta
(Palomares Almeria .)
26-01-2019
Very good service,would highly recommend and the flowers were beautiful.
17-01-2019
Easy to use website. I ordered from the UK for delivery in France. I chose flowers for my mothers 90th birthday. She lives in a very rural location in France but the bouquet arrived beautifully packaged first thing in the morning on the correct day and my mother was thrilled. And the flowers were as described on the website. I was kept informed by email about the status of my order all the way through from start to finish. Excellent service. Thank you so much.
15-01-2019
I was very pleased with your service and the flowers were delivered on time.
08-01-2019
Excellent service. Beautiful bouquet delivered on time.
02-01-2019
You made my day! So beatiful !
19-12-2018
Easy to order and deliver on time for my friend's birthday!
16-12-2018
Flowers and card was amazing, the teddy was a bit cheap
01-12-2018
Super beautiful surprise, thank you!
26-11-2018
Fast delivery, polite personnel, beautiful flowers. Thank you!
Toma Andrei
(Falconara Marittima)
22-11-2018
Excelent service, ordered for Italy while i was in England with no ptoblems, they arrived when they said. I will use again with confidence. Thank you.
Carla
(CABA (Buenos Aires))
13-11-2018
10-11-2018
Excelente embalaje, producto excelente
03-11-2018
Piękny bukiet z moimi ukochanym gerberami.
01-11-2018
Lovely surprise & packaging
20-10-2018
Flowers excellent, service good
15-10-2018
I was happy with the service very efficient . Thank you
15-10-2018
A feast for my eyes... wld have liked some dark green folliage peeping out between...but it is beautifl thank you...
Mariegarbutt
(Orihuela Costa la florida)
14-10-2018
Brilliant service.. ordered flowers from Ireland to Spain for same day delivery. They never fail. ;)
13-10-2018
Wonderful. Very efficient and the people that delivered it were so nice
Mrs
(Xemxija San Pawl il Bahar)
08-10-2018
Did not receive until 4.10pm, my husband thought it was early delivery but product is lovely.
Sofia
(San Giovanni La Punta)
25-09-2018
Servizio ottimo e puntuale
Stanley Bermudez
(Ferrol, La Coruña, España)
02-09-2018
01-09-2018
Very professional in all aspects will definitely use again
23-08-2018
Wonderful flowers. Loved it.
19-08-2018
Very fast and efficient service. The response from customer service was immediate. Although I'm a new customer I cannot fault the company.
Annette
(la cala de mijas)
10-08-2018
What a wonderful surprise. Very well presented and beautifully wrapped. Beauty in our upside down world of moving house.
Mafalda
(Jižní Předměstí, Plzeň)
09-08-2018
Super cute, nice delivery
Faryad_miami Florida
(Paris)
07-08-2018
FLOWERS WERE DELIVERED!!! VERY VERY HAPPY! It was NOT the one I ordered but thats OK. Because you never know what's in season at a particular time. However, the flower shop tried to get it close to what was ordered. I am not certain time of delivery but it was within 24 hours. Wife was extremely surprised in France. You guys came through. Much appreciated. I will definitely use your team in the future.
29-07-2018
No problems at all. Delivered as promised. Acceptable presentation & freshness of blooms. The Euro payment was a show stoppeer, not sure how that will fare, but the Bank will tell me.
29-07-2018
Too expensive for a small bouquet but overall, good service.
10-07-2018
The most beautiful flowers I've got ever! Thank you, love! :)
Natalia
(Sant Guim de Freixenet)
07-07-2018
Really beautoful flowers and the service is grede.
Patricia
(Castelló de la Plana)
06-07-2018
Flowers were a gift and it arrived so quick and they are very nice.
05-07-2018
It's beautiful for me because I got from my husband.
30-06-2018
The wine did not arrive with the order, but the flowers are beautiful and the florist called to see if we were home which is very good. My brother got a refund for the wine, so all is good.
Norah
(Principat D'Andorra)
18-06-2018
Very nice bouquet and very pleasant delivery , many thanks.Douglas and Norah Smith.
14-06-2018
Great service and nice flowers! Thank you for nice surprise!
Mary
(Pinar de Campoverde)
18-05-2018
15-05-2018
It was really nice!! Lovely flowers! Thanks a lot!
Mario Battello
(Scalenghe)
14-05-2018
Despite my last minute order they delivered the beautiful flowers on time.
04-05-2018
It was all Fine and the flowers are Great. I ordered from Germany for a Location in Bangkok.
27-04-2018
It's beautiful however the chocolate is after expiration date.
27-04-2018
Nice bouquet, dilevered on time
25-04-2018
Quick, the flowers are fresh and beautiful!!
25-04-2018
Received a lovely bouquet of flowers sent by my friend. They arrived when they were expected to.
Maria
(Lapa dos Dinheiros)
24-04-2018
Anastasia
(Sankt-Peterburg)
23-04-2018
Thanks for beautiful flowers
Steven
23-04-2018
Simple and fast, I can order at night in the US and delivery make the next day in the EU. This is my 5th order, I will not be ordering from anywhere else.S
03-04-2018
The Text was written wrong, but anything else was perfect.
Lúcia
(Cruz Quebrada - Dafundo)
30-03-2018
The flowers were fantástic and were delivered at home , by end pf the day - good
Margaret
(Jacarilla Alicante)
30-03-2018
20-03-2018
Everything was perfect! :)
Justo
(Malgrat de Mar, Barcelona)
16-03-2018
Muy bonito y en perfecto estado. Gracias
15-03-2018
The flowers are lovely BUT they were requested to be delivered on Mothers day and son paid extra for that & was assured they would be with me on that day.Imagine how disappointed I was to receive nothing on that important day.
14-03-2018
Very lovely arrangement delivered as requested
13-03-2018
Ordered my flowers late for mother's day but still got there on time and very happy with the service provided.
Anita
(Sesvetski Kraljevec)
11-03-2018
Beautiful flowers and prompt delivery
Laverne T. Skidmore
(Haimhausen)
11-03-2018
We were very pleased with FloraQueen. I especially liked the fact that they made a phone call to make sure our daughter-in-law was home before they delivered the flowers.
Darren Moore
(Torrevieja)
11-03-2018
First time using FloraQueen, and i will be again. It was a risk ordering a bouquet in England to be delivered for mothers day in Spain. It was delivered on time and my mother loved it. What more could you want.
Jean Sleep
(Didim, Aydin)
10-03-2018
My mum loved the flowers and they are stunning although rather expensive to send to Turkey..Worth it to see my mum's face!!!
09-03-2018
arrived on time and the bouqet was exactly what i saw online
05-03-2018
Very good. Thank you! :-) Great Job!
Valentina Masciopinto
(magliano sabina)
02-03-2018
Pleased Buyer
(Barcelona)
27-02-2018
The flowers arrived on time and made all very happy.
14-02-2018
Beautiful flowers and wonderful service
02-02-2018
No card was delivered with flowers so have no idea who sent them. If you have a card can you please text me a copy
Julia
(Sao Bras Alportel)
22-01-2018
Flowers were lovely. Delivery was a bit difficult but we found a compromise
Juan Sebastian Salazar Aguirre
(Verhny Ufaley)
30-12-2017
It was an amazing service! Really fast, high quality and attention to the details. Thank you so much! I will continue using it!
Alessia
(Cavazzale, Vicenza)
21-12-2017
21-12-2017
I like my flowers alot. They are really pretty.
Laura
(Saint-Yrieix-sur-Charente)
19-12-2017
Beautiful flowers and excellent service
17-12-2017
Would like to know who sent them
15-12-2017
lovely flowers and delivery
Maria
(San justo Buenos Aires)
10-12-2017
I was very surprised! The flowers are beautiful
08-12-2017
It could be wrapped in a paper.Flowers are very nice,service was great
08-12-2017
It was wonderful nad The flower are beautiful
08-12-2017
Great service. The flowers were beautify and delivered in time
04-12-2017
Ιt was amazingly fresh!!well done
29-11-2017
Comprato dal Canada e consegnato in Italia in meno di 24 ore. Servizio fantastico. Fiori freschi e bellisimi. Consigliatissimo
Mr Yates
(Saint-Sulpice-de-Favières)
25-11-2017
Quick service and flowers were lovely
Larisachigrinova
(Lausanne)
22-11-2017
20-11-2017
An excellent service. I have used it for the last five years to send flowers from USA to Spain.
18-11-2017
trusted and good services
16-11-2017
Delivered in time and as expected.
14-11-2017
The flowers that were sent looked a lot better on the website than what they actually received that's why the 4 stars instead of 5 thank you
13-11-2017
This is a wonderful and easy way to send flowers to my family in Germany. The flowers stay fresh for a long time and are at a very affordable price.
10-11-2017
I ordered birthday flowers from my Houston, Texas, home one Sunday evening to be delivered the next day in Padua, Italy. The flowers were delivered before I woke up on Monday and were beautiful. Thank you for a speedy delivery!
Annette Franklin
(Montcova)
09-11-2017
Thank you for helping me send flowers to my friends in Mexico.
Susanne Tomaschek
(Ciudad de México)
01-11-2017
As always, flowers were beautiful, fresh and delivered as requested, on the next day! I'm always happy with FloraQueen!
Jane Thomson
(Schwabmünchen)
01-11-2017
Excellent service for flowers abroad
24-10-2017
No complaints at all! Flowers where delivered on the scheduled day which was with the time difference basically the same day. The flowers are beautiful. (saw a pic after delivery) Thank you so much.
23-10-2017
Ordered flowers on Thursday afternoon, to be delivered to Spain on the Friday. The whole experience was faultless, the price was super competitive and they even chucked in a free box of chocolates. Would highly recommend, this is the second time I've sent flowers to Spain from FloraQueen and I will be using them again
22-10-2017
Great work. Well done. Thank you.
Jānis Mozumačs
(Frosinone)
07-10-2017
Excellent service. Flowers looked similar to the image. Was a great surprise to recipient. Thanks. Will use your service again.
06-10-2017
Great, fast, trustworthy service. I am very happy with FloraQueen. I have used their service a couple of times already sending flowers to Bulgaria and Portugal. I will use them in the future again. They give you a good discount on next order also.
Yana Gerasimenko
(Parco Mazzola)
06-10-2017
04-10-2017
My experience in providing flowers to my daughter was great. They were beautiful, they came on time and I could not be more pleased. Thank you.Sincerely,Rev. Canon James E. Byrum
Sandra Matos-cardoso
(Ciudad Merliot, Sta Tecla)
26-09-2017
I placed an order in New York for my grandmother in El Salvador. The arrangement was delivered the next day. I was sent an e-mail letting me know when it had been delivered. The flowers were beautiful and my grandma was extremely happy! I definitely plan on using this company again, and highly recommend it.
14-09-2017
FloraQueen delivered the right flowers at the right time. Thanks.
07-09-2017
Flowers have been delivered in perfect time in a place that I thought it could be difficult . Thank you for your good job . Guess I will use again your service in the future .
22-08-2017
Fast same day delivery, excellent communication, FloraQueen even called when there was no answer at the delivery address which was an international address! Flowers were lovely.
03-08-2017
It was an easy transaction-the arrangement arrived the next day to my daughter in Switzerland and it was quite lovely! Great job!
02-08-2017
I was happy with the delivery and presentation it was on time and the recipient was satisfied
26-06-2017
Efficient service. My friends are always pleased with flowers I send.
17-06-2017
Sounds like everything went well, but my girlfriend (the recipient) mentioned some misspelling of the message. I don't mind though, as it was an English message, likely written by an Italian native speaker.
Sylwia
(Sesto San Giovanni)
16-06-2017
Delivered when agreed and to a very good quality. Needless to say, the receiver was really pleased.
13-06-2017
Used them a few times and have yet to let me down...... well done
11-06-2017
Flowers arrived on time and matched expectations from the picture on the website. First class service as usual.
07-06-2017
Delivered the flowers to my mum on her Birthday. She loved them. She said they were beautiful.
Serhiy Chykharivskyy
(Rome)
29-05-2017
Flowers ordered and delivered on time . Thank you. Flower composition on website and actually been delivered are slightly different .
Char Ella Reynolds
(Lagos)
28-05-2017
Excellent service! Good price, delivered in good time. I ordered flowers for my mums birthday and she loved them. Would definitely recommend.
17-05-2017
good service, very satisfied customer here...thank you
16-05-2017
I ordered a bouquet from within Australia for Mother's Day and in less than 24 hours it had been delivered to the specified address in Germany. The flowers looked beautiful and exactly as shown online. Great service and a really good way to send gifts while overseas!
24-04-2017
Excellent service! I requested a next day delivery and the everything was done smoothly. It's the second time I use Floraqueen and I have no regrets at all!
Indries Gabriel
(Calci (PI))
21-03-2017
10-02-2017
after i made the mistae and changed the adress the flowers got to the new address i gave you they are beautiful thank you for the service
25-01-2017
Very quick and easy to order the flowers. I believe the flowers were lovely and they arrived on time.
30-11-2016
The customer service was amazing, due to me giving the wrong address flora queen could not have done anymore to make sure the flowers arrived at the right address on the right date. There we many emails back and fore, until I contacted the relative who had send me the address and they had made a big mistake with the spelling. I have apologised to flora queen as the mistake was mine, but they certainly went above and beyond. So thank you very much. I would definitely use them again, but I would make sure I have the right address next time! The flowers were send to Germany from the UK. The flowers were beautiful.
Jim Turner
(Belvidere, IL)
17-11-2016
The FloraQueen website is easy to use and delivery is made on time with the bouquet being exactly as described.
Jacqueline Hathaway
06-08-2016
My sister loved her flowers,she said how beautiful they were, and the little Teddy is now sitting on a table in her bedroom. The service from Flora Queen was excellent from start to finish. I will definitely be going back to them, and would certainly recommend them. Thankyou..
Jean Chatland
03-08-2016
Flowers delivered for the date ordered, lovely and fresh and the web site is so easy to use
Janaina De Blois
21-04-2016
I live in The Netherlands and a family member of a friend of mine passed away. So I could organise the flowers which has been delivered in Spain. I just can say that the service it was worth it and I appreciate it for all the attention. Gracias !
Mrs L Mckevitt
30-03-2016
Flowers delivered on time in Sicily for birthday. Friend very pleased with them. Would use floraqueen again.
Stanislava
10-03-2016
Thanks a lot to FloraQueen from Russia! Delivered on time, fresh,beautiful and the courier is very very very good! He tried to reach my mom by mobile phone and she didn't hear BUT he found a way to come and reach her at home even it was not easy to enter. We will use your services in future for sure!
Yulia
31-08-2015
Thank you for easy access, great and more importantly quick service even on Sundays. My beautiful mama loved this beautiful surprise I arranged with your help. Flowers lasted for very long, and bouquet was stunning. No complications. I'm extremely happy to be able to share my love with important people in my life even being miles and miles away from them, on the other world's end. Simply, Thank you! xx
Stephanie Coleman
01-08-2015
Flowers were delivered to Germany at the correct time. They were lovely. The recipient sent me a photo of them.
Jerry Kotzur
23-07-2015
I am very pleased with Floraqueen's service. The products are excellent quality and the service is impeccable. The staff is courteous, knowledgeable, professional and get the job done. Deliveries are made on time every time. Thanks for making international flower deliveries so easy, Jerry Kotzur
Valerie Christiaans
03-07-2015
So easy. Live up to their promise , beautiful flowers, delivery on time. What more can you ask for
Laetitia Rew
25-06-2015
Ordered a large bouquet from FloraQueen was beautiful! Definitely would recommend!
Barbara Garrett
24-04-2015
I am overjoyed to say that my experience with Flora Queen exceeded my expectations with the quality of the flowers sent and how everything was handled from start to finish! In this day where technology allows you to see what you delivered halfway around the world, it makes me happy to say that I was for once "not taken advantage of", I saw the vase of flowers via a picture on Facebook just after delivery and the flowers were beautiful, fresh and most importantly, JUST LIKE the flowers in the picture that I chose. I really means something to know what you sent, was what was received!
Julia E.
16-04-2015
Wonderfull service! Super quick delivery!!! One happy customer!
Chris Pearcey
11-04-2015
The recipient was very pleased with the flowers and received them on the promised delivery date.
Mrs Kellard
11-04-2015
I have sent bouquets to friends and family both in the UKand Australia, together with a wreath to Ireland. All recepients totally happy.....
Therse Jasper
09-04-2015
I have been absolutely satisfied with your services and your kindness. Thank you very much .
Roselyn
02-04-2015
Great service!! Kept me informed all the way and delivered on time as promised. Very pleased :) Thank you!!
Liam Lysaght
27-03-2015
Easy website to order. Flowers were beautiful and delivered exactly when they were supposed to be. Efficient and fast service.
Christine Judge
26-03-2015
Flowers were excellent. My family sent me picture and I am pleased to say that they were much better. Good value for money. Florist rang first to arrange delivery as my sister was at work. I would use Flora Queen again.
Joanne Gorton
26-03-2015
The flowers were beautiful, well packed to avoid damage. They arrived when requested. I had never sent flowers to be delivered abroad before and I am glad a chose FloraQueen. I would use them again and would recommend them to anyone.
Paula Knowles
25-03-2015
i placed an order from the UK, i had not got the correct address but FloraQueen helped and the beautiful flowers were delivered on time. would use this service again
Customer
23-03-2015
Great company. Trustworthy, honest and reliable and I will continue to do business with them.
Marilyn Gray
21-03-2015
I wanted to get flowers to my mum for Mothers day (15th March in UK). She lives in Spain, so went surfing the internet. I found Flora Queen and decided to give them a go. They didn't disappoint. My Mother received the flowers the next day, boxed and perfect. It was a generous bouquet for the price.
Debra Wilson
21-03-2015
Thank you for a great, easy to use website and efficient service everything went to plan and my friend in Spain loved her 50th birthday flowers
Caterina Piga
20-03-2015
I want to send flowers to my friend in Italy,( before I have to ask relatives in Italy to buy flowers there for me, then send money to them), so I thought wonder if I can send flowers from here and found your site. I did ordered the flower for my friend and she got on her Birthday the day I requested and she send me the picture of them. So from now on if I have to send flowers in Italy or around the world I will use your site. Thank you!
Alexandra Fischer
19-03-2015
I found the online service of FloraQueen exemplary - no other international florist delivery has ever bothered to keep me apprised of delivery etc. or been such good communicators. The only "negative" was the florist in Norway delivered the flowers to my daughter's door but didn't knock and give them to her in person or call to say they were coming. They sat outside for 24+hrs til I called her and told her to go look (she is an invalid). They could have frozen or been torn apart by animals or stolen. And that means she didn't get them on her birthday. I would definitely use FloraQueen again.
Jean Tirado
18-03-2015
Well, i took the service for an urgent delivery, they maybe took more time than arranged to do it (considering it was a village 40 mins away from Paris) , but the results were amazing.. i saw the pics and the decoration of the flowers were top quality!. The recipient was extremely happy. I recommed it very much! Great service!
Kit Marchese
07-03-2015
I initially placed this order with Interflora, thiking that they are such a well-known and established organisation that there would be no problem in sending flowers to a village in the south of Italy. However Interflora contacted me to say that they were unable to fullfil my order. I then visited Floraqueen's website. It was very easy to use, the prices were reasonable (I have never sent flowers abroad in my life and costs in general are a shock to us "oldies"!) and I had no difficulties at all in placing my order. I was expecting a further phone call to say that the delivery would not be possible, but no: I received e-mail confirmation that my order was being prepared and a further communication to say that it had been delivered. Floraqueen is a very user-friendly site and efficient too and if I ever have cause to use a florist again then it would be Floraqueen. LS Bedfordshire
Rachel Coventry :
(Manilva)
27-02-2015
this is the third time ai have used Floraqueen, and each time the flowers have been delivered on time, and the bouquets have been beautiful - lasting well over a week. The delivery people have gone that extra mile to ensure the right person received the flowers and in good condition. Well done again to Floraqueen.
Mr Betteley
26-02-2015
Excellent service and quality product
Catiusa
13-02-2015
I remembered in the last moment it would be nice to surprise my girlfriend for her birthday. She lives in Italy, Milano. I started looking all over the internet for floral services in Italy and I found Floraqueen, I looked at their website and I liked it, I read a few reviews they were all good. I ordered today and they should delivery in the same day. After I placed the order I searched reviews on Trustpilot and facebook, Gosh!!! all reviews are 90% negative. I was scared and I did not have any hope that my order will arrive on time! but surprise, my case was successful and i have to say thanks to Floraqueen for best services, the only fact that I noticed is that what they show on the website is not the same to what they delivered. But i liked and still had the maximum effect. My bestfriend was crying of happiness and i really appreciate that! i felt like i was there for a few moments! Many Thanks. I will reorder again soon!
M Id
08-02-2015
Ordening was smooth, flowers delibered exactly as planned and that on the other Side of the world! Overall a bit pricey, the bunch of flowers chosen was a mix of gerberas and roses, the delivered one had a bit more gerberas than roses... The flowers made my 80-year-old very happy, that's priceless!
Silviu Briota & Kerrie Chatwin
08-02-2015
After being dissatisfied with my order for my mother, Marcello from FloraQueen stepped up and solved the issue. He sent a new fresh bouquet of gorgeous flowers to my mom and she was very happy with them! He called me from a different country to try to make it right, and he did. I was very impressed with the effort put in to it. That's real customer service. Thank you FloraQueen for making my mother happy on her birthday! 5 stars and I will use FloraQueen again!
Margaret Tarjani
07-02-2015
I am very pleased with the service my daughter was over the moon with her flowers. I will definitely use again and recommend
Sheila Tempest
30-01-2015
This is the first time I have sent flowers to Cyprus and was very impressed with the process. They e mailed me at each stage of the flowers and when they had been delivered. I saw a picture of the flowers from the recipiant and. They were what was in the picture on the web site. I was charged delivery and did think it was free when first went on the web site.
Lorraine Patterson
06-01-2015
Really beautiful my mum was delighted with her anniversary flowers. So good I am going to use Floraqueen again for her Birthday!
Linda Nordvold
19-12-2014
Worked verye well without any problems
Diane Smith
17-12-2014
A last minute decision of mine to send some Birthday flowers to my sister in law in Germany. They arrived on time and as fresh as the day they were picked. I would highly recommend Flora Queen to all my family and friends.
Dawn Jordan
11-12-2014
As my mum lives abroad Iwanted to make her 70th extra special and she said they were the nicest flowers whe had ever received, so delighted and would defininately use Floraqueen again.
Andrei Chelekhov
06-12-2014
Thank you FloraQueen! We are living in Canada and ordered flowers and gift for our daughter in Italy for her birthday. Everything was on time and exactly as we expected. Our daughter was very happy.
Alicja Kapturska
(Paderborn)
05-12-2014
I have ordered flowers for a family member who lives in Germany. The service was perfect and on time. She loved the surprise and she loved the flowers. I will definitely use the service again.
Pamela Doogan
04-12-2014
I would higly recommend Floraqueen and will most certainly be using this service again flowers were amazing delivery was prompt 100 % happy with all aspects :)
Shelley
03-12-2014
Ordered birthday flowers for daughter in Madrid, Spain. Very easy, delivered on time. My daughter sent us a picture of the flowers. Color of flowers were a bit different from what I ordered but still they were very nice.
Mr Arnason
26-11-2014
I didn´t know about Flora Queen before I found it on the web. As I needed to get flowers quickly to a friend of mine in a different country I was glad to find Flora Queen. So to make it short. Everything they promised was done and not one problem. Easy to make an order and delievery on time.
Charilaos
21-10-2014
I find it pricy but the quality of the flowers and service is very good. It is very nice that we get the notifications which show the progress of the delivery. The extras you can buy apart of the flowers (e.g. ribbons) can be not exactly as nice as in the picture. I ordered flowers and as extras a pink ribbon but it was not so pretty as I saw it in the picture. I understand though that it is difficult to have a universal quality and availability.
Nadine Caruana
20-10-2014
A very nice bouqet which the receiver liked a lot. Thanks so much
Natasha Di Palmo
17-10-2014
I bought a medium pink flower bouquet with a small chocolate box and bday card for my sister's bday for 48€. I bought it from uk to send it in Italy. The delivery man called my sister to tell her there was a gift for her to pick up in the house lobby but my sister was working so told him to leave it in the lobby. My sister when came back home and found the bouquet in the lobby was soooo happy and surprised!!It was simply perfect!!I will come back on FloraQueen site!!
Ann Willcock
14-10-2014
For some reason my payment went through twice but Fora Queen were straight onto it and refunded the money before I knew it had happened. Their constant attention to detail was much appreciated. The recipient loved the flowers.
Frank Grützmacher-técourt
09-10-2014
Deliveries are on time, but the quality of the bouquet is not always as nice as advertised.
Alex Gumbleton
07-10-2014
great service! fast delivery! excellent
Andreas
01-10-2014
Really nice flowers and fresh, high quality! On time and perfect conditions; always again
Mair Patricia Huntzinger
29-09-2014
I was really delighted with the choice of flowers to send to my aunt on her 87th birthday. I'd left it to the last minute but the service I received was quick and very efficient; the bouquet arrived in 24 hours and I had emails at every step of the way to keep me in touch with the flowers' progress. My aunt couldn't have been more delighted with the beautiful blooms and we both felt much closer than the thousands of miles between us.
Gayle Hermsen
29-09-2014
The online ordering was easy, the flowers exactly as pictured, and the phone service when we had to call Spain from Australia when we realised there would be a problem with delivery, was outstanding. We spoke to Chiara who was wonderful and exceptionally helpful. Thank you
Brad
24-09-2014
I am from the UK, It was a last minute decision by myself. Placed my order Tuesday morning, and the flowers we're delivered to an office block in one of the busiest business districts in Sao Paulo Brazil the following morning. Initially my payment was declined, and I was called immediately by the Flora Queen office to rectify the problem. They are based in Spain but speak perfect English. A lady called Layla was extremely helpful. The product (flowers) were of the highest quality, making a lady at the other of side of the Atlantic very happy! I would recommend this service to anyone !!
C Cooper
21-09-2014
Easy to use Web site, always kept informed about my purchase and most importantly my mum like her flowers
David Roberts
16-09-2014
The order went through very smoothly, the transactions was perfect, from ordering to communication with the florist and delivery and final product was very good. i would recommend. thanks.
Sandro Pasini
12-05-2014
Very Good Flower Delivery Service: On Time and Great Quality!
Katherine Wheatley Molina
09-05-2014
Good value for money, beautiful bouquet.
Henry Courtney
02-05-2014
While I was away on business in Brazil I made a last minute request for a floral delivery on a Sunday (Mother´s Day) but the floral arrangement was delivered promptly with top class courtesy. Most other florists available on the internet would not deliver on a Sunday. I can confidently recommend FlowerQueen services to anyone looking for prompt friendly service, especially in the Cork area.
Hani Eldor
30-04-2014
it is so comfortable to send flowers via the net, and getting positive feedback from the recipients thanx
Marianna
29-04-2014
I ordered flowers from Slovakia, payed with card an in three days, my flowers was delivered, recipient was very happy, thank you. I recommend definitely. I saw photo of flowers, were beautiful.
Nigar Aliyeva
26-04-2014
Overall good service, however confirmation e-mail saying that flowers have been delivered arrived 5 days later.
Jonathan Grubb
22-04-2014
Obviously, its always a gamble to order something that needs to be (a) delivered on time (b) to the correct oversea's address (c) to a decent quality and (d) at a reasonable price. Thankfully FloraQueen delivered on all fronts and my mother was absolutely delighted with her mothers day bouquet. Would have no hesitation using / recommending FloraQueen.
Carolin Chapman
18-04-2014
My friend was ecstatic with her flowers(sent photos too, looked great!) my only reservation Switzerland is too expensive, compared to other countries I send flowers to.
Rickard Flink
15-04-2014
I sent a birthday flowers for my moms 70th birthday The site is very easy to navigate and I like the possibillity to add extra things to the flowers like choklate and wine Mum was really impressed with the flowers ! Thanx
Mounir
09-04-2014
On time delivery, and the quality of the flowers were absolut awesome. Perfect done.
Tanja Dawson
07-04-2014
Easy booking. I did make mistake on the date of delivery. Which onece I noticed it, and raised my concern by email it was rectified within two hors . really good service, flowers where lovely too.
K. Brown
05-04-2014
I live in New Zealand and I always order my flowers for my family in Europe from Floraqueen. I have never been disappointed. They are always fresh, arrive on time and they are very competitive in price. In fact, they are by far the cheapest on-line florist I have used. I have stopped searching for a better deal because I know that Floraqueen is the best and cheapest.
Mr John Claye
05-04-2014
Sent flowers to my sister in South Africa, she loved them, arrived on time and looked good.
Jone Virtanen
05-04-2014
Fast delivery, good quality .. Five stars
Lorraine Mason
04-04-2014
I ordered these beautiful flowers for my Mum for Mothers Day who lives in Malta, I was not sure what to expect but the ordering system online was very easy to use, I was kept informed, my first e-mail was confirmation of my order, my 2nd e-mail was to advise that the flowers were being prepared for delivery, I was advised that I would also receive an e-mail to confirm delivery was made but this did not arrive but I did get an email from my Mum saying she had received her flowers and was over the moon with them, she could not get over how beautiful they were and was amazed at how large the roses were, she had never seen roses so big before, she was very happy. I will definitely use you again.
Genoux Martine
03-04-2014
I sended this flowers from France and everything was OK.
Anna Makowska
02-04-2014
It was my first time when I use online shopping flowers and I am very satisfied.
Raena Jennings
29-03-2014
Dependable service which has helped me stay connected with family abroad. Beautiful flowers always on time and with notification items arrived as scheduled.
Robin Barthlow Busan
26-03-2014
Have used Floraqueen to get flowers to Switzerland and Spain. Everything was seemless and the flowers beautiful!
Wayne Tsipouras
25-03-2014
Hello FloraQueen, Your delivery was perfect, and Very well appreciated. Many thanks for your prompt and reliable service. I will be happy to recommend your products to anyone. Thanks Again! Dankeschön!
Iryna Belaya
24-03-2014
Wonderful really quick delivery of flowers! Very fresh flowers and the handwriting was so good on the card that my mum thought that i wrote it!
Deborah Garcia
21-03-2014
Very good service, the flowers were beautiful and fresh, my mom was so happy!!!
Elisabeth
21-03-2014
Have used Floraqueen on fifteen (15) occasions and have only been disappointed once, but to Floraqueen's credit the problem of fixed within 24 hours.
Paulina Grochocka
03-03-2014
Everything was fine,but it could be better. The flowers was not like on the foto. There should be more of them. The color was ok, but the bouquet was too simple, very different than it was on the foto.
Ilya
28-02-2014
Exellent flowers and delivery in time
Clair Watts
27-02-2014
I have used this company many times to provide flowers to recipients. Great flowers have arrived on all but one occasion. We work in Europe so have used at least 6+ European destinations (probably more). For the one problem delivery the local florist made an error and Floraqueen offered an immediate replacement delivery with apologies. It is when problems occur that you find out the true quality of the service. We will keep using them.
Ryan Hair
21-02-2014
The handwritten note was the icing on the cake, just the personal touch that made the gift of flowers more than just beautiful flowers. Thank you FloraQueen!
Stavri Anastasiou
21-02-2014
Flora Queen has MANY times assist me to send bouquets to any country I chosen and bring smiles to friends and family. Thank you for help me, for assist me any time was needed. Great products, good prices and amazing customer service. Thank you
Igor Kasprzycki
21-02-2014
Well, well Everything was perfect :) next time I'll send flowers by Flora Queen :)
Michael Eastabrooks
20-02-2014
I was a little reluctant to order from this site because they were a lot cheaper than the others, but my girlfriend was super happy and it was on time.
Mary E Kuypers
20-02-2014
My goal was to send flowers to our daughter in Italy for Valentine's day. Being in the US, I had no idea how to go about it. Luckily FloraQueen was well advertised online and I was able to make a simple. online order which made my homesick daughter feel very happy and loved!
Natalie Millrod
14-02-2014
U should concider lowing prices. A little expensive for flowers.
David T.
11-02-2014
Living in Australia sending flowers to the Canaries. Much cheaper than any competitor and even cheaper than local florists. The exact product I requested was not available, but a replacement was issued without delay and I was clearly informed of this. Very refreshing. Will definitely use again.
Krissy
11-02-2014
Ordering was easy and the flowers arrived, as ordered and on time. Could not have been better.
Rit
10-02-2014
It was a good service overall Defo use them for international service
Antonio Moreno
07-02-2014
Found this site to be very good they say it will be delivered on the day you wanted and that is what happens. Will use again in the future
Pucciatti Nicoletta
01-02-2014
It's the best way to send flowers to your loved ones from the comfort your your home. I found Flora Queen to be trustworthy and "on the ball". I will defenetly spread their name
Elena
29-01-2014
I use Floraqueen everytime I want to send flowers to another country. They have good choise of flowers, perfect service, nice support personnel who answer to you fast and polite. I'll advise Floraqueen to my friends. The only thing is prices - it's rather expensive. But they have good system of discounts for frequent shopper.
Teresa Loxton
27-01-2014
My order with FloraQueen was handled promptly and delivered on time. My daughter in law sent me a picture of the flowers via facebook to thank me, I was a little disappointed to see the flowers did not look as good as the ones ordered, there didnt appear to be any roses in the bunch on the photo and overall looked like a cheeper option. I can send on a picture if required.
Aravind
26-01-2014
Have been able to send flowers to friends in Europe with ease and with out worry.
Sue Dewsnap
23-01-2014
Would recommend. No hassle from NZ
Annalisa Brown
14-01-2014
Placing an order through FloraQueen is seamless. The service is exemplary where you are kept up to date with the status of your order (it is so reassuring). The quality of good delivered has never failed to impress. In short, I wouldn't consider any other company to go through.
Show more reviews
Show fewer reviews