This powerful yet classic bouquet features red daisies at their most dramatic. Send this to express deep admiration, happiness, and love.


More about this bouquet:
Red chrysanthemums
Decorative greenery
* Vase not included
We can guarantee the best quality flowers for each order.
100% Satisfaction guaranteed.
FloraQueen always sends the highest quality flowers.
All our flowers are shipped fresh, directly from our florist.
We always deliver on time!
FQ2312
Countryside Walk: Red Chrysanthemums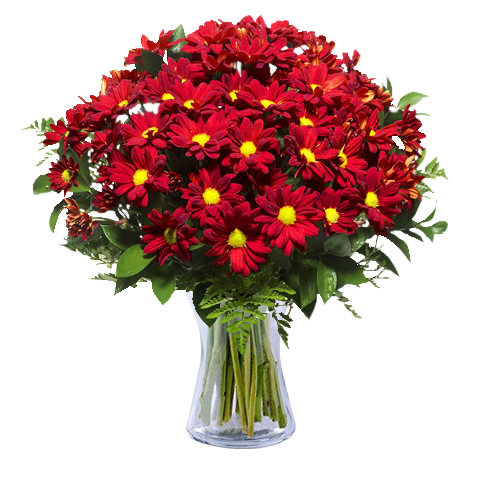 Punctual Delivery
Beautiful fresh flowers
Anywhere, anytime
Punctual Delivery
Fresh flowers
Expert florists
Bouquets you can enjoy for longer.
Some flowers arrive a little closed to ensure extra freshness and protection during shipping. Enjoy the magic of seeing them fully bloom.
What our customers say
25-11-2018
thanks, everything is fine .. good service beautiful flowers
Rachael Glynn
(Roodt-sur-Syre)
10-03-2018
Great service- ordered in the morning for the same delivery option and early that afternoon it was delivered. It was a special day as she was getting married and she loved the arrangement that I picked. Would absolutely use the service again.
Kevin Thomas
(Houston Texas)
16-07-2015
I ordered a bouquet for Women's Day about 3 weeks ahead. On the day nothing arrived and no messages or communication. I contacted customer service, website then showed delivery next day, still nothing, then a message that the local florist had forgotten, would I like delivery or full refund. Then flowers arrived pm, nothing like the photo, 1 pink rose, nl yellow, when it was yellow and pink roses?? I contacted again, to be told they had informed local florist of the standard expected and would give me half value refund. I said the recipient said they could actually come and take the flowers back, they were that poor she didn't want them. I strongly advise everyone to avoid this company, customer service is atrocious, communication is pathetic and I will never use them again. Please spread the word... avoid at all costs.
Danelis Espinal
22-01-2015
Hi, I have to share that my flower delivery was right on time. The Red Dawn: red chrysanthemums flowers were beautiful and I'm so happy that I was able to deliver to Serbia at a great price. Thank you so much for the great service.
Iain M
01-10-2014
The website is user-friendly...order was placed in no time at all. Delivery was also made in the given time-frame and the recipient was very happy. What more can you want thank you :)
Brandie Ellis
16-04-2014
Great service! Would use again and highly recommend! Went above and beyond to help me!!
Lorraine Kill
05-04-2014
Honestly im not the most trusting of people but I have used Floraqueen twice now and they have never let me down. Would recommend to everyone. Superb.
Telmo Dias Sequeira
07-03-2014
The flower arrived on time, the servise was wonderful and it was what I expected. Perfect.
Manuel Cortes
04-03-2014
The servjce was correct, delivered on time and flowers as selected. The box containing the flowers was really great.
Happy Mom!
24-02-2014
FloraQueen did a wonderful job with the flowers my son sent my daughter-in-law for their first Valentine's Day being married. The flowers delivered were not the ones that were pictured on the site. They were definitely upgraded to the more expensive selection. She was thrilled beyond expectations!
Denisa Cubinkova
22-02-2014
I have used your service twice already and I was very satisfield. My mum and my sister were very happy as it was a birthday gift for both of them. Thank you very much once again that even miles away I can still make a lovely surprise for my loved ones.
Mariam Alhammadi
21-02-2014
In love with floraqueen service
Show more reviews
Show fewer reviews