Mixing together the colours of love to create a pleasing blend of red, pink and white flowers, this rose and lily bouquet is a real delight. Share this surprise and send a reminder of your love and affection in time for Valentine's Day, an anniversary or on their birthday.


More about this bouquet:
White lilies
Premium pink and red roses
Decorative greenery
* Vase not included
We can guarantee the best quality flowers for each order.
100% Satisfaction guaranteed.
FloraQueen always sends the highest quality flowers.
All our flowers are shipped fresh, directly from our florist.
We always deliver on time!
FQ2331
Love Cocktail: Roses and Lilies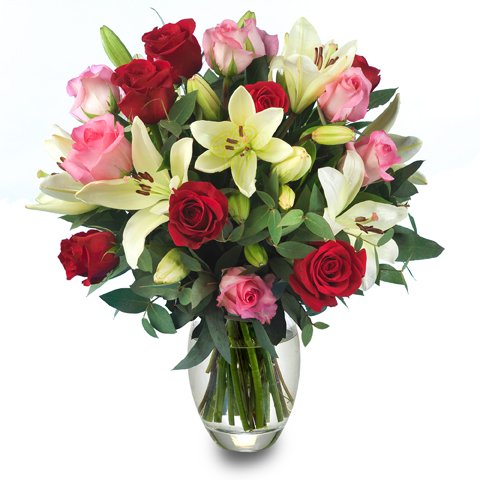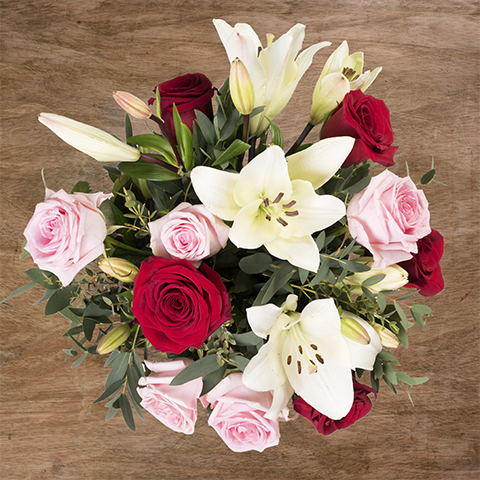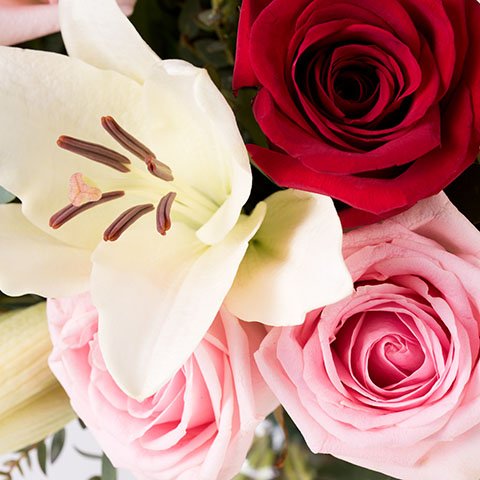 Punctual Delivery
Beautiful fresh flowers
Anywhere, anytime
Punctual Delivery
Fresh flowers
Expert florists
Bouquets you can enjoy for longer.
Some flowers arrive a little closed to ensure extra freshness and protection during shipping. Enjoy the magic of seeing them fully bloom.
What our customers say
29-01-2019
I've used Floraqueen a few times already and they deliver my order always on time. They are excellent and I highly recommend them. It is really importan to be able to trust the fact that I buy flowers for someone who is really far from me, and Floraqueen is the most reliable way for me to do it. Thanks again for your services!
26-01-2019
Good service and the product was very fresh thanks
30-12-2018
Flowers are very beautiful.
Nini Abdala
(Buenos Aires -Capital)
15-12-2018
On time, the flower arrangement was exactly as is shown in the website. I am very satisfied. Thank you,Nini A
11-11-2018
Great service.... fresh flowers...
Chloé
(75007 Paris, France)
22-10-2018
I'm very happy about it, they accepted to leave the gift by my door cause I was at work. Thank you ❤️
Ljubica
(Beograd, Novi Beograd)
26-09-2018
21-09-2018
My partner was upset that I received 6 red and 5 pink roses instead of 12 red roses that he ordered
06-09-2018
I love how everything was arranged! Love the color of flowers, and how expressive it came! Thank you!
18-08-2018
Both very good appreciate it
Tero Kaarrela
(Phanomdongrak / Surin)
12-08-2018
I ordered delivery to countryside far away from big cities. First it looked like delivery can not be made as no flower shops nearby but then FloraQueen found new partner and they were able to fulfill my order. Related to ordered items, flowers were similar that I ordered but chocolate was different but I am ok with that because they had to use new partner.Great work FloraQueen team!
25-07-2018
Perfect! Even I could choose for another place to deliver.
21-07-2018
Excellent service. Delivering up to expectations
13-07-2018
Very beautiful flowers and delivered to my hotel.
Lorna
(Morrisville Pennsylvania)
02-07-2018
Impeccable service as usual
18-06-2018
The flowers are really beautiful and fresh. I had the best suprise today !
02-06-2018
It was a perfect on time delivery.....
01-06-2018
Beautiful and professional
Lupanova
(Saint Petersburg)
22-05-2018
beautiful and fresh flowers
19-05-2018
Buen día me han gustado mucho las flores que he recibido de buena calidad muy bonitas felicitaciones por sus productos
13-05-2018
I ORDERED THE FLOWERS TO BE SENT TO MY MOM FOR MOTHERS DAY. MY MOM CALLED ME AT 5.30AM...DUE TO THE TIME CHANGE, TO TELL ME THAT WAS ONE OF THE MOST BEAUTIFUL BOUQUET SHE HAS RECEIVED IN ALL HER LIFE. IT WAS BEAUTIFUL AND TALL, THANKS FOR MAKING MY MOM'S DAY.ANDY
Kylie
(Castelldefels Barcelona)
11-05-2018
Beautiful flowers, great service
Marta
(Botigues de Sitges)
05-05-2018
A Great surprise!! So nice box!
15-03-2018
Fabulous quality, delivered on time and with a smile!
09-03-2018
Excellent service. Have used them several time and always reliable and works with outstanding local florists.
31-01-2018
Fast, professional, reliable
24-01-2018
Beautiful bouquet with fresh flowers and very nicely wrapped
20-01-2018
Amazing flower bouquet !!
Mohamed Al Neyadi
(München)
17-08-2017
Thank you for your super service. I am from Dubai and by your site i sent flower to my friend in Munich. I recommended you for all my friend
Is Displayed With Your Review
(Liverpool)
12-06-2017
Ordered from USA for UK delivery on Friday for Saturday delivery. Delivered on time. Our friends were thrilled and called to all us that the arrangement was spectacular. Thanks for helping to make a 60th anniversary special. Definitely recommend :)
Password
(Sant Cugat del Vallés)
21-05-2017
Outstanding! Being in Denmark and not knowing any companies who deliver flowers, this was really a shot in the fog. But I was so happily surprised. The delivery took place at the time requested and with the most beautiful bouquet of flowers, chocolate and the selected card. The service was excellent (I had an agent help we because the payment caused a little trouble) but everything turned out so well, and I will definetely use this company again
13-05-2017
Excellent service! My spouse was delighted with the Mother's Day Flowers and Chocolates!
06-05-2017
Flowers were as beautiful as per order and I would have given it a 5star rating if my message was included. otherwise I am very happy with the service.
05-05-2017
Great service, fast delivery! Couldn't be happier.
05-04-2017
Good job, Delivery as promised. Thanks!!! Price is a bit on the high side...
Laura K St Albans
(Mandria, Paphos)
17-01-2017
Ordered flowers for my father's grave in Cyprus. The delivery was very personal and the flowers were absolutely beautiful. Best I've ordered so far. Thank you. Will be using you again.
David Alonzo
(República, São Paulo)
20-12-2016
After viewing a number of websites that deliver flowers internationally I chose FloralQueen because of their large selection of flower arrangements. A few days after I had placed my order, I asked if they could move the delivery date up by about a week (I had placed the order about 2 weeks ahead of the delivery date). I was very happy they were able to accommodate my request without issue. The flowers that were delivered were beautiful and freshly cut. Great service all around and I would use them again without question. Thanks!
11-11-2016
I have used them 4 times in Brazil booking from overseas and they have provided great service each time. Also they have been very responsive to any email queries I've sent through - I would recommend them!
28-10-2016
I started out with a bit of a problem with FloraQueen. The first set of flowers I sent to my friend arrived two days late. After talking to FloraQueen through emails we came to the conclusion that FloraQueen would send another bouquet of flowers to my friend. They did! I was tickled pink and so was my friend. This time the flowers arrived in perfect condition and on the stated date. They keep their word! I can trust FloraQueen with my orders.
Ak
23-09-2016
Ordered from South Africa, delivered in Russia, telephonic confirmation from Spain - all in a day. WOW
Andrew Booker
09-09-2016
I was very happy with my order. At first I thought my flowers had not been delivered and started to worry, but they had been left with a neighbor and there was no problem. I received a photo of the order from my mother-in-law and she was really happy with the quality of the flowers and vase. I would not hesitate to recommend Flora Queen to others.
Ian Quaresmini
06-09-2016
I had a bouquets sent to my girlfriend in Cuzco Peru from Brisbane Australia, i did have doubts because of the location but there were delivered on time and exactly as ordered
David L
07-01-2016
On time, full, fresh, beautifully and tastefully arranged, perfect balance of types and colors....exceeded our expectations.
Les Cutts
13-06-2015
thank you , your delivery arrived when I asked and the flowers were so fresh they are still blooming I am told thanks again les cutts
Jon Toolson
01-05-2015
The flowers were delivered a day later than requested. However the flowers did manage to have good life, look beautiful and last longer than expected. The ongoing blooms was nice .
Bullock
18-04-2015
Even though she lives more than 3000 miles away, there was no nicer way to show that we were all thinking of her, than with a beautiful bouquet of flowers.
Paul
10-04-2015
Easy to access easy to order. Clear sensible transition from selecting the product to paying. Delivery was on time with very short notice. It's what every business transaction should be
Wright
08-04-2015
Superb flowers delivered evening before due to Holy Week . I thank your company for excellent service.
George Frederick Jewsbury
01-04-2015
I wanted to send flowers to a dear friend in Paris as a celebration of her birthday and of the arrival of Spring. Everything worked perfectly--and she was deeply moved with the flowers which arrived in excellent condition, on time.
Peanut
26-03-2015
I was looking to send flowers to my mother in Spain and found FloraQueen on a standard Google search. The best move I could have made! So easy to order and pay and the variety of options for different bouquets plus add-ons is amazing. My mother was over the moon with the quality, so that makes me one happy customer. Will definitely use them again.
Adam Toll
20-03-2015
Sent flowers to the Algarve in Portugal so can only comment on that service and it was excellent. Arrived on time, flowers were apparently stunning, in great condition and boxed beautifully. Would defintely use again.
Charles Ferro
20-03-2015
Kept informed throughout all the stages and reasurred that my order would be delivered on time.
Anne-marie From London, Uk
04-03-2015
Will definitely use again. Very efficient. No problems at all!
Mauro N Zanuto
27-02-2015
I must say that i tried Floral Queen hoping to get what i needed in time and of quality, they exceeded my expectations, especially getting the response of the person who received the service. So good for you Floral Queen, see you soon
Tish O'malley
25-02-2015
Thank you for a positive international experience, i was sitting here the evening before my youngest child's 22nd birthday, i had not sent her a card or gift because i was skeptical because i had sent a package a month before and she never received it. That night i got on line to send flowers, as an american from the Philadelphia area with only the German Language in my resume from 40 years ago in high school, how was i going to navigate ordering flowers in Spanish, After a long time i felt I had filled in all the blanks correctly and pushed the order button. 7 hours later, a foreign call is coming in on my phone, the man on the other side was English speaking with a thick Spanish accent, he was trying to tell me flowers could not be delivered, no answer at the building, after a few minutes (of me talking too fast and apologizing several times ) I asked him to return them to the shop, He gave me the address and phone number. He was lovely, so understanding of my language challenge. I messsaged my daughter to call me back asap, she messages me back(thinking someone had died in the family). I told her to pick them up herself with the contact info he provided to me. Happy Ending , photos of the flowers were posted all over Facebook and Instagram that evening by my wonderful daughter studying in Spain this semester.
Mez
19-02-2015
*******UPDATE******* After posting this comment, I did get a response from floraqueen. Based on the response I get I am updating my comments. Floraqueen replied back to the ticket I created on their website and accepted the mistake created in delivering the order the wrong day. Therefore, they are issuing a refund. Here is part of the message. "PLease accept our deepest apologies for having falied you in such an occasion. After reviewing your claim, we're issuing full refund of the amount paid." I am changing my rating from two to four stars ( 5 stars when I get my refund :) ) for their quick response. ***************************** I placed an order on February 6 for a Valentine's day delivery. I placed the order one week ahead of time. It cost me additional money because it was a Saturday delivery, which was not a problem. On Wednesday floraqueen sent me an email showing that a florist is confirmed. But for some reason they tried to deliver the flowers on February 13th, when my girlfriend is not at home. They never informed me the change in delivery date and they ruined the surprise. She had to go to the post office on Saturday to rescheduled another delivery attempt. When she got the flowers (that is on Monday)they were in no condition to be presented as a gift. The funny part is floraqueen sent me a message showing that the flowers were already delivered on Saturday. I tried to contact them but they didn't care to reply back. I will never be a customer and don't recommend them at all.
Martin Luca Muzi
06-02-2015
Very good, prompt delivery, quality flowers. Recommended!!!
Richard A.
29-01-2015
Excellent service, excellent cooperation, excellent timing, thank you FloraQueen for making people around the world happy! Best regards, Richard from Cyprus!
Piotr
14-01-2015
FloraQueen can be recommended without any doubt. The only reservation is the contact which is not always immediate.
Pierre Bernay
07-01-2015
Hi My name is Pierre,and I live In Australia Perth Western Australia. My familly lives in France. I use FloraQueen as my prefured Flowrest,as I know the flowers will be delived as promised,for my own piece on mind,on the seleced day. The Flowers are always well comented and inpresive/BEAUTIFUL,by my familly when they recieaves them,on their special days. I have used other flowrest in the past,and have been disapointed with their poor results. I recomend FloraQueen anyday. Kind regards:Pierre Jan 2015
Sonia Pereira
07-01-2015
My in laws they are over seas, and according to them the flowers and the chocolates were amazing thank you for this website I love it.
Tania
22-12-2014
Ordering flowers internationally is always a gamble as you have no idea what the flowers will look like, or if they'll actually get to your destination. My grandmother lives in a small village, and the flowers got there right on time. She says they were absolutely beautiful! Thank you!
Chen Qizhao
17-12-2014
I have two different address. One in china which is in Chinese and the other in colombia which is in Spanish and both got there with no problems. Thank you so much.
Mustafa Moral
15-12-2014
Thank you for your perfect service
Catherine Kinsella
04-12-2014
I had made a mistake in the address but a very polite girl with wonderful English rang within two hours and sorted everything out.
Kate
04-12-2014
What a great service FloraGueen provides! The flowers were beautiful and delivered on time. The recipient was over the moon! Absolutely recommended! Special thanks to effecient Martyna, who helped amend the order!
Rodrigo Ulbrich Sauda
26-11-2014
perfect service!! recommend!!!
Maggie May
01-11-2014
The flowers that I was sending from the uk to Spain were expensive but of excellent quality.Our friend (the recipient) was so impressed that she posted them on Facebook.I was also impressed with the attempts made by the florist to deliver the flowers,as my friend was difficult to catch at the time. Good work !
Renus Burke
14-10-2014
I remembered about a birthday of a family member (overseas) very late in the day but it was so simple - I just picked the choice of flowers, typed out the message and paid by PayPal - the flowers were delivered the same day (express delivery) and phew - she was so very pleased and surprised! What a life saver - thanks FloraQueen!
Ivica Nikolic
29-09-2014
This was the first time that I used service of FloraQueen and, without any exaggeration, I can say that I was extremely happy and satisfied with: 1. Simple and fast order on the internet 2. Speed of response and organization of delivery 3. Timely delivery 4. Quality and freshness of flowers Well done FloraQueen! We'll definitely use your services in future. Best regards Ivica Nikolic
Jackie
25-09-2014
Was pleased with the emails to say the order was being processed and then one to say the flowers had been delivered. Slight snag was that I'd asked for them to be sent on the Wednesday but they turned up on the Tuesday. It didn't matter for me but I suppose a bit annoying if it was for a birthday. Wanted to call them but found it impossible to be able to contact them.
Noemi Totos
19-09-2014
Hungarian partner was outstanding, my mother in law had a well deserved surprise. Well done, thanks for your professional service and great bouquet!
Laurent
18-09-2014
I want to say how much I am pleased with the customer service FloraQueen. I placed my order on the eve of the shipment and I attached a card, rereading my card the next day, I realized that I had made a few mistakes, I informed the customer service so whether they could interfere with the florist, because it was abroad, and in the next hour, everything was back to normal, they had managed to fix my card and my friend was delighted with receiving her bouquet. Congratulations to FloraQueen and their customer service, they are competent and responsive people, I recommend them without hesitation, I've never been disappointed. Laurent
Glen De Saint Gery
13-05-2014
You can use FloraQueen for any occasion when flowers are important! They are 100% reliable, very easy to use online and provide excellent follow through service, you are kept informed all long the way, and what is more, the recipient is delighted with the quality of the flowers and the care taken!
Janna Brakband
24-04-2014
My 98 year old aunt was delighted with the flowers and extremely happy that the nice man who deltvered them was even so kind to put them in a vase for her, so she did not have to wait till some one else came to do that for her. Great service!
Helen Rose Evans
24-04-2014
I have titled: YOUR FLOWERS FROM HEAVEN. for they are lovely, This is what to me heaven would be like full of your beautiful flowers fraqance of each bloom that would fill the air around us. Keep up the flowers fresh and blooming for ever, For life isn't for ever. Therefore, why, not enjoy life what it brings us. Good or, bad, Mostly, good God Bless! Helen Rose Evans.
Caroline Keeney
04-04-2014
This was the first time I had used this company. Flowers were delivered on time and the arrangement was beautiful and so fresh. Will definitely use them again!
Jack B Barden
01-04-2014
My order was delivered 3 weeks early however when asked about the delivery they acknowledged the mistake and sent an extra bunch of flowers on the correct date free of charge. Other then that everything else was smooth and effortless :) Thanks for your service Jack Barden
Barbara Richter
29-03-2014
I would use them again and make sure they were totally clear with my order.
Fraser Dodge
28-03-2014
With my parents 50th anniversary happening while they were away in Spain, I needed to find a company which could deliver the goods, literally. I found that company in FloraQueen. For some reason, there was a problem getting my credit card to work online. I gave up and thought no more of it, until my phone rang and it was a FloraQueen representative who completed the transaction over the phone. The follow ups, the service and the attention to detail were superb. My parents were thrilled to get flowers, and I was happy that it had been such a pleasant experience. Two thumbs up form Cape Town South Africa!
Ronald Ian Milner
26-03-2014
When the price came through it was lower than billed ( only by a few pence) obviously they used the current exchange rate. Delivery was on time and the recipient was very happy.
Pearse Lewis
23-03-2014
Delivered the flowers on the right day and were a great quality, would definitely use them again.
Marcia G.
21-03-2014
I was trying to send flowers to a friend in Spain from the US. With 24 hours notice they were able to supply the flowers on time with the price I was quoted. I tried another company but they needed 2 days and were adding extra fees for international flowers that I did not agree with.
Shuichiro Izutsu
18-03-2014
You surely expect the next!
Edward Berkovitch
11-03-2014
I have order the flowers for my wife, and the next day it was there!!! Much more beutiful than on the picture!
Peter Sluiter
09-03-2014
FloraQueen effectively delivered my flower order, not cheap but good value, mail communication after order on delivery details did not work properly but in the end all went well
Gary E Standen
08-03-2014
Great service, beautiful flowers delivered on time. The delivery person even got passed our three guard dogs somehow.
Emil DaniŠ
06-03-2014
Thanks to FloraQueen my order was delivered on time,flowers was fresh and make my girlfriend very happy,I can recomend this services,thank you FloraQueen
Gabi Borrageiro
01-03-2014
efficient and reliable service from start to finish, I was kept abreast of the status of my order every step of the way....the flowers were described by the receiver as gorgeous so that makes it special. thank you
Gang Yuan
24-02-2014
It's my first tiem to order flowers for foreign country via web, the flowers were delivered on time and according to the agreement, everthing OK. Thanks!
Solomon Sidney Mwanjala
21-02-2014
Competent, trust able and dependable. Deliveries are adequately timed and the measures taken to ensure delivery are above top quality. It's easy to order and the entire process is fast.
Krystian Sakowski
21-02-2014
I ordered flowers, wine, a card, and a vase to be sent to my girlfriend in Warsaw, Poland for Valentine's Day. I live in Detroit, USA. I made my order four days before Valentine's Day, and was worried the order would not make it in time, but it did! She received every item I purchased. This is a great operation! Thanks a lot FloraQueen, I will most likely be using you again in the future.
Carl Sheard
21-02-2014
So happy that my valentine bouquet arrived not just on the day but in the morning .When you are relying in others to help you send a very personal gift it's so nice when they literally deliver the service of quality needed.
Bozena Kubik
17-02-2014
Flowers were delieverd early in the morning (i ordered evning before), fresh and beautiful, thank You
Francesco Indrio
28-01-2014
Very timely and good product quality
Anna Kerkorian
15-01-2014
Excellent Service! The flowers received were beautiful! Thank You - FloraQueen!
Chris Mccutcheon
09-01-2014
Very surprised at the consistency and quality of flowers.
Show more reviews
Show fewer reviews