Share the opportunity to preserve the sweetness and first memories of a newborn forever! Our splendid bouquet of white lilies and roses is combined with an original gift idea for a baby, from Bebé de Paris. This set comes with a photo album and special footprint maker putty to imprint the hands and feet of the new member of the family. All this is stored in a blue and white polka dot box. Deliver a surprise that new parents will be overjoyed to receive and will remember for years to come.
__This gift includes: __
A bouquet of lilies and white roses accompanied by decorative green foliage.

A Set of baby footprints in blue from Bebé de Paris. Includes: 1 Album for 20 photos (10x15 cm); Special putty to engrave the feet or hands of a baby; a presentation box with polkadot design that includes a section to put the baby's name and birth details (25.7 x 19.7 cm, depth: 6.6 cm).
We can guarantee the best quality flowers for each order.
100% Satisfaction guaranteed.
FloraQueen always sends the highest quality flowers.
All our flowers are shipped fresh, directly from our florist.
We always deliver on time!
GF30088
Blue Footprints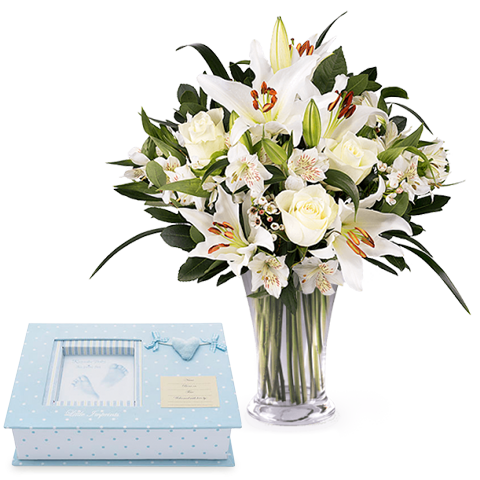 Punctual Delivery
Fresh flowers
Expert florists
Bouquets you can enjoy for longer.
Some flowers arrive a little closed to ensure extra freshness and protection during shipping. Enjoy the magic of seeing them fully bloom.