This pink and yellow rose bouquet is a bright and colourful departure from darker, more dramatic rose bouquets. What could be more heavenly than a pink and yellow rose delivery for someone's birthday, to say "congratulations" on their wedding day or to wish mum a warm greeting on Mother's Day!


More about this bouquet:
Premium Pink and Yellow Roses

White Alstroemeria

Mini Pink Gerbera

Solidago

Greenery
* Vase not included
We can guarantee the best quality flowers for each order.
100% Satisfaction guaranteed.
FloraQueen always sends the highest quality flowers.
All our flowers are shipped fresh, directly from our florist.
We always deliver on time!
FQ3013
Vibrant Sensations: Yellow and Pink Roses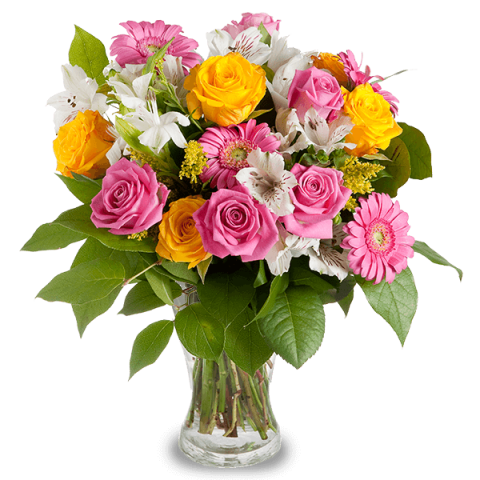 Same day delivery
Beautiful fresh flowers
Arranged by local artisan florists
7 days of freshness
Thanks to our high quality flowers, our bouquets will stay fresh for 7 days.
What our customers say
23-04-2018
The presentation is excelent and the quality too
21-03-2018
Everything was perfect sepecialy thé flowers with cher water.
09-03-2018
Everything from the online check out, to the beautiful flower arrangement, to the timely delivery, to following my requests, has made my experience with FloraQueen a magnificent one. Thank you!
Sheilla
(Cabanatuan City)
22-02-2018
I like the surprise flowers great job guys :)
01-02-2018
The flowers were beautiful!
Tracy Burrows
(Albox Almeria)
30-01-2018
Great communication, beautiful flowers and delivered to Spain the day it was promised. Thank you!!
08-12-2017
These flowers are beautiful!
27-11-2017
Nice surprise from lovely friends
12-11-2017
A service I know I can rely on - thank you.
Ana Stephenson
(Gorgolão)
06-10-2017
Outstanding service. The process to order was super easy. My parents live in Portugal, the flowers were for my mother. She said that they called to say they had a flower delivery but my mother said they were having coffee at a café downtown (about ten minutes away). The florist drove to where they were sitting and hand delivered them to her! Now that is outstanding service!
28-09-2017
Mum's birthday and she lives in Belgium as we could not make it we knew she loves flowers . Best order we ever did and there been a few including interflora . Considering my mums exited relay ( the extra big bouquet needed two vases )we are on a winner and will be ordering much more ! Price wise they where reasonable. Mums happy and the flowers are still going coming up to a week tomorrow!
Georgina Pierson
(Praia da Luz, LAGOS)
07-08-2017
I have always used FloraQueen, ordering from the UK for friends & family in Europe. Its a wonderfully easy way of gifting something special to my friends abroad. FloraQueen are reliable, good value, and their next-day service is a godsend! The lady that actually delivered was really nice, and made my friend's day with the beautiful bouquet they had assembled. And I love the fact you can add extra gifts like a soft teddy or bottle of bubbly. Would highly recommend.
Henri Levison
(St.Genesius Rode)
07-08-2017
Great service !! Very happy with the flowers delivered. The receiving side was very impressed by the size of the bouquet and the quality. Thank you vey much !
22-06-2017
Very good. Trustable service, wonderfull flowers and delivered in time. Thank you very much.
20-06-2017
Everything was perfect. Delivery in time. Quality Flowers Cost/quality
12-06-2017
Sent flowers from Europe to Brazil - Bouquet arrived on time - Perfect service !
Jesper
(sector 5 Bucuresti)
04-06-2017
Some of the roses were not fresh but the flowers in general was good and the lady was very pleased :-) Service and delivery speed are both in top
Marcelle Sacco Gauci
(Brussel)
13-05-2017
Very fast service and bouquet delivered was exquisite!
Rafael Italiano
(Cremella)
03-04-2017
Great Service! Highly recommended.
Magdalena Karakulski
02-06-2016
I made my Mother so happy on her Mother's Day thanks to FloraQueen. Definitely will use them in the future.
Tim Petts
26-05-2016
Having looked a number of potential suppliers FloraQueen looked excellent choice and value. Easy ordering on web page and tracking the delivery was first class. Thoroughly recommended.
Linda H
22-04-2015
I found the site easy to use with a good variety of flowers for any occasion. I was informed when the bouquet was being prepared but not actually informed when it had been delivered, as promised by Floraqueen. However the recipient was delighted with the flowers which I believe she received the day I requested. I would happily use the companh again.
Sabb
10-04-2015
Excellent service from start to finish! Lovely flower range and value for money. I was kept updated with order status and delivery. Recipient was very impressed by quality of flowers and packaging. First time I've used Floraqueen but will definitely use again.
Rossella Meusel
26-02-2015
I thought he bouquet was a bit small.
C. G.
06-02-2015
My order & delivery went without hitch. The only issue was the arrangement wasn't exactly like the photo. I can understand that it depends on stock at hand but I thought there should be a bit more flowers than greener. But overall satisfied.
Veronica
24-01-2015
I am satisfied with the service, I ordered flowers on Thursday night and Friday afternoon were delivered to my mom. She was happy with the composition, but she just wanted to point out a small detail: there were 8 roses in the bouquet. I would have expected the florist to know that, according to a common superstition, sending an odd number of flowers brings bad luck. other that that, everything was perfect.
Frances Rychlik
14-01-2015
I have used FloraQueen several times now. The reason I keep coming back is that the service is very prompt,flowers are always delivered when requested, they are of good quality and value for money. The recipients are always delighted with them. FloraQueen also keeps me well informed of the progress of my order which is reassuring.
Yuriy
03-12-2014
I want to say thank you to customer service support, her name is LIRA. I had a problem with paying online and she helped me to do it by phone. Also the phone connection was very bad, because I was at sea (offshore) in Brazil, link was broken few times, but anyway she call back from main office in Europe until we successfully finish my order. Flowers were delivered and recipient was very happy :-)
Pam Daniels
30-11-2014
I needed to send flowers to Australia I chose roses and a glass vase trusting that they would be as shown. The recipient was delighted and therefore so was I.
I D Parkhill
24-10-2014
The recepitiant was delighted with the flowers. That is what matters!
Nicole
16-10-2014
I ordered flowers for my mum's birthday who lives in Australia. The flowers were delivered on time and there was a good selection of flowers to choose from. It was quick and easy to order the flowers and I would recommend using this website again.
Sharmian
13-10-2014
Wanted to send flowers to my sister in America and this was by far the easiest website to navigate and complete my order. The flowers that were delivered were lovely and arrived when they said they would. Would definitely use this company again.
Patricia
29-09-2014
We wanted to send flowers to a friend after an operation to cheer her up. The flowers and chocolates were happily and gratefully received they showed us them on skyped and they looked lovely and fresh still..
Hans Arnar Gunnarsson
28-09-2014
Really good and quick delivery
S Bashorun
18-09-2014
Kept informed at all stages of progress. Not the cheapest but well worth the money. Completely satisfied.
Chrissy
10-09-2014
Wonderful service, timely delivery - 5 stars! I will use it again, very reasonable prices and beautiful flowers that arrived right on time.
Barbara Denman (morgan)
15-05-2014
After a false start with a bunch of mixed flowers over a year ago( they didn't look the same as advertised) I am glad I had another go, with some trepidation,at using Floraqueen for Mothers Day this year, this time with a bunch of red roses. My mother, very particular about flowers, was thrilled and said that the quality and size of the red roses were superb. So for her birthday this past week, I ordered the same bunch of red roses, again, hoping they would be as beautiful as the flowers sent in May, of the same quality and presentation, and they were!! THANK YOU. Not expensive and delivery on the date as requested, though I placed the order a few weeks ago. I shall use Floraqueen again. N.B. Mother has retained the Floraqueen details from her Tokyo flower shop with the intention of sending me flowers in the Southeast of England. She had previously used another international flower delivery company to both our disappointment. Fingers crossed.
Anne Turner
09-05-2014
I ordered them on line, the flowers looked just like the advertised ones, delivered on time.
Alvin Low
05-05-2014
Thanks for the help provided, and the timely delivery. Cheers.
Feki Hichem
03-05-2014
I have tested FloraQueen and both me and the person who received the flowers were very happy and very satisfied for everything. Thanks for the good service.
Kirsty Love
14-04-2014
As a first time customer, I relied on customer feedback to influence my decision for flora queen... I was not disappointed!! My mother was overjoyed with her bouquet which looked even better than the orginal picture. Thank you xx
Englerm
10-04-2014
Delivered as promised, thanks
Linda Leslie
09-04-2014
Ordering flowers from Australia to Alicante Spain was not easy till I found your web site, a lot of the florist web sites would not accept the address. I was very pleased when I found Flora Queen I had no problems and Linda email me a photo of the flowers she said they were perfect. Thank you
Dorota Prokop
07-04-2014
I used to order a beautiful bunch of flowers for my grandmother and she was totally surprised! It sure is a great way to make someone smile.
Michele Zani
07-04-2014
I think the best "flower-service" in the world
Linda Young
06-04-2014
I bought these for my Mum for her birthday. She was over the moon. Really we'll received.
Malgorzata Masalska
31-03-2014
Delivery of flowers on time. Huge suprise for receiver. Thank you. Definitively I would recommend your service to everyone.
Sharla Anderson
25-03-2014
You guys not only made such a beautiful flowers but i have to give thanks to the driver that took the flower to my moms job...thank you. Thank you.
Yvonne Webb
20-03-2014
Have used this company before for international flower delivery - have been very happy with the quality, choice and delivery. i would definitely recommend them :)
Alexander
03-03-2014
Very attentive guys, able to adjust and make the best for the customer. Thank you!
Paul Kwatyra
21-02-2014
Thank you very much very great service. Took my order quickly and delivered with no issues.
Happy Customer, Raleigh, Nc, Usa
02-02-2014
I am 100% satisfied with my FloraQueen order! I needed a service that could deliver fresh flowers next day to a European location (I ordered from USA). The recipients were delighted to receive a beautiful fresh bouquet from a reputable local flower shop within FloraQueen's network. My relatives described the flowers, vase, card, and time of delivery - everything was perfect! Thanks, FloraQueen, for doing what your website promises, caring to do it right, and putting big smiles on all our faces!!
Sabine
31-01-2014
Used FloraQueen for the first time, worked out great. Lovely flowers, punctial service and a great price/value. My mother was very pleased with the flowers. Will use it again.
Agata Radford
27-01-2014
Very impressed with the choices, prices and service. Will use FloraQueen again and again. Thank you for a great experience.
Barrie Storm
25-01-2014
Sent some flowers to my mum in holiday in Benidorm in January. We were getting concerned over the delivery I emailed them at 6pm and got a phone call with in 5 mins to let me know that they had been delivered just 10 mins ago. Great feedback from then.
F T Eaton
17-01-2014
I wanted to send flowers to my mother-in-law in Barcelona who had had a fall and broken a rib. This was on top of seeing her sister suffer a heart attack before being admitted to intensive care in hospital over Christmas. FloraQueen tried to deliver the flowers to my mother-in-law's house but she was out. The delivery man telephoned my mother-in-law, who was on the train travelling to visit her sister in hospital and wouldn't be back until evening. "No problem!" said the man, I will call when you are back. True to his word, he delivered the flowers in the evening with great courtesy and never complained about the inconvenience. He left my mother-in-law VERY happy and, believe me, she is not an easy woman to please! In addition to this service, the flowers were simply superb! Fresh, well packaged and with water to keep them in best condition. Great value for money. Thank you. I will use you again. Felix Eaton, Yorkshire, England
David Heaney
15-01-2014
The flowers I ordered were of excellent quality. Will use again
Andrew
14-01-2014
I asked the impossible but FloraQueen delivered (to a very remote destination). I've no idea how you did it but thank you.
Karen Baird
14-01-2014
Would use service again very good
Show more reviews
Show fewer reviews