Love is sometimes simple but it is always exquisitely beautiful. What could be simpler and more exquisite than arranging a single rose delivery for a person who has a piece of your heart?


More about this gift:
Single red rose
Decorative greenery
* Vase not included
We can guarantee the best quality flowers for each order.
100% Satisfaction guaranteed.
FloraQueen always sends the highest quality flowers.
All our flowers are shipped fresh, directly from our florist.
We always deliver on time!
FQ512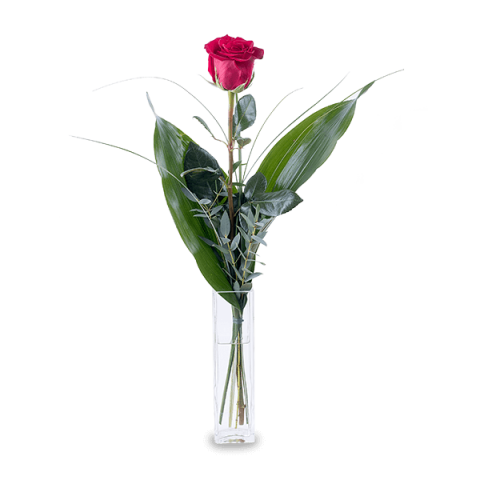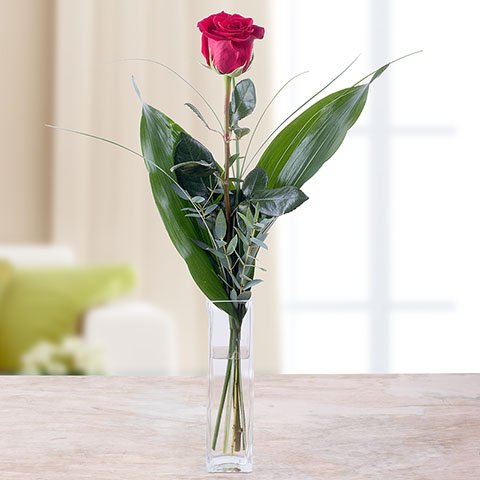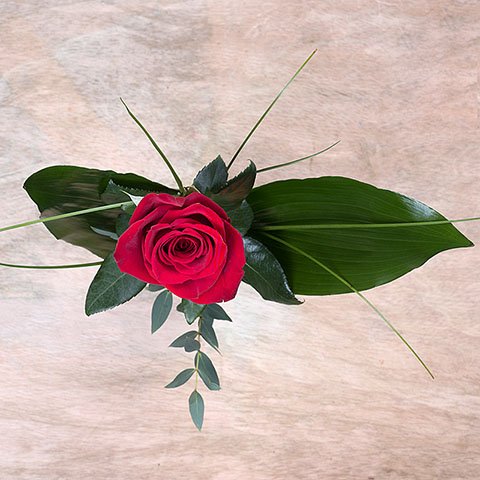 Punctual Delivery
Beautiful fresh flowers
Anywhere, anytime
Punctual Delivery
Fresh flowers
Expert florists
Bouquets you can enjoy for longer.
Some flowers arrive a little closed to ensure extra freshness and protection during shipping. Enjoy the magic of seeing them fully bloom.
What our customers say
Jo Mcdonnell
(El Marqués Querétaro)
16-02-2019
I wasn't sure how to write the address as it was a new development area and not in maps yet. so I sent them a message on messenger. They replied with exactly how to write it. Couldn't recommend these guys moreThank you
26-01-2019
Very good service from Floraqueen and their partners in the Czech Republic. The delivery was made in good time and the recipient was very pleased with the quality of their flowers.
Gerard Bloemendal
(København)
13-01-2019
Very good and quick service!
08-12-2018
Very nice and friendly delivery person
21-11-2018
The red rose is really beautiful, super fresh and smell sweet, the package is pretty and the man who came to give it to me was really polite!
07-11-2018
Just how a rose should be.
20-09-2018
A little problem for the delivery but I was partly to blame. Otherwise it was good
18-09-2018
It was a lovely surprise and a beautiful bouquet!
02-08-2018
Very fast delivery and well packaged fresh flowers.
21-06-2018
it was very nice and sweet. i like the arrangements.
Ophélie
(Caluire-et-Cuire)
24-04-2018
Perfect service , for a perfevt surprise
Gerasimos Pylarinos
(Penza)
14-04-2018
09-03-2018
Very good service! Delivered the rose to my girlfriend on the day they said they would and made her happy, so I am happy!
28-02-2018
Everything was easy and fast!
04-12-2017
Great smell and received the flower in a perfect form . Thank you !
16-11-2017
Just as on the website... the flower was exactly what I bought and it was delivered when you said. A bit expensive, but worth it! Thank you!
12-11-2017
Have sent flowers on several occasions and each time thy have arrived on time. Also the recipient has always commented on how nice they were, and that they were fresh and long lasting. I also find the prices very good.
Sander Verstappen
(Ljubljana)
11-10-2017
Very detailed corresponding discription of the product. Perfect quality flower! On time as scheduled! Just one word, perfect. Many thanks!
09-10-2017
Very good service, punctual, much appreciated .
14-09-2017
Everything was great! Thank you!!!For the next time it will be amazing if I will receive a photo of my girlfriend when she received the gift!:)
Emil Ronhaar
(Rio de Janeiro)
08-09-2017
Always good delivery and great quality of flowers. I've been ordering for almost two years at Flora Queen and I'm very happy with the service. I'd rather not have long distance relationship but FQ makes things a lot better!
30-06-2017
Great service and delivery!
Maria Bruun Jørgensen
(Fuengirola)
28-06-2017
They couldn't find his address, because I forgot to write that it was in a hotel. But they drove back, so he got it (a day late, but at least it came) Thanks for good service and help x
11-06-2017
FloraQueen is definetly our favorite option for sending flowers to our Loved ones..., their variety and quality of flower arrangements are superb and their services very reliable! Thank you very much to all of FloraQueen's team, keep up the Fantastic work guys :-) !
19-04-2017
A good price, and perfect service, the rose arrived on time and she loved it
25-03-2017
Order 1 rose as surprise for partner whilst they were in Athens on business . My partner was delighted with the rose and FloralQueen did super job
21-10-2016
Reliable service with perfect communication.
Terrence Shapland
11-04-2016
I wanted to send a surprise in response to a private joke, from the UK to my partner in Nebraska. You took my order and delivered it on the day I asked and certainly surprised her.
Stefano C.
14-02-2016
I sent flowers in Valencia to my gf for Valentine's Day. Everything went perfect!!! They ain't getting 5 stars because I didn't really understood the reason why I've been charged an additional amount.. By the way, since everything went well I'm not complaining!
Nazair
04-08-2015
Greatful to the team who delivered my order. The receiver was very impressed with the arrangement and delivery was on time. I love the updates on the order as it progresses. Thank you team. Great service and keep up the good work. Watch out for my next order soon.
Roberto
17-04-2015
Floraqueen is perfect! The work and the attention to the clients and details are perfect i'll always purchase on them, One of the best experiences i've had on internet.
Adam Richardson
10-04-2015
At a fair price, from the UK I was able to send a dear friend a birthday surprise, in Morocco, at a fraction of what it would have cost me to dispatch my own parcel to even stand a chance of arriving in as quicker time. The local agent called in advance to ensure the recipient would be able to collect the delicately arranged, perishable gift, and it arrived with a beautifully and perfectly transcribed note as I had dictated, along with the most perfect rose, with beautiful accompanying stems and foliage, at the prescribed time. Perfect. Would not hesitate to recommend and / or use again!
James M
14-02-2015
I sent a rose to Poland for Valentine's Day. It arrived around lunchtime with no issues and the rose and foliage arrangement was nice. The only issue was that I added a 'small box of chocolate' on for about £6, but what arrived was not a box but a bar of chocolate that looked like it had been bought from a supermarket! My girlfriend was happy though, and no complaints about the delivery, hence the rating.
Adrey Zasran Shahrul Zaman
08-02-2015
2 days away from our anniversary, need the glower to arrive on time, on the day, and it did. Very reliable
Adnan Iqbal
04-02-2015
It will be more helpfull and ideal if we have a step to step tracking detail for our shipment. To see the status or atleast a e-mail notification when Gift is out for delivery.
Paulette Kralj
16-01-2015
Was very good great service . Pity my bf dumped me that night for a man
Lorren Livingston
14-01-2015
After reading about your service online, I figured it was worth a chance. I sent Christmas flowers to a friend with the hope they would be good and on time. The flowers were fantastic and fresh. The service was not only professional, but on time as the website described. I have since use the service again, and once again you did not disappoint. Thank you for a great job
Anonymous
14-10-2014
The gift was delivered on time but unfortunately the recipient was out of town (I was not aware, I just wanted to surprise her). I wish floraqueen team had called in and may be scheduled the delivery for another date. Another thought...it could be interesting to take a picture while delivering the gift so you can catch that excitement and the moment.... so sender knows it was worth it..
Anna Ziółkowska
01-10-2014
Delivery as promised, good quality flowers that don't die after two days and reasonable prices!
Alain De Lacrose
09-09-2014
I used this site 3 times already, and it was perfect, on following up and timely delivery, and product delivered. Highly recommend.
Rb
30-04-2014
Simple to use and on time delivery.
Alejandro Ferrer
30-04-2014
In my case, the recipient of the flowers I bought was not at home when the shipment arrived. Instead of leaving a note, I would have hoped that the recipient was contacted via mail or phone (even sms). Specially because this info was requested by floraqueen itself! Apart from that; Really nice and fresh flowers even 24 hours later (when the recipient went and picked the shipment from the post office)
Morris Rezkalla
28-04-2014
Great service and love it that they actually contacted me when they wanted to put their own little touch on the message i wrote, that was really cute. Thank you for yet another perfect delivery. /M.R
Vsevolod Boikov
28-03-2014
Glad that everything was delivered as expected
Konrad Doniec
24-02-2014
I send flowers to my girlfriend.She was very pleased,flowers beautyful,delivery on time.
Veronique Martin
21-02-2014
best interflora compagnie i know been using to send Flowers in France, Spain, Poland ans never have any problem with them. Fowers and Plants are fresh very good quality and not expensive at all. i am recomende FloraQueen to everyone.
Tammie Collier
21-02-2014
I found the site easy to use,very consumer friendly...customer service was excellent...they even asked if i was sure i didnt want to include a card...very impressed and with tell all my family and friends...and will use them next time i need to express my feelings with flowers..thankyou
Chris
21-02-2014
I was finding it difficult to find a company that would deliver flowers to somebody in Hungary (I am in the UK). But it could not have been easier with Floraqueen. The product was exactly what I was looking for and cheaper than some other websites that I looked at. I didn't however receive the confirmation email after my purchase but after emailing the customer service team, I was assured that my order was confirmed and proceeding as planned. And my lady loved the flowers.
Miguel A
21-02-2014
the service was as expected.. ontime, great presentation of the gift.. everything excellent.. I highly recommend floraqueen thank you !
Sabine Alvarez Sanchez
11-02-2014
A beautiful rose like i ordered :-)
Jonathas
27-01-2014
I recommend FloraQueen to send flowers to another country. It worked perfectly for me
Show more reviews
Show fewer reviews